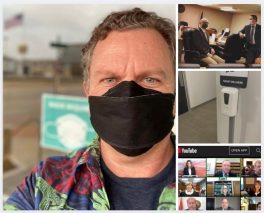 Everyday life was upended last Spring as the entire globe entered the COVID19 pandemic.  A year later and much is still in flux.  Certainly, incredible loss and tragedy became all too common.  Now though, a bit of hope is in the air.  The end of the pandemic isn't here yet, but maybe we can see it off in the distance.
For DuBose Law Firm,  it's been a year not only of challenges, but also of persistence and innovation.  Through it all, we've remained true to our core purpose: helping individuals who have been harmed.  
DuBose Law Firm pressed forward with the first ever remote live stream oral argument before the Tennessee Supreme Court,  an in-person bench trial in Texas and numerous depositions and hearings via Zoom. Like most businesses, we began working remotely in March 2020.  We're also taking this time to use even more technology in our practice.  Finally, as we start to physically return to our desks, we've incorporated COVID19 policies and measures to ensure a safe work place.   
The pandemic didn't just throw our practice a curveball – it threw sand into the wheels of justice.  Social distancing and other public health measures brought traditional American jury trials to a halt.  Courts responded by experimenting with Zoom trials.  Some started with jury selection via Zoom followed by socially distanced trials at the courthouse.  Other courts conducted entire trials by Zoom.  Now, increasing vaccination rates may soon bring us back to in-person jury trials.  Dallas County Courts, for instance, just announced that in-person jury trials will resume beginning in June.
We count our blessings and are proud of the persistence and hard work of our law firm over the past year to continue to help and support our clients.  While we can hopefully begin see the end of the pandemic taking shape, we will never forget this past year or the 565,000 Americans who have died to date from COVID19.
Please continue to protect yourself and your loved ones.  Continue to wear masks, socially distance and get vaccinated.  Better days are ahead.