In 2008 I did something I'd always dreamed of: hung out my own shingle. Since the late 1990s, I'd practiced law at one of the largest personal injury law firms in the nation. It was an invaluable experience representing the Greatest Generation, the Silent Generation, and Baby Boomers suffering from mesothelioma and asbestos lung cancer in courts across America. But ever since law school, I wanted to practice in a law firm like the one I clerked for in Lubbock, Texas: a small personal injury firm that provided legal services and personal attention to each client.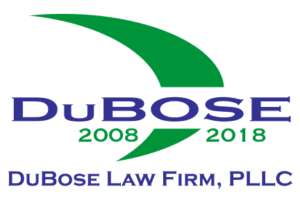 So, in June of 2008, a few months before the economy plunged into the Great Recession, I formed DuBose Law Firm. I've never looked back. What a decade it's been and what a law firm we built. Just look at some of the milestones we achieved in our first 10 years:
●  Proudly represented asbestos victims across the United States
●  Successfully resolved cases for hundreds of clients
●  Tried cases before juries
●  Obtained appellate victories in the Supreme Courts of Louisiana and Missouri
●  Expanded our practice into two new areas: serious personal injury & employment/labor law
●  Renovated our historic home office – The Adelfa B. Callejo Building – named in honor of the legendary Dallas civil rights icon who practiced law here
●  Community engagement – involved in local, state, and national bar associations as well as volunteering with Dallas schools and the community at large
Along the way, DuBose Law Firm grew to include a great team of attorneys, paralegals, and employees. My own family grew quite a bit as well. When we opened the office in 2008, my children were in elementary and pre-school. Now, my son is graduating from high school and our two girls aren't far behind.
Throughout it all, DuBose Law Firm always stayed true to our core purpose: helping individuals who've been harmed. We strive to make a difference in our clients' lives and in our society.
Just imagine what we'll achieve in the next 10 years!
P.S. None of this would have been possible without the love and support of my wife and kids. They've been there for me all along the way.
---
DuBose Law Firm, PLLC
principal office address:
4310 N. Central Expressway
Dallas, Texas 75206
Phone: 214.389.8199
Fax: 214.389.8399
Sponsored by Attorney Ben DuBose, licensed in TX, OK, and PA