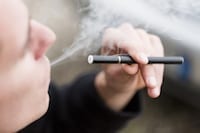 People looking for a healthier alternative to smoking "real" cigarettes and teens on the lookout for something new, may find themselves with serious health issues. Taylor Hays, director of the Mayo Clinic Nicotine Dependence Center, told USA TODAY Network, "There are no FDA regulations on these products. It's the Wild West of e-cigarettes."
The Centers for Disease Control and Prevention (CDC) reported use among teens tripled between 2013 and 2014. They, as well as adults, are lured into using these through advertising, peer pressure, and enticing flavors mimicking candies, cupcakes, as well as alcohol – in fact, there are over 7,000 chemically replicated flavors on the market.
The T.H. Chan School of Public Health at Harvard tested 51 types of flavored e-cigarettes and liquids – all sold by major brands. They tested for diacetyl, acetoin, and two flavoring compounds listed as high priority by the Flavor and Extract Manufacturers Association. Of these chemicals, at least one was found in 47 of the 51 flavors tested. All have been proven to cause respiratory issues in factory workers. Diacetyl was above the laboratory limit for detection in 39 of the flavors tested.
Why is diacetyl such a disturbing find? It has a confirmed link to "brochiolitis obliterans," a condition that has led to lung transplants in serious cases. This disease gained notoriety when workers inhaled diacetyl from the butter flavoring in popcorn factories, which led to naming the disease "popcorn lung." As it is still early in the history of flavored e-cigarettes, there is not yet a definite link to the disease, but this study adds to the discussion concerning the ramifications of long-term use of e-cigarettes.
Sources: USA TODAY, Harvard Gazette