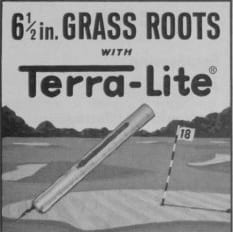 The former W.R. Grace & Company/Texas Vermiculite plant in West Dallas manufactured asbestos contaminated horticultural vermiculite for decades under trade name Terra Lite, as well as others. From the 1950s to 1992, this plant processed vermiculite from Libby, Montana for a variety of commercial purposes.
What is vermiculite?
Raw vermiculite ore, a naturally occurring mineral, expands or pops when heated – much like popcorn. This exfoliation process creates air pockets giving vermiculite excellent insulation properties. It also increases the size of the vermiculite ore. This allowed vermiculite to be utilized as a light weight soil amendment for horticultural use. It acts as a spacer helping to prevent soil compaction – thus increasing oxygen and improving root growth as the 1950s advertisement to golf course grounds keepers touts. Expanded vermiculite also increases the ability of soil to retain water for longer periods of time.
The problem with vermiculite from Libby, Montana
Unfortunately, Libby vermiculite, unlike vermiculite ore from other mines, is contaminated with asbestos and was a ubiquitous ingredient in hundreds of applications from attic insulation, insulating cements, acoustical plasters and other construction products in addition to horticultural uses prior to 1990.
The vast majority of vermiculite sold in the United States prior to 1990 was W.R. Grace Libby vermiculite. The Dallas W.R. Grace facility produced a number of horticultural products for commercial nursery growers and private consumers including soil mixtures containing expanded (exfoliated) vermiculite. After the early 1990s, these products were no longer made from the asbestos contaminated Libby vermiculite.
Exposure to asbestos
A 2005 U.S. Department of Health study determined that milled Libby vermiculite shipped to the Dallas facility, and other facilities across the United States, contained fibrous amphibole asbestos at concentrations ranging from 0.3% to 7.0%.
W.R. Grace stopped mining Libby vermiculite in 1990. There is no safe level of exposure to asbestos. The mineral causes a variety of human disease including mesothelioma, lung cancer and asbestosis.