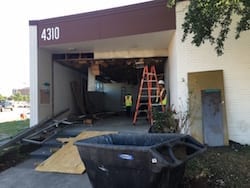 Construction is underway at the future home of our law office at 4310 N. Central Expressway, Dallas, Texas. The building, originally constructed in 1954, was in need of extensive remodeling.
Asbestos abatement in the building is now complete. Asbestos ceiling tiles, floor tiles and window glazing were abated and removed per strict abatement protocol standards. Following completion of asbestos abatement, the interior was demolished down to "white box" condition.
New construction will begin soon. All new interior walls, windows, electrical, HVAC and plumbing will result in an almost new building.
A completely redesigned landscape and signage will round out the improvements.
Construction will take place through December 2016. We are excited for this to be the future home of DuBose Law Firm. As construction continues, we'll be sure to post progress updates.
DuBose Law Firm, PLLC
Principal Office Address
5646 Milton St., Suite 321
Dallas, Texas 75206
Ph. 214.389.8199
Fax.  214.389.8399
Sponsored by Attorney
Ben K. DuBose
Licensed in TX, OK, PA