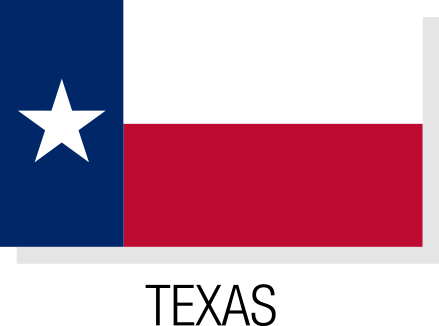 Welcome to our comprehensive page dedicated to asbestos job sites in Texas. Here, you can access a searchable database that allows you to explore job sites and locations in Texas which were identified in prior asbestos litigation. Our user-friendly interface enables you to search by job site name or city.
Texas, with its vibrant industrial sector, has a significant history of asbestos utilization in various industries, including shipbuilding, oil refineries, power plants, construction, and manufacturing. Industrial job sites posed significant risks to workers and nearby residents due to the presence of asbestos-containing materials.
The maritime industry in Texas, particularly in cities like Houston and Galveston, heavily relied on asbestos for insulation and fireproofing on ships and offshore structures. Shipyard workers, dock workers, and those involved in shipbuilding and repair were exposed to asbestos fibers. Similarly, oil refineries and petro-chemical plants across Texas used asbestos for insulation and fireproofing, putting workers at risk.
Power plants, construction sites, and manufacturing facilities throughout the state also had a history of asbestos use. Workers in these industries, including engineers, maintenance personnel, construction workers, and factory workers, faced potential exposure to asbestos fibers.
| Jobsite Name | City | State |
| --- | --- | --- |
| 1ST CITY NATIONAL BANK | HOUSTON | TX |
| 1ST FEDERAL SAVINGS | AUSTIN | TX |
| 1ST NATIONAL BANK | KERRVILLE | TX |
| 1ST NATIONAL BANK | SAN ANTONIO | TX |
| A & E TELEPHONE BUILDING | SAN ANTONIO | TX |
| A & M UNIVERSITY – ENGINEEER BUILDING | COLLEGE STATION | TX |
| A & S Steel Buildings Inc | Houston | TX |
| A BRANDT AND COMPANY | FORT WORTH | TX |
| A I S D – COMPUTER ROOM | AUSTIN | TX |
| A T & T CO. | ORANGE | TX |
| A. B.-USI-Quantum-Equistar Chemical Plant | Deer Park | TX |
| A. BRANDY & COMPANY | FORT WORTH | TX |
| A. COURCHESNE | EL PASO | TX |
| A. KROSCHEWSKY GIN | TAYLOR | TX |
| A. P. Green Refractory | Freeport | TX |
| A. P. KASCH & SONS | BIG SPRINGS | TX |
| A. Schulman Incorporated | Orange | TX |
| A.C. & S. Incorporated | Dallas | TX |
| A.C. Horn Plant | Houston | TX |
| A.C. MILLER LUMBER CO | JACKSONVILLE | TX |
| A.E. Caldwell | Houston | TX |
| A.G. PROCESSING, INCORPORATED | DENISON | TX |
| A.H. BELO & COMPANY | DALLAS | TX |
| A.H. BELO & COMPANY | GALVESTON | TX |
| A.M. LOCKETT & COMPANY LIMITED | GARLAND | TX |
| A.M. LOCKETT AND COMPANY LIMITED | KANSAS CITY | TX |
| A.O SMITH PIPE | HOUSTON | TX |
| A.O. Smith | Houston | TX |
| A.O. Smith Chemical Plant | Houston | TX |
| A.O. Smith Corporation | Waco | TX |
| A.O. Smith of Texas | Houston | TX |
| A.O. Smith of Texas- Galena | Houston | TX |
| A.P. GREEN FIRE BRICK COMPANY | SULPHUR SPRINGS | TX |
| A.P. GREEN FIRE BRICK COMPANY OF TEXAS | HOUSTON | TX |
| A.P. GREEN FIRE BRICK COMPANY OF TEXAS | DALLAS | TX |
| A.P. GREEN FIRE BRICK COMPANY OF TEXAS | EL PASO | TX |
| A.P. GREEN FIRE BRICK COMPANY OF TEXAS | FT WORTH | TX |
| A.P. GREEN FIRE BRICK COMPANY OF TEXAS | SAN ANTONIO | TX |
| A.P. GREEN FIRE BRICK COMPANY OF TEXAS | ADAMS | TX |
| A.P. GREEN FIRE BRICK COMPANY OF TEXAS | BEAUMONT | TX |
| A.P. GREEN OF TEXAS | SULPHUR SPRINGS | TX |
| A.P. GREEN OF TEXAS | DALLAS | TX |
| A.P. Green Refactories Plant | Freeport | TX |
| A.P. GREEN REFRACTORIES COMPANY | SULPHUR SPRINGS | TX |
| A.P. GREEN REFRACTORIES COMPANY | SAN ANTONIO | TX |
| A.P. GREEN REFRACTORIES COMPANY | DALLAS | TX |
| A.P. GREEN REFRACTORIES COMPANY | EL PASO | TX |
| A.P. GREEN REFRACTORIES COMPANY | FT WORTH | TX |
| A.P. GREEN REFRACTORIES COMPANY | HOUSTON | TX |
| A.P. GREEN REFRACTORIES COMPANY OF TEXAS | DALLAS | TX |
| A.P. GREEN REFRACTORIES COMPANY OF TEXAS | SAN ANTONIO | TX |
| A.P. GREEN REFRACTORIES COMPANY OF TEXAS | EL PASO | TX |
| A.P. GREEN REFRACTORIES COMPANY OF TEXAS | FT WORTH | TX |
| A.P. GREEN REFRACTORIES COMPANY OF TEXAS | HOUSTON | TX |
| A.P. GREEN SERVICES DIVISION | DALLAS | TX |
| A.P. GREEN SERVICES, INCORPORATED (FORMERLY KNOWN AS BIGELOW-LIPTAK CORPORATION) | HOUSTON | TX |
| A.P. HILL | HOUSTON | TX |
| A.P.G. SERVICE DIVISION | HOUSTON | TX |
| A/S. STEELMAKER | HOUSTON | TX |
| A-B CHEMICAL CORP. | DEER PARK | TX |
| ABASCO, INCORPORATED | ADDISON | TX |
| ABC Machines | Houston | TX |
| Aber | Houston | TX |
| Aber Company | Houston | TX |
| ABER COMPANY, INC. | HOUSTON | TX |
| Aber Insulation (contractor) | Houston | TX |
| ABERCROMBIE (USS) | ORANGE | TX |
| Abilene Boiler Company | Abilene | TX |
| Abitibi Consolidated Paper Mill | Sheldon | TX |
| ABITIBI CONSOLIDATED PAPER MILL (FKA DONOHUE PAPER) | LUFKIN | TX |
| Abitibi Consolidated Paper Mill / Champion International Corp. | Lufkin | TX |
| ABITIBI CONSOLIDATED, INCORPORATED | SHELDON | TX |
| ABITIBI-CONSOLIDATED CORP. | LUFKIN | TX |
| Abitibi-Consolidated Paper | Lufkin | TX |
| Able Insulation | Port Arthur | TX |
| Able Supply Company | Houston | TX |
| ABM MACHINERY COMPANY | AUSTIN | TX |
| ACANDS, INC. | HOUSTON | TX |
| ACANDS, INC. | DALLAS | TX |
| ACANDS, INC. | SAN ANTONIO | TX |
| ACBO ALUMINUM AND BRASS PLANT | HOUSTON | TX |
| ACME BRICK | BRIDGEPORT | TX |
| ACME BRICK | FORT WORTH | TX |
| ACME BRICK CO | FT WORTH | TX |
| ACME BRICK CO. | FORT WORTH | TX |
| ACME BRICK COMPANY | FORT NORTH | TX |
| ACME COOPERAGE CO | DALLAS | TX |
| ACME INSULATION & SUPPLY CO. | DALLAS | TX |
| ACME LAUNDRY COMPANY | EL PASO | TX |
| ACOUSTICAL PRODUCTS COMPANY, 6417 EPPS ST. | HOUSTON | TX |
| ACTITECH | SHERMAN | TX |
| Ada Oil Co. | Clay County | TX |
| Adair Insulating, Inc | Odessa | TX |
| ADAIR INSULATION INC | ODESSA | TX |
| Adams Food Store | Burnet | TX |
| ADMIRAL LINEN SERVICES | FT. WORTH | TX |
| AEP TEXAS CENTRAL COMPANY | MISSION | TX |
| AEP TEXAS CENTRAL COMPANY | CORPUS CHRISTI | TX |
| AEP TEXAS CENTRAL COMPANY | VICTORIA | TX |
| AERONAUTICS & MISSILES DIVISION | DALLAS | TX |
| AERONAUTICS & MISSILES DIVISION | GRAND PRAIRIE | TX |
| AEROSPACE MEDICAL DIVISION | BROOKS AIR FORCE | TX |
| AG CHEMICAL PLANT | FREEPORT | TX |
| AGRICULTURAL & MECHANICAL COLLEGE OF TEXAS | COLLEGE STATION | TX |
| AGRUIM U.S. INCORPORATED | BORGER | TX |
| AILEEN, INCORPORATED | ABILENE | TX |
| AIR CONDITIONING INC. | AUSTIN | TX |
| AIR PRODUCTS | PASADENA | TX |
| Air Products & Chemical | La Porte | TX |
| AIR PRODUCTS AND CHEMICALS, INCORPORATED | PASADENA | TX |
| AIR PRODUCTS CO | PASADENA | TX |
| AITKEN PLANT | HOUSTON | TX |
| AKTION | HOUSTON | TX |
| ALAMO GINNING COMPANY | SAN ANTONIO | TX |
| ALAMO HEIGHTS HIGH SCHOOL- AUDITORIUM | SAN ANTONIO | TX |
| ALAMO INDUSTRIES, INCORPORATED | DEER PARK | TX |
| ALAMO MANUFACTURING COMPANY | DALLAS | TX |
| ALAMO NATIONAL BANK – 154 EAST COMMERCE STREET | SAN ANTONIO | TX |
| ALAMO POLYMER CORPORATION | DEER PARK | TX |
| ALAMOGORDO LUMBER COMPANY | EL PASO | TX |
| ALBEMARLE CORPORATION | PASADENA | TX |
| ALBERT S. BURELSON | HOUSTON | TX |
| Alco Products | Beaumont | TX |
| Alcoa | Point Comfort | TX |
| Alcoa | Rockdale | TX |
| Alcoa | Port Lavaca | TX |
| ALCOA – aka Rockdale Works | Rockdale | TX |
| ALCOA – ALUMINA PLANT | POINT COMFORT | TX |
| ALCOA (Aluminum Co. of America) | Point Comfort | TX |
| ALCOA (Aluminum Co. of America) | Rockdale | TX |
| ALCOA (ALUMINUM CO. OF AMERICA) – SANDOW PLANT | ROCKDALE | TX |
| Alcoa (F/K/A Reynolds Metals) | Rockdale | TX |
| ALCOA ALUMINUM | POINT COMFORT | TX |
| ALCOA ALUMINUM | ROCKDALE | TX |
| ALCOA ALUMINUM | ROCKVILLE | TX |
| ALCOA ALUMINUM – BUILDING 127 | ROCKDALE | TX |
| Alcoa Aluminum Plant | Point Comfort | TX |
| ALCOA ALUMINUM PLANT | ROCKDALE | TX |
| ALCOA ALUMINUM PLANT/REFINERY | ROCKDALE | TX |
| ALCOA COMPANY | POINT COMFORT | TX |
| Alcoa Point | Comfort | TX |
| ALCOA POINT COMFORT WORKS | POINT COMFORT | TX |
| Alcoa Rockdale | Rockdale | TX |
| Alcoa Rockdale Plant | Rockdale | TX |
| ALCOA, POINT COMFORT OPERATION | POINT COMFORT | TX |
| Aldine High School | Houston | TX |
| ALL SAINTS HOSPITAL | FORT WORTH | TX |
| ALLAN JUNIOR HIGH SCHOOL – GIRLS GYMNASIUM | AUSTIN | TX |
| ALLIANT TECHSYSTEMS | MCGREGOR | TX |
| Allied Chemical | Orange | TX |
| ALLIED CHEMICAL CORP. | ORANGE | TX |
| Allied Chemical Plant / McCarthy | Winnie | TX |
| ALLIED CHEMICAL WAX PLANT WAR | ORANGE | TX |
| Allied Construction | Dallas | TX |
| Allied Industries | Houston | TX |
| Allied Sheet Metal Shop | Houston | TX |
| ALLIED/SIGNAL OIL REFINERY | ORANGE | TX |
| ALLISON ELEMENTARY SCHOOL | AUSTIN | TX |
| ALLISON SCHOOL | AUSTIN | TX |
| Alpha Portland Cement Company | Orange | TX |
| ALPINE NURSING HOME | SAN ANTONIO | TX |
| ALPINE NURSING HOME | KERRVILLE | TX |
| ALUMINA REFINERY | POINT COMFORT | TX |
| Aluminum Co. of America | Point Comfort | TX |
| ALUMINUM COMPANY | POINT COMFORT | TX |
| ALUMINUM COMPANY OF AMERI | ROCKDALE | TX |
| ALUMINUM COMPANY OF AMERICA | ROCKDALE | TX |
| ALUMINUM COMPANY OF AMERICA | POINT COMFORT | TX |
| ALUMINUM COMPANY OF AMERICA – SANDOW PLANT | ROCKDALE | TX |
| Aluminum Company of America (Alcoa) | Point Comfort | TX |
| ALUMINUM COMPANY OF AMERICA, SAN ANTONIO WAREHOUSE | SAN ANTONIO | TX |
| ALUMINUM CORPORATION OF AMERICA | SANDOW | TX |
| ALUMINUM CORPORATION OF AMERICA | POINT COMFORT | TX |
| ALUMINUM CORPORATION OF AMERICA | BANDOW | TX |
| ALUMINUM CORPORATION OF AMERICA | PT COMFORT | TX |
| ALUMINUM PLANT | ROCKDALE | TX |
| ALVIN C. COCKRELL (USS) | ORANGE | TX |
| ALVIN HIGH SCHOOL | ALVIN | TX |
| AM Lockett | Houston | TX |
| AM Lockett | San Juan | TX |
| AM Lockett | Brownsville | TX |
| AM Lockett | Deer Park | TX |
| Amarillo Air Force Base | Amarillo | TX |
| AMARILLO OIL COMPANY | FRITCH | TX |
| AMARILLO OIL COMPANY – TURKEY CREEK GASOLINE PLANT | FRITCH | TX |
| Amarillo Plant | Amarillo | TX |
| AMELIA EARHART | HOUSTON | TX |
| AMER. MAGNESIUM CO. | SNYDER | TX |
| Amerada Hess Corp. | Galena Park | TX |
| AMERADA HESS OIL REFINERY | CORPUS CHRISTI | TX |
| American Hoechst- Bayport Works | Pasadena | TX |
| AMERICAN AIRLINES – LOVE FIELD | DALLAS | TX |
| AMERICAN AIRLINES TERMINAL, LOVEFIELD | DALLAS | TX |
| AMERICAN AIRLINES, LOVE FIELD | DALLAS | TX |
| AMERICAN ASPHALT ROOF COMPANY | FORT WORTH | TX |
| American Bank & Trust | Irving | TX |
| AMERICAN BANK OF COMMERCE | ODESSA | TX |
| American Bridge | Orange | TX |
| AMERICAN BRIDGE DIVISION | ORANGE | TX |
| American Can Company | Houston | TX |
| American Can Company | San Antonio | TX |
| AMERICAN CAN PLANT | HOUSTON | TX |
| American Chemical Co. | Texas City | TX |
| AMERICAN CHROME & CHEMICALS | CORPUS CHRISTI | TX |
| American Clay | Tyler | TX |
| AMERICAN COTTON GROWERS, INCORPORATED | LITTLEFIELD | TX |
| AMERICAN CYANAMID CHEMICAL PLANT | FORT WORTH | TX |
| AMERICAN CYANAMID COMPANY | FT WORTH | TX |
| AMERICAN CYANAMID COMPANY | FORT WORTH | TX |
| American Etching | Dallas | TX |
| AMERICAN FMFG | FORT WORTH | TX |
| AMERICAN HOECHST | PORT ARTHUR | TX |
| AMERICAN HOECHST CORPORATION | BAYPORT | TX |
| American Insulation Company | Beaumont | TX |
| American Insulation Company | Port Arthur | TX |
| AMERICAN INSULATION COMPANY INC. | BEAUMONT | TX |
| AMERICAN LINEN SERVICE | SAN ANTONIO | TX |
| AMERICAN LINEN SUPPLY | SAN ANTONIO | TX |
| AMERICAN LUMBER & TREATING CORP. | EL PASO | TX |
| AMERICAN MAGNESIUM CO | BRAND | TX |
| AMERICAN MANUFACTURING | FORT WORTH | TX |
| AMERICAN MANUFACTURING COMPANY OF TEXAS | FORT WORTH | TX |
| American Minerals Spirits | Corpus Christi | TX |
| American Norit | Marshall | TX |
| American Norit (see also Darco) | Marshall | TX |
| AMERICAN NORIT COMPANY INCORPORATED | MARSHALL | TX |
| American Oil | Texas City | TX |
| AMERICAN OIL | ORANGE | TX |
| AMERICAN OIL – DOOR NBR 3 | HOUSTON | TX |
| AMERICAN OIL CO | TEXAS CITY | TX |
| AMERICAN OIL CO | HOUSTON | TX |
| American Oil Company | Texas City | TX |
| AMERICAN OIL COMPANY | ALVIN | TX |
| AMERICAN OIL COMPANY – GALVESTON BAY REFINERY | TEXAS CITY | TX |
| American Oil Company (Amoco) | Galveston | TX |
| American Oil Company (Amoco) | Longview | TX |
| American Oil Company Chemical Plant | Texas City | TX |
| AMERICAN OIL COMPANY REFINERY | TEXAS CITY | TX |
| AMERICAN PERMANENT WARE | DALLAS | TX |
| American Petrofina | Port Arthur | TX |
| AMERICAN PETROFINA COMPAN | MT PLEASANT | TX |
| AMERICAN PETROFINA COMPANY | MT. PLEASANT | TX |
| AMERICAN PETROFINA COMPANY | MT PLEASANT | TX |
| AMERICAN PETROFINA REFINERY | MT. PLEASANT | TX |
| American Petroleum Co. | Stitson | TX |
| AMERICAN PLANT FOOD | GALENA PARK | TX |
| AMERICAN PORCELAIN ENAMEL COMPANY | HOUSTON | TX |
| AMERICAN PUBLIC SERVICE COMPANY | ABILENE | TX |
| AMERICAN RIO GRANDE LAND AND IRRIGATION COMPANY | MERCEDES | TX |
| AMERICAN ROBIN | HOUSTON | TX |
| American Rock Wool Corp | Corsicana | TX |
| AMERICAN SMELTING & REFINERY COMPANY | EL PASO | TX |
| American Smelting & Refining | El Paso | TX |
| American Smelting & Refining | Corpus Christi | TX |
| American Smelting & Refining Co. | El Paso | TX |
| AMERICAN SMELTING & REFINING COMPANY | CORPUS CHRISTI | TX |
| AMERICAN SMELTING & REFINING COMPANY | EL PASO | TX |
| AMERICAN SMELTING AND REFIN | CORPUS CHRISTI | TX |
| AMERICAN SMELTING AND REFINING COMPANY | EL PASO | TX |
| American Smelting Steel Mill | El Paso | TX |
| AMERICAN STATEMAN | AUSTIN | TX |
| American Synpol | Port Neches | TX |
| American Valve & Hydrant | Beaumont | TX |
| Ameripol Synpol | Port Neches | TX |
| Ameripol Synpol Co. | Port Neches | TX |
| AMERIPOL-SYNPOL | PORT NECHES | TX |
| AMERIPOL-SYNPOL | PT. NECHES | TX |
| Ameripol-Synpol / B.F. Goodrich | Orange | TX |
| Ameripol-Synpol / B.F. Goodrich / Michelin USA (South Plant) | Port Neches | TX |
| Ameripol-Synpol / Texas U.S. Chemical / Texas Butadiene / Texaco Chemical Corp. (North Plant) | Port Neches | TX |
| AMF Tubescope, inc. | Houston | TX |
| AMICABLE LIFE BUILDING | WACO | TX |
| Amoco | Sweeney | TX |
| Amoco | Chocolate Bayou | TX |
| Amoco | Edgewood | TX |
| Amoco | Old Ocean | TX |
| Amoco | Wink | TX |
| AMOCO – TEXAS CITY REFINERY – FCU UNIT 3 | TEXAS CITY | TX |
| AMOCO – TEXAS CITY REFINERY – NO 1 POWER HOUSE EXPANSION | TEXAS CITY | TX |
| AMOCO – TEXAS CITY REFINERY – POWER STATION 3 | TEXAS CITY | TX |
| AMOCO (American Oil Co.) / Standard Oil Co. | Alvin | TX |
| AMOCO (American Oil Co.) / Standard Oil Co. | Angleton | TX |
| AMOCO (American Oil Co.) / Standard Oil Co. – Chocolate Bayou | Angleton | TX |
| AMOCO (American Oil Co.) / Standard Oil Co. / Pan American Refinery | Texas City | TX |
| Amoco Acid Plant | Chocolate Bayou | TX |
| Amoco Chemcial Plant | Alvin | TX |
| Amoco Chemcial Plant | Pasadena | TX |
| Amoco Chemical | Alvin | TX |
| Amoco Chemical | Chocolate Bayou | TX |
| Amoco Chemical | Texas City | TX |
| Amoco Chemical Company | Texas City | TX |
| AMOCO CHEMICAL COMPANY – CHOCOLATE BAYOU PLANT | ALVIN | TX |
| Amoco Chemical Corp | Chocolate Bayou | TX |
| AMOCO CHEMICAL CORPORATION | BROWNSVILLE | TX |
| AMOCO CHEMICAL CORPORATION | ALVIN | TX |
| AMOCO CHEMICAL CORPORATION | CHOCOLATE BAYOU | TX |
| AMOCO CHEMICAL PLANT | TEXAS CITY | TX |
| AMOCO CHEMICAL PLANT | CHOCOLATE BAYOU | TX |
| AMOCO CHEMICAL SHIPS/PLANT | TEXAS CITY | TX |
| Amoco Chemicals | Texas City | TX |
| AMOCO CHEMICALS CORP. | TEXAS CITY | TX |
| AMOCO CHEMICALS CORPORATION | TEXAS CITY | TX |
| AMOCO CORPORATION | ALVIN | TX |
| AMOCO GAS PRODUCTION PLANT | OLD OCEAN | TX |
| Amoco Oil Company | Texas City | TX |
| AMOCO OIL COMPANY – GALVESTON BAY REFINERY | TEXAS CITY | TX |
| AMOCO OIL REFINERY | ALVIN | TX |
| AMOCO OIL REFINERY | TEXAS CITY | TX |
| Amoco Production | Edgewood | TX |
| Amoco Production | Tyler | TX |
| AMOCO PRODUCTION – SOUTH FULLERTON GAS PLANT | ANDREWS | TX |
| Amoco Production Co | Sweeney | TX |
| Amoco Production Co. | Edgewood | TX |
| Amoco Production Co. | Odessa | TX |
| Amoco Production Co. | Yantis | TX |
| Amoco Refinery Plant | Chocolate Bayou | TX |
| AMSTAR CORPORATION, CORN PRODUCTS DIVISION | DIMMITT | TX |
| Amtek Plant | Port Brownsville | TX |
| ANADARKO | CORPUS CHRISTI | TX |
| ANCHOR HOCKING GAS PLANT | HOUSTON | TX |
| ANCHOR HOCKING GLASS CORPORATION | HOUSTON | TX |
| ANCHOR HOCKING GLASS CORPORATION | JACKSONVILLE | TX |
| Anderson Clayton & Co | Sherman | TX |
| ANDERSON DAY CARE CENTER | GARLAND | TX |
| ANDERSON HICKEY | HENDERSON | TX |
| ANDERSON HIGH SCHOOL | AUSTIN | TX |
| ANDERSON PARK APARTMENTS | HOUSTON | TX |
| ANDERSON, CLAYTON AND COMPANY | SHERMAN | TX |
| Andrews Gas Plant | Andrews | TX |
| ANGELICA CORPORATION | DALLAS | TX |
| ANGELINA COUNTY LUMBER COMPANY | KELTYS | TX |
| ANGELINA COUNTY LUMBER COMPANY | KELLYS | TX |
| Angelina Hardwood Plant | Lufkin | TX |
| ANGLETON HIGH SCHOOL | HOUSTON | TX |
| Anheuser Busch | Houston | TX |
| ANHEUSER BUSCH BREWERY IN | HOUSTON | TX |
| ANHEUSER BUSCH INCORPORATED | HOUSTON | TX |
| Anheuser Busch Plant | Houston | TX |
| ANHEUSER BUSCH, INCORPORATED | HOUSTON | TX |
| Anheuser-Busch | Houston | TX |
| ANTI-POLLUTION DEVICES IN | CORSICANA | TX |
| Ap Green | Thermo | TX |
| Ap Green | Henderson | TX |
| Ap Green | Houston | TX |
| Apco Oil Corporation | San Antonio | TX |
| Apparel Mart | Dallas | TX |
| APPAREL MART BUILDING | DALLAS | TX |
| Appleton Electric Company | Stephenville | TX |
| APPRENTICE SCHOOL | SAN ANTONIO | TX |
| ARAMARK CORPORATION | DALLAS | TX |
| ARCH CHEMICALS, INCORPORATED | BEAUMONT | TX |
| Arco | Pasadena | TX |
| Arco | Beaumont | TX |
| Arco | Houston | TX |
| Arco | Port Arthur | TX |
| Arco (Atlantic Richfield Company) | Houston | TX |
| ARCO (Atlantic Richfield Company) / Sinclair / Atlantic Richfield | Corpus Christi | TX |
| ARCO (Atlantic Richfield Company) / Sinclair / Atlantic Richfield | Houston | TX |
| ARCO (Atlantic Richfield Company) / Sinclair / Atlantic Richfield | Pasadena | TX |
| ARCO (Atlantic Richfield Company) / Sinclair / Atlantic Richfield | Pledger | TX |
| Arco Chemical | Channelview | TX |
| Arco Chemical | Port Arthur | TX |
| Arco Chemical | Pasadena | TX |
| Arco Chemical Co. | Channelview | TX |
| ARCO CHEMICAL CO. (Texas Butadine & Chemical Corp.) | CHANNELVIEW | TX |
| Arco Chemical Refinery Plant | Pasadena | TX |
| Arco Oil & Gas | Longview | TX |
| Arco Oil Refinery | Houston | TX |
| Arco Oil Refinery | Pasadena | TX |
| Arco Polymers | Port Arthur | TX |
| Arco Polymers | Silsbee | TX |
| ARCO POLYMERS PLANT | GROVES | TX |
| Arco Refinery | Beaumont | TX |
| Arco Refinery | Houston | TX |
| Arco Refinery | Pasadena | TX |
| Arco Refinery Plant | Houston | TX |
| ARCO/ Atlantic Richfield Chemical Co. | Channel View | TX |
| ARCO/ ATLANTIC RICHFIELD CHEMICAL CO. | HOUSTON | TX |
| ARCO/SINCLAIR | HOUSTON | TX |
| Arizona Chemical Company | Brownfield | TX |
| ARKANSAS CEMENT | FOREMAN | TX |
| ARKANSAS FUEL OIL COMPANY | GREGGTON | TX |
| ARKANSAS FUEL OIL COMPANY | WASHOM | TX |
| ARKANSAS FUEL OIL COMPANY | WASKOM | TX |
| ARKANSAS LOUISIANA GAS COMPANY – GAS PLANT | WASKOM | TX |
| ARKLA ENERGY RESOURCES | WASKOM | TX |
| Armco Sheffield Steel | Houston | TX |
| Armco Steel | Houston | TX |
| Armco Steel | Channelview | TX |
| Armco Steel Corp | Houston | TX |
| ARMCO STEEL CORP – COKE PLANT | HOUSTON | TX |
| ARMCO STEEL CORP., HOUSTON WORKS, MASONRY DEPT. | HOUSTON | TX |
| ARMCO STEEL CORPORATION | HOUSTON | TX |
| ARMCO STEEL CORPORATION – HOUSTON WORKS | HOUSTON | TX |
| Armco Steel Mill | Greens Bayou | TX |
| Armco Steel Mill | Pasadena | TX |
| Armco Steel Mill | Channelview | TX |
| ARMCO STEEL MILL | HOUSTON | TX |
| Armco Steel Mill Plant | Houston | TX |
| ARMOUR AND COMPANY | FT. WORTH | TX |
| ARMOUR AND COMPANY | NORTH FT. WORTH | TX |
| Armour Meat Packing House | Fort Worth | TX |
| ARMSTRONG CONT & SUPPLY | HOUSTON | TX |
| Armstrong Container & Supply | Dallas | TX |
| Armstrong Contracting & Supply | Houston | TX |
| Armstrong Contracting & Supply Corporation | Galveston | TX |
| Armstrong Contracting & Supply Corporation | Houston | TX |
| Armstrong Contracting & Supply Corporation | Wichita Falls | TX |
| Armstrong Contracting & Supply Corporation | Beaumont | TX |
| ARMSTRONG CORK COMPANY | HOUSTON | TX |
| ARMSTRONG CORK COMPANY | DALLAS | TX |
| ARMY RESERVE – MODULE 450 | AUSTIN | TX |
| ARTC BUILDING, AMON CARTER FIELD | FORT WORTH | TX |
| ARTHUR ST. CLAIR | HOUSTON | TX |
| Asarco | El Paso | TX |
| Asarco | Corpus Christi | TX |
| ASARCO (AMERICAN SMELTING AND REFINING COMPANY) | EL PASO | TX |
| Asarco Chemical | Corpus Christi | TX |
| ASARCO COPPER & METALS REFINERY/PLANT/SMELTING PLANT | AMARILLO | TX |
| ASARCO COPPER SMELTER | ELPASO | TX |
| ASARCO PLANT | AMARILLO | TX |
| Asarco Refinery | Corpus Christi | TX |
| Asarco Smelting | Corpus Christi | TX |
| ASARCO SMELTING PLANT | CORPUS CHRISTI | TX |
| ASARCO SMELTING PLANT | EL PASO | TX |
| ASARCO SMELTING PLANT | HOUSTON | TX |
| ASARCO ZINC REFINERY/ECYCLE TEXAS HYDROMETALLURGICAL | CORPUS CHRISTI | TX |
| ASARCO, INCORPORATED | EL PASO | TX |
| Ashland Chem Co | Aransas Pass | TX |
| Ashland Chemical | Baytown | TX |
| Ashland Chemical | Ashland | TX |
| ASHLAND CHEMICAL COMPANY | BAYTOWN | TX |
| Ashland Oil | Ashland | TX |
| Ashland Oil & Chemical | Baytown | TX |
| ASIATIC PETROLEUM REFINERY | HOUSTON | TX |
| ASIDOS | HOUSTON | TX |
| ASSOCIATED MECHANICAL CONTRACTORS | HOOKS | TX |
| Associated Oil | Odessa | TX |
| ASSOCIATED WHOLESALE GROCERS OF DALLAS – WAREHOUSE | DALLAS | TX |
| ASTRO ARENA | HOUSTON | TX |
| Astro Dome | Houston | TX |
| Astrodome | Houston | TX |
| Astrodome, Fat Stock Building | Houston | TX |
| Astroworld | Houston | TX |
| Astroworld Amusement Park | Houston | TX |
| AT&T | Mesquite | TX |
| ATCHINSON, TOPEKA AND SANTA FE RAILWAY COMPANY | CLEBURNE | TX |
| ATLANTIC GULF & PACIFIC CO. | GALVESTON / BEAUMONT | TX |
| ATLANTIC GULF & PACIFIC CO. | HOUSTON | TX |
| Atlantic Oil / O.L. Olsen Co. | Atlanta | TX |
| Atlantic Oil / O.L. Olsen Co. | Sheridan | TX |
| Atlantic Refinery | Port Arthur | TX |
| ATLANTIC REFINING | DALLAS | TX |
| Atlantic Refining Co | Groves | TX |
| ATLANTIC REFINING CO | ATRECO | TX |
| ATLANTIC REFINING CO – ATRECO REFINERY | PORT ARTHUR | TX |
| ATLANTIC REFINING COMPANY | PORT ARTHUR | TX |
| ATLANTIC REFINING COMPANY | ATRECO | TX |
| ATLANTIC RICHFIELD CHEMICAL COMPANY | CHANNELVIEW | TX |
| Atlantic Richfield Co | Houston | TX |
| Atlantic Richfield Co. | Houston | TX |
| Atlantic Richfield Co. | Silsbee | TX |
| ATLANTIC RICHFIELD COMPANY | PORT ARTHUR | TX |
| ATLANTIC RICHFIELD COMPANY | ATRECO | TX |
| ATLANTIC RICHFIELD COMPANY | HOUSTON | TX |
| ATLANTIC RICHFIELD COMPANY | PASADENA | TX |
| ATLANTIC RICHFIELD COMPANY | GROVES | TX |
| ATLANTIC RICHFIELD COMPANY | PRICE | TX |
| Atlantic Richfield Company (Arco) | Channel View | TX |
| ATLANTIC RICHFIELD COMPANY, ARCO POLYMERS, INCORPORATED | PORT ARTHUR | TX |
| ATLANTIC RICHFIELD CORP | HOUSTON | TX |
| Atlantic Richfield Oil Refinery | Groves | TX |
| ATLANTIC STEAMER SUPPLY | HOUSTON | TX |
| Atlas Airconditioning Co | Houston | TX |
| ATLAS BRADFORD CO | HOUSTON | TX |
| Atlas Bradford Co. | Houston | TX |
| ATLAS CHEMICAL INDUSTRIES INC – MARSHALL PLANT | MARSHALL | TX |
| ATLAS CHEMICAL INDUSTRIES, INC. | MARSHALL | TX |
| Atlas Chemicals Inc | Marshall | TX |
| ATLAS INCINERATOR | DENTON | TX |
| Atlas Pipe Line Co. | Longview | TX |
| Atlas Pipe Plant | Houston | TX |
| ATLAS POWDER COMPANY | MARSHALL | TX |
| Atlas Processing Company | Longview | TX |
| Atlas-Bradford Co. | Houston | TX |
| ATOFINA PETROCHEMICALS, INCORPORATED | DEER PARK | TX |
| ATOFINA PETROCHEMICALS, INCORPORATED | LA PORTE | TX |
| ATOFINA PETROCHEMICALS, INCORPORATED | PORT ARTHUR | TX |
| ATOMIC ENERGY COMMISSION | AMARILLO | TX |
| ATRECO REFINERY | PORT ARTHUR | TX |
| AUROCO CHEMICALS CORPORATION | BROWNSVILLE | TX |
| Austin Bridge Co. (DPC) | Dangerfield | TX |
| AUSTIN CONTRACTING | DALLAS | TX |
| AUSTIN ENERGY | AUSTIN | TX |
| AUSTIN POWER PLANT | AUSTIN | TX |
| AUSTIN RAPID TRANSIT – POWER PLANT | AUSTIN | TX |
| AUSTIN STATE HOSPITAL | AUSTIN | TX |
| AUSTIN STATE HOSPITAL – WARD BUILDINGS 545 & 519 | AUSTIN | TX |
| AUSTIN STATE SCHOOL | AUSTIN | TX |
| AUSTIN STATE SCHOOL HOSPITAL | AUSTIN | TX |
| AUSTIN STATE SCHOOL HOSPITAL – GENERATORS | AUSTIN | TX |
| AUSTIN STATE SCHOOL HOSPITAL – MENTAL HEALTH SUPPLY WAREHOUSE | AUSTIN | TX |
| AUSTIN STATE SCHOOL HOSPITAL – RESOCIALIZATION UNIT | AUSTIN | TX |
| AUSTIN STREET RAILWAY COMPANY | AUSTIN | TX |
| AUSTIN WATER, LIGHT AND POWER COMPANY – WATER, LIGHT AND POWER PLANT | AUSTIN | TX |
| Austin White Lime Co. | Austin | TX |
| Austin White Lime Co. | Mcneil | TX |
| AUSTIN WHITE LIME COMPANY | MCNEILL | TX |
| AUSTIN WHITE LIME COMPANY | AUSTIN | TX |
| AUSTIN WHITE LIME COMPANY | MCNEIL | TX |
| AVIATION MECHANICS SCHOOL | WICHITA FALLS | TX |
| Axtell Plumbing Supply | Fort Worth | TX |
| Azalea and Loma | Victoria | TX |
| AZTEC MANUFACTURING CO | FORT WORTH | TX |
| AZTEC MANUFACTURING COMPANY | HOUSTON | TX |
| AZTEC MANUFACTURING COMPANY | CROWLEY | TX |
| AZTEC MFG CO | HOUSTON | TX |
| B & B Contracting & Supply Company | Houston | TX |
| B & B Contracting & Supply Company | Dallas | TX |
| B & B Engineering & Supply Co. | Houston | TX |
| B & B Engineering & Supply Co. | Dallas | TX |
| B & B ENGINEERING & SUPPLY CO. | PORT ARTHUR | TX |
| B. & B. Engineering | Houston | TX |
| B. F. GOODRICH | PORT NECHES | TX |
| B.F. Goodrich / Ameripol-Synpol | Orange | TX |
| B.F. Goodrich / Ameripol-Synpol / Michelin USA (South Plant) | Port Neches | TX |
| B.F. Goodrich Chemical Company | Port Neches | TX |
| B.F. GOODRICH CHEMICAL COMPANY | BAYPORT | TX |
| B.F. GOODRICH COMPANY | TEXARKANA | TX |
| B.F. GOODRICH COMPANY | PORT NECHES | TX |
| B.F. GOODRICH PLANT | PORT NECHES | TX |
| B.O.P. DIVISION OF GENERAL MOTORS CORPORATION | ARLINGTON | TX |
| B.R. Good Corp | Houston | TX |
| Babcock & Wilcox | Houston | TX |
| Babcock & Wilcox | Galveston | TX |
| Babcock & Wilcox | Paris | TX |
| Babcock & Wilcox | Orange | TX |
| BABCOCK & WILCOX COMPANY | PARIS | TX |
| BABCOCK & WILCOX COMPANY | CHANNELVIEW | TX |
| Babcock & Wilcox- Newman Station | El Paso | TX |
| Babcock & Wilcox Texas Utility Co. | Tuco | TX |
| Babcock & Wilcox-Boiler Division | Dallas | TX |
| BABCOCK AND WILCOX | PARIS | TX |
| Badger Co. | Houston | TX |
| BADGER COMPANY, INCORPORATED | BAYPORT | TX |
| BADGER MFG. CO. | BIG SPRINGS | TX |
| Badische Chemical | Freeport | TX |
| Badische Chemical Plant (see also Dow Badische) | Freeport | TX |
| Baeco Inc. | Irving | TX |
| BAILEY BOILER WORKS | LUBBOCK | TX |
| Bailey Meissner Company | Wichita Falls | TX |
| Baker Hotel | Dallas | TX |
| BAKER HOTEL | MINERAL WELLS | TX |
| BAKER HUGHES | HOUSTON | TX |
| BAKER HUGHES | KILGORE | TX |
| Balboa Apartments | Nassau Bay | TX |
| Baldwin-Ehert-Hill Inc | Houston | TX |
| Bank Building | Orange | TX |
| Bank of Commerce | Ft. Worth | TX |
| BANK OF SAN ANTONIO – ONE ROMANA PLAZA BUILDING | SAN ANTONIO | TX |
| Bank of the Southwest | Houston | TX |
| BANK OF THE SOUTHWEST BUILDING | HOUSTON | TX |
| Baptist Hospital | Houston | TX |
| BAPTIST HOSPITAL – 111 DALLAS STREET | SAN ANTONIO | TX |
| BAPTIST MEMORIAL HOSPITAL | SAN ANTONIO | TX |
| Barber Incorporated | Houston | TX |
| BARBERS HILL CANAL COMPANY | MONT BELVIEU | TX |
| BARBOURS CUT DOCKS | La Porte | TX |
| BARCELONA APARTMENTS | DALLAS | TX |
| BARECO WAX COMPANY DIVISION, PETROLITE CORPORATION | KILGORE | TX |
| Baroid | Houston | TX |
| BARRACKS BUILDINGS 9210 & 9211 & 9213 & 9418 | FORT HOOD | TX |
| BASF / Dow Badische / Badische Chemical / Dow Chemical | Freeport | TX |
| BASF Chemical Plant | Freeport | TX |
| BASF Corp. | Freeport | TX |
| BASF Corporation | Freeport | TX |
| Basic Science Building | Galveston | TX |
| BASIS PETROLEUM, INCORPORATED | HOUSTON | TX |
| Bas-Tex Corp. | Houston | TX |
| BASTROP PARK | BASTROP | TX |
| Bates Power Plant / Central Power and Light | Mission | TX |
| BATHOVEN HALL – HEMISPHERE PLAZA | SAN ANTONIO | TX |
| BAY CITY DRYER CO | BAY CITY | TX |
| BAY PRAIRIE IRRIGATION COMPANY | LANE CITY | TX |
| BAYFIELD INDUSTRIES | CARROLLTON | TX |
| Bayles School | Dallas | TX |
| BAYLOR HEALTHCARE SYSTEM | DALLAS | TX |
| Baylor Hospital | Dallas | TX |
| BAYLOR HOSPITAL/BAYLOR UNIVERSITY MEDICAL CENTER | DALLAS | TX |
| Baylor Med. School | Houston | TX |
| BAYLOR UNIVERSITY MEDICAL CENTER – GASTON AVENUE | DALLAS | TX |
| BAYOU CITY RICE MILL COMPANY | HOUSTON | TX |
| BAYOU OXYGEN COMPANY | PASADENA | TX |
| Bayou Refining Co. | Pasadena | TX |
| BAYTANK, INCORPORATED | SEABROOK | TX |
| BAYTOWN ORDNANCE WORKS – Station No. 1364 | BAYTOWN | TX |
| BEAUMONT CHEMICAL PLANT | BEAUMONT | TX |
| Beaumont City Docks | Beaumont | TX |
| BEAUMONT ELECTRIC LIGHT AND POWER COMPANY – POWER PLANT | BEAUMONT | TX |
| BEAUMONT ICE, LIGHT & REFRIGERATING COMPANY – POWER PLANT | BEAUMONT | TX |
| Beaumont Iron & Metal | Beaumont | TX |
| BEAUMONT IRRIGATION COMPANY | VOTH | TX |
| BEAUMONT NATIONAL LINEN SERVICES | BEAUMONT | TX |
| Beaumont Rice Mill | Beaumont | TX |
| Beaumont Shipyards | Beaumont | TX |
| BEAUMONT VILLAGE SHOPPING CENTER | BEAUMONT | TX |
| Beaumont Well Works | Beaumont | TX |
| Beaumont Well Works | Houston | TX |
| BEAUMONT, PORT ARTHUR AND PORT NATCHEZ RAILWAY | BEAUMONT | TX |
| BECHTEL CORPORATION | BEAUMONT | TX |
| BECHTEL CORPORATION – REYNOLDS METALS SHERWIN PLANT – ROUNDOUT #2 – TASK #6 | GREGORY | TX |
| BECHTEL CORPORATION, REYNOLDS METALS SHERWIN PLANT, ROUNDOUT #2, TASK #6 | GREGORY | TX |
| Bechtel Inc | Beaumont | TX |
| BECKER ELEMENTARY SCHOOL | AUSTIN | TX |
| BECKER SCHOOL | AUSTIN | TX |
| Behring International | Houston | TX |
| BELL AIRCRAFT | HURSTO | TX |
| Bell Aircraft Corp. | Fort Worth | TX |
| BELL COUNTY JAIL | BELTON | TX |
| BELL COUNTY OFFICE BUILDING | BELTON | TX |
| Bell Helicopter | Amarillo | TX |
| Bell Helicopter | Hurst | TX |
| BELL HELICOPTER COMPANY | FORT WORTH | TX |
| BELL HELICOPTER CORPORATION | FORT WORTH | TX |
| BELL HELICOPTER CORPORATION | HURST | TX |
| Bell Telephone Company – Main and Elgin Building | HOUSTON | TX |
| BELLCO ENGINEERING | SHERMAN | TX |
| Belmas Co.- Almeda Rd Industrial District | Houston | TX |
| BELMAS COMPANY | HOUSTON | TX |
| BELMIS HEAT TRANSFER | HOUSTON | TX |
| Belmont Baptist Church | Odessa | TX |
| BELTON COTTON MILLS | BELTON | TX |
| Bemis Brothers Bag Plant | Houston | TX |
| BEN FRANKLIN ELEMENTARY SCHOOL | WICHITA FALLS | TX |
| BEN TAUB GENERAL HOSPITAL | HOUSTON | TX |
| BENJAMIN BOURN | HOUSTON | TX |
| BENJAMIN HUNTINGTON | HOUSTON | TX |
| BERGER IRON | HOUSTON | TX |
| BERGMAN MFG CO | OAKLAND | TX |
| BERGSTROM AIR FORCE BASE – 500 SEAT THEATER | AUSTIN | TX |
| BERGSTROM AIR FORCE BASE – AIRCRAFT EQUIPMENT MAINTENANCE | AUSTIN | TX |
| BERGSTROM AIR FORCE BASE – AIRMENS DORMITORIES | AUSTIN | TX |
| BERGSTROM AIR FORCE BASE – BUILDING 1301 | AUSTIN | TX |
| BERGSTROM AIR FORCE BASE – BUILDING 253 | AUSTIN | TX |
| BERGSTROM AIR FORCE BASE – BUILDING 4546 | AUSTIN | TX |
| BERGSTROM AIR FORCE BASE – BUILDING 715 | AUSTIN | TX |
| BERGSTROM AIR FORCE BASE – CHAPEL CENTER | AUSTIN | TX |
| BERGSTROM AIR FORCE BASE – COMMISSARY BUILDING | AUSTIN | TX |
| BERGSTROM AIR FORCE BASE – COMMUNICATIONS BASE | BERGSTROM AIR FORCE BASE | TX |
| BERGSTROM AIR FORCE BASE – COMPOSITE MEDICAL FACILITY | AUSTIN | TX |
| BERGSTROM AIR FORCE BASE – CONTROL TOWER | AUSTIN | TX |
| BERGSTROM AIR FORCE BASE – CREDIT UNION | AUSTIN | TX |
| BERGSTROM AIR FORCE BASE – EXCHANGE COMPLEX | AUSTIN | TX |
| BERGSTROM AIR FORCE BASE – FAMILY HOUSING PROJECT | AUSTIN | TX |
| BERGSTROM AIR FORCE BASE – HOSPITAL | AUSTIN | TX |
| BERGSTROM AIR FORCE BASE – OFFICER`S QUARTERS | AUSTIN | TX |
| BERGSTROM AIR FORCE BASE – QUALITY CONTROL | AUSTIN | TX |
| BERGSTROM AIR FORCE BASE – SECURITY POLICE FACILITY | AUSTIN | TX |
| BERGSTROM AIR FORCE BASE – YOUTH CENTER – BUILDING 3900 | AUSTIN | TX |
| BERNARD HARRIS OFFICE BUILDING – 4340 MCCULLOUGH | SAN ANTONIO | TX |
| Berry Constructors | Corpus Christi | TX |
| Berry Fabricators, Inc. | Corpus Christi | TX |
| BEST FERTILIZER DIVISION OF OCCIDENTAL CHEMICAL COMPANY | PLAINVIEW | TX |
| BEST FERTILIZERS COMPANY | PLAINVIEW | TX |
| BEST PRODUCTS COMPANY | SAN ANTONIO | TX |
| BESTWALL GYPSUM COMPANY | ACME | TX |
| BESTWALL GYPSUM COMPANY | QUANAH | TX |
| Bethleham Steel Shipyard | Beaumont | TX |
| Bethlehem Shipyard | Beaumont | TX |
| BETHLEHEM SHIPYARD/STEEL MILL | BEAUMONT | TX |
| Bethlehem Steel | Beaumont | TX |
| BETHLEHEM STEEL | HOUSTON | TX |
| BETHLEHEM STEEL CORPORATION | BEAUMONT | TX |
| Bethlehem Steel Shipyard | Beaumont | TX |
| Bexar County Courthouse | San Antonio | TX |
| BEXAR COUNTY HOSPITAL – CHILLING STATION | SAN ANTONIO | TX |
| BEXAR COUNTY MEDICAL SCHOOL | SAN ANTONIO | TX |
| BEXAR COUNTY NATIONAL BANK – 325 NORTH SAINT MARYS STREET | SAN ANTONIO | TX |
| BF Goodrich | Port Neches | TX |
| BF Goodrich | Orange | TX |
| BF Goodrich Chemical Company | Port Neches | TX |
| BF GOODRICH CHEMICAL COMPANY | PT. NECHES | TX |
| BIG BROWN POWER PLANT | FAIRFIELD | TX |
| Big Brown Station | Fairfield | TX |
| Big Brown Station | Teague | TX |
| BIG BROWN STEAM ELECTRIC STATION | FAIRFIELD | TX |
| BIG DIAMOND | DEER PARK | TX |
| BIG FOOT WALLACE | HOUSTON | TX |
| Big Three | Beaumont | TX |
| BIG THREE INDUSTRIAL GAS & EQ | BAYPORT | TX |
| BIG THREE INDUSTRIAL GAS & EQUIPMENT – GAS PLANT | BAYPORT | TX |
| Big Three Industrial Gas- Baytown Plant | Houston | TX |
| BIG THREE INDUSTRIAL PARK | HOUSTON | TX |
| Big Three Industries | Houston | TX |
| Big Three Industries | Bayport | TX |
| Big Three Industries | La Porte | TX |
| BIG THREE INDUSTRIES | BEAUMONT | TX |
| BIG THREE INDUSTRIES INC | LA PORTE | TX |
| BIG THREE INDUSTRIES PLANT | BAYPORT | TX |
| Big Three Industries, Inc. | Nederland | TX |
| BIG THREE INIUSTRIES PLANT | PASADENA | TX |
| BIG THREE WELDING CO. | HOUSTON | TX |
| BIGELOW LIPTAK CORPORATION | HOUSTON | TX |
| BIGHILL, MATAGORDA COMPANY | GULF HILL | TX |
| BILD MART – 601 FLORIDA STREET | SAN ANTONIO | TX |
| Bilton Insulation & Supply Co. | Houston | TX |
| BINYON-O KEEFE TERMINAL C | FT WORTH | TX |
| BLACKBURN SYRUP WORKS | JEFFERSON | TX |
| BLALOCK NURSING HOME – 802 FRESA STREET | PASADENA | TX |
| BLANCO APARTMENTS – 906 WEST HUISACHE | SAN ANTONIO | TX |
| BLANTON ELEMENTARY SCHOOL | AUSTIN | TX |
| Blaw-Knox | Deer Park | TX |
| Bloodworth Shipyard | Pasadena | TX |
| BLOOMBERG LIBRARY BUILDING | SEGUIN | TX |
| BLOOMFIELD STEAMSHIP COMPANY | HOUSTON | TX |
| Blue Diamond | Dallas | TX |
| BLUEBONNET ORDNANCE PLANT | MCGREGOR | TX |
| BLUEBONNET ORDNANCE PLANT | WACO | TX |
| BLUEBONNET ORDNANCE PLANT. | BLUEBONNET | TX |
| BOARD FOR TEXAS STATE HOSPITALS AND SCHOOLS | RUSK | TX |
| BOARD OF EDUCATION – SCHOOL ADMINISTRATION BUILDING | HOUSTON | TX |
| BOILER HOUSE #3 | BEAUMONT | TX |
| BORACO WAX COMPANY | KILGORE | TX |
| Borden Chemical Co. | Texas City | TX |
| Borden Company | Corpus Chrisit | TX |
| BORDEN, INCORPORATED | SULPHUR SPRINGS | TX |
| BORDER STEEL | EL PASO | TX |
| BORDER STEEL MILL | VINTON | TX |
| BORDER STEEL ROLLING MILLS | VINTON | TX |
| BORDER STEEL ROLLINGS MIL | VINTON | TX |
| BORDER STILL ROLLINGS MILLS | EL PASO | TX |
| BORGER REFINERY | BORGER | TX |
| Bottlesteins Department Store | Houston | TX |
| BOWIE ELEMENTARY SCHOOL | SAN MARCOS | TX |
| BOY | HOUSTON | TX |
| BP Oil Corp | Graves | TX |
| BRACKENRIDGE GOLF COURSE – CLUB HOUSE | SAN ANTONIO | TX |
| BRACKENRIDGE HOSPITAL | AUSTIN | TX |
| BRACKENRIDGE HOSPITAL – 1400 EAST AVENUE | AUSTIN | TX |
| BRACKENRIDGE HOSPITAL – 1500 RED RIVER | AUSTIN | TX |
| BRACKENRIDGE HOSPITAL – STOREROOM – 1309 SABINE | AUSTIN | TX |
| BRADY MEMORIAL CLINIC | SAN ANTONIO | TX |
| BRAKER LANDE ELEMENTARY SCHOOL | AUSTIN | TX |
| Brand Insulation | Houston | TX |
| BRANDT EQUIPMENT & SUPPLY CO. | FORT WORTH | TX |
| BRANIFF AIRWAYS INC HEADQUARTERS BUILDING | DALLAS | TX |
| Brauning Powerhouse | San Antonio | TX |
| BRAZO LIME | BLUM | TX |
| BRAZONIA IRRIGATION COMPANY | HOUSTON | TX |
| BRAZORIA IRRIGATION COMPANY | HOUSTON | TX |
| BRAZOS ELECTRIC POWER COOPERATIVE – NORTH TEXAS POWER PLANT | WEATHERFORD | TX |
| BRAZOS ELECTRIC POWER COOPERATIVE – NORTH TEXAS POWER PLANT – UNIT 1 | WEATHERFORD | TX |
| BRAZOS ELECTRIC POWER COOPERATIVE – NORTH TEXAS POWER PLANT – UNIT 2 | WEATHERFORD | TX |
| BRAZOS ELECTRIC POWER COOPERATIVE, INC. | WEATHERFORD | TX |
| BRAZOS RIVER TRANSMISSION ELECTRIC COOPERATIVE – W.R. POAGE POWER PLANT | BELTON | TX |
| Brdyles & Brdyles Inc | Wichita Falls | TX |
| Breckenridge Hospital | Austin | TX |
| BRENTEX MILL CO | BEAUMONT | TX |
| BRIDGE CITY POWERHOUSE | BRIDGE CITY | TX |
| BRIDGE CITY POWERHOUSE | BEAUMONT | TX |
| Bridgestone Tire and Rubber / Firestone Synthic Rubber and Latex Co. | Orange | TX |
| Briggs Weaver Machinery Co. | Crocket | TX |
| BRIO COMPANIES, INCORPORATED | FRIENDSWOOD | TX |
| BRIO REFINING CORPORATION | FRIENDSWOOD | TX |
| British American Oil Co. | Grand Falls | TX |
| BRITISH PETROLEUM | TEXAS CITY | TX |
| BRITISH PETROLEUM – GALVESTON BAY REFINERY | TEXAS CITY | TX |
| BRITISH PETROLEUM REFINERY | PORT ARTHUR | TX |
| Brittain Supply Co | Beaumont/Chaiso | TX |
| BROADWAY NATIONAL BANK – 1163 NORTHEAST LOOP EXPRESSWAY | SAN ANTONIO | TX |
| BROOK ELEMENTARY SCHOOL | AUSTIN | TX |
| BROOKS AIR FORCE BASE – AIRMENS DORMITORY 133 | SAN ANTONIO | TX |
| BROOKS AIR FORCE BASE – BROOKS CREDIT UNION | SAN ANTONIO | TX |
| BROOKS AIR FORCE BASE – BUILDING 1009 | SAN ANTONIO | TX |
| BROOKS AIR FORCE BASE – BUILDING 140 | SAN ANTONIO | TX |
| BROOKS AIR FORCE BASE – BUILDING 150 | SAN ANTONIO | TX |
| BROOKS AIR FORCE BASE – BUILDING 160 | SAN ANTONIO | TX |
| BROOKS AIR FORCE BASE – BUILDING 160 – PHASE 1 | SAN ANTONIO | TX |
| BROOKS AIR FORCE BASE – BUILDING 160 – PHASE 2 | SAN ANTONIO | TX |
| BROOKS AIR FORCE BASE – BUILDING 170 | SAN ANTONIO | TX |
| BROOKS AIR FORCE BASE – BUILDING 185 – LOADING DOCK | SAN ANTONIO | TX |
| BROOKS AIR FORCE BASE – BUILDINGS 512 & 513 | SAN ANTONIO | TX |
| BROOKS AIR FORCE BASE – CENTRAL PLANT | SAN ANTONIO | TX |
| BROOKS AIR FORCE BASE – CENTRAL PLANT II | SAN ANTONIO | TX |
| BROOKS AIR FORCE BASE – COMPUTER BUILDING 749 | SAN ANTONIO | TX |
| BROOKS AIR FORCE BASE – DINING HALL | SAN ANTONIO | TX |
| BROOKS AIR FORCE BASE – ENVIRONMENTAL SCIENCE LABORATORY BUILDING | SAN ANTONIO | TX |
| BROOKS AIR FORCE BASE – GUEST HOUSES – BUILDINGS 553 & 554 | SAN ANTONIO | TX |
| BROOKS AIR FORCE BASE – HUMAN RESOURCES LABORATORY – BUILDING 578 | SAN ANTONIO | TX |
| BROOKS AIR FORCE BASE – MILITARY & PROFESSIONAL BUILDING | SAN ANTONIO | TX |
| BROOKS AIR FORCE BASE – OFFICER OPEN MESS HALL | SAN ANTONIO | TX |
| BROOKS AIR FORCE BASE – W S RAIN RESIDENCE | SAN ANTONIO | TX |
| BROOKS ELEMENTARY SCHOOL | AUSTIN | TX |
| Brookshire High School | Brookshire | TX |
| BROOKSIDE MEMORIAL PARK | HOUSTON | TX |
| BROWN ROOT INC. | LA PORTE | TX |
| Brown & Root | Galena | TX |
| Brown & Root | Houston | TX |
| BROWN & ROOT | BAYTOWN | TX |
| Brown & Root Shipyard | Houston | TX |
| BROWN & ROOT SHIPYARD | ORANGE | TX |
| BROWN & ROOT SHIPYARD | ANAHUAC | TX |
| BROWN ELEMENTARY SCHOOL | AUSTIN | TX |
| BROWN OIL TOOLS MANUFACTURING PLANT | HOUSTON | TX |
| BROWN SHIPBUILDING COMPANY | HOUSTON | TX |
| Brown Shipyard | Houston | TX |
| BROWN-OLDS PLUMBING & HEATING | GREENVILLE | TX |
| BROWNWOOD HOSPITAL | BROWNWOOD | TX |
| Broyles & Broyles, Incorporated | Fort Worth | TX |
| BRUSH ELECTRIC LIGHT AND POWER COMPANY – CITY WATER AND ELECTRIC LIGHT PLANT | GALVESTON | TX |
| BRYAN HIGH SCHOOL | BRYAN | TX |
| Bryan Tower | Dallas | TX |
| BUICK OLDSMOBILE | ARLINGTON | TX |
| BUILDERS SERVICE COMPANY | FORT WORTH | TX |
| BUILDERS SUPPLY CO. OF LONGVIEW, LTD. | LONGVIEW | TX |
| BUNGE CORPORATION | FT. WORTH | TX |
| BUNGE EDIBLE OIL CORPORATION | FT. WORTH | TX |
| BURCO INC. | CORPUS CHRISTI | TX |
| BURCO TRADER | HOUSTON | TX |
| Burke Royalty Oil Company | Archer City | TX |
| Burlington Industries | Sherman | TX |
| BURLINGTON INDUSTRIES – SHERMAN PLANT | SHERMAN | TX |
| BURLINGTON NORTHERN & SANTA FE RAILROAD | CHILDRESS | TX |
| BURLINGTON NORTHERN & SANTA FE RAILROAD | SAN ANTONIO | TX |
| Burlington Northern Railroad | Childress | TX |
| Burlington Northern Railroad, Shops | San Antonio | TX |
| Burlington Northern Santa Fe | Cleburne | TX |
| BURLINGTON NORTHERN SANTA FE RAILROAD | CLEBURNE | TX |
| BURLINGTON SANTA FE RAILROAD | BROWNWOOD | TX |
| Burton Shipyard | Port Arthur | TX |
| Burton Shipyard | Bridge City | TX |
| Butadiene Plant | Odessa | TX |
| BYNUM BROTHERS WAREHOUSE & STORAGE | ABILENE | TX |
| BYRON JACKSON | HOUSTON | TX |
| C & C Holdings | Galveston | TX |
| C. WALLACE PLUMBING COMPANY | DALLAS | TX |
| C.F. BRAUN | BAYTOWN | TX |
| C.F. BRAUN | DEER PARK | TX |
| C.F. BRAUN | HODGE | TX |
| C.F. BRAUN | HOUSTON | TX |
| C.F. BRAUN | KATY | TX |
| C.F. Braun & Company | Deer Park | TX |
| C.S. BURT AND COMPANY | GALVESTON | TX |
| C.S. BURT AND COMPANY, FOR E.H. CUMMINGHAM AND COMPANY | SUGAR LAND | TX |
| Cabot Corp | Pampa/Kings Mill | TX |
| CABOT CORP – PAMPA PLANT | PAMPA | TX |
| CABOT CORP. | PAMPA | TX |
| Cabot Corporation | Levelland | TX |
| Cabot Corporation | Amarillo | TX |
| Cabot Corporation | Panhandle | TX |
| Cabot Corporation | Pampa | TX |
| Cabot Corporation | Kermit | TX |
| Cabot Corporation | Goldsmith | TX |
| Cabot Corporation | Wickett | TX |
| CACTUS ORDNANCE PLANT | ETTER | TX |
| CADUCEUS NURSING HOME – NORTH LOOP 410 | SAN ANTONIO | TX |
| CAIN BUILDERS SUPPLY COMPANY | FT WORTH | TX |
| CAIN CHEMICAL | BAY CITY | TX |
| CALAG COMPANY INCORPORATED | ROSENBERG | TX |
| CALAG COMPANY INCORPORATED | WHARTON | TX |
| CALAVERAS POWER PLANT | SAN ANTONIO | TX |
| CALDWELL OIL MILL COMPANY | CALDWELL | TX |
| CALHOUN PACKING COMPANY | PALESTINE | TX |
| CALIFORNIA PACKING CORPORATION | CRYSTAL CITY | TX |
| CALOG COMPANY | ROSENBERG | TX |
| CALVERT ICE, WATER, AND ELECTRIC COMPANY – ELECTRIC PLANT | CALVERT | TX |
| CAMCO INC. | HOUSTON | TX |
| CAMELOT ELEMENTARY SCHOOL – FRATT ROAD & MERLIN DRIVE | SAN ANTONIO | TX |
| CAMELOT SCHOOL | SAN ANTONIO | TX |
| Cameron County Water Improvement District # 6 | Brownsville | TX |
| Cameron Iron | Missouri City | TX |
| Cameron Iron Works | Houston | TX |
| Cameron Iron Works | Pasadena | TX |
| Cameron Iron Works | Cypress | TX |
| Cameron Iron Works / Cooper Cameron Corp. / WKM Valves / WKM Industries | Houston | TX |
| CAMERON IRON WORKS FOUNDRY | HOUSTON | TX |
| Cameron Iron Works- Katy Plant | Houston | TX |
| CAMP BOWIE TEAM TRACK | FORT WORTH | TX |
| CAMP BULLIS – MESS HALL | SAN ANTONIO | TX |
| CAMP BULLIS – TRAINING FACILITIES | SAN ANTONIO | TX |
| CAMP GARY – HOSPITAL | SAN MARCOS | TX |
| CAMP GARY – HOSPITAL AREA | SAN MARCOS | TX |
| Campbell Foods | Fort Worth | TX |
| Campbell Insualtion | Pasadena | TX |
| CAMPBELL SOUP CO – SOUTH WEST VAULT BUILDERS | PARIS | TX |
| CAMPBELL SOUP COMPANY | PARIS | TX |
| CAMPBELLS INDUSTRIAL & COMMERCIAL INS. | SOUTH HOUSTON | TX |
| Campbell's Industrial & Commercial Insulation Inc. | Pasadena | TX |
| Campbell's Industrial & Commercial Insulation Inc. | South Houston | TX |
| CAMPBELLS INDUSTRIES | PASADENA | TX |
| Canadian River Gas Co. | Bevins | TX |
| CANADIAN RIVER GAS COMPANY – BIVINS COMPRESSOR STATION | BIVINS | TX |
| CANADIAN RIVER GAS COMPANY – EXELL HELIUM PLANT | EXELL | TX |
| CANE AND RICE BELT IRRIGATION COMPANY | FULSHEAR | TX |
| CANE AND RICE BELT IRRIGATON COMPANY | GASTON | TX |
| CAPITAL BUILDING/CAPITAL POWER HOUSE | AUSTIN | TX |
| CAPITAL CEMENT COMPANY | LONGHORN | TX |
| CAPITAL CEMENT COMPANY | SAN ANTONIO | TX |
| CAPITAL CONSULTANTS | DALLAS | TX |
| CAPITAL LINEN SERVICE | AUSTIN | TX |
| CAPITAL SILICA CO | CLEBURNE | TX |
| CAPITAL WIRE & CABLE COMPANY | PLANO | TX |
| CARBIDE | HOUSTON | TX |
| CARBIDE & CARBON CHEMICAL | HOUSTON | TX |
| CARBIDE & CARBON CHEMICAL | NORTH SEADRIFT | TX |
| CARBIDE & CARBON CHEMICAL | SEADRIFT | TX |
| CARBIDE & CARBON CHEMICAL | TEXAS CITY | TX |
| CARBIDE & CARBON CHEMICALS COMPANY | NORTH SEADRIFT | TX |
| Carbide and Carbon Chemical | Seadrift | TX |
| Carbide and Carbon Chemical | Texas City | TX |
| CARBIDE AND CARBON CHEMICALS CORPORATION | TEXAS CITY | TX |
| CARBIDE AND CARBON CHEMICALS CORPORATION | SEADRIFT | TX |
| CARBIDE AND CARBON CHEMICALS DIVISION of UNION CARBIDE AND CARBON | TEXAS CITY | TX |
| Carbide Chemical | Texas City | TX |
| Carbon Black | Baytown | TX |
| Carbon Black Plant | Conroe | TX |
| CARBON BLACK PLANT | BAYTOWN | TX |
| CARBON BLACK PLANT | BORGER | TX |
| Carbon Carbide Plant | Texas City | TX |
| CARE INN OF SHAMROCK | SHAMROCK | TX |
| CAREY SCHNEIDER INVESTMENT COMPANY | DALLAS | TX |
| CARNATION COMPANY | SULPHUR SPRINGS | TX |
| CARNATION MILK PRODUCTS COMPANY | SCHULENBERG | TX |
| Carpenter Construction Co. | Houston | TX |
| CARPENTER PLASTERING COMPANY | DALLAS | TX |
| Carswell A.F.B. Hospital | Fort Worth | TX |
| Carswell Air Force Base | Fort Worth | TX |
| CARTER LATHING & PLASTERING | EL PASO | TX |
| Carter Oil Company | Baytown | TX |
| Carthage Hydrocol | Brownsville | TX |
| CARTHAGE HYDROCOL INC. – PROCESS PLANT (Pan American Petroleum; Stanolind Oil & Gas) | BROWNSVILLE | TX |
| CARTHAGE HYDROCOL, INCORPORATED | BROWNSVILLE | TX |
| CARTWHEEL LODGE – 3018 E COMMERCE STREET | SAN ANTONIO | TX |
| CARWIN-UPJOHN-DOW CHEMICAL PLANT (POLYURETHANE) | LA PORTE | TX |
| Casa de Mexico Theatro | San Antonio | TX |
| CE Refractories | Alcoa/Rockdale | TX |
| CE Refractories | Houston | TX |
| CECIL J. DOYLE (USS) | ORANGE | TX |
| CEDAR BAYOU | CEDAR BAYOU | TX |
| CEDAR BAYOU ELECTRICAL GENERATING STATION | BAYTOWN | TX |
| Celanese | Bishop | TX |
| Celanese | Corpus Christi | TX |
| Celanese | Kingsville | TX |
| Celanese | Pampa | TX |
| Celanese | Deer Park | TX |
| Celanese | Pasadena | TX |
| CELANESE – DOOR NBR 3 | HOUSTON | TX |
| CELANESE BAY – DOOR NBR 3 | HOUSTON | TX |
| CELANESE BAY CITY – DOOR NBR 3 | HOUSTON | TX |
| CELANESE BAY CITY EXPANSION – DOOR NBR 3 | HOUSTON | TX |
| CELANESE BAY CITY PLANT | HOUSTON | TX |
| CELANESE BAY CITY PLANT – DOOR NBR 3 | HOUSTON | TX |
| Celanese Chemical | Bay City | TX |
| CELANESE CHEMICAL | BISHOP | TX |
| CELANESE CHEMICAL | BAYPORT | TX |
| CELANESE CHEMICAL – CLEAR LAKE PLANT | PASADENA | TX |
| CELANESE CHEMICAL CO | SOUTH BAY CITY | TX |
| CELANESE CHEMICAL CO | BAYPORT | TX |
| CELANESE CHEMICAL CO | DAVENPORT | TX |
| CELANESE CHEMICAL CO | PAMPA | TX |
| CELANESE CHEMICAL CO | BISHOP | TX |
| CELANESE CHEMICAL CO | BORGER | TX |
| CELANESE CHEMICAL CO | KINGS MILL | TX |
| CELANESE CHEMICAL CO – CLEAR LAKE SITE | PASADENA | TX |
| Celanese Chemical Co. | Bay City | TX |
| Celanese Chemical Company | South Bay | TX |
| CELANESE CHEMICAL COMPANY | PAMPA | TX |
| CELANESE CHEMICAL COMPANY | BAY CITY | TX |
| CELANESE CHEMICAL COMPANY | BISHOP | TX |
| CELANESE CHEMICAL COMPANY | SOUTH BAY CITY | TX |
| CELANESE CHEMICAL COMPANY | KINGS MILLS | TX |
| CELANESE CHEMICAL COMPANY | HOUSTON | TX |
| CELANESE CHEMICAL COMPANY | BAYTOWN | TX |
| CELANESE CHEMICAL COMPANY | DEER PARK | TX |
| Celanese Chemical Plant | Bishop | TX |
| Celanese Chemical Plant | Bay City | TX |
| Celanese Chemical Plant | Deer Park | TX |
| CELANESE CHEMICAL PLANT | PASADENA | TX |
| CELANESE CHEMICAL PLANT | BORGER | TX |
| Celanese Corp | Bay City | TX |
| CELANESE CORPORATION | BISHOP | TX |
| CELANESE CORPORATION | PAMPA | TX |
| Celanese Corporation of America | Bishop | TX |
| Celanese Corporation of America | Kings Mill | TX |
| CELANESE CORPORATION OF AMERICA | BORGER | TX |
| CELANESE CORPORATION OF AMERICA | CHEMCEL | TX |
| CELANESE CORPORATION OF AMERICA | PAMPA | TX |
| CELANESE CORPORATION OF AMERICA | DEER PARK | TX |
| CELANESE CORPORATION OF AMERICA – PLANT | DEER PARK | TX |
| CELANESE JOB | BORGER | TX |
| CELANESE PLANT | BORGER | TX |
| CELANESE PLANT | CORPUS CHRISTI | TX |
| CELANESE PLASTICS | DEER PARK | TX |
| Celanese Plastics Co. | Deer Park | TX |
| CELANESE PLASTICS CO. | BISHOP | TX |
| CELANESE PROJECT | BORGER | TX |
| Celanese Refinery | Bishop | TX |
| Celanese Refinery Plant | Texas City | TX |
| Celotex | Houston | TX |
| CELOTEX CORPORATION | HOUSTON | TX |
| CENTER PLYWOOD COMPANY, INCORPORATED | CENTER | TX |
| CenterPoint Energy (see also Houston Lighting & Power Company) | Houston | TX |
| Centex Cement Corporation | Corpus Christi | TX |
| CENTRAL ADMINISTRATION – NORTHEAST INDEPENDENT SCHOOL DISTRICT – SOMERS & MOPAC DRIVES | SAN ANTONIO | TX |
| CENTRAL BRICK & TILE COMPANY | BREMOND | TX |
| CENTRAL FREIGHT LINES WAREHOUSE | BEAUMONT | TX |
| Central Iron Works | Houston | TX |
| CENTRAL PAPER AND LIGHT COMPANY | VICTORIA | TX |
| Central Power & Light | San Benito | TX |
| Central Power & Light Co | Point Comfort | TX |
| Central Power & Light Co | Bates | TX |
| Central Power & Light Co | Mission | TX |
| CENTRAL POWER & LIGHT CO – BARNEY M. DAVIS | CORPUS CHRISTI | TX |
| CENTRAL POWER & LIGHT CO – DEVILS RIVER STATION | DEL RIO | TX |
| CENTRAL POWER & LIGHT CO – Victoria Plant | VICTORIA | TX |
| CENTRAL POWER & LIGHT CO – VICTORIA POWER STATION | VICTORIA | TX |
| CENTRAL POWER & LIGHT CO – VICTORIA POWER STATION – UNIT 6 | VICTORIA | TX |
| CENTRAL POWER & LIGHT CO. – J. L. BATES POWER STATION | MISSION | TX |
| CENTRAL POWER & LIGHT CO. – LON C. HILL POWER STATION | LON HILL | TX |
| CENTRAL POWER & LIGHT COMPANY – E.S. JOSLIN POWER STATION | POINT COMFORT | TX |
| CENTRAL POWER & LIGHT COMPANY – E.S. JOSLIN POWER STATION – UNIT 1 | POINT COMFORT | TX |
| CENTRAL POWER & LIGHT COMPANY – LA PALMA POWER STATION | SAN BENITO | TX |
| CENTRAL POWER & LIGHT COMPANY – LAREDO POWER PLANT | LAREDO | TX |
| Central Power & Light Company – Lon C. Hill Power Station | CORPUS CHRISTI | TX |
| CENTRAL POWER & LIGHT COMPANY – LON C. HILL POWER STATION – UNIT 1 | CORPUS CHRISTI | TX |
| CENTRAL POWER & LIGHT COMPANY – LON C. HILL POWER STATION – UNIT 2 | CORPUS CHRISTI | TX |
| CENTRAL POWER & LIGHT COMPANY – LON C. HILL POWER STATION – UNIT 3 | CORPUS CHRISTI | TX |
| CENTRAL POWER & LIGHT COMPANY – LON C. HILL POWER STATION – UNIT 4 | CORPUS CHRISTI | TX |
| CENTRAL POWER & LIGHT COMPANY – NEUCES BAY STATION | CORPUS CHRISTI | TX |
| CENTRAL POWER & LIGHT COMPANY – NUECES BAY STATION – UNIT 6 | CORPUS CHRISTI | TX |
| CENTRAL POWER & LIGHT COMPANY – NUECES BAY STATION – UNIT 7 | CORPUS CHRISTI | TX |
| CENTRAL POWER & LIGHT COMPANY- VICTORIA POWER STATION | VICTORIA | TX |
| CENTRAL POWER & LIGHT COMPANY- VICTORIA POWER STATION – UNIT 6 | VICTORIA | TX |
| Central Power and Light / Bates Power Plant | Mission | TX |
| CENTRAL POWER AND LIGHT CO – J.L. BATES POWER PLANT | PALMVIEW | TX |
| CENTRAL POWER AND LIGHT COMPANY- J.L. BATES POWER PLANT | PALMVIEW | TX |
| CENTRAL POWER AND LIGHT COMPANY- J.L. BATES POWER PLANT – UNIT 1 | PALMVIEW | TX |
| CENTRAL TEXAS COLLEGE – MARRIED STUDENT HOUSING | KILLEEN | TX |
| CENTRAL TEXAS COLLEGE- STUDENT SERVICES BUILDING | KILLEEN | TX |
| CENTRAL TEXAS ICE, LIGHT, POWER AND WATER COMPANY | MEXIA | TX |
| CENTURY BUILDING | HOUSTON | TX |
| CENTURY CENTER – LOOP 410 NORTH | SAN ANTONIO | TX |
| CENTURY CENTER – SUITE 818 | HOUSTON | TX |
| Century Steel Corporation | Houston | TX |
| Ceramic Cooling Tower Co. | Fort Worth | TX |
| CEREBRAL PALSY ASSOCIATION – BABCOCK & WURTZBACK ROADS | SAN ANTONIO | TX |
| CERESTAR USA DIMMITT, INCORPORATED | DIMMITT | TX |
| CERTAIN TEED PRODUCTS CORP | DALLAS | TX |
| CERTAINTEED PRODUCTS CORPORATION | HILLSBORO | TX |
| CERTIFIED INSULATION, INC. | LONGVIEW | TX |
| Chaffer Company | Houston | TX |
| CHAMBER OF COMMERCE BUILDING – COMMUNITY CENTER | NEW BRAUNFELS | TX |
| CHAMBER OF COMMERCE BUILDING – SOUTH ALAMO STREET | SAN ANTONIO | TX |
| CHAMP CLARK | HOUSTON | TX |
| CHAMPION (SIMPSON-SOUTHLAND) PAPER MILL | PASADENA | TX |
| Champion Chemical | Fresno | TX |
| Champion International Corp. (see also Champion Paper Co.) | Houston | TX |
| Champion International Corp. (see also Champion Paper Co.) | Pasadena | TX |
| Champion International Corp. (see also Champion Paper Co.) / Abitibi Consolidated Paper | Lufkin | TX |
| CHAMPION INTERNATIONAL CORPORATION | LUFKIN | TX |
| CHAMPION INTERNATIONAL CORPORATION | SHELDON | TX |
| Champion International Paper Company | Pasadena | TX |
| Champion International Paper Mill | Pasadena | TX |
| Champion Paper | East Houston | TX |
| Champion Paper | Lufkin | TX |
| Champion Paper | Houston | TX |
| Champion Paper | Pasadena | TX |
| Champion Paper | Camden | TX |
| Champion Paper | Corrigan | TX |
| CHAMPION PAPER | SHELDON | TX |
| CHAMPION PAPER & FIBER CO. | PASADENA | TX |
| CHAMPION PAPER AND FIBRE COMPANY | PASADENA | TX |
| Champion Paper Co./ U.S. Plywood/ Int~l Paper/ Champion Int~l Corp./ Southland Paper Mills, Inc/ St. Regis Pulp & Paper Corp. | Houston | TX |
| Champion Paper Co./ U.S. Plywood/ Int~l Paper/ Champion Int~l Corp./ Southland Paper Mills, Inc/ St. Regis Pulp & Paper Corp. | Lufkin | TX |
| Champion Paper Co./ U.S. Plywood/ Int~l Paper/ Champion Int~l Corp./ Southland Paper Mills, Inc/ St. Regis Pulp & Paper Corp. | Pasadena | TX |
| Champion Paper Company | Sheldon | TX |
| CHAMPION PAPER COMPANY | PASADENA | TX |
| CHAMPION PAPER COMPANY | LUFKIN | TX |
| CHAMPION PAPER COMPANY | HOUSTON | TX |
| Champion Paper Mill | Pasadena | TX |
| Champion Paper Mill | Houston | TX |
| Champion Paper Mill | Lufkin | TX |
| Champion Paper Mill | Sheldon | TX |
| Champion Paper, Inc. | Pasadena | TX |
| Champion Papermill | Sheldon | TX |
| Champion Papers Inc. | Houston | TX |
| Champion Petroleum Co. | Aqua Dulce | TX |
| Champion Petroleum Co. | Corpus Christi | TX |
| CHAMPLIN | CORPUS CHRISTI | TX |
| CHAMPLIN OIL & REFINING CO. | CARTHAGE | TX |
| CHAMPLIN OIL & REFINING COMPANY | CARTHAGE | TX |
| CHAMPLIN OIL & REFINING COMPANY – CARTHAGE PLANT | CARTHAGE | TX |
| Champlin Oil Ref. | Corpus Christi | TX |
| Champlin Petroleum Co. | Bishop | TX |
| CHAMPLIN PETROLEUM COMPANY | CORPUS CHRISTI | TX |
| CHAMPLIN/CITIES SERVICES REFINERY | CORPUS CHRISTI | TX |
| Champlin/Pontiac/Citgo Refinery | Corpus Christi | TX |
| Chance Vought Aircraft | Grand Prairie | TX |
| CHANCE VOUGHT AIRCRAFT | DALLAS | TX |
| CHANCE VOUGHT AIRCRAFT CO. | GRAND PRAIRIE | TX |
| CHANCE VOUGHT AIRCRAFT INC. | DALLAS | TX |
| CHANCE VOUGHT CORPORATION | DALLAS | TX |
| CHANCE VOUGHT CORPORATION | GRAND PRAIRIE | TX |
| CHANCE VOUGHT NEW BUILDING | GRAND PRAIRIE | TX |
| Chaparral Steel Company | Midlothian | TX |
| CHARTER INTERNATIONAL OIL | HOUSTON | TX |
| Charter International Oil Co. | Houston | TX |
| CHARTER INTERNATIONAL OIL REFINERY | HOUSTON | TX |
| Charter Internationl Oil | Houston | TX |
| Charter Oil | Houston | TX |
| CHARTER OIL REFINERY | HOUSTON | TX |
| Charter Oil Refinery, Signal Oil | Houston | TX |
| CHASE FIELD – FIRE CRASH & ADMINISTRATION | BEEVILLE | TX |
| CHEMICAL DIVISION | ORANGE | TX |
| CHEMICAL EXCHANGE INDUSTRIES | GALENA PARK | TX |
| CHEMICAL LIME CO | CLIFTON | TX |
| CHEMICAL PRODUCERS CORPORATION | ASHLEY | TX |
| CHEMSTRON CHEMICALS, INCORPORATED | LA PORTE | TX |
| Chemtron Chemicals | Laporte | TX |
| CHESTER T. O'BRIEN (USS) | HOUSTON | TX |
| Cheveron Refinery | Houston | TX |
| Chevron | Port Arthur | TX |
| Chevron | Orange | TX |
| Chevron / Gulf Oil | Baytown | TX |
| Chevron / Gulf Oil | Mount Belvieu | TX |
| Chevron / Gulf Oil | Port Arthur | TX |
| Chevron / Gulf Oil | Weatherford | TX |
| Chevron Chemical | Orange | TX |
| CHEVRON CHEMICAL | MONT BELVIEU | TX |
| CHEVRON CHEMICAL COMPANY | BAYTOWN | TX |
| Chevron Chemical Plant | Baytown | TX |
| Chevron Chemical Plant | Cedar Bayou | TX |
| CHEVRON CORPORATION | PORT ARTHUR | TX |
| CHEVRON CORPORATION | BAYTOWN | TX |
| CHEVRON CORPORATION | EL PASO | TX |
| CHEVRON CORPORATION | ORANGE | TX |
| CHEVRON CORPORATION – CEDAR BAYOU PLANT | BAYTOWN | TX |
| CHEVRON CORPORATION REFINERY | ORANGE | TX |
| CHEVRON CORPORATION REFINERY | PORT ARTHUR | TX |
| CHEVRON OIL | PORT ARTHUR | TX |
| CHEVRON OIL REFINERY | PORT ARTHUR | TX |
| Chevron Phillips Chemical Company | Sweeny | TX |
| CHEVRON PHILLIPS CHEMICAL COMPANY | BAYTOWN | TX |
| CHEVRON PLASTICS | ORANGE | TX |
| Chevron Refinery | El Paso | TX |
| Chevron Refinery | Houston | TX |
| Chevron Refinery | Odessa | TX |
| CHEVRON USA INC | PORT ARTHUR | TX |
| CHEVRON USA INC – Standard Oil of Texas – El Paso Refinery | EL PASO | TX |
| CHEVRON USA REFINERY | PORT ARTHUR | TX |
| Chevron USA, Inc. | El Paso | TX |
| Chevron USA, Incorporated | Port Arthur | TX |
| Chevron USA/Gulf | Port Arthur | TX |
| CHIAN TRADER | HOUSTON | TX |
| Chicago Corp. | Driscoll | TX |
| CHICAGO CORPORATION | CARTHAGE | TX |
| Chicago Pneumatic Tool | Ft. Worth | TX |
| CHICAGO PNEUMATIC TOOL COMPANY – MANUFACTURING PLANT | FORT WORTH | TX |
| Chicago Tool | Ft. Worth | TX |
| CHILD PSYCHIATRIC UNIT – 45TH ST & LAMAR | AUSTIN | TX |
| CHINA TRADER | HOUSTON | TX |
| CHOCOLATE BAYOU PLANT | ALVIN | TX |
| CHOCOLATE BAYOU PROJECT | HOUSTON | TX |
| CHURCH CHRIST HOME FOR AGED | HOUSTON | TX |
| CHURCHILL NATIONAL BANK | SAN ANTONIO | TX |
| CIELO VISTA MALL | EL PASO | TX |
| CINERGY SOLUTIONS C.S.G.P. | TEXAS CITY | TX |
| CIRCLE K ICE HOUSE | GREGORY | TX |
| CITGO PETROLEUM CORPORATION | CORPUS CHRISTI | TX |
| CITGO PETROLEUM REFINERY | CORPUS CHRISTI | TX |
| Cities Public Service | San Antonio | TX |
| CITIES SERVICE COMPANY | MYRTLE SPRINGS | TX |
| Cities Service Oil Co | Myrtle Springs | TX |
| Cities Service Oil Co | Chico | TX |
| Cities Service Oil Company | Chico | TX |
| CITIES SERVICE OIL COMPANY | MYRTLE SPRINGS | TX |
| Cities Service Plant | Big Lake | TX |
| Citizens Bank | Houston | TX |
| CITIZENS BANK – 4715 FREDERICKSBURG ROAD | SAN ANTONIO | TX |
| CITIZENS NATIONAL BANK | WACO | TX |
| CITIZENS NATIONAL BANK | LUBBOCK | TX |
| CITIZENS STREET RAILWAY COMPANY | WACO | TX |
| City Auditorium | Beaumont | TX |
| CITY AUDITORIUM | AUSTIN | TX |
| CITY COUNTY HOSPITAL | HOUSTON | TX |
| CITY COUNTY LIBRARY | SEGUIN | TX |
| City Docks | Houston | TX |
| City Hall | Pasadena | TX |
| CITY LIGHT AND WATER COMPANY – POWER PLANT | AMARILLO | TX |
| CITY NATIONAL BANK BUILDING | HOUSTON | TX |
| CITY OF ANTONIO – FIRE TRAINING & SERVICE CENTER | SAN ANTONIO | TX |
| City of Austin | Austin | TX |
| CITY OF AUSTIN – DECKER CREEK POWER STATION | DECKER/AUSTIN | TX |
| CITY OF AUSTIN – HOLLY STREET POWER PLANT | AUSTIN | TX |
| CITY OF AUSTIN – WATER TREATMENT PLANT | AUSTIN | TX |
| City of Austin- Holly Street Station | Austin | TX |
| City of Austin- Seaholm Plant | Austin | TX |
| CITY OF AUSTIN, WATER TREATMENT PLANT | AUSTIN | TX |
| CITY OF BROWNSVILLE – Municipal Power Plant | BROWNSVILLE | TX |
| CITY OF BROWNSVILLE – LIGHT AND WATER WORKS | BROWNSVILLE | TX |
| City of Brownsville Plant | Brownsville | TX |
| CITY OF BRYAN – BRYAN MUNICIPAL ELECTRIC | BRYAN | TX |
| City of Bryan, Texas | Bryan | TX |
| City Of Dallas Water Department | Dallas | TX |
| City of Denton | Denton | TX |
| CITY OF DENTON – MUNICIPAL GENERATING STATION | DENTON | TX |
| CITY OF EL PASO – WATER WORKS | EL PASO | TX |
| CITY OF FT. WORTH – WATER WORKS | FT. WORTH | TX |
| City of Galveston | Galveston | TX |
| CITY OF GALVESTON PUMPING PLANT | GALVESTON | TX |
| CITY OF GARLAND – C E NEWMAN STEAM PLANT | GARLAND | TX |
| CITY OF GARLAND – C E NEWMAN STEAM PLANT – UNIT 3 | GARLAND | TX |
| CITY OF GARLAND – C E NEWMAN STEAM PLANT – UNIT 4 | GARLAND | TX |
| CITY OF GARLAND – C E NEWMAN STEAM PLANT – UNIT 5 | GARLAND | TX |
| CITY OF GARLAND – MUNICIPAL POWER PLANT | GARLAND | TX |
| City Of Garland Power Plant | Copeville | TX |
| City Of Garland Power Plant | Garland | TX |
| City of Houston- Holmes Rd | Houston | TX |
| City of Houston- Patterson & Velesco Street | Houston | TX |
| City Of Jasper Municipal Power Plant | Garland | TX |
| City Of Jasper Municipal Power Plant | Copeville | TX |
| CITY OF SAN ANTONIO – 4719 SOUTH ZAZAMORA | SAN ANTONIO | TX |
| City of San Antonio PUBLIC SERVICE BOARD – CALAVERAS PLANT | SAN ANTONIO | TX |
| City of San Antonio PUBLIC SERVICE BOARD – VICTOR BRAUNIG PLT | SAN ANTONIO | TX |
| City Public Service Board | San Antonio | TX |
| CITY PUBLIC SERVICE BOARD | LONGHORN | TX |
| CITY PUBLIC SERVICE BOARD | NEW BRAUNFELS | TX |
| CITY PUBLIC SERVICE BOARD – PLANT NO. 2 | LONGHORN | TX |
| CITY PUBLIC SERVICE COMPANY – W.B. TUTTLE POWER PLANT – UNIT 2 | SAN ANTONIO | TX |
| CITY SERVICE BILLING CO | MYRTLE SPRINGS | TX |
| City Service Power | San Antonio | TX |
| CITY WATER BOARD OFFICE BUILDING – EAST COMMERCE STREET | SAN ANTONIO | TX |
| City Water Department | El Paso | TX |
| CIUDAD DE BARBANQUILLA (DREDGE) | PORT ARTHUR | TX |
| Civic Auditorium | Dallas | TX |
| CIVIC CENTER | BEAUMONT | TX |
| CLARENCE ROBERTS | HOUSTON | TX |
| CLARK ALUMINUM | HOUSTON | TX |
| CLARK BROTHERS FELT | FORT WORTH | TX |
| CLARK REFINING AND MARKETING, INCORPORATED | PORT ARTHUR | TX |
| CLARK REFINING AND MARKETING, INCORPORATED | WEST PORT ARTHUR | TX |
| CLAYTON OIL AND REFINING COMPANY | WEST DALLAS | TX |
| Clear Creek High School | Clear Creek | TX |
| Cleco Air Tools | Houston | TX |
| CLECO ENERGY | HOUSTON | TX |
| CLEVEPAK CORPORATION | DALLAS | TX |
| CLIFF ICE AND COLD STORAGE COMPANY | DALLAS | TX |
| Clowe & Cowan Inc | Amarillo | TX |
| Clowe & Cowan Inc | Lubbock | TX |
| CLOWE & COWAN, INC. | AMARILLO | TX |
| CLOWE & COWAN, INC. | LUBBOCK | TX |
| Clowe And Cowan Inc | Amarillo | TX |
| Clowe And Cowan Inc | Lubbock | TX |
| CLYDE AUSTIN DUNNING | HOUSTON | TX |
| COAL MINER | HOUSTON | TX |
| Coastal Asbestos & Specialties Co | Houston | TX |
| COASTAL CORPORATION | CORPUS CHRISTI | TX |
| Coastal Forge & Steel Co | Pearland | TX |
| Coastal Iron Works | Corpus Christi | TX |
| COASTAL IRON WORKS INCORPORATED – WSCG RELIANCE | CORPUS CHRISTI | TX |
| COASTAL IRON WORKS, INCORPORATED, W.S.C.G. RELIANCE | CORPUS CHRISTI | TX |
| Coastal Pipe Co. | Houston | TX |
| Coastal Refineries, Inc. | Hauser | TX |
| COASTAL REFINERY | CORPUS CHRISTI | TX |
| COASTAL REFINING AND MARKETING | CORPUS CHRISTI | TX |
| Coastal Refining Co. | Port Isabel | TX |
| Coastal States Petrochemical | Corpus Christi | TX |
| Coastal States Refinery | Corpus Christi | TX |
| COASTAL STATES REFINERY (a/k/a Terminal Refinery) | Corpus Christi | TX |
| COASTAL STATES REFINING COMPANY | CORPUS CHRISTI | TX |
| COASTAL SUPPLY | HOUSTON | TX |
| Cobb Industries | Marshall | TX |
| COCA COAL COMPANY | DALLAS | TX |
| COCA COLA | SAN ANTONIO | TX |
| COCA COLA – PO BOX 58 | SAN ANTONIO | TX |
| COL TEX REFINING COMPANY | COLORADO CITY | TX |
| COLANESE CHEMICAL | BAY CITY | TX |
| COLD STORAGE POWER CO. | CLARENDON | TX |
| COLDSTREAM PRODUCTS COMPANY | DENISON | TX |
| COLLEGE OF MINES & METALLURGY | AUSTIN | TX |
| COLLEGE PARK APARTMENTS – 2011 NORTH FLORES STREET | SAN ANTONIO | TX |
| COLLIER CARBON & CHEMICAL CORPORATION | DECATUR | TX |
| COLLIN STEAM ELECTRIC STATION | FRISCO | TX |
| COLLINS RADIO | DALLAS | TX |
| COLLINS RADIO | RICHARDSON | TX |
| COLLINS RADIO BDG 406 | RICHARDSON | TX |
| Colonial Country Club | Ft. Worth | TX |
| COLONIAL HILLS ELEMENTARY SCHOOL – 2627 KERRY BROOK COURT | SAN ANTONIO | TX |
| COLONIAL NATIONAL BANK | SAN ANTONIO | TX |
| COLONY SQUARE APARTMENTS | DALLAS | TX |
| COLORADO INTERSTATE GAS CO. – EXELL HELIUM PLANT | EXELL | TX |
| Colorado Interstate Gas Company | Dumas | TX |
| Colorado Texas Refining Co. | Colorado | TX |
| COL-TEX REFINING COMPANY | COLORADO CITY | TX |
| COL-TEX REFINING COMPANY | COLORADO | TX |
| Columbia Carbon Plant | Conroe | TX |
| COLUMBIA GULF TRANSMISSION | HOUSTON | TX |
| COLUMBIA HEIGHTS ELEMENTARY SCHOOL – 1610 FITCH | SAN ANTONIO | TX |
| COLUMBIA SOUTHERN CHEMICAL CORPORATION | NEW MARTINSVILLE | TX |
| COLUMBIA SOUTHERN CHEMICAL CORPORATION | CORPUS CHRISTI | TX |
| COLUMBIAN CARBON COMPANY | CONROE | TX |
| Colwe & Cowan Inc | Amarillo | TX |
| COMAL POWER PLANT | NEW BRAUNFELS | TX |
| COMANCHE BRICK COMPANY | COMANCHE | TX |
| Combustion Eng-Barney Davis #1 | Corpus Christi | TX |
| Combustion Engineering | Dallas | TX |
| Combustion Engineering | Houston | TX |
| Combustion Engineering | Marble Falls | TX |
| Combustion Engineering | San Antonio | TX |
| Combustion Engineering- Victor Brauning Station | San Antonio | TX |
| COMET RICE MILLS | BEAUMONT | TX |
| Commercial Hot Shot | Houston | TX |
| COMMERCIAL METALS COMPANY | HOUSTON | TX |
| COMMERCIAL OIL TRANSPORT | FORT WORTH | TX |
| COMMUNITY HOSPITAL | SAN ANTONIO | TX |
| COMMUNITY TRAINING & ACTIVITIES BUILDING | AUSTIN | TX |
| COMPUTER ROOM – 1010 NORTH SAINT MARYS | SAN ANTONIO | TX |
| CONAIR DIVISION, GENERAL DYNAMICS | FT. WORTH | TX |
| CONCHO POWER STATION | SAN ANGELO | TX |
| CONNELLEY AND COMPANY | HOUSTON | TX |
| CONOCO (Continental Oil) | Rio Grande City | TX |
| CONOCO (Continental Oil) / United Gas Pipeline | Carthage | TX |
| Conoco Inc. | Houston | TX |
| Conoco Plant | Carthage | TX |
| CONOCO, INCORPORATED | BAY CITY | TX |
| CONOCO-MONSANTO | ALVIN | TX |
| CONOCOPHILLIPS | SWEENY | TX |
| Consolidated Steel /Levingston Shipyard | Orange | TX |
| Consolidated Aircraft | Fort Worth | TX |
| Consolidated Aircraft | Daingerfield | TX |
| Consolidated Aircraft | Longview | TX |
| Consolidated Chemical Division | Pasadena | TX |
| Consolidated Chemical Ind. | Houston | TX |
| Consolidated Chemical Industries | Bryant | TX |
| Consolidated Chemical Industries | Houston | TX |
| CONSOLIDATED CHEMICAL INDUSTRIES (a/k/a Stauffer Chemical Co.) | HOUSTON | TX |
| Consolidated Chemical Industries, Incorporated | Houston | TX |
| Consolidated Chemical Plant | Baytown | TX |
| Consolidated General Products | Houston | TX |
| CONSOLIDATED KANSAS CITY SMELTING & REFINING COMPANY | EL PASO | TX |
| Consolidated Shipyard | Orange | TX |
| Consolidated Steel | Orange | TX |
| CONSOLIDATED STEEL CORPORATION OF TEXAS | ORANGE | TX |
| CONSOLIDATED STEEL SHIPBUILDING | ORANGE | TX |
| CONSOLIDATED STEEL SHIPYARD | ORANGE | TX |
| Consolidated Vultee Aircraft Co. | Benbrook | TX |
| CONSUMERS ICE AND COLD STORAGE COMPANY | EL PASO | TX |
| CONSUMERS LIGHTING AND HEATING COMPANY – POWER PLANT | FT. WORTH | TX |
| Continental Can Co | Beaumont | TX |
| Continental Can Plant | Houston | TX |
| Continental Carbon | Sheerin | TX |
| Continental Carbon Company | Sun Ray | TX |
| CONTINENTAL CARBON COMPANY | SUNRAY | TX |
| CONTINENTAL EMSCO | HOUSTON | TX |
| CONTINENTAL EMSCO | GARLAND | TX |
| CONTINENTAL EMSCO COMPANY | GARLAND | TX |
| Continental Emsco Derrick And Equipment Manufacturing | Houston | TX |
| CONTINENTAL MOTORS CORPORATION | GARLAND | TX |
| Continental Oil Co | Port Arthur | TX |
| Continental Oil Co. | Corpus Christi | TX |
| Continental Oil Co. | George West | TX |
| Continental Oil Co. | Rio Grande City | TX |
| Continental Oil Company | Big Lake | TX |
| CONTINENTAL OIL COMPANY | GEORGE WEST | TX |
| CONTINENTAL OIL COMPANY (a/k/a MacMillian Petroleum) | BORGER | TX |
| CONTINENTAL SUPPLY COMPANY | DALLAS | TX |
| CONVAIR DIVISION | FT. WORTH | TX |
| Convair Division of General Dynamics | Fort Worth | TX |
| Convair Plant | Fort Worth | TX |
| CONWAY OIL COMPANY | DENISON | TX |
| COOPER BESSEMER | DUMAS | TX |
| Cooper Cameron Corp. / Cameron Iron Works / WKM Valves / WKM Industries | Houston | TX |
| Cooper Clark Elem. | Houston | TX |
| Cooper Industries | Houston | TX |
| Cooper Tire & Rubber Plant | Texarkana | TX |
| Cooper-Bessemer Southern | Houston | TX |
| COORS BEER DISTRIBUTOR | SAN ANTONIO | TX |
| COPOLYMER PLANT | BORGER | TX |
| COPPER QUEEN CONSOLIDATED MINING COMPANY | EL PASO | TX |
| Corbin Carbide Company | Texas City | TX |
| Corey Supply Company | Houston | TX |
| Corn Products Company | Corpus Christi | TX |
| CORN PRODUCTS COMPANY | DALLAS | TX |
| Corn Products Refining Co. | Corpus Christi | TX |
| CORN PRODUCTS REFINING COMPANY | CORPUS CHRISTI | TX |
| Corn Products Refining Company, Bluebonnet Plant | Corpus Christi | TX |
| CORONADO CLUB – TENNIS COURTS | EL PASO | TX |
| Coronado High School | | TX |
| CORONAO ELEMENTARY SCHOOL – CORONADO VILLAGE – PAT BOOKER ROAD | SAN ANTONIO | TX |
| Corpus Christi Army Depot | Corpus Christi | TX |
| CORPUS CHRISTI MEMORIAL COLISEUM | CORPUS CHRISTI | TX |
| Corpus Christi Plant | Corpus Christi | TX |
| Corpus Christi Refinery | Corpus Christi | TX |
| CORPUS CHRISTI REFINING CO | CORPUS CHRISTI | TX |
| CORPUS CHRISTI REFINING CO. | CORPUS CHRISTI | TX |
| CORPUS CHRISTI REFINING, INC. | CORPUS CHRISTI | TX |
| CORPUS CHRISTIE ICE AND EL COMPANY | CORPUS CHRISTI | TX |
| CORRUGATED SERVICES, INCORPORATED | FORNEY | TX |
| CORSICANA GAS AND ELECTRIC COMPANY – POWER PLANT | CORSICANA | TX |
| COSDEN & GRACE | BIG SPRING | TX |
| Cosden Oil & Chemical | Big Spring | TX |
| COSDEN OIL & CHEMICAL CO | BIG SPRINGS | TX |
| COSDEN OIL CORPORATION | BIG SPRING | TX |
| COSDEN PETROLEUM COMPANY | BIG SPRINGS | TX |
| COSDEN PETROLEUM COMPANY | ABILENE | TX |
| COSDEN PETROLEUM CORP | BIG SPRINGS | TX |
| Cosden Petroleum Corp. | Big Spring | TX |
| Cosden Petroleum Corp. | Big Springs | TX |
| COSDEN PETROLEUM CORP. – ONYH PLANT | ABILENE | TX |
| COSDEN PETROLEUM CORP. (Fina) | BIG SPRING | TX |
| COSDEN PETROLEUM CORPORATION | BIG SPRING | TX |
| COSDEN PETROLEUM REFINERY | BIG SPRINGS | TX |
| COSDEN REFINERY | BIG SPRINGS | TX |
| Cosdin Petroleum Co | Big Springs | TX |
| Cosdon Refinery / Fina (Purchased by Fina in 1963) | Big Springs | TX |
| COSEN-FINA OIL REFINERY | BIG SPRINGS | TX |
| Costal Refineries, Ltd. | Los Fresnos | TX |
| COTTON BELT GIN SERVICE, INCORPORATED | DALLAS | TX |
| COTTON EXCHANGE BUILDING | GALVESTON | TX |
| COUNTY BULL BARN | HEREFORD | TX |
| Courthouse | Kountze | TX |
| COURTHOUSE | AUSTIN | TX |
| Covair Plant | Ft. Worth | TX |
| CRAZY WELL HOTEL | MINERAL WELLS | TX |
| CRESTVIEW BAPTIST CHURCH | SAN ANTONIO | TX |
| CRESTVIEW BAPTIST CHURCH – MORROW & WOODROW STREETS | AUSTIN | TX |
| CRIPPLE CREEKS APARTMENTS – 1601 HOLLMAN STREET | COLLEGE STATION | TX |
| CRISS COLE REHABILITATION CENTER – PHASE II | AUSTIN | TX |
| CROCKETT ELEMENTARY SCHOOL – ZAZAMORA STREET | SAN ANTONIO | TX |
| CROSS ROADS SHOPPING CENTER | SAN ANTONIO | TX |
| Crow Industries | Houston | TX |
| CROW W PAT INC | FT WORTH | TX |
| CROWN CENTRAL OIL REFINERY | PASADENA | TX |
| CROWN CENTRAL PETRO | HOUSTON | TX |
| Crown Central Petroleum | Houston | TX |
| Crown Central Petroleum | Pasadena | TX |
| CROWN CENTRAL PETROLEUM C | PASADENA | TX |
| Crown Central Petroleum Corp | Houston | TX |
| CROWN CENTRAL PETROLEUM CORP | PASADENA | TX |
| Crown Central Petroleum Corp. | Pasadena | TX |
| CROWN CENTRAL PETROLEUM CORP. – PASADENA REFINERY | PASADENA | TX |
| CROWN CENTRAL PETROLEUM CORPORATION | TYLER | TX |
| CROWN CENTRAL PETROLEUM CORPORATION | PASADENA | TX |
| CROWN CENTRAL PETROLEUM CORPORATION | HOUSTON | TX |
| Crown Central Refinery | Houston | TX |
| Crown Central Refinery | Pasadena | TX |
| Crown Central Refinery Plant | Pasadena | TX |
| CROWN CORK AND SEAL CO | FORT WORTH | TX |
| CROWN OIL REFINING COMPANY | PASADENA | TX |
| Crown Petroleum | Houston | TX |
| Crown Petroleum | Pasadena | TX |
| Crown Refinery | Pasadena | TX |
| CROWN TOWER OFFICE BUILDING | SAN ANTONIO | TX |
| CROWN ZELLERBACH CORPORATION | DALLAS | TX |
| Crutcher- Rohs-Cummings Katy Road Plant | Houston | TX |
| CRYSTAL ICE COMPANY, INCORPORATED | BEAUMONT | TX |
| Cullen Bank | Houston | TX |
| CULNY, INCORPORATED | HOUSTON | TX |
| Cumbustion Engineering- Sabine Station | Bridge City | TX |
| CUMMER INVESTMENTS | PARIS | TX |
| CUMMER MANUFACTRUING COMPANY | PARIS | TX |
| CUMMINS DIESEL PROJECT | SAN ANTONIO | TX |
| CUNNINGHAM ELEMENTARY SCHOOL | AUSTIN | TX |
| CUNNINGHAM SCHOOL | AUSTIN | TX |
| CUNNINGHAM SCHOOL #2 | AUSTIN | TX |
| CUNNINGHAM SUGAR COMPANY, IMPERIAL SUGAR HOUSE | SARTARTIA | TX |
| CUSHMAN WAKEFIELD | DALLAS | TX |
| CYRIL G. HOPKINS | HOUSTON | TX |
| D P S – HEADQUATERS BUILDING | AUSTIN | TX |
| D W SERVICE CENTER – 86 HABY DRIVE | SAN ANTONIO | TX |
| DAIRY QUEEN | MANCHACA | TX |
| DALHART ICE AND ELECTRIC COMPANY – ICE PLANT | DALHART | TX |
| Dallas / Ft. Worth Airport | Dallas | TX |
| Dallas / Ft. Worth Airport | Fort Worth | TX |
| DALLAS AND SHERMAN INTERURBAN RAILROAD | MCKINNEY | TX |
| DALLAS ATHLETIC CLUB | DALLAS | TX |
| DALLAS CERAMIC | DALLAS | TX |
| DALLAS CONSOLIDATED STREET RAILWAY COMPANY | DALLAS | TX |
| Dallas Convention Center | Dallas | TX |
| DALLAS CONVENTION CENTER – EXHIBIT HALL | DALLAS | TX |
| DALLAS DRESSED BEEF AND PACKING COMPANY | DALLAS | TX |
| DALLAS ELECTRIC COMPANY – POWER PLANT | DALLAS | TX |
| DALLAS ELECTRIC LIGHT AND POWER COMPANY – POWER PLANT | DALLAS | TX |
| DALLAS FORT WORTH REG AIRPORT – CENTRAL UTILITIES PLANT | DALLAS | TX |
| Dallas Ft. Worth International Airport | Dallas | TX |
| DALLAS ICE FACTORY LIGHT & POWER COMPANY – PLANT | DALLAS | TX |
| Dallas Independent School District | Dallas | TX |
| DALLAS INDUSTRIAL SCHOOL | DALLAS | TX |
| DALLAS LIGHTWEIGHT AGGRAGATE | DALLAS | TX |
| DALLAS LINEN SERVICE | DALLAS | TX |
| DALLAS LINEN SERVICE CO. | DALLAS | TX |
| DALLAS LINEN SUPPLY CO. | DALLAS | TX |
| DALLAS MARKET CENTER – WORLD TRADE CENTER | DALLAS | TX |
| DALLAS MORNING NEWS – COMMUNICATIONS CENTER | DALLAS | TX |
| DALLAS NEWS BUILDING | DALLAS | TX |
| Dallas Power & Light Co | Dallas | TX |
| Dallas Power & Light Co | Mountain Creek | TX |
| DALLAS POWER & LIGHT CO – Dallas Steam Electric Station | DALLAS | TX |
| DALLAS POWER & LIGHT CO – Mountain Creek Station | MOUNTAIN CREEK | TX |
| DALLAS POWER & LIGHT CO – MOUNTAIN CREEK STEAM ELECTRIC STATION | MOUNTAIN CREEK | TX |
| Dallas Power & Light Co North Lake Steam Electric | Coppell Dallas County | TX |
| Dallas Power & Light Co, Mountain Creek S.E. Station | Dallas | TX |
| DALLAS POWER & LIGHT COMPANY | DALLAS | TX |
| DALLAS POWER & LIGHT COMPANY – MOUNTAIN CREEK | DALLAS | TX |
| DALLAS POWER & LIGHT COMPANY – STEAM ELECTRIC STATION | DALLAS | TX |
| Dallas Power and Light | Garland | TX |
| DALLAS STEAM ELECTRIC STATION | DALLAS | TX |
| DALLAS STEAM LAUNDRY AND DYE WORKS | DALLAS | TX |
| DALLAS STEAM LAUNDRY AND DYE WORKS, GEO S. LEACHMAN | DALLAS | TX |
| DALLAS TOLL BUILDING | DALLAS | TX |
| DALLAS/FORT WORTH REGIONAL AIRPORT | ARLINGTON / DALLAS | TX |
| Dallas-Ft. Worth Airport | Dallas | TX |
| Danciger Oil & Refining, Inc. | Longview | TX |
| DANIEL CARROLL | HOUSTON | TX |
| DANIEL HIESTER | HOUSTON | TX |
| DAN'S PHARMACY – 1130 SW MILITARY DRIVE | SAN ANTONIO | TX |
| DARBYSHIRE-HARVEY IRON AND MACHINE AND COMPANY | EL PASO | TX |
| Darco | Marshall | TX |
| DARCO (NORIT) | Marshall | TX |
| Darco / ICI / Norit America / Zeneca | Marshall | TX |
| DARCO CORPORATION | MARSHALL | TX |
| DART INDUSTRIES | ODESSA | TX |
| Dart Industries / Huntsman Polymers / Rexall Drug Chemical / El Paso Natural Gas / El Paso Products / El Paso Polyolefins / Rexene | Odessa | TX |
| Dart Industries, Inc. | Bayport | TX |
| DATA POINT TERMINAL – BUILDING 4 | SAN ANTONIO | TX |
| DAUGHTERS OF CHARITY | EL PASO | TX |
| DAVID CROCKETT HIGH SCHOOL | AUSTIN | TX |
| DAVID S. TERRY | HOUSTON | TX |
| DAVID WILMOT | HOUSTON | TX |
| DAVY CROCKETT | HOUSTON | TX |
| DAY & ZIMMERMAN | HOOKS | TX |
| DAY & ZIMMERMAN AMMUNITION PLANT | TEXARKANA | TX |
| DAY & ZIMMERMAN, INC. | DEFENSE | TX |
| DAY & ZIMMERMANN, INCORPORATED | DEFENSE | TX |
| DAY AND ZIMMERMAN LONE STAR DIVISION | TEXARKANA | TX |
| DAY CARE CENTERS FOR MIRASAL & SUTTON HOMES | SAN ANTONIO | TX |
| De Chaumes Elementary | Houston | TX |
| DE SOTO CHEMICAL | GARLAND | TX |
| Dearborne Heater Co. | Dallas | TX |
| DEBCO CORP OF TEXAS | ABILENE | TX |
| DECKER CREEK POWER PLANT | AUSTIN | TX |
| DECKER CREEK POWER PLANT – CHILLING STATION | AUSTIN | TX |
| Decker Creek Power Station | Austin | TX |
| Deepwater Generating Station | Pasadena | TX |
| DEER PARK | HOUSTON | TX |
| DEER PARK MANUFACTURING COMPLEX | DEER PARK | TX |
| DEFENSE PLANT CORPORATION | TEXAS CITY | TX |
| Degosser Snorked co | Houston | TX |
| DEGUSSA ENGINEERED CARBONS, LP | ORANGE | TX |
| DEL MONTE CORPORATION | CRYSTAL CITY | TX |
| Del Monte Foods, Inc. | Crystal City | TX |
| DEL RAY SHOPPING CENTER | SEGUIN | TX |
| Del Rey Petroleum Co. | Lissie | TX |
| DEL VALLE MIDDLE SCHOOL – GYMNASIUM | AUSTIN | TX |
| Delaval Texas Forge Division | Houston | TX |
| DELEK REFINING, LTD | TYLER | TX |
| Delhi Taylor Oil Corporation | Corpus Christi | TX |
| Delta Centrifugal Casting Co. | Temple | TX |
| Delta Engineering | Houston | TX |
| DELTA ENGINEERING | FREEPORT | TX |
| Delta Engineering Corporation | Houston | TX |
| DELTA MFG ENGINEERING CO. | DALLAS | TX |
| DELTA MFG AND ENGINEERING C | DALLAS | TX |
| Demitt Wheat Growers, Inc. | Demitt | TX |
| DENISON COTTON MILL COMPANY | DENISON | TX |
| Denka Refinery / Petrotex | Houston/Pasadena | TX |
| DENNIS (USS) | HOUSTON | TX |
| DENNISON AND SHERMAN RAILWAY COMPANY | DENISON | TX |
| DENNY`S RESTAURANT | SAN ANTONIO | TX |
| DENTLER-FACS COMPANY – 422 & 423 CAROLINA STREET | SAN ANTONIO | TX |
| DEPARTMENT OF PUBLIC WORKS – NORTH SIDE TREATMENT FACILITY | HOUSTON | TX |
| DePelchin Faith House | Houston | TX |
| DEPOSIT LIBRARY | AUSTIN | TX |
| D'HANIS BRICK AND TILE COMPANY | D'HANIS | TX |
| DIAGNOSTIC CLINIC – MEDICAL DRIVE | SAN ANTONIO | TX |
| DIAGNOSTIC HOSPITAL | HOUSTON | TX |
| DIAL CORPORATION | SAN ANTONIO | TX |
| DIAL CORPORATION | TEMPLE | TX |
| DIAL CORPORATION – ACKERMAN ROAD & DIETRICH ROAD | SAN ANTONIO | TX |
| DIAL CORPORATION – JARRATT 622 | SAN ANTONIO | TX |
| Diamond Alkali | Deer Park | TX |
| DIAMOND ALKALI | GREENS BAYOU | TX |
| Diamond Alkali / Diamond Shamrock / Occidental Chemical | Greens Bayou / Channelview | TX |
| Diamond Alkali Chemical | Greens Bayou | TX |
| Diamond Alkali Chemical Plant | Deer Park | TX |
| DIAMOND ALKALI CHEMICAL PLANT | HOUSTON | TX |
| Diamond Alkali Co | Houston | TX |
| Diamond Alkali Co. | Deer Park | TX |
| DIAMOND ALKALI COMPANY | DALLAS | TX |
| DIAMOND ALKALI COMPANY | DEER PARK | TX |
| DIAMOND MILL COMPANY | SHERMAN | TX |
| Diamond Shamrock | Greens Bayou | TX |
| Diamond Shamrock | Texas City | TX |
| Diamond Shamrock | Deer Park | TX |
| Diamond Shamrock | Sunray | TX |
| Diamond Shamrock | Amarillo | TX |
| Diamond Shamrock | Houston Area | TX |
| DIAMOND SHAMROCK | GREEN BAYOU | TX |
| DIAMOND SHAMROCK – DEER PARK PLANT | DEER PARK | TX |
| Diamond Shamrock (AKA Little Diamond, Oxy-Vinlys B) | La Porte | TX |
| Diamond Shamrock / Occidental Chemical / Diamond Alkali | Greens Bayou / Channelview | TX |
| DIAMOND SHAMROCK CHEMICAL CO | LA PORTE | TX |
| DIAMOND SHAMROCK CHEMICAL CO | DEER PARK | TX |
| DIAMOND SHAMROCK CHEMICAL CO | HOUSTON | TX |
| DIAMOND SHAMROCK CHEMICAL COMPANY | DEER PARK | TX |
| DIAMOND SHAMROCK CHEMICAL COMPANY | GREEN BAYOU | TX |
| DIAMOND SHAMROCK CHEMICAL PLANT | HOUSTON | TX |
| DIAMOND SHAMROCK CORP. | SUNRAY | TX |
| DIAMOND SHAMROCK CORP. | DEER PARK | TX |
| Diamond Shamrock Corp. (originally known as Diamond Alkali) | Deer Park | TX |
| Diamond Shamrock Corp. (originally known as Diamond Alkali) | Houston | TX |
| Diamond Shamrock Corp. (originally known as Diamond Alkali) | LaPorte | TX |
| DIAMOND SHAMROCK CORPORATION – DEER PARK PLANT – SHIP CHANNEL | HOUSTON | TX |
| DIAMOND SHAMROCK CORPORATION – MONUMENT PLANT | DEER PARK | TX |
| DIAMOND SHAMROCK CORPORATION, DEER PARK PLANT, SHIP CHANNEL | HOUSTON | TX |
| Diamond Shamrock Refinery | Deer Park | TX |
| Diamond Shamrock, Deer Park Plant | DEER PARK | TX |
| DICKSON CAR WHEEL COMPANY | HOUSTON | TX |
| DILLY CLINIC | DILLEY | TX |
| DIMAOND SHAMROCK/BIG DIAMOND/OXVINYLS | LA PORTE | TX |
| DIMMITT WHEAT GROWERS INC | DIMMITT | TX |
| DITTLINGER LIBRARY | NEW BRAUNFELS | TX |
| Divco Wayne | Texarkana | TX |
| DIXIE CHEMICAL PLANT | PASADENA | TX |
| DIXIE LEAD COMPANY | DALLAS | TX |
| DIXON CAR WHEEL COMPANY | HOUSTON | TX |
| DOBIE CENTER – 2021 GUADELUPE STREET | AUSTIN | TX |
| DOBIE MALL | AUSTIN | TX |
| DOMINY HEAT TREATING | DALLAS | TX |
| Dominy Heat Treating Company | Dallas | TX |
| Donaho Refining Co | Pettus | TX |
| DONNELLY WHITE | AUSTIN | TX |
| DONOHUE INDUSTRIES, INCORPORATED | LUFKIN | TX |
| Donohue Paper Mill | Lufkin | TX |
| DONS WELDING CO | JASPER | TX |
| DOTSON TEAM TRACK | CORPUS CHRISTI | TX |
| Doty High School | Mckinney | TX |
| DOUGLAS A. MUNRO (USS) | HOUSTON | TX |
| Douglas School | Houston | TX |
| DOW | Velasco | TX |
| Dow Badische | Freeport | TX |
| Dow Badische / Badische Chemical / Dow Chemical / BASF | Freeport | TX |
| DOW BADISCHE CHEMICAL CO – CAPROLACTUM PLANT PHASE 3 | FREEPORT | TX |
| Dow Badische Chemical Plant | Clute | TX |
| DOW BADISCHE CHEMICAL PLANT | FREEPORT | TX |
| Dow Badische-Chemical | Freeport | TX |
| Dow Basische/BASF/Petrochemical Plant | Clute | TX |
| DOW CAPROLACTUM PLANT | FREEPORT | TX |
| DOW CHEM. | FREEPORT | TX |
| Dow Chemical | Freeport | TX |
| Dow Chemical | Gregory | TX |
| Dow Chemical | La Porte | TX |
| Dow Chemical | Pasadena | TX |
| Dow Chemical | Texas City | TX |
| Dow Chemical | Clute | TX |
| Dow Chemical | Port Lavaca | TX |
| Dow Chemical | Houston | TX |
| DOW CHEMICAL | PORT ARTHUR | TX |
| DOW CHEMICAL – CHLORINE 5 | FREEPORT | TX |
| DOW CHEMICAL – OYSTER CREEK PLANT | FREEPORT | TX |
| DOW CHEMICAL – PLANT B | FREEPORT | TX |
| Dow Chemical (see also Dow Badische) | Freeport | TX |
| DOW CHEMICAL CO | HOUSTON | TX |
| DOW CHEMICAL CO | FREEPORT | TX |
| DOW CHEMICAL CO – BADISCHE PLANT | FREEPORT | TX |
| DOW CHEMICAL CO – CAPROLACTUM PLANT | FREEPORT | TX |
| DOW CHEMICAL CO – DOOR NBR 3 | HOUSTON | TX |
| DOW CHEMICAL CO – EPOXY RESIN-PLANT B | FREEPORT | TX |
| DOW CHEMICAL CO – MORICAL & POWELL – PLANT B | FREEPORT | TX |
| DOW CHEMICAL CO – PLANT "A" | VELASCO | TX |
| DOW CHEMICAL CO – PLANT "A" – BUILDING 103 | VELASCO | TX |
| DOW CHEMICAL CO – PLANT "B" | VELASCO | TX |
| DOW CHEMICAL CO – PLANT A | VELASCO | TX |
| DOW CHEMICAL CO – PLANT A – BUILDING 103 | VELASCO | TX |
| DOW CHEMICAL CO – PLANT B | VELASCO | TX |
| DOW CHEMICAL CO. | VELASCO | TX |
| Dow Chemical Co. – Plant A | Freeport | TX |
| Dow Chemical Co. – Plant B | Freeport | TX |
| Dow Chemical Co. – Tank | Freeport | TX |
| Dow Chemical Co. ? Plant A | Velasco | TX |
| Dow Chemical Co. ? Plant B | Freeport | TX |
| DOW CHEMICAL COMPANY | FREEPORT | TX |
| DOW CHEMICAL COMPANY – OYSTER CREEK DIVISION | FREEPORT | TX |
| Dow Chemical Company (The) | Freeport | TX |
| Dow Chemical Company (The) | Velasco | TX |
| Dow Chemical Company (The) | Velasco "A" | TX |
| Dow Chemical Company (The) | Velasco "B" | TX |
| DOW CHEMICAL COMPANY PLANT, HWY. 332 & 288 | LAKE JACKSON | TX |
| DOW CHEMICAL PLANT | FREEPORT | TX |
| DOW CHEMICAL PLANT – PLANT A AND B | FREEPORT | TX |
| Dow Chemical- Stearns Roger | Freeport | TX |
| Dow Chemical- Tellepsen | Freeport | TX |
| Dow Magnesium Plant | Freeport | TX |
| DOW U.S.A. – TEXAS OPERATIONS | FREEPORT | TX |
| DOWNTOWN YMCA – NORTH SAINT MARYS STREET | SAN ANTONIO | TX |
| DOYLE C. BARNES (USS) | ORANGE | TX |
| Dr. Pepper Bottling | Dallas | TX |
| Dresser Engineering Co. | Dallas | TX |
| Dresser Ideco | Beaumont | TX |
| DRESSER INDUSTRIES INCORP | DALLAS | TX |
| DRESSER INDUSTRIES, INCORPORATED | DALLAS | TX |
| Dresser Minerals | Kosse | TX |
| DRESSLER ENG. | JUDKIN | TX |
| DRILLER (USS) | GALVESTON | TX |
| DRILLING & SERVICE | DALLAS | TX |
| DRILLING SERVICE | DALLAS | TX |
| Driscoll Foundation Hospital | Corpus Christi | TX |
| DRISKILL HOTEL | AUSTIN | TX |
| DRIVE INN RESTAURANT | SAN ANTONIO | TX |
| DUBLIN HIDENSITY COMPRESS & WAREHOUSE CO | DUBLIN | TX |
| DUFILHO (USS) | HOUSTON | TX |
| Duke Electric | Amarillo | TX |
| DUMONT SIDING | SOUTH HOUSTON | TX |
| Dunbar Elementary School | Beaumont | TX |
| DUNNE-WHITE & ASSOCIATES | HOUSTON | TX |
| Duplex, Country Place; Country Place Court | Carrollton | TX |
| Dupont | Victoria | TX |
| DuPont | Corpus Christi | TX |
| DuPont | Orange | TX |
| DuPont | Point Comfort | TX |
| DuPont | Beaumont | TX |
| DuPont | La Porte | TX |
| DUPONT – SABINE RIVER WORKS | ORANGE | TX |
| DUPONT – SABINE RIVERS WORKS | ORANGE | TX |
| Dupont Beaumont Works | Beaumont | TX |
| DUPONT BLOOMINGTON PLANT | BLOOMINGTON | TX |
| DuPont Chemical | Pasadena | TX |
| DuPont Chemical | Victoria | TX |
| DuPont Chemical | Baytown | TX |
| DUPONT CHEMICAL | BEAUMONT | TX |
| DUPONT CHEMICAL | ORANGE | TX |
| Dupont Chemical / Dupont Sabine Works | Orange | TX |
| Dupont Chemical Plant | Victoria | TX |
| Dupont Chemical Plant | Beaumont | TX |
| Dupont Chemical Plant | La Porte | TX |
| Dupont Chemical Plant | Orange | TX |
| DUPONT PERFORMANCE ELASTOMERS PLANT – BEAUMONT | BEAUMONT | TX |
| Dupont Plant | Strang | TX |
| DuPont Sabine River Works | Orange | TX |
| DuPont- Sabine River Works | Orange | TX |
| Dupont Sabine Works / Dupont Chemical | Orange | TX |
| DUVAL SULFUR PLANT | GALVESTON | TX |
| Duval Texas Sugar Co. | Orchard | TX |
| Duval Texas Sulpher Co. | Orchard | TX |
| DUVAL TEXAS SULPHUR CO | BOLING | TX |
| DUVAL TEXAS SULPHUR COMPANY | BENAVIDES | TX |
| Duvall Sulpher / Pennziol | West Texas | TX |
| Dynamold, Inc. | Fort Worth | TX |
| DYNEGY MIDSTREAM SERVICES LP | MONT BELVIEU | TX |
| DYNEGY, INCORPORATED | CHANNELVIEW | TX |
| E I DUPONT DE NEMOURS | BEAUMONT | TX |
| E TEXAS PULP & PAPER | SILSBEE | TX |
| E. I. DUPONT DE NEMOURS & CO. | BLOOMINGTON | TX |
| E. I. DUPONT DE NEMOURS & CO. | ORANGE | TX |
| E. I. DUPONT DE NEMOURS & CO. | LA PORTE | TX |
| E. I. DUPONT DE NEMOURS & CO. | VICTORIA | TX |
| E. O. GENE WOOD CO. | FORT WORTH | TX |
| E. TEAXS PULP & PAPER COMPANY | SILSBEE | TX |
| E. TEAXS PULP & PAPER COMPANY – EVADALE PAPER MILL | EVADALE | TX |
| E. TEXAS PULP & PAPER COMPANY | SILSBEE | TX |
| E. TEXAS PULP & PAPER COMPANY – EVADALE PAPER MILL | EVADALE | TX |
| E. Texas Salt Water Disposal Company | Kilgore | TX |
| E.H. CUNNINGHAM AND COMPANY | SUGAR LAND | TX |
| E.H. CUNNINGHAM COMPANY | SUGAR LAND | TX |
| E.I. DU PONT DE NEMOURS & COMPANY | ORANGE | TX |
| E.I. DU PONT DE NEMOURS & COMPANY | STRANG | TX |
| E.I. Du Pont De Nemours | Deer Park | TX |
| E.I. Du Pont De Nemours | Gregory | TX |
| E.I. Du Pont De Nemours | Orange | TX |
| E.I. du Pont de Nemours & Company | Orange | TX |
| E.I. du Pont de Nemours & Company | Victoria | TX |
| E.I. du Pont de Nemours & Company | Beaumont | TX |
| E.I. du Pont de Nemours & Company | La Porte | TX |
| E.I. du Pont de Nemours & Company, Chemical Plant | La Porte | TX |
| E.I. DUPONT CHEMICAL PLANT | ORANGE | TX |
| E.I. DUPONT CHEMICAL PLANT | | TX |
| E.I. DUPONT DE NEMOURS & CO. | ORANGE | TX |
| E.I. DUPONT DE NEMOURS & CO. | VICTORIA | TX |
| E.I. DUPONT DE NEMOURS & CO. | BEAUMONT | TX |
| E.I. DUPONT DE NEMOURS & CO. INC. | VICTORIA | TX |
| E.I. DUPONT DE NEMOURS & CO. INC. – SABINE RIVER | ORANGE | TX |
| E.I. Dupont de Nemours & Company | Beaumont | TX |
| E.I. Dupont de Nemours & Company | LaPorte | TX |
| E.I. Dupont de Nemours & Company | Orange | TX |
| E.I. Dupont de Nemours & Company | Victoria | TX |
| E.I. DUPONT DE NEMOURS & COMPANY | HOUSTON | TX |
| E.I. DUPONT DE NEMOURS & COMPANY | LA PORTE | TX |
| E.I. DUPONT DE NEMOURS & COMPANY | DEER PARK | TX |
| E.I. DUPONT DE NEMOURS & COMPANY | FREEPORT | TX |
| E.I. DUPONT DE NEMOURS & COMPANY | TYLER | TX |
| E.I. DUPONT DE NEMOURS & COMPANY | PORT ARTHUR | TX |
| E.I. DUPONT DE NEMOURS AND COMPANY | BEAUMONT | TX |
| E.J. Lavino Co. | Freeport | TX |
| E.L. AND F.V. BENDER BENDER BUILDING. | HOUSTON | TX |
| EAGLE MOUNTAIN STEAM ELECTRIC STATION | FT. WORTH | TX |
| Earl B. Doolin Machine Shop | Dallas | TX |
| Earl St Team Track Cottonbelt Railroad | Dallas | TX |
| East District Telephone Office – Plum Cr | Houston | TX |
| EAST HOUSTON STREET SHOPPING CENTER – EAST HOUSTON STREET & NEW BRAUNFELS AVENUE | SAN ANTONIO | TX |
| EAST PRODUCE COMPANY | AUSTIN | TX |
| East Texas Pulp & Paper Co | Evadale | TX |
| EAST TEXAS PULP & PAPER CO. #1 RECOVERY (a/k/a Eastex, Inc & Temple-Eastex) | EVADALE | TX |
| EAST TEXAS PULP AND PAPER | EVADALE | TX |
| EAST TEXAS PULP AND PAPER | BEAUMONT | TX |
| EAST TEXAS PULP AND PAPER COMPANY | EVADALE | TX |
| East Texas Pulp and Paper Mill | Evadale | TX |
| East Texas Salt Water | Kilgore | TX |
| EAST TEXAS STEEL CASTINGS | LONGVIEW | TX |
| Eastern States Petroleum | Houston | TX |
| EASTERN STATES PETROLEUM COMPANY | HOUSTON | TX |
| Eastern States Petroleum/Charter/Hill/Philbro Refi | Houston | TX |
| Eastern States Refinery | Houston | TX |
| Eastern States-Signal-Charter-Valero Oil Refinery | Houston | TX |
| Eastex | Silsbee | TX |
| Eastex | Evadale | TX |
| Eastex Inc. | Evandale | TX |
| EASTEX INCORPORATED | EVADALE | TX |
| EASTEX PAPER | EVADALE | TX |
| Eastex Paper Mill | Evandale | TX |
| Eastex Paper Mill | Evadale | TX |
| Eastex, Inc. | Evadale | TX |
| EASTEX, INCORPORATED | EVADALE | TX |
| Eastman Kodak | Longview | TX |
| EASTMAN KODAK CO. | LONGVIEW | TX |
| Eastman Kodak Company | Dallas | TX |
| Eastman Kodak Company | Longview | TX |
| EASTMAN KODAK PLANT | LONGVIEW | TX |
| Eb Hayes Machinery Co | Marshall | TX |
| Ebasco | Pasadena | TX |
| Echo | Orange | TX |
| Echo Motel | Edinburg | TX |
| Echo Philblack | Echo | TX |
| ECONOMY BIT & SUPPLY | SAN ANGELO | TX |
| ECONOMY FURNITURE – 9315 MCNEIL ROAD | AUSTIN | TX |
| ECONOMY FURNITURE COMPANY | AUSTIN | TX |
| ECONOMY FURNITURE INDUSTRIES, INCORPORATED | AUSTIN | TX |
| EDGEWOOD ELEMENTARY SCHOOL – CASTROVILLE ROAD & 40TH STREET | SAN ANTONIO | TX |
| Edgewood Plant | Edgewood | TX |
| EDINBURG IRRIGATION COMPANY | MADERO | TX |
| EDMONDS (USS) | HOUSTON | TX |
| EDWIN A. HOWARD (USS) | ORANGE | TX |
| EDWIN W. MOORE | HOUSTON | TX |
| EGS Electric Group | Stephenville | TX |
| EI DUPONT | BEAUMONT | TX |
| Ej Lavino Co. | Freeport | TX |
| EL CAMPO ALUMINUM | EL CAMPO | TX |
| EL CAMPO ALUMINUM CO | EL CAMPO | TX |
| EL DORADO ELEMENTARY SCHOOL | SAN ANTONIO | TX |
| EL PASO AND SOUTHWESTERN RAILROAD COMPANY | EL PASO | TX |
| EL PASO BRICK COMPANY | EL PASO | TX |
| El Paso Electric | El Paso | TX |
| EL PASO ELECTRIC – NEWMAN POWER PLANT | EL PASO | TX |
| EL PASO ELECTRIC – NEWMAN POWER PLANT – UNIT 1 | EL PASO | TX |
| EL PASO ELECTRIC – NEWMAN POWER PLANT – UNIT 2 | EL PASO | TX |
| EL PASO ELECTRIC – NEWMAN POWER PLANT – UNIT 3 | EL PASO | TX |
| EL PASO ELECTRIC BUILDING | EL PASO | TX |
| El Paso Electric Co | El Paso | TX |
| El Paso Electric Co. | El Paso | TX |
| EL PASO ELECTRIC COMPANY, RIO GRANDE POWER STATION | EL PASO | TX |
| EL PASO ICE AND REFRIGERATOR COMPANY | EL PASO | TX |
| EL PASO MILLING COMPANY, LIMITED | EL PASO | TX |
| EL PASO NATIONAL BANK BUILDING | EL PASO | TX |
| El Paso Natural Gas | Crane | TX |
| El Paso Natural Gas | Goldsmith | TX |
| El Paso Natural Gas | Odessa | TX |
| EL PASO NATURAL GAS – COMPRESSOR STATION | DENVER CITY | TX |
| El Paso Natural Gas / El Paso Products / El Paso Polyolefins / Rexene / Dart Industries / Huntsman Polymers / Rexall Drug Chemical | Odessa | TX |
| El Paso Natural Gas Co | Elpaso | TX |
| EL PASO NATURAL GAS CO. – MIDWAY LANE GASOLINE PLANT | BARNHART | TX |
| El Paso Natural Gas Co. – Odessa Petrochemical Plant | Odessa | TX |
| El Paso Natural Gas Company | Jal | TX |
| El Paso Natural Gas Company | Plane Port | TX |
| El Paso Natural Gas Company | Van Horn | TX |
| EL PASO NATURAL GAS COMPANY – MCELROY-CRANE PLANT | CRANE | TX |
| El Paso Natural Gas Company – Midway Lane Gas Plant | Ozona | TX |
| EL PASO NATURAL GAS PROD | ODESSA | TX |
| El Paso Polyolefins / Rexene / Dart Industries / Huntsman Polymers / Rexall Drug Chemical / El Paso Natural Gas / El Paso Products | Odessa | TX |
| EL PASO PRODUCTS | ODESSA | TX |
| El Paso Products / El Paso Polyolefins / Rexene / Dart Industries / Huntsman Polymers / Rexall Drug Chemical / El Paso Natural Gas | Odessa | TX |
| EL PASO PRODUCTS COMPANY | ODESSA | TX |
| El Paso Technical High School | El Paso | TX |
| ELAINE | HOUSTON | TX |
| ELCOR CHEMICAL CORP | ROCKHOUSE | TX |
| ELDERMERE | HOUSTON | TX |
| Elementis Chrome | Corpus Christi | TX |
| ELEMENTIS CHROMIUM | CORPUS CHRISTI | TX |
| ELEMENTIS LTP LP. | CORPUS CHRISTI | TX |
| ELF AQUITAINE, INCORPORATED | NEWGULF | TX |
| ELF ATOCHEM NORTH AMERICA, INC. | BRYAN | TX |
| ELGIN JUNIOR HIGH SCHOOL | ELGIN | TX |
| ELGIN PRIMARY SCHOOL | AUSTIN | TX |
| ELGIN-BUTLER BRICK COMPANY | BUTLER | TX |
| ELLIOTT JONES AND COMPANY, LIMITED | SAN ANTONIO | TX |
| EMPIRE INSULATION & SUPPLY CO. | DALLAS | TX |
| EMPRESAS LONGARIA | LAREDO | TX |
| Emsco | Houston | TX |
| EMTEX | CARROLLTON | TX |
| ENCO THERM | HOUSTON | TX |
| ENGINEERED CARBONS, INCORPORATED / AMERIPOL SYNPOL | ORANGE | TX |
| Engineers Control | Houston | TX |
| Enjay Chemical co. | Baytown | TX |
| ENJAY CHEMICAL CORPORATION | BAYTOWN | TX |
| Enjay Chemical Plant | Baytown | TX |
| ENRON GAS PLANT | PASADENA | TX |
| ENTERGY CORPORATION | BRIDGE CITY | TX |
| ENTERGY CORPORATION | WILLIS | TX |
| ENTERGY CORPORATION | CONROE | TX |
| ENTERGY GULF STATES, INCORPORATED | WILLIS | TX |
| ENTERGY GULF STATES, INCORPORATED | BRIDGE CITY | TX |
| Enviromental Technology Laboratory | Garland | TX |
| Environmental Recycling Technologies | Laredo | TX |
| Enviroquip, Inc. | Austin | TX |
| EQUISTAR CHEMICALS LP. | BAY CITY | TX |
| EQUISTAR CHEMICALS LP. | CHANNELVIEW | TX |
| EQUISTAR CHEMICALS LP. | PORT ARTHUR | TX |
| Equitable Bag | Orange | TX |
| Erectors & Constructors Inc | El Paso | TX |
| Erectors Constor | El Paso | TX |
| Erectors Constor | Odessa | TX |
| Ert | Laredo | TX |
| Esco Corp | La Porte | TX |
| ESPEY SILICA SAND COMPANY | SAN ANTONIO | TX |
| Essary Insulation | Dallas | TX |
| Estes & Staet Plastering | Dallas | TX |
| Ethyl Chemical | Pasadena | TX |
| ETHYL CHEMICAL PLANT | PASADENA | TX |
| Ethyl Corp. | Pasadena | TX |
| Ethyl Corporation | Pasadena | TX |
| Ethyl Corporation | Houston | TX |
| ETHYL REFINERY | PASADENA | TX |
| Ethyl Refinery (a.k.a. Ethyl-Dow) | Pasadena | TX |
| ETHYL-ABEMARLE-BRITISH PETROLEUM (BP)/ AMERICAN OIL COMPANY AMOCO) CHEMICAL PLANT | PASADENA | TX |
| Ethyl-Dow (a.k.a. Ethyl Refinery) | Pasadena | TX |
| Ethyl-Dow Chemical | Freeport | TX |
| EUGENE B. SMITH & CO. | DALLAS | TX |
| EVADALE MILL | EVADALE | TX |
| Evadale Paper Mill | Evadale | TX |
| EVERGREEN STATE | HOUSTON | TX |
| EVERSOLE (USS) | HOUSTON | TX |
| EXCHANGE BUILDING | GIDDINGS | TX |
| EXCHANGE PARK BANK | DALLAS | TX |
| EXCHANGE PARK COMPANY | DALLAS | TX |
| EXCHANGE PARK PLAZA, SUITE 252B | DALLAS | TX |
| Exchange Park Shopping Center | Dallas | TX |
| EXELON POWER | DALLAS | TX |
| EXELON POWER | FORT WORTH | TX |
| EXMINISTER HOUSES | SAN ANTONIO | TX |
| Exomat | Marshall | TX |
| Exomet | Marshall | TX |
| EXPRESS PUBLISHING COMPANY | SAN ANTONIO | TX |
| Exxon | Baytown | TX |
| Exxon | Sandhills | TX |
| Exxon | Houston | TX |
| EXXON | GALVESTON | TX |
| EXXON – KING RANCH GASOLINE PLANT | KINGSVILLE | TX |
| Exxon / Humble | Baytown | TX |
| Exxon / Humble | Charlotte | TX |
| Exxon / Humble | Conroe | TX |
| Exxon / Humble | Genoa | TX |
| Exxon / Humble | Houston | TX |
| Exxon / Humble | Jourdanton | TX |
| Exxon / Humble | Katy | TX |
| Exxon / Humble | Kilgore | TX |
| Exxon / Humble | King Ranch | TX |
| Exxon / Humble | Kingsville | TX |
| Exxon / Humble | Longview | TX |
| Exxon / Humble | Quitman | TX |
| Exxon / Humble | Tomball | TX |
| Exxon / Humble – King Ranch | Premont | TX |
| Exxon Chemical | Baytown | TX |
| Exxon Chemical | Houston | TX |
| EXXON CHEMICAL COMPANY USA | MONT BELVIEU | TX |
| EXXON CHEMICAL PLANT | BAYTOWN | TX |
| Exxon Chemical Refinery | Alice | TX |
| Exxon Chemical-Stedman Street Plant | Houston | TX |
| Exxon Company USA Synthetic Fuel | Baytown | TX |
| EXXON CORP | HOUSTON | TX |
| EXXON GAS PROCESSING PLANT | KATY | TX |
| EXXON MOBIL – MONT BELVIEU PLASTICS PLANT | MONT BELVIEU | TX |
| Exxon Oil Refinery | Baytown | TX |
| Exxon Refinery Baytown | Baytown | TX |
| Exxon Refinery | Hawkins | TX |
| Exxon Refinery | Pasadena | TX |
| Exxon Refinery | Kingsville | TX |
| Exxon Refinery AKA Humble Oil | Baytown | TX |
| Exxon Refining | Baytown | TX |
| EXXON, KING RANCH GAS PLANT | KINGSVILLE | TX |
| EXXONMOBIL OIL CORPORATION | BAYTOWN | TX |
| EXXONMOBIL OIL CORPORATION | BEAUMONT | TX |
| EXXONMOBIL OIL CORPORATION | KINGSVILLE | TX |
| EXXONMOBIL OIL CORPORATION | MONT BELVIEU | TX |
| EXXONMOBIL OIL CORPORATION | KATY | TX |
| E-Z TIGHT, INC. | AMARILLO | TX |
| F AND W BOILER AND WELDING WO | HOUSTON | TX |
| F. HOLLISTER COMPANY | DALLAS | TX |
| F.F. COLLINS MANUFACTURING COMPANY | SAN ANTONIO | TX |
| F.W. Ayers Residence | Houston | TX |
| F.W. GLITSCH & SONS | DALLAS | TX |
| Fabsteel | Waskom | TX |
| FACS COMPANY | SAN ANTONIO | TX |
| FAIR DEPARTMENT STORE, LOCHWOOD VILLAGE | DALLAS | TX |
| FAIRWAY MOTOR HOTEL | MCALLEN | TX |
| FALL STAFF WAREHOUSE | SAN ANTONIO | TX |
| Falstaff Brewery | Galveston | TX |
| FALSTAFF BREWING | GALVESTON | TX |
| Falstaff Brewing Corporation | El Paso | TX |
| FALSTAFF BREWING CORPORATION | GALVESTON | TX |
| Fann Instrument Corp. | Houston | TX |
| Fannin Junior High School | Amarillo | TX |
| FARM & HOME SAVINGS | AUSTIN | TX |
| FARMERS CHEMICAL ASSOCIATION | TYNER | TX |
| FARMERS CO-OP COMPRESS | LUBBOCK | TX |
| FARMERS FERTILIZER | TEXARKANA | TX |
| FARRIS PONTIAC | AUSTIN | TX |
| FAUBION ELEMENTARY | CEDAR PARK | TX |
| FAWN RIDGE VILLAGE APARTMENTS | DALLAS | TX |
| FEATHERLITE CO | CONVERSE | TX |
| FEATHERLITE CORPORATION | RAUPER | TX |
| FEDERAL CORRECTIONAL INSTITUTE | TEXARKANA | TX |
| FEDERAL COURTHOUSE | AUSTIN | TX |
| FEDERAL COURTHOUSE – FEDERAL POST OFFICE | HOUSTON | TX |
| FEDERAL RESERVE BANK OF DALLAS | DALLAS | TX |
| Federal Steel | Houston | TX |
| FEDERAL STEEL CORPORATION | HOUSTON | TX |
| FERRIS BRICK COMPANY | DALLAS | TX |
| FH MALONEY PIPE FABRICATING SHOP | HOUSTON | TX |
| Fibergrate Composite Structures, Inc. | Stephenville | TX |
| FIDELITY UNION TOWER BUILDING | DALLAS | TX |
| FIEK GIN COMPANY | VICTORIA | TX |
| Field Erection & Welding Co. | Houston | TX |
| FILTER MEDIA, INCORPORATED | LA PORTE | TX |
| Fina / Cosdon Refinery (Purchased by Fina in 1963) | Big Springs | TX |
| Fina Mobil Refinery | Jefferson County | TX |
| FINA OIL & CHEMICAL | GROVES | TX |
| Fina Oil & Chemical Plant | Groves | TX |
| Fina Oil & Chemical Plant | Port Arthur | TX |
| FINA OIL & CHEMICAL PLANT | PASADENA | TX |
| FINA OIL AND CHEMICAL COMPANY | DEER PARK | TX |
| FINA OIL AND CHEMICAL COMPANY | GROVES | TX |
| FINA OIL AND CHEMICAL COMPANY | LA PORTE | TX |
| FINA OIL AND CHEMICAL COMPANY | PORT ARTHUR | TX |
| FINA OIL AND CHEMICAL COMPANY (Cosden Oil & Chemical Co.) | BIG SPRING | TX |
| FINA OIL REFINERY | BIG SPRINGS | TX |
| Fina Refinery | Port Arthur | TX |
| FIRE ENGINEERS INC | CORSICANA | TX |
| FIRE ENGINEERS, INCORPORATED | CORSICANA | TX |
| FIRE STATION #34 – BARCOCK & WURZBACK ROADS | SAN ANTONIO | TX |
| Firestone | Orange | TX |
| FIRESTONE RUBBER & LATEX COMPANY | ORANGE | TX |
| FIRESTONE SYNTHETIC RUBBER & LATEX – POLYPROPYLENE PLANT | ORANGE | TX |
| Firestone Synthetic Rubber & Latex Company | Orange | TX |
| Firestone Synthetic Rubber and Latex Co. / Bridgestone Tire and Rubber | Orange | TX |
| FIRESTONE SYNTHETIC RUBBER AND LATEX COMPANY | ORANGE | TX |
| FIRESTONE SYNTHETIC RUBBER CO – LATEX CO. | ORANGE | TX |
| FIRESTONE SYNTHETIC RUBBER PLANT | ORANGE | TX |
| Firestone Tire & Rubber | Orange | TX |
| FIRESTONE TIRE & RUBBER COMPANY | ORANGE | TX |
| FIRESTONE TIRE AND RUBBER COMPANY | ORANGE | TX |
| FIRESTONE TIRE AND RUBBER PLANT | ORANGE | TX |
| First Baptist Church | Huntsville | TX |
| First Baptist Church | Navasota | TX |
| First Baptist Church | Odessa | TX |
| FIRST BAPTIST CHURCH | UNIVERSAL CITY | TX |
| FIRST BAPTIST CHURCH – NORTH 1ST STREET | TEMPLE | TX |
| FIRST CITY NATIONAL BANK BUILDING | HOUSTON | TX |
| FIRST FEDERAL SAVINGS & LOAN | AUSTIN | TX |
| FIRST FEDERAL SAVINGS & LOAN – FREDERICKSBURG ROAD | SAN ANTONIO | TX |
| First International Building | Dallas | TX |
| First National Bank | Port Arthur | TX |
| First National Bank | Odessa | TX |
| First National Bank | Dallas | TX |
| FIRST NATIONAL BANK | SAN ANTONIO | TX |
| FIRST NATIONAL BANK | SAN MARCOS | TX |
| FIRST NATIONAL BANK | SEGUIN | TX |
| FIRST NATIONAL BANK BLDG. | MIDLAND | TX |
| FIRST NATIONAL BANK BLDG. | FT. WORTH | TX |
| First National Bank Building | Dallas | TX |
| FIRST NATIONAL BANK BUILDING | HOUSTON | TX |
| FIRST PRESBYTERIAN CHURCH | MIDLAND | TX |
| FIRST REPUBLIC BANK | DALLAS | TX |
| FIRST WESTERN BUILDING | HOUSTON | TX |
| Fish Engineering Corp. / Tidewater Oil Co. | Eagle Lake | TX |
| Fish Engineering Corp. / Tidewater Oil Co. | Nordhelm | TX |
| Fish Engineering Corp. / Tidewater Oil Co. | Normana | TX |
| Fish Engineering Corp. / Tidewater Oil Co. | Palestine | TX |
| Fish Engineering Corp. / Tidewater Oil Co. | Winnsboro | TX |
| FITZHUGH LEE | HOUSTON | TX |
| FIVE PALMS ELEMENTARY SCHOOL | SAN ANTONIO | TX |
| Flagstaff Brewing Co. | Galveston | TX |
| Fleming & Sons | Dallas | TX |
| FLEMING AND SONS, INCORPORATED | DALLAS | TX |
| Flexitallic Gaset Co Inc | Deer Park | TX |
| FLINT HILLS REFINERY/KOCH/SUNTIDE OIL REFINERY | CORPUS CHRISTI | TX |
| Floor Engineers | Sugar Land | TX |
| FLORESVILLE MEMORIAL HOSPITAL | FLORESVILLE | TX |
| FLOUR BLUFF GASOLINE PLANT | CORPUS CHRISTI | TX |
| Fluor Corp | Bishop | TX |
| Fluor Corp. | Channelview | TX |
| FLUOR CORP. | BEAUMONT | TX |
| Fluor Corp.- El Paso Refinery | El Paso | TX |
| Fluor Corporation | Sheridan | TX |
| FLUOR CORPORATION | CONROE | TX |
| FLUOR CORPORATION | HOUSTON | TX |
| FLUOR CORPORATION | LEVELLAND | TX |
| FLUOR CORPORATION | ODESSA | TX |
| FLUOR CORPORATION | TILDEN | TX |
| FLUOR CORPORATION | BISHOP | TX |
| FLUOR CORPORATION, LIMITED | TOMBALL | TX |
| FMC CORP | BAYPORT | TX |
| Fmc Corporation | Bayport | TX |
| FOLEY BROTHERS DEPARTMENT STORE | HOUSTON | TX |
| FOLEY'S | HOUSTON | TX |
| Foley's Department Store | Houston | TX |
| FOLGERS COFFEE | HOUSTON | TX |
| FOR HOOD – DINING FACILITIES | FORT HOOD | TX |
| FORD BACON AND DAVIS TEXAS CO. | DALLAS | TX |
| Ford Plant | Houston | TX |
| FOREIGN NATIONS BUILDINGS | SAN ANTONIO | TX |
| Forest Park Cemetary | Houston | TX |
| FOREST PARK LAWNDALE CEMETERY – ABBEY MAUSOLEUM | HOUSTON | TX |
| Forest Park West | Houston | TX |
| FOREST VILLAGE APARTMENTS | HOUSTON | TX |
| FORREST E. GILMORE COMPANY OF TEXAS | PAMPA | TX |
| Fort Bliss – Finance Office | Fort Bliss | TX |
| Fort Bliss Army Base | El Paso | TX |
| Fort Hood | Killeen | TX |
| FORT HOOD – ADMINISTRATION & STORAGE BUILDINGS | FORT HOOD | TX |
| FORT HOOD – APPROACH CONTROL BUILDING | KILLEEN | TX |
| FORT HOOD – BACHELOR OFFICERS QUARTERS – BUILDINGS 5786 & 5788 & 5790 | FORT HOOD | TX |
| FORT HOOD – BOWLING CENTER | FORT HOOD | TX |
| FORT HOOD – COMMISSARY | FORT HOOD | TX |
| FORT HOOD – ENLISTED MENS BARRACKS | FORT HOOD | TX |
| FORT HOOD – GUEST HOUSE | FORT HOOD | TX |
| FORT HOOD – GUEST HOUSE | KILLEEN | TX |
| FORT HOOD – NCO CLUB – BUILDING 194 | FORT HOOD | TX |
| FORT HOOD – NCO MESS HALL | FORT HOOD | TX |
| FORT SAM – MEDICAL LABORATORY | SAN ANTONIO | TX |
| FORT SAM HOUSTON | SAN ANTONIO | TX |
| FORT SAM HOUSTON – 300 MAN BACHELOR QUARTERS | SAN ANTONIO | TX |
| FORT SAM HOUSTON – 500 SEAT THEATER | SAN ANTONIO | TX |
| FORT SAM HOUSTON – ADMINISTRATION BUILDINGS | SAN ANTONIO | TX |
| FORT SAM HOUSTON – BACHELOR OFFICERS QUARTERS | SAN ANTONIO | TX |
| FORT SAM HOUSTON – BUILDING 1290 | SAN ANTONIO | TX |
| FORT SAM HOUSTON – BUILDING 2059 | SAN ANTONIO | TX |
| FORT SAM HOUSTON – BUILDING 2376 | SAN ANTONIO | TX |
| FORT SAM HOUSTON – BUILDING 2792 | SAN ANTONIO | TX |
| FORT SAM HOUSTON – CLASSROOM BUILDINGS | SAN ANTONIO | TX |
| FORT SAM HOUSTON – COMMISSARY BUILDING | SAN ANTONIO | TX |
| FORT SAM HOUSTON – COMMISSARY BUILDING T-1545 | SAN ANTONIO | TX |
| FORT SAM HOUSTON – ENLISTED MENS BARRACKS | SAN ANTONIO | TX |
| FORT SAM HOUSTON – ENLISTED MENS BARRACKS – BUILDING 2265 | SAN ANTONIO | TX |
| FORT SAM HOUSTON – ENLISTED MENS BARRACKS – BUILDINGS 2263 & 2791 | SAN ANTONIO | TX |
| FORT SAM HOUSTON – FORT SAM BAKERY – BUILDING 2400 | SAN ANTONIO | TX |
| FORT SAM HOUSTON – MEDICAL LABORATORY | SAN ANTONIO | TX |
| FORT SAM HOUSTON – NCO MESS HALL | SAN ANTONIO | TX |
| FORT SAM HOUSTON ARMY BASE | SAN ANTONIO | TX |
| FORT WORTH FEDERAL CENTER | FORT WORTH | TX |
| FORT WORTH FEDERAL CENTER – SUPPLY DEPOT | FORT WORTH | TX |
| FORT WORTH FEDERAL CENTER – SUPPLY DEPOT – EAST WHSE | FORT WORTH | TX |
| FORT WORTH FEDERAL CENTER – SUPPLY DEPOT – WHSE 12 | FORT WORTH | TX |
| FORT WORTH FEDERAL CENTER – SUPPLY DEPOT – WHSE 3 | FORT WORTH | TX |
| FORT WORTH FEDERAL CENTER – SUPPLY DISTRIBUTION FACILITY – WHSE 3 | FORT WORTH | TX |
| FORT WORTH FEDERAL CENTER – WHSE NBR 3 | FORT WORTH | TX |
| FORT WORTH LINEN SERVICE CO. | FORT WORTH | TX |
| FORT WORTH POULTRY & EGG COMPANY | FORT WORTH | TX |
| FORT WORTH REFINING COMPANY REFINERY | FORT WORTH | TX |
| FORWARD REDUCTION COMPANY | BEAUMONT | TX |
| FOSTER GRAND CHEMICAL CO | BEAUMONT | TX |
| FOSTER S.4 | ORANGE | TX |
| Foster Wheeler Corp. | Houston | TX |
| Foster Wheeler Corp. | Lake Creek | TX |
| Foster Wheeler Corp. | Waco | TX |
| FOSTER WHEELER CORPORATIO | DEER PARK | TX |
| Foster Wheeler Corporation | Deer Park | TX |
| Foundry / Lufkin Industries | Lufkin | TX |
| FOUR CORNERS SHOPPING CENTER | BRENHAM | TX |
| FOX TECHNICAL HIGH SCHOOL – NORTH FLORES STREET | SAN ANTONIO | TX |
| FRANCIS B. OGDEN | HOUSTON | TX |
| FRANCIS RESIDENCE | AUSTIN | TX |
| FRANK HOLLISTER | DALLAS | TX |
| FRANKLIN SAVINGS & LOAN | AUSTIN | TX |
| Fred Richards | Ft. Worth | TX |
| FREDERICK H NEWELL | HOUSTON | TX |
| Freeport Minerals Co. | Freeport | TX |
| Freeport Sulphur | Freeport | TX |
| FREEPORT SULPHUR CO | NASH DOME | TX |
| FREEPORT SULPHUR COMPANY | FREEPORT | TX |
| FRENCH (USS) | ORANGE | TX |
| FRIEDRICH REFRIGERATION | SAN ANTONIO | TX |
| Frigiking Company | Dallas | TX |
| FRISCO TEAM TRACK | SHERMAN | TX |
| FRITH-EPPERSON, INC. | SHERMAN | TX |
| FRITO CO. | DALLAS | TX |
| FRITO COMPANY | HOUSTON | TX |
| Frito Lay | Dallas | TX |
| FRITO LAY INC | IRVING | TX |
| FRITO LAY INCORPORATED – 4855 GREATLAND DRIVE | SAN ANTONIO | TX |
| FRITO LAY, INCORPORATED | DALLAS | TX |
| FRITO LAY, INCORPORATED | AUSTIN | TX |
| Frito-Lay | Irving | TX |
| FRITO-LAY COMPANY – MANUFACTURING PLANT – REGAL ROW | DALLAS | TX |
| FRITO-LAY, INC. | DALLAS | TX |
| FRITZ W. GLITSCH & SONS, INCORPORATED | DALLAS | TX |
| FRONTIER MEAT COMPANY – 1462 AUSTIN HIGHWAY | SAN ANTONIO | TX |
| FRONTIER ROOFING | EL PASO | TX |
| FROST BANK – COMPUTER ROOMS | SAN ANTONIO | TX |
| FROST NATIONAL BANK – DRIVE-IN TELLER WINDOW | SAN ANTONIO | TX |
| FT WORTH LINEN SERVICE | FORT WORTH | TX |
| Ft. Hood | Ft. Hood | TX |
| FT. WORTH IRON & STEEL COMPANY | FT. WORTH | TX |
| FT. WORTH LINEN SERVICE | FT. WORTH | TX |
| FT. WORTH POWER & LIGHT COMPANY – NORTH MAIN POWER PLANT | FT. WORTH | TX |
| Fuller & Austin | Houston | TX |
| Fuller Austin (asbestos Contractors) | Houston | TX |
| Fuller Austin Insulation | Houston | TX |
| Fuller-Austin Insulation | Charpstown | TX |
| FULLER-AUSTIN INSULATION CO. | DALLAS | TX |
| G S A Supply Depot | Fort Worth | TX |
| G W MITCHELL OFFICE BUILDING – 2002 NORTH SAINT MARY`S | SAN ANTONIO | TX |
| G W MURPHY INDUSTRIES | HOUSTON | TX |
| G.A. JAHN & COMPANY | BEAUMONT | TX |
| G.A. Mosites Co.- Murphy Road | Houston | TX |
| G.S.U. Powerhouse | Beaumont | TX |
| G.W. CATT | GALVESTON / BEAUMONT | TX |
| GACHMAN METALS CO | FT WOHIA | TX |
| GAF (Ruberoid) | Dallas | TX |
| GAF (Ruberoid) | Houston | TX |
| GAF BUILDING MATERIALS CORPORATION | DALLAS | TX |
| GAF Corporation | Texas City | TX |
| GAF CORPORATION | SEADRIFT | TX |
| GAF CORPORATION | DALLAS | TX |
| GAINESVILLE CONVALESCENT CENTER – 1900 O'NEAL STREET | GAINESVILLE | TX |
| GALVERSTON COMPANY MEMORIAL HOSPITAL | LAMARQUE | TX |
| Galveston Airport | Galveston | TX |
| GALVESTON COTTON AND WOOLEN MILLS | GALVESTON | TX |
| GALVESTON COUNTY MEMORIAL HOSPITAL | TEXAS CITY | TX |
| GALVESTON DOCK | GALVESTON | TX |
| Galveston Docks | Galveston | TX |
| GALVESTON DOCKS/SHIPBUILDING | GALVESTON | TX |
| GALVESTON ELECTRIC COMPANY – POWER PLANT | GALVESTON | TX |
| GALVESTON ICE & COLD STORAGE CO. | GALVESTON | TX |
| GALVESTON NEWS | GALVESTON | TX |
| GALVESTON SHIPYARD / TODD GALVESTON SHIPYARD | GALVESTON | TX |
| GALVESTON STREET RAILWAY COMPANY | GALVESTON | TX |
| Galveston Wharves | Galveston | TX |
| GALVESTON, HARRISBURG AND SAN ANTONIO RAILWAY COMPANY | SAN ANTONIO | TX |
| GALVESTON, HARRISBURG AND SAN ANTONIO RAILWAY COMPANY | EL PASO | TX |
| GARAGE AND TUNNEL SECTIONS | HOUSTON | TX |
| GARLAND HEAT TREATING | DALLAS | TX |
| GARLAND LIGHT & POWER COMPANY – RAY OLINGER PLANT | NEVADA | TX |
| GARLAND MEAT TREATING | DALLAS | TX |
| GARLAND POWER AND LIGHT – RAY OLINGER PLANT | NEVADA | TX |
| GARNER HEAT TREAT, INCORPORATED | DALLAS | TX |
| GARNER JUNIOR HIGH SCHOOL – 4302 HARRY WURZBACH ROAD | SAN ANTONIO | TX |
| GARRISON BRICK AND TILE COMPANY | GARRISON | TX |
| Garwood Irrigation Co. | El Campo | TX |
| GARWOOD IRRIGATION COMPANY | GARWOOD | TX |
| GAS PIPE LINE CO. OF AMERICA | TERRYTON | TX |
| GAS PIPE LINE CO. OF AMERICA – PERRYTON COMPRESSOR STATION | Perryton | TX |
| Gas Plant | Atlanta | TX |
| Gas Plant | Big Lake | TX |
| Gas Plant | Kermit | TX |
| Gas Plant | Markham | TX |
| Gas Plant | Odessa | TX |
| Gas Plant | Port Acres | TX |
| Gas Plant | Vanderbilt | TX |
| Gasoline Plant Construction Corp. | Conroe | TX |
| GATX TERMINALS CORPORATION | GALENA PARK | TX |
| GAYLORD CONTAINER | SAN ANTONIO | TX |
| GAYLORD CONTAINER COMPANY – 2907 EAST COMMERCE STREET | SAN ANTONIO | TX |
| GB BIOSCIENCES CORPORATION | HOUSTON | TX |
| GEBHARDT MEXICAN FOODS – CHILI BUILDING – 1810 SOUTH LAREDO | SAN ANTONIO | TX |
| GEBHART MEXICAN FOOD | SAN ANTONIO | TX |
| Geier Brothers | Grapeland | TX |
| GENERAL AMERICAN TRANSPORTATION CORPORATION | GALENA PARK | TX |
| General Dynamics | Fort Worth | TX |
| GENERAL DYNAMICS | BENBROOK | TX |
| GENERAL DYNAMICS | FT. WORTH | TX |
| GENERAL DYNAMICS | ABILENE | TX |
| GENERAL DYNAMICS – CONVAIR DIVISION | FT. WORTH | TX |
| GENERAL DYNAMICS CORP | FORT WORTH | TX |
| GENERAL DYNAMICS CORP – ENGINEERING OFFICE BLDG | BENBROOK | TX |
| GENERAL DYNAMICS CORP. | FORT WORTH | TX |
| GENERAL DYNAMICS CORP. | LONE STAR | TX |
| GENERAL DYNAMICS CORPORATION | FT. WORTH | TX |
| GENERAL DYNAMICS PLANT | FT. WORTH | TX |
| General Electric | Athens | TX |
| General Electric | Houston | TX |
| General Electric Metallurgical Plant | Houston | TX |
| General Foods | Houston | TX |
| General Foods Corp. | Houston | TX |
| GENERAL FOODS CORPORATION | HOUSTON | TX |
| GENERAL FOODS PLANT | HOUSTON | TX |
| General Mills- Guar Plant | Kenedy | TX |
| GENERAL MOTORS ASSEMBLY PLANT | ARLINGTON | TX |
| General Motors Corporation | Bliss | TX |
| GENERAL MOTORS CORPORATION | ARLINGTON | TX |
| General Portland Cement | Fort Worth | TX |
| General Portland Cement | Dallas | TX |
| GENERAL PORTLAND CEMENT | HOUSTON | TX |
| GENERAL PORTLAND CEMENT PLANT | HOUSTON | TX |
| General Portland, Plant | Houston | TX |
| GENERAL PRINTING INK | FORT WORTH | TX |
| GENERAL PUBLIC UTILITIES COMPANY – POWER PLANT | AMARILLO | TX |
| General Services Administration | Fort Worth | TX |
| GENERAL SERVICES ADMINISTRATION (FED) | FORT WORTH | TX |
| GENERAL SERVICES ADMINISTRATION (GSA) – FRITZ G. LANHAM FEDERAL BUILDING | FORT WORTH | TX |
| General Telephone Company – Headquarters Building | SAN ANGELO | TX |
| General Tire | Waco | TX |
| General Tire & Rubber | Odessa | TX |
| General Tire & Rubber Company | Baytown | TX |
| General Tire & Rubber Company | Waco | TX |
| GENERAL TIRE AND RUBBER COMPANY | BAYTOWN | TX |
| General Welding Work | Houston | TX |
| Geneva Portland Cement | Fort Worth | TX |
| Geneva Portland Cement | Dallas | TX |
| Genreral Dynamics | Fort Wayne | TX |
| GENTRY (USS) | ORANGE | TX |
| Genuine Parts Company | Stephenville | TX |
| GEO.W. FRASER | GALVESTON | TX |
| GEORGE A. BURT COMPAPNY | BEAUMONT | TX |
| GEORGE BELLOWS | HOUSTON | TX |
| GEORGE E. DAVIS (USS) | ORANGE | TX |
| George S. Thompson Company | El Paso | TX |
| GEORGE STEERS | HOUSTON | TX |
| GEORGE W. LIVELY | HOUSTON | TX |
| GEORGETOWN SCHOOL | GEORGETOWN | TX |
| GEORGETOWN SCHOOL – VOCATIONAL BUILDING | GEORGETOWN | TX |
| Georgetown Texas Steel | Vidor | TX |
| GEORGIA PACIFIC | LUFKIN | TX |
| GEORGIA PACIFIC | NEW WAVERLY | TX |
| Georgia Pacific Corporation | Currigan | TX |
| GEORGIA PACIFIC PINE PLYWOOD PLANT | CORRIGAN | TX |
| GEORGIAN APARTMENTS – 8400 NEW BRAUNFELS NORTH | SAN ANTONIO | TX |
| GERAULT BUILDING | HOUSTON | TX |
| Getty Oil Co. | Firestone County | TX |
| Getty Oil Co. | Franklin County | TX |
| Getty Oil Co. | Houston | TX |
| Getty Oil Co. | Sloggins | TX |
| Getty Oil Co. | Streetman | TX |
| Gibson Homans Co. | Ennis | TX |
| Gibson Products Co. | Beaumont | TX |
| Gifford Hill Portland Cement | Midlothian/Gifco | TX |
| Gifford-Hill Portland Cement Company | Midlothian | TX |
| GILL COMPANY BUILDING | SAN ANTONIO | TX |
| GILLRING OIL | KARNES CITY | TX |
| Gilman Company | Corpus Christi | TX |
| GILMAN INSULATION | CORPUS CHRISTI | TX |
| Gilman Insulation Co | Corpus Christi | TX |
| Gilman Insulation Company | Corpus Christi | TX |
| GILMIN CO., INC. | CORPUS CHRISTI | TX |
| Gladewater Refinery | Gladewater | TX |
| Glass Containers Corp | Palestine | TX |
| Glass Engineering Company, Inc | Houston | TX |
| Glauber Inc. | Tyler | TX |
| GLEN FLORA SUGAR COMPANY | GLEN FLORA | TX |
| GLOBAL FABRICATORS INC | KAUFMAN | TX |
| GLOBAL FARMER | HOUSTON | TX |
| GLOBAL OCTANES CORPORATION | DEER PARK | TX |
| GLOBE DISCOUNT CENTER | SAN ANTONIO | TX |
| GLOBE DISCOUNT CITY – 4343 WEST COMMERCE STREET | SAN ANTONIO | TX |
| GLOBE ICE AND COLD STORAGE COMPANY | EL PASO | TX |
| GLOBE STORE #15 | SAN ANTONIO | TX |
| GLORIA DUNAIF | HOUSTON | TX |
| GOLD CREST APARTMENTS | DALLAS | TX |
| GOLDEN MANOR JEWISH HOME FOR THE AGED – 130 SPENCER LANE | SAN ANTONIO | TX |
| GONZALES POST OFFICE | GONZALES | TX |
| GOOD SHEPHERD HOSPITAL | LONGVIEW | TX |
| GOODFRIENDS DEPARTMENT STORE | SAN ANTONIO | TX |
| Goodrich | Port Neches | TX |
| Goodrich Gulf Chemical | Houston | TX |
| GOODWILL – EAST LANCASTER STREET | FORT WORTH | TX |
| Goodyear | Pasadena | TX |
| Goodyear | Beaumont | TX |
| Goodyear | Houston | TX |
| Goodyear Chemical | Pasadena | TX |
| Goodyear Chemical | Houston | TX |
| Goodyear Chemical Co. | Beaumont | TX |
| Goodyear Refinery | Pasadena | TX |
| GOODYEAR REFINERY | HOUSTON | TX |
| GOODYEAR TIRE | TYLER | TX |
| Goodyear Tire & Rubber | Beaumont | TX |
| Goodyear Tire & Rubber | Houston | TX |
| Goodyear Tire & Rubber | Pasadena | TX |
| Goodyear Tire & Rubber Company | Beaumont | TX |
| Goodyear Tire & Rubber Company | Houston | TX |
| Goodyear Tire & Rubber Company | Baytown | TX |
| GOODYEAR TIRE & RUBBER COMPANY | CHEEK | TX |
| GOODYEAR TIRE & RUBBER COMPANY – CHEMICAL PLNT | BEAUMONT | TX |
| GOODYEAR TIRE & RUBBER PLANT | BEAUMONT | TX |
| GOODYEAR TIRE & RUBBER PLANT | HOUSTON | TX |
| GOODYEAR TIRE & RUBBER PLANT | PASADENA | TX |
| GOODYEAR TIRE AND RUBBER COMPANY | LA PORTE | TX |
| GOODYEAR TIRE AND RUBBER COMPANY | PASADENA | TX |
| GOODYEAR TIRE AND RUBBER COMPANY | BEAUMONT | TX |
| GOODYEAR TIRE AND RUBBER COMPANY | BAYTOWN | TX |
| GORALLE ELEMENTARY SCHOOL | AUSTIN | TX |
| GORBETT BROS TANK MANUFACTURING COMPANY | FORT WORTH | TX |
| GORBETTE HOLLOWAY FABRICATORS | FORT WORTH | TX |
| GOULD NATIONAL BATTERIES | FRISCO | TX |
| GOVERNMENT CREDIT UNION BUILDING | SAN ANTONIO | TX |
| GOVERNMENT EMPLOYEES CREDIT UNION | SAN ANTONIO | TX |
| GOVERNOR BRANDON | HOUSTON | TX |
| GOVERNORS MANSION – CARRIAGE HOUSE | AUSTIN | TX |
| GPM LIFE INSURANCE COMPANY – COMPUTER ROOM | SAN ANTONIO | TX |
| GPM LIFE INSURANCE COMPANY – SOUTH TOWER TENNANT | SAN ANTONIO | TX |
| GRACE LUTHERAN HOSPITAL – 701 SOUTH ZARZAMORA | SAN ANTONIO | TX |
| Graham Generating Station | Graham | TX |
| Graham Generating Station | Young County | TX |
| GRAND COURT | DALLAS | TX |
| Gray Tool Company | Houston | TX |
| GRAYSTONE APARTMENTS | AUSTIN | TX |
| Great Hall of the Apparel Mart | Dallas | TX |
| Great Lakes Carbon | Port Arthur | TX |
| GREAT LAKES CARBON BLACK PLANT | PORT ARTHUR | TX |
| Great Lakes Carbon Corp | Port Arthur | TX |
| GREAT SOUTHERN CHEMICAL CORP. | CORPUS CHRISTI | TX |
| GREAT SOUTHERN LIFE INSURANCE | HOUSTON | TX |
| Great Southern Refinery | Corpus Christi | TX |
| GREAT SOUTHERN SUPPLY CO. | HOUSTON | TX |
| Grebe & Doremus Process Co. | Houston | TX |
| GREEN ACRES OF CENTER NURSING HOME – TIMPSON STREET | CENTER | TX |
| GREEN FLORAL COMPANY | DALLAS | TX |
| GREEN VALLEY | HOUSTON | TX |
| GREENS BAYOU POWER PLANT | GREENS BAYOU | TX |
| Green'S Bayou Terminal | Houston | TX |
| Greer Welding | Hemphill | TX |
| Grefco | Houston | TX |
| Gregory Edwards | Fairbanks | TX |
| Gregory Edwards | Houston | TX |
| Grey Wolf Refinery | Conroe | TX |
| Grey Wolf Refinery | Pinehurst | TX |
| GRIGGS HEALTH CENTER | KERRVILLE | TX |
| GRINNELL COMPANY – 3301 CENTER STREET | TEMPLE | TX |
| GROGAN AND CASH | HOUSTON | TX |
| GROGAN BROTHERS | CONROE | TX |
| Groth Equipment | Houston | TX |
| GROVES BLDG MTLS CO | GROVES | TX |
| GROVETON HOSPITAL | TYLER | TX |
| GSA Supply Depot | Ft. Worth | TX |
| GSA SUPPLY DEPOT – HEMPHILL STATION | FORT WORTH | TX |
| Gsa Supply Depot East Fort Worth Federal Center | Fort Worth | TX |
| GUADALUPE CHURCH | SEGUIN | TX |
| Gulberson Diesel | Garland | TX |
| Gulf | Pasadena | TX |
| GULF | EL PASO | TX |
| Gulf & Western Forge Pro. | Houston | TX |
| GULF ATLANTIC WAREHOUSE CO | BROWNSVILLE | TX |
| GULF ATLANTIC WAREHOUSE CO | HOUSTON | TX |
| Gulf Belting & Gasket Company | Corpus Christi | TX |
| Gulf Building | Houston | TX |
| GULF BUILDING – MAIN STREET | HOUSTON | TX |
| Gulf Chemical | Orange | TX |
| Gulf Chemical | Cedar Bayou | TX |
| GULF CHEMICAL AND METALURGI | TEXAS CITY | TX |
| Gulf Chemical Co | Galena Park | TX |
| GULF CHEMICAL PLANT | BAYTOWN | TX |
| GULF CHEMICAL PLANT | ORANGE | TX |
| Gulf Coast Cement Plant | Houston | TX |
| GULF COAST MARINE WAYS SHIPYARD | ARANSAS PASS | TX |
| Gulf Coast Portland | Houston | TX |
| Gulf Coast Portland Cement | Houston | TX |
| Gulf Coast Portland Cement Co. | Houston | TX |
| GULF COAST PORTLAND CEMENT COMPANY – CEMENT MANUFACTURING PLANT | HOUSTON | TX |
| Gulf Coastal Water Co. | Bay City | TX |
| GULF COLORADO AND SANTA FE RAILROAD COMPANY | CLEBURNE | TX |
| Gulf Compress Co. | Corpus Christi | TX |
| Gulf Concrete Pipe Company | Houston | TX |
| GULF CORPORATION | DALLAS | TX |
| GULF ENGINEERING CO INC | HOUSTON | TX |
| Gulf Goodrich Chemical / Warren Petroleum | Mont Belvieu | TX |
| GULF OIL | BAYTOWN | TX |
| GULF OIL | PORT ARTHUR | TX |
| Gulf Oil / Chevron | Baytown | TX |
| Gulf Oil / Chevron | Mont Belvieu | TX |
| Gulf Oil / Chevron | Port Arthur | TX |
| Gulf Oil / Chevron | Weatherford | TX |
| GULF OIL CHEMICAL COMPANY | MONT BELVIEU | TX |
| GULF OIL COMPANY | PORT ARTHUR | TX |
| GULF OIL COMPANY | WEST PORT ARTHUR | TX |
| Gulf Oil Corp | W Port Arthur | TX |
| GULF OIL CORP | PT ARTHUR | TX |
| GULF OIL CORP – PORT ARTHUR REFINERY | PORT ARTHUR | TX |
| Gulf Oil Corp. | Port Arthur | TX |
| Gulf Oil Corporation | Houston | TX |
| Gulf Oil Corporation | Orange | TX |
| Gulf Oil Corporation | Port Arthur | TX |
| Gulf Oil Corporation | West Port Arthur | TX |
| GULF OIL CORPORATION | CEDAR BAYOU | TX |
| GULF OIL CORPORATION | PT ARTHUR | TX |
| GULF OIL CORPORATION | FT. WORTH | TX |
| GULF OIL CORPORATION | NORTH PORT ARTHUR | TX |
| GULF OIL CORPORATION – WARREN GAS PLANT | MONT BELVIEU | TX |
| Gulf Oil Corporation (Alpine) | Beaumont | TX |
| GULF OIL CORPORATION, CHEMICAL DEPARTMENT | ORANGE | TX |
| GULF OIL CORPORATION, CHEMICAL DEPARTMENT, US OPERATIONS ORANGE WORKS | ORANGE | TX |
| Gulf Oil Refinery | Baytown | TX |
| Gulf Oil Refinery | Houston | TX |
| Gulf Oil Refinery | Monahans | TX |
| Gulf Oil Refinery | Pasadena | TX |
| Gulf Oil Refinery | Port Arthur | TX |
| Gulf Plains Corp. | Driscoll | TX |
| GULF PORT SHIPYARD | PORT ARTHUR | TX |
| GULF PORTLAND CEMENT CO | HOUSTON | TX |
| GULF PORTS CRATING COMPANY | HOUSTON | TX |
| GULF PRINTING COMPANY | HOUSTON | TX |
| GULF PUBLIC SERVICE CO | JACKSONVILLE | TX |
| Gulf Public Service Company | Jacksonville | TX |
| Gulf Reduction | Houston | TX |
| GULF REFINERY | PORT ARTHUR | TX |
| GULF REFINERY | WEATHERFORD | TX |
| GULF REFINERY | MONT BELVIEU | TX |
| GULF REFINING CO | HOUSTON | TX |
| GULF REFINING COMPANY | SWEETWATER | TX |
| GULF REFINING COMPANY | NORTH FT. WORTH | TX |
| GULF REFINING COMPANY | PORT ARTHUR | TX |
| GULF REFINING COMPANY | WEST PORT ARTHUR | TX |
| GULF REFINING COMPANY | BEAUMONT | TX |
| GULF REFINING COMPANY | FT. WORTH | TX |
| GULF RESEARCH & DEVELOPMENT – OFFICE LABORATORY BUILDING – 10742 STANDCLIFF | HOUSTON | TX |
| GULF RESEARCH & DEVELOPMENT, OFFICE LABORATORY BUILDING, 10742 STANDCLIFF | HOUSTON | TX |
| GULF STATE INCINERATOR | HOUSTON | TX |
| Gulf State Utilities Co | Beaumont | TX |
| Gulf States Asphalt Co. | Houston | TX |
| GULF STATES INDUSTRIAL PLANT | ROSENBURG | TX |
| Gulf States Pollution Control | Jacksonville | TX |
| Gulf States Refinery | Corpus Christi | TX |
| Gulf States Tube Co. | Rosenberg | TX |
| Gulf States Tube Corp. | Rosenberg | TX |
| Gulf States Utilities | Beaumont | TX |
| Gulf States Utilities | Bridge City | TX |
| GULF STATES UTILITIES – LEWIS CREEK POWER STATION | WILLIS | TX |
| GULF STATES UTILITIES – LEWIS CREEK POWER STATION – UNIT 1 | WILLIS | TX |
| GULF STATES UTILITIES – LEWIS CREEK POWER STATION – UNIT 2 | WILLIS | TX |
| Gulf States Utilities – Sabine Power Plant | BRIDGE CITY | TX |
| GULF STATES UTILITIES – SABINE POWER PLANT – UNIT 4 | BRIDGE CITY | TX |
| GULF STATES UTILITIES CO – BRIDGE CITY PLANT | BOBSHER | TX |
| GULF STATES UTILITIES CO – NECHES POWER STATION (Entergy Corp) | CHAISON / BEAUMONT | TX |
| GULF STATES UTILITIES CO – SABINE POWER STATION (Entergy Corp) | BOBSHER / BRIDGE CITY | TX |
| GULF STATES UTILITIES CO (Entergy Corp) | ORANGE | TX |
| GULF STATES UTILITIES CO. | CHAISON | TX |
| Gulf States Utilities Co.- Neches Power Station | Beaumont | TX |
| Gulf States Utilities Co.- Sabine Power Station | Bridge City | TX |
| Gulf Supply Co | Freeport | TX |
| GULF SUPPLY CO., INC. | FREEPORT | TX |
| Gulf Supply Company | Freeport | TX |
| GULF-CHEVRON-STANDARD OIL REFINERY & CHEMICAL PLANT | PORT ARTHUR | TX |
| Gulfport Boiler & Welding Works | Port Arthur | TX |
| GULFPORT IND PARK | HOUSTON | TX |
| GULFPORT SHIPBUILDING | PORT ARTHUR | TX |
| GULFPORT SHIPBUILDING & DRYDOCK | PORT ARTHUR | TX |
| Gulfport Shipyard | Port Arthur | TX |
| GULFPORT SHIPYARD | ORANGE | TX |
| GULLETT ELEMENTARY SCHOOL – 6310 TREADWELL BOULEVARD | AUSTIN | TX |
| GUNTER HOTEL | SAN ANTONIO | TX |
| GUNTER HOTEL CORPORATION | SAN ANTONIO | TX |
| GUS GARCIA JUNIOR HIGH SCHOOL – SAN FELIPE STREET | SAN ANTONIO | TX |
| H B ZACHARY ATHLETIC BUILDING – BOILER | SAN ANTONIO | TX |
| H B ZACHARY OFFICE BUILDING | SAN ANTONIO | TX |
| H E B GROCERY – BLANCO & BASSE ROAD | SEGUIN | TX |
| H.B. Fountain Sheetmetal & Roofing | Henderson | TX |
| H.B. ZACHRY COMPANY | GRANBURY | TX |
| H.L. BARBRERA FORWARDING CO. | EAGLE PASS | TX |
| HAAS (USS) | HOUSTON | TX |
| Haggar Apparel | Robstown | TX |
| Hal Mach Refining Co. | Tyler | TX |
| HALGO, INCORPORATED | DALLAS | TX |
| HALLMARK BUILDERS, INCORPORATED | AMARILLO | TX |
| HALLMARK SERVICE & SUPPLY, CANYON DR. | AMARILLO | TX |
| HAMMAN EXPLORATION CO | BAY CITY | TX |
| HANDY ANDY BAKERY | SAN ANTONIO | TX |
| HANDY ANDY SHOPPING CENTER | SAN ANTONIO | TX |
| HANDY ANDY STORE – WONDERLAND CENTER | SAN ANTONIO | TX |
| Hanlon Gasoline Corp. | Gladewater | TX |
| Harbison Walker | Houston | TX |
| Harbison-Walker Refractories | Athens | TX |
| Har-Con Engineering Inc. | Houston | TX |
| HARDIN HOUSE NORTH – 23 ROAD & PEARL STREETS | AUSTIN | TX |
| HARLANDALE CIVIC CENTER | SAN ANTONIO | TX |
| HAROLD D. WHITEHEAD | HOUSTON | TX |
| HARRIS COUNTY HOSPITAL DISTRCIT | HOUSTON | TX |
| HARRIS ELEMENTARY SCHOOL | AUSTIN | TX |
| Harris Hospital | Fort Worth | TX |
| HARRY MITCHELL BREWING COMPANY | EL PASO | TX |
| HARVEY C MILLER | HOUSTON | TX |
| HARVEY SMITH BUILDING – EAST 5TH STREET | AUSTIN | TX |
| HAST BROTHERS, INCORPORATED | DALLAS | TX |
| HAWES TEAM TRACK, MKT RR | DALLAS | TX |
| HAWTHORNE JUNIOR SCHOOL – 127 WEST JOSEPHINE STREET | SAN ANTONIO | TX |
| HAYS COUNTY SCHOOL | KYLE | TX |
| HB&T – PRIVATE SWITCH | HOUSTON | TX |
| HEARNE LIGHT AND POWER COMPANY – POWER PLANT | HEARNE | TX |
| Heat Research Corporation | Houston | TX |
| HEATHER APARTMENTS | SAN BENITO | TX |
| HEIGHTS HOSPITAL | HOUSTON | TX |
| HEMISFAIR TOWER | SAN ANTONIO | TX |
| HEMISFAIR TOWER – BROADWAY NATIONAL BANK | SAN ANTONIO | TX |
| HEMISFAIR TOWER – BUILDING 249 | SAN ANTONIO | TX |
| HEMISFAIR TOWER – BUILDING ES-13 | SAN ANTONIO | TX |
| HEMISFAIR TOWER – FRENCH PAVILION | SAN ANTONIO | TX |
| HEMISFAIR TOWER – GENERAL MOTORS PAVILION | SAN ANTONIO | TX |
| HEMISFAIR TOWER – GULF INSURANCE | SAN ANTONIO | TX |
| HEMISFAIR TOWER – MEXICO PAVILION | SAN ANTONIO | TX |
| HEMISFAIR TOWER – SOUTH GATE – 3801 BROADWAY | SAN ANTONIO | TX |
| HEMISFAIR TOWER- FOOD CLUSTERS | SAN ANTONIO | TX |
| Henderson Clay | Henderson | TX |
| HENDERSON CLAY PROD | HENDERSON | TX |
| HENDERSON CLAY PRODUCTS | HENDERSON | TX |
| HENDERSON COUNTY HOSPITAL | ATHENS | TX |
| HENDERSON HIGH SCHOOL | HENDERSON | TX |
| HENDERSON MANUFACTURING COMPANY | PITTSBURGH | TX |
| HENRY M. ROBERT | HOUSTON | TX |
| HENSLEY FIELD | DALLAS | TX |
| HERBERT D. CROLY | HOUSTON | TX |
| Hercules Gasoline Co. | Kilgore | TX |
| HERCULES INCORPORATED | MCGREGOR | TX |
| HERMANN HOSPITAL | HOUSTON | TX |
| HERMANN PROFESSIONAL BUILDING | HOUSTON | TX |
| Hess Oil & CHemical Corporation | Corpus Christi | TX |
| HESS TERMINAL | GALENA PARK | TX |
| Hi Grade Packing | Galveston | TX |
| HICKORY TREE APARTMENT | MESQUITE | TX |
| HIDALGO AND CAMERON COUNTIES | THAYER | TX |
| Hidalgo County – Water Department | Hidalgo | TX |
| HIDALGO COUNTY WATER CONTROL AND IMPROVEMENT DISTRICT – PUMPING STATION | SAN JUAN | TX |
| HIDALGO COUNTY WATER IMPROVEMENT | SAN JUAN | TX |
| Hidalgo Water & Improvement District | Fort Worth | TX |
| HIDDEN MEADOWS APARTMENTS | SAN ANTONIO | TX |
| HIGH PLAINS BAPTIST HOSP | AMARILLO | TX |
| Hill Chemical Incorporated | Borger | TX |
| HILL COUNTRY MEMORIAL HOSPITAL – KERVILLE HIGHWAY | FREDERICKSBURG | TX |
| HILL PETROLEUM – TEXAS CITY REFINERY | TEXAS CITY | TX |
| HILL PETROLEUM COMPANY | HOUSTON | TX |
| HILLCREST CARPET DIVISION | HILLSBORO | TX |
| HILLCREST CHURCH OF CHRIST | ARLINGTON | TX |
| HILLSIDE MANOR NURSING HOME | SAN ANTONIO | TX |
| HILTON INN | AUSTIN | TX |
| HILTON INN – CORN PRODUCTS ROAD | CORPUS CHRISTI | TX |
| HNG CORP. CENTRAL PLANTS DIV. | HOUSTON | TX |
| HOECHST CELANESE | DEER PARK | TX |
| HOECHST CELANESE | PASADENA | TX |
| HOECHST CELANESE | PAMPA | TX |
| HOECHST CELANESE CHEMICAL PLANT | BISHOP | TX |
| HOECHST CELANESE CORPORATION | DEER PARK | TX |
| HOECHST CELANESE CORPORATION | PASADENA | TX |
| HOECHST CELANESE CORPORATION | HOUSTON | TX |
| Holiday Center | Galveston | TX |
| Holiday Inn | Dallas | TX |
| HOLIDAY INN – DURANGO & SANTA ROSA | SAN ANTONIO | TX |
| HOLIDAY INN – HOUSTON DOWNTOWN – ST. JOSEPH PARKWAY | HOUSTON | TX |
| HOLIDAY INN – PAN AM EXPRESSWAY | SAN ANTONIO | TX |
| Holloway Carpet | Houston | TX |
| HOLLY STREET POWER PLANT | AUSTIN | TX |
| HOLLY STREET POWER PLANT – UNIT 1 | AUSTIN | TX |
| HOLLY STREET POWER PLANT – UNIT 3 | AUSTIN | TX |
| Holly Sugar Co. | Herford | TX |
| HOLLY SUGAR CORPORATION | HEREFORD | TX |
| Holman A F Boiler Works | Dallas | TX |
| HOLMAN A F BOILER WORKS I | DALLAS | TX |
| HOLMAN BOILER WORKS | DALLAS | TX |
| HOLMAN BOILER WORKS, INCORPORATED | DALLAS | TX |
| HOLMES FOODS INCORPORATED | NIXON | TX |
| HOLMES FOODS, INCORPORATED | NIXON | TX |
| Holmes School | Dallas | TX |
| Holt Machinery | San Antonio | TX |
| Home Baker Engineers, Inc. | Tyler | TX |
| HOME OIL REFINING COMPANY OF TEXAS | FT. WORTH | TX |
| HOSTESS HOTEL | HOUSTON | TX |
| HOTEL DIEU HOSPITAL | EL PASO | TX |
| HOTEL LUBBOCK | LUBBOCK | TX |
| HOUSING FOR HE ELDERLY | SAN ANTONIO | TX |
| HOUSING MODULE | AUSTIN | TX |
| HOUSTON BELT & TERMINAL RR | HOUSTON | TX |
| Houston Chemcial Co. | Beaumont | TX |
| Houston Chemical | Houston | TX |
| Houston Chemical | Beaumont | TX |
| HOUSTON CHEMICAL CO | BEAUMONT | TX |
| HOUSTON CHEMICAL COMPANY | BEAUMONT | TX |
| HOUSTON CHRONICLE | HOUSTON | TX |
| HOUSTON CITY STREET RAILWAY COMPANY | HOUSTON | TX |
| HOUSTON COMPRESS COMPANY | HOUSTON | TX |
| HOUSTON COMPRESS COMPANY, STOREHOUSES | HOUSTON | TX |
| Houston Concrete Products | Houston | TX |
| HOUSTON COTTON OIL MILL | HOUSTON | TX |
| HOUSTON COUNTY LIBRARY | KENNARD | TX |
| HOUSTON DOCKS | HOUSTON | TX |
| HOUSTON EXPORT CRATING CO., INC. | HOUSTON | TX |
| Houston Export Crating Company | Houston | TX |
| HOUSTON GAS AND FUEL COMPANY – GAS PLANT | HOUSTON | TX |
| HOUSTON ICE AND BREWING COMPANY | HOUSTON | TX |
| Houston Industries, Inc. (see also Houston Lighting & Power Company) | Houston | TX |
| Houston Lead Co | Houston | TX |
| Houston Light & Power | Bacliff | TX |
| Houston Light & Power | San Leon | TX |
| Houston Light & Power | Galveston County | TX |
| Houston Light & Power | Baytown | TX |
| Houston Light & Power | Deer Park | TX |
| Houston Light & Power Co | West Junction | TX |
| Houston Light & Power Co Cedar Bayou | Eldon | TX |
| Houston Light & Power Co. | Pasadena | TX |
| Houston Light & Power Co. – Deepwater Station | Pasadena | TX |
| Houston Light & Power Co. ? Deepwater Station | Houston | TX |
| HOUSTON LIGHT & POWER COMPANY – GREENS BAYOU PLANT | HOUSTON | TX |
| Houston Light & Power/Deepwater Plant | Pasadena | TX |
| Houston Light &Power | Rosenberg | TX |
| HOUSTON LIGHT AND POWER – P.H. ROBINSON PLANT | BACLIFF | TX |
| Houston Lighting & Power | Cedar Bayou | TX |
| Houston Lighting & Power | Casey | TX |
| Houston Lighting & Power | Houston (All Sites)Tx | TX |
| Houston Lighting & Power | San Leon | TX |
| Houston Lighting & Power | Strang | TX |
| HOUSTON LIGHTING & POWER | SMITHERS LAKE | TX |
| Houston Lighting & Power Co | Laporte | TX |
| Houston Lighting & Power Co | Strang | TX |
| Houston Lighting & Power Co – Cedar Bayou Electric Generating Station | BAYTOWN | TX |
| HOUSTON LIGHTING & POWER CO – CEDAR BAYOU ELECTRICAL GENERATING STATION | BAYTOWN | TX |
| HOUSTON LIGHTING & POWER CO – CEDAR BAYOU ELECTRICAL GENERATING STATION – UNIT #1 | BAYTOWN | TX |
| HOUSTON LIGHTING & POWER CO – GREENS BAYOU POWER PLANT | HOUSTON | TX |
| HOUSTON LIGHTING & POWER CO – GREENS BAYOU POWER PLANT – UNIT 5 | HOUSTON | TX |
| HOUSTON LIGHTING & POWER CO – SAM BERTRON ELECTRIC GENERATING STATION – UNIT #3 | DEER PARK | TX |
| HOUSTON LIGHTING & POWER CO – SMITHERS LAKE S.E.S. NO. 1 | SMITHERS LAKE | TX |
| HOUSTON LIGHTING & POWER CO – W A PARISH ELECTRIC GENERATING STATION | THOMPSONS | TX |
| HOUSTON LIGHTING & POWER CO – W A PARISH ELECTRIC GENERATING STATION – UNIT 1 | THOMPSONS | TX |
| HOUSTON LIGHTING & POWER CO – W A PARISH ELECTRIC GENERATING STATION – UNIT 2 | THOMPSONS | TX |
| HOUSTON LIGHTING & POWER CO – W A PARISH ELECTRIC GENERATING STATION – UNIT 3 | THOMPSONS | TX |
| HOUSTON LIGHTING & POWER CO – W A PARISH ELECTRIC GENERATING STATION – UNIT 4 | THOMPSONS | TX |
| HOUSTON LIGHTING & POWER CO – WEBSTER STEAM ELECTRIC STATION | WEBSTER | TX |
| Houston Lighting & Power Co. – Green Bayou Station | HOUSTON | TX |
| HOUSTON LIGHTING & POWER COMPANY – P.H. ROBINSON STATION | BACLIFF | TX |
| HOUSTON LIGHTING & POWER COMPANY – P.H. ROBINSON STATION – UNIT 2 | BACLIFF | TX |
| HOUSTON LIGHTING & POWER COMPANY – P.H. ROBINSON STATION – UNIT 4 | BACLIFF | TX |
| HOUSTON LIGHTING & POWER COMPANY – P.H. ROBINSON STATION – UNITS 1 & 2 | BACLIFF | TX |
| HOUSTON LIGHTING & POWER COMPANY – SAM BERTRON | DEER PARK/STRANG/HOUSTON | TX |
| HOUSTON LIGHTING & POWER COMPANY – T.H. Wharton Steam Station | HOUSTON/CASEY | TX |
| HOUSTON LIGHTING & POWER COMPANY – W.A. PARISH Steam Generating Station | THOMPSONS | TX |
| Houston Lighting & Power Company / Reliant Energy / CenterPoint Energy / Houston Industries, Inc. | Houston | TX |
| HOUSTON LIGHTING & POWER COMPANY- CEDAR BAYOU ELECTRICAL GENERATING STATION | BAYTOWN | TX |
| HOUSTON LIGHTING & POWER COMPANY- GABLE STREET POWER STATION | HOUSTON | TX |
| HOUSTON LIGHTING & POWER COMPANY- GREENS BAYOU POWER PLANT | HOUSTON | TX |
| HOUSTON LIGHTING & POWER COMPANY- W A PARISH ELECTRIC GENERATING STATION | THOMPSONS | TX |
| HOUSTON LIGHTING & POWER COMPANY- WEBSTER STEAM ELECTRIC STATION | WEBSTER | TX |
| Houston Lighting & Power- Parish Station | Richmond | TX |
| Houston Lighting & Power- Parish Station | Thompson | TX |
| Houston Lighting & Power- Parish Steam Station | Smithers Lake | TX |
| Houston Lighting & Power- Smithers Lake Station | Ft. Bend County | TX |
| Houston Lighting & Power- W.A Parrish Station | Rosenberg | TX |
| Houston Lighting & Power- Webster Station | Webster | TX |
| HOUSTON LIGHTING AND POWER | JEWETT | TX |
| HOUSTON LIGHTING AND POWER COMPANY – DEEPWATER GENERATING STATION | PASADENA | TX |
| HOUSTON LINEN SERVICE CO | HOUSTON | TX |
| HOUSTON LINEN SERVICE CO. | HOUSTON | TX |
| HOUSTON MILLING CO. | HOUSTON | TX |
| Houston Museum of Fine Arts | Houston | TX |
| Houston Natural Gas Blg | Houston | TX |
| Houston Operations | Houston | TX |
| HOUSTON PACKING COMPANY | HOUSTON | TX |
| Houston Pipe Line Co. | Houston | TX |
| HOUSTON POWER AND LIGHT – CEDAR BAYOU ELECTRICAL GENERATING STATION | BAYTOWN | TX |
| HOUSTON POWER AND LIGHT – CEDAR BAYOU ELECTRICAL GENERATING STATION – UNIT 1 | BAYTOWN | TX |
| HOUSTON POWER AND LIGHT – CEDAR BAYOU ELECTRICAL GENERATING STATION – UNIT 2 | BAYTOWN | TX |
| HOUSTON REFINERY | DEER PARK | TX |
| Houston Sheetmetal Works | Houston | TX |
| Houston Ship Channel | Houston | TX |
| HOUSTON SHIPBUILDING CORP. | HOUSTON | TX |
| Houston Shipyard | Houston | TX |
| HOUSTON STEEL & CONCRETE | HOUSTON | TX |
| Houston Terminal Warehouse | Houston | TX |
| HOUSTON TEXAS CENTRAL RAILROAD COMPANY | ALMA | TX |
| HOUSTON VOLUNTEERS | HOUSTON | TX |
| Houtech | Houston | TX |
| HOWARD L. GIBSON | HOUSTON | TX |
| HOWE-BAKER ENGINEERS INC – FABRICATION DIVISION | TYLER | TX |
| HOWELL INSULATION COMPANY | LUBBOCK | TX |
| Howell Refinery | Corpus Christi | TX |
| HOWMET ALUMINUM PLANT | ROCKWALL | TX |
| Huber Carbon Black | Baytown | TX |
| HUBER J M CARBON PLANT | BORGER | TX |
| Hudson Engineering Corp | Houston | TX |
| Hudson Engineering Gas Plant | Beaumont | TX |
| HUGHES TOOL | PASADENA | TX |
| Hughes Tool Co | Houston | TX |
| HUGHES TOOL COMPANY | HOUSTON | TX |
| HUGHES TOOL COMPANY – MANUFACTURING PLANT | HOUSTON | TX |
| HUGHES TOOL PLANT | HOUSTON | TX |
| Hughes Tools Company | Houston | TX |
| HUGHES-CHRISTENSEN-BAKER OILFIELDS TOOL PLANT | HOUSTON | TX |
| Humble / Exxon | Baytown | TX |
| Humble / Exxon | Charlotte | TX |
| Humble / Exxon | Conroe | TX |
| Humble / Exxon | Genoa | TX |
| Humble / Exxon | Houston | TX |
| Humble / Exxon | Jourdanton | TX |
| Humble / Exxon | Katy | TX |
| Humble / Exxon | Kilgore | TX |
| Humble / Exxon | King Ranch | TX |
| Humble / Exxon | Kingsville | TX |
| Humble / Exxon | Longview | TX |
| Humble / Exxon | Quitman | TX |
| Humble / Exxon | Tomball | TX |
| Humble / Exxon – King Ranch | Premont | TX |
| Humble Oil | Wingate | TX |
| Humble Oil | Houston | TX |
| Humble Oil | Trawick | TX |
| HUMBLE OIL | BAYTOWN | TX |
| HUMBLE OIL | KATY | TX |
| HUMBLE OIL | KING RANCH | TX |
| HUMBLE OIL – DOOR NBR 3 | HOUSTON | TX |
| HUMBLE OIL & REFINERY COMPANY | BAYTOWN | TX |
| Humble Oil & Refining | Katy | TX |
| Humble Oil & Refining | Kingsville | TX |
| HUMBLE OIL & REFINING CO | BROWNSVILLE | TX |
| HUMBLE OIL & REFINING CO | BAYTOWN | TX |
| HUMBLE OIL & REFINING CO. | INGLEWIDE | TX |
| HUMBLE OIL & REFINING CO. | BAYTOWN | TX |
| HUMBLE OIL & REFINING CO. | BEAUMONT | TX |
| HUMBLE OIL & REFINING CO. | KATY | TX |
| HUMBLE OIL & REFINING CO. – Baytown Refinery | BAYTOWN | TX |
| Humble Oil & Refining Co.- Jourdanton Gas Plant | Corpus Christi | TX |
| Humble Oil & Refining Co.- Pledger Gas Plant | Danciger | TX |
| Humble Oil & Refining Company | Baytown | TX |
| HUMBLE OIL AND REFINING | KINGSVILLE | TX |
| Humble Oil and Refining Co | Sugarland | TX |
| HUMBLE OIL AND REFINING CO – N R V UNIT | BAYTOWN | TX |
| Humble Oil and Refining Co. | Baytown | TX |
| Humble Oil and Refining Co. | Winters | TX |
| Humble Oil and Refining Co. (J.C. Dorward Lease) | Borden County | TX |
| HUMBLE OIL AND REFINING COMPANY | BAYTOWN | TX |
| HUMBLE OIL AND REFINING COMPANY | KATY | TX |
| HUMBLE OIL AND REFINING COMPANY | KINGSVILLE | TX |
| HUMBLE OIL AND REFINING COMPANY | DAYTON | TX |
| HUMBLE OIL AND REFINING COMPANY | GOOSE CREEK | TX |
| HUMBLE OIL REFINERY | BAYTOWN | TX |
| Humble Oil Refinery (Exxon) | Baytown | TX |
| Humble Oil Refinery (Exxon) | Houston | TX |
| HUMBLE OIL REFINERY CO – DOOR NBR 3 | HOUSTON | TX |
| Humble Oil Refining | Baytown | TX |
| Humble Pipe Line Co | Comyn | TX |
| Humble Pipe Line Co | Corpus Christi | TX |
| Humble Pipe Line Co | Fondren | TX |
| Humble Pipe Line Co | Hearne | TX |
| Humble Pipe Line Co | Satsuma | TX |
| Humble Pipe Line Co. | Benavides | TX |
| Humble Pipe Line Co. | Dayton | TX |
| Humble Pipe Line Co. | Skidmore | TX |
| Humble Research Center | Houston | TX |
| Humble/Exxon Gas Plant | Hawkins | TX |
| HUMBLE/EXXON/ENJAY/RHODIA PLASTICS & RUBBER PLANT | BAYTOWN | TX |
| Humble-Exxon Oil Refinery | Corpus Christi | TX |
| Hunt Oil | Jacksonville | TX |
| HUNT TOOL | HOUSTON | TX |
| HUNT TOOL CO | HOUSTON | TX |
| HUNTERS SQUARE CENTER | SAN ANTONIO | TX |
| HUNTSMAN CHEMICAL CORPORATION | BAYPORT | TX |
| HUNTSMAN CHEMICAL CORPORATION | PASADENA | TX |
| Huntsman Corp. / Neches Butane / Texaco Chemical | Port Neches | TX |
| HUNTSMAN CORPORATION | PORT NECHES | TX |
| HUNTSMAN CORPORATION | AUSTIN | TX |
| Huntsman Polymers / Rexall Drug Chemical / El Paso Natural Gas / El Paso Products / El Paso Polyolefins / Rexene / Dart Industries | Odessa | TX |
| HUNTSMAN POLYMERS CORPORATION | ODESSA | TX |
| HUNT-WESSON FOODS | HOUSTON | TX |
| HURRICANE STEEL INDUSTRIE | HOUSTON | TX |
| HUSKY STEAM CLEANERS | ODESSA | TX |
| HUSTON-TILLOTSON COLLEGE – SCIENCE & ADMINISTRATION BUILDINGS | AUSTIN | TX |
| HWA AN | HOUSTON | TX |
| Hyatt Regency | Houston | TX |
| HYATT REGENCY HOTEL | HOUSTON | TX |
| HYDE PARK BAPTIST CHURCH – NURSERY ADULT BUILDING | AUSTIN | TX |
| Hydril Company Pipe Plant | Houston | TX |
| HYDRIL OILFIELD EQUIPMENT & PIPE FABRICATING PLANT | BAYTOWN | TX |
| HYDRO CARBON PROSUCTS | PORT ARTHUR | TX |
| Hydro Conduit Company | Dallas | TX |
| I H C HOLLAND LE TOURNEAU | INGLESIDE | TX |
| I. B. PERRINE | HOUSTON | TX |
| I. M. C. Building | Houston | TX |
| IBM | AUSTIN | TX |
| IBM – HALCOMBE & FANNIN | HOUSTON | TX |
| IBM – LABORATORY – 11400 FARM ROAD | AUSTIN | TX |
| IBM – OPLD LABORATORY | AUSTIN | TX |
| IBM – PATS | AUSTIN | TX |
| IBM BUILDING JOB SITE | AUSTIN | TX |
| Ice Storage House | Sherman | TX |
| Ici | Marshall | TX |
| ICI (NORIT) | Marshall | TX |
| ICI (see also Darco) | Marshall | TX |
| ICI AMERICAS CHEMICAL PLANT | MARSHALL | TX |
| ICI UNITED STATES | BAYPORT | TX |
| IDEAL CEMENT | GALENA PARK | TX |
| Ideal Cement Co | Houston | TX |
| IDEAL CEMENT CO | GALENA PARK | TX |
| Ideal Cement Company | Houston | TX |
| IDEAL PORTLAND CEMENT | HOUSTON | TX |
| IDECO PLANT | BEAUMONT | TX |
| Illinois Inc | Orange | TX |
| IMC Corp. | Freeport | TX |
| IMC Drilling Mud Inc. | Houston | TX |
| IMHOFF'S | HUMBLE | TX |
| Imperial American | Tyler | TX |
| IMPERIAL CHEMICAL INDUSTRIES | MARSHALL | TX |
| IMPERIAL CHEMICAL INDUSTRIES AMERICAN HOLDINGS, INCORPORATED | PASADENA | TX |
| Imperial Sugar Plant | Sugar Land | TX |
| Incinerator International | Houston | TX |
| INCINERATOR SPECIALITY COM | HOUSTON | TX |
| Independent Refining Co. | Arp | TX |
| Index Chemical | Houston | TX |
| Index Chemical | Galena Park | TX |
| Index Chemical Co. | Houston | TX |
| INDUSTRIAL GENERATING COM | ROCKDALE | TX |
| INDUSTRIAL GENERATING COMPANY | ROCKDALE | TX |
| INDUSTRIAL GLASS CORPORATION | BOWIE | TX |
| Industrial Gunite Inc | Houston | TX |
| INDUSTRIAL GUNNITE, INC. | LULING | TX |
| Industrial Insulation | Odessa | TX |
| Industrial Insulation Company | Houston | TX |
| INDUSTRIAL INSULATORS INC | BORGER | TX |
| Industrial Insulators Inc. | Beaumont | TX |
| Industrial Insulators Inc. | Dowling | TX |
| Industrial Insulators Inc. | Borger | TX |
| Industrial Insulators Inc. | Houston | TX |
| INDUSTRIAL INSULATORS, INC. | HOUSTON | TX |
| INDUSTRIAL INSULATORS, INC. | DOWLING | TX |
| INDUSTRIAL INSULATORS, INC. | BEAUMONT | TX |
| INDUSTRIAL INSULATORS, INC. | BORGER | TX |
| INDUSTRIAL INSULATORS, INC. | CORPUS CHRISTI | TX |
| INDUSTRIAL INSULATORS, INC. | RIVER CREST | TX |
| INDUSTRIAL INSULATORS, INC. | ORANGE | TX |
| INDUSTRIAL MANUFACTURING | SWEETWATER | TX |
| Industrial Service & Engineering Company | El Paso | TX |
| INDUSTRIAL TOWEL | DALLAS | TX |
| INDUSTRIAL UNIFORM AND TOWEL COMPANY | DALLAS | TX |
| Industrotech Southwestern | Sunnyvale | TX |
| INEOS NOVA | PASADENA | TX |
| INEOS-CHOCOLATE BAYOU WORKS | ALVIN | TX |
| INGERSOLL SERGEANT DRILL COMPANY | EL PASO | TX |
| INGERSOLL-RAND FABRICATING SHOP | HOUSTON | TX |
| INLAND ORANGE | ORANGE | TX |
| INLAND ORANGE PAPER MILL | ORANGE | TX |
| INLAND PAPERBOARD AND PACKAGING | ORANGE | TX |
| Ins & Spec | Brownwood | TX |
| Ins & Spec | El Paso | TX |
| Ins & Spec | Odessa | TX |
| Ins Fab Inc | Houston | TX |
| Insul, Fab | Corpus Christi | TX |
| Insular Products Corporation (The Industrial Insulator) | Houston | TX |
| INSULATION SPECIALTIES, INC. | TEXAS CITY | TX |
| INTENRATIONAL LIGHT AND POWER COMPANY | EL PASO | TX |
| INTERCONTINENTAL COMPANY | GARLAND | TX |
| INTERCONTINENTAL MANUFACTURING COMPANY | GARLAND | TX |
| INTERCONTINENTAL MFG CO | GARLAND | TX |
| INTERMITTENT VACUUM PRE COOLING COMPANY | SAN BENITO | TX |
| INTERNATIONAL AIRPORT | SAN ANTONIO | TX |
| INTERNATIONAL CREOSOTING & CONSTRUCTION CO | TEXARKANA | TX |
| INTERNATIONAL EXPORT PACKERS | HOUSTON | TX |
| INTERNATIONAL HARVESTER – SOLAR COLLECTOR – TRINITY | SAN ANTONIO | TX |
| International Minerals & Chemical | Freeport | TX |
| International Paper | Texarkana | TX |
| International Paper | Domino | TX |
| International Paper | Carrollton | TX |
| International Paper (see also Champion Paper Co.) | Houston | TX |
| International Paper (see also Champion Paper Co.) | Lufkin | TX |
| International Paper (see also Champion Paper Co.) | Pasadena | TX |
| INTERNATIONAL PAPER CO | TEXARKANA | TX |
| International Paper Co. | Carrollton | TX |
| International Paper Co. | Texarkana | TX |
| INTERNATIONAL PAPER COMPANY | NAVASOTA | TX |
| INTERNATIONAL PAPER COMPANY | TEXARKANA | TX |
| INTERNATIONAL PAPER COMPANY | QUEEN CITY | TX |
| INTERNATIONAL PAPER COMPANY | DOMINO | TX |
| INTERNATIONAL PAPER COMPANY, CONTAINER DIVISION | CARROLLTON | TX |
| INTERNATIONAL PAPER COMPANY, CONTAINER DIVISION | DALLAS | TX |
| INTERNATIONAL PAPER COMPANY, SOUTHERN KRAFT DIVISION | TEXARKANA | TX |
| INTERNATIONAL PAPER MILL | TEXARKANA | TX |
| INTERNATIONAL SHOE | BRYAN | TX |
| INTERNATIONAL SPECIALTY PROD | PORT NECHES | TX |
| INTRATEX GAS CO | HARSTOW | TX |
| INVISTA S.A R.L. | ORANGE | TX |
| INVISTA S.A.R.L. | VICTORIA | TX |
| IOLA PORTLAND CEMENT COMPANY | DALLAS | TX |
| IOLA PORTLAND CEMENT COMPANY | HARRYS SWITCH | TX |
| IRVING BABBITT | HOUSTON | TX |
| IRVING MALL – TITCHE-GOETTINGER DEPARTMENT STORE | IRVING | TX |
| ISK BIOSCIENCES | HOUSTON | TX |
| J & S INSULATION | HOUSTON | TX |
| J & S INSULATORS, INC. | HOUSTON | TX |
| J C PENNY`S | SEGUIN | TX |
| J C PENNY`S – WINSOR PARK MALL | SAN ANTONIO | TX |
| J E PEARCE JUNIOR HIGH SCHOOL | AUSTIN | TX |
| J Graves Insulation | Orange | TX |
| J. & S. Insulation, Incorporated | Houston | TX |
| J. D. YEAGER | HOUSTON | TX |
| J. G. JOHNS & CO. | ABILENE | TX |
| J. WEINGARTEN | HOUSTON | TX |
| J.A. FOLGER & COMPANY | HOUSTON | TX |
| J.D. KEENSHAN COMPANY | PEARLAND | TX |
| J.E.B. STUART | HOUSTON | TX |
| J.M. GUFFEY PETROLEUM COMPANY | BEAUMONT | TX |
| J.S. Abercrombie Co. | Sweeney | TX |
| J.T. Thorpe (Insulation) | Corpus Christi | TX |
| J.T. THORPE CO. | PASADENA | TX |
| J.W. GLITSCH & SONS | DALLAS | TX |
| J.W. Leavesley & Sons | South Houston | TX |
| J.W. LEAVESLEY & SONS | S HOUSTON | TX |
| J.W. THOMPSON COMPANY | DALLAS | TX |
| JACCARD (USS) | ORANGE | TX |
| JACKIE HAUSE | HOUSTON | TX |
| JACKSON DELINTING AND MFG C | LUBBOCK | TX |
| JACKSON DELINTING MANUFACTURING COMPANY, INCORPORATED | LUBBOCK | TX |
| JAMAIL OFFICE BUILDING – 38TH & NORTH LAMAR | AUSTIN | TX |
| JAMES BOWIE | HOUSTON | TX |
| JAMES L. EDWARDS WAREHOUSE | BIG SPRINGS | TX |
| JAMES LONGSTREET | HOUSTON | TX |
| JAMES MADISON | HOUSTON | TX |
| JAMES OGLETHORPE | HOUSTON | TX |
| JAMES ROY WELLS | HOUSTON | TX |
| JAMES S. MCRAE | DALLAS | TX |
| JAPANESE PAVILION | SAN ANTONIO | TX |
| Jasper School | Jasper | TX |
| JC PENNY DEPARTMENT STORE | LUFKIN | TX |
| JEFFERSON CHEM. | PT. MECHES | TX |
| Jefferson Chemical | Port Neches | TX |
| Jefferson Chemical | Orange | TX |
| Jefferson Chemical | Austin | TX |
| Jefferson Chemical | Port Arthur | TX |
| JEFFERSON CHEMICAL CO | PORT NECHES | TX |
| JEFFERSON CHEMICAL CO | PORT ARTHUR | TX |
| JEFFERSON CHEMICAL CO INC | CONROE | TX |
| JEFFERSON CHEMICAL CO. | PORT NECHES | TX |
| Jefferson Chemical Co. / Neches Butane / Texaco Chemical / Huntsman Corp. | Port Neches | TX |
| JEFFERSON CHEMICAL CO., INC. | PORT NECHES | TX |
| Jefferson Chemical Company | Port Neches | TX |
| Jefferson Chemical Company | Austin | TX |
| JEFFERSON CHEMICAL COMPANY | CONROE | TX |
| JEFFERSON CHEMICAL COMPANY | HOUSTON | TX |
| JEFFERSON CHEMICAL COMPANY | YOUENS | TX |
| JEFFERSON CHEMICAL COMPANY | PT NECHES | TX |
| JEFFERSON CHEMICAL COMPANY | YOUENS (CONROE) | TX |
| JEFFERSON CHEMICAL PLANT | CONROE | TX |
| JEFFERSON CHEMICAL PLANT | AUSTIN | TX |
| Jefferson Chemical. | Houston | TX |
| JEFFERSON LAKE OIL COMPANY | BRAZORIA | TX |
| JEFFERSON LAKE OIL COMPANY, INCORPORATED | BRAZORIA | TX |
| Jefferson Lake Sulfur co. | Long Point | TX |
| JEFFERSON LAKE SULPHUR CO | LONG POINT | TX |
| Jefferson Lake Sulphur Company | Brazoria | TX |
| JEFFERSON LAKE SULPHUR COMPANY | LONG POINT | TX |
| JEFFERSON LAKE SULPHUR COMPANY | LONG POINT, FORTBEND | TX |
| JEREMIAH WADSWORTH | HOUSTON | TX |
| JESSE BILLINGSLEY | HOUSTON | TX |
| JESSE RUTHERFORD (USS) | ORANGE | TX |
| JEWISH COMMUNITY CENTER – RAMPART STREET | SAN ANTONIO | TX |
| JIMS COFFEE SHOP – FREDERICKSBURG & HILLCREST | SAN ANTONIO | TX |
| JM HUBER CARBON BLACK PLANT | BAYTOWN | TX |
| Jm Huber Corp. | Baytown | TX |
| Jm Huber Corp. | Houston | TX |
| Jm Huber Corp. | Orange | TX |
| Jm Huber Corp. | Borger | TX |
| Jm Huber Corporation | Eldon | TX |
| Jm Huber Corporation | Baytown | TX |
| JM Odom Co | Austin | TX |
| JOAN O'BERG | HOUSTON | TX |
| JOE HUGGINS COMPANY, INC. | BAYTOWN | TX |
| JOHN B. HOOD | HOUSTON | TX |
| JOHN BROWN | HOUSTON | TX |
| JOHN C. BUTLER (USS) | ORANGE | TX |
| JOHN F KENNEDY HIGH SCHOOL – MCMULLEN DRIVE | SAN ANTONIO | TX |
| JOHN FINNEGAN | HOUSTON | TX |
| JOHN GIBBON | HOUSTON | TX |
| JOHN H REAGAN | HOUSTON | TX |
| JOHN JAYS HIGH SCHOOL | SAN ANTONIO | TX |
| JOHN L. WILLIAMSON (USS) | ORANGE | TX |
| JOHN LAWRENCE | HOUSTON | TX |
| JOHN MARSHALL HIGH SCHOOL | SAN ANTONIO | TX |
| JOHN MILLER (USS) | HOUSTON | TX |
| John Sealy | Galveston | TX |
| John Segarest Builders | Longview | TX |
| JOHNNIE HUTCHINS (USS) | ORANGE | TX |
| Johns Manville | Denison | TX |
| Johns Manville Sales | Houston | TX |
| JOHNS-MANVILLE PIPE PLANT | DENISON | TX |
| Johns-Manville Prod. Corp. | Denison | TX |
| Johns-Manville Prod. Corp. | Reddam | TX |
| JOHNS-MANVILLE SALES CORPORATION | HOUSTON | TX |
| JOHNSON AND JOHNSON | DALLAS | TX |
| JOHNSON AND JOHNSON | SHERMAN | TX |
| JOHNSON AND JOHNSON MEDICAL, INCORPORATED | SHERMAN | TX |
| JONES BLAIR PAINT | DALLAS | TX |
| JONES BLAIR PAINT COMPANY | DALLAS | TX |
| JONES HALL | HOUSTON | TX |
| Jones Lumber Company | | TX |
| JONES ROAD ELEMENTARY SCHOOL | AUSTIN | TX |
| Jones-Blair Paint Co. – Tank & Boiler Room | Dallas | TX |
| JOSE NAVARRO | HOUSTON | TX |
| JOSEPH E JOHNSTON | HOUSTON | TX |
| JOSEPH H KIBBEY | HOUSTON | TX |
| JOSEPH MCCOLLUM | SOUTH HOUSTON | TX |
| JOSEPHINE HOUSTON ELEMENTARY SCHOOL | AUSTIN | TX |
| JOSHUA A LEACH | HOUSTON | TX |
| Joskes Warehouse | Houston | TX |
| JT Thorpe Co. | Houston | TX |
| JT Thorpe Shop | Houston | TX |
| JT Thorpe Yard | Houston | TX |
| JT Thorpe Yard | La Porte | TX |
| JUBAL A. EARLY | HOUSTON | TX |
| Jud Plumbing Co | San Antonio | TX |
| JUDSON ELEMENTARY SCHOOL – LIVE OAK VILLAGE | CONVERSE | TX |
| JUNIOR C. KEITH | HOUSTON | TX |
| K & K INSULATORS | BORGER | TX |
| K & K INSULATORS INC. | BORGER | TX |
| K & M COMPANY | HLLLSBORO | TX |
| K. & M. COMPANY | HLLLSBORO | TX |
| K. L. BISHOP – NATURAL GAS PIPELINE CO. OF AMERICA | PERRYTON | TX |
| K.O. STEEL FABRICATING | SAN ANTONIO | TX |
| Kaiser Aluminum & Chemical Corporation | Houston | TX |
| Kaiser Cement & Gypsum | San Antonio | TX |
| KAISER CEMENT AND GYPSUM CO | SAN ANTONIO | TX |
| KAISER ENGINEERS FOR TEXAS CITY REF. CO. | TEXAS CITY | TX |
| Kallison Buildings | San Antonio | TX |
| KANEKA TEXAS CORPORATION | PASADENA | TX |
| KANGAROO COURT | SAN ANTONIO | TX |
| Kanotex Refining Co. | Arkansas City | TX |
| KANSAS CITY POWER AND LIGHT COMPANY | PANHANDLE | TX |
| Kaolin Plant | Kosse | TX |
| KASCH BROS., INC. | BIG SPRINGS | TX |
| KASPAR WIRE WORKS | SHIVER | TX |
| Katy Gas Plant | Katy | TX |
| Katy High School | Katy | TX |
| KATY INDUSTRIES | DENISON | TX |
| KATY TEAM TRACK | WICHITA FALLS | TX |
| KAUFMAN ENTERPRISES | KAUFMAN | TX |
| Keasbey & Mattison Plant | Hillsboro | TX |
| KEESHAN AND BOST CHEMICAL COMPANY | MANVEL | TX |
| Keller Extrusions | Woodville | TX |
| KELLY AFB TEXAS – 2059 – SECTION 5640 SBABC – B-1550 DOOR 41 SECT D SAAMA | SAN ANTONIO | TX |
| KELLY AIR FORCE BASE | SAN ANTONIO | TX |
| KELLY AIR FORCE BASE – 300 & 600 AREAS | SAN ANTONIO | TX |
| KELLY AIR FORCE BASE – AIR CONDITIONING COMPONENT ENGINEERING FACILITY | SAN ANTONIO | TX |
| KELLY AIR FORCE BASE – AIRCRAFT CORROSION CONTROL | SAN ANTONIO | TX |
| KELLY AIR FORCE BASE – AIRCRAFT ENGINE INSPECTION & REPAIR SHOP – HANGAR 6 & BUILDING 360 | SAN ANTONIO | TX |
| KELLY AIR FORCE BASE – AIRCRAFT ENGINE INSPECTION FACILITY – PHASE II | SAN ANTONIO | TX |
| KELLY AIR FORCE BASE – BASE COMMUNICATIONS | SAN ANTONIO | TX |
| KELLY AIR FORCE BASE – BUILDING 1420 | SAN ANTONIO | TX |
| KELLY AIR FORCE BASE – BUILDING 1534 | SAN ANTONIO | TX |
| KELLY AIR FORCE BASE – BUILDING 1550 | SAN ANTONIO | TX |
| KELLY AIR FORCE BASE – BUILDING 1600 | SAN ANTONIO | TX |
| KELLY AIR FORCE BASE – BUILDING 1601 | SAN ANTONIO | TX |
| KELLY AIR FORCE BASE – BUILDING 1610 | SAN ANTONIO | TX |
| KELLY AIR FORCE BASE – BUILDING 1612 | SAN ANTONIO | TX |
| KELLY AIR FORCE BASE – BUILDING 1626 | SAN ANTONIO | TX |
| KELLY AIR FORCE BASE – BUILDING 1650 | SAN ANTONIO | TX |
| KELLY AIR FORCE BASE – BUILDING 171 | SAN ANTONIO | TX |
| KELLY AIR FORCE BASE – BUILDING 2000 – COMPUTER ROOM | SAN ANTONIO | TX |
| KELLY AIR FORCE BASE – BUILDING 2017 | SAN ANTONIO | TX |
| KELLY AIR FORCE BASE – BUILDING 2081 | SAN ANTONIO | TX |
| KELLY AIR FORCE BASE – BUILDING 3000 | SAN ANTONIO | TX |
| KELLY AIR FORCE BASE – BUILDING 303 – NCO OPEN MESS HALL | SAN ANTONIO | TX |
| KELLY AIR FORCE BASE – BUILDING 3030 | SAN ANTONIO | TX |
| KELLY AIR FORCE BASE – BUILDING 305 | SAN ANTONIO | TX |
| KELLY AIR FORCE BASE – BUILDING 313 | SAN ANTONIO | TX |
| KELLY AIR FORCE BASE – BUILDING 324 | SAN ANTONIO | TX |
| KELLY AIR FORCE BASE – BUILDING 333 | SAN ANTONIO | TX |
| KELLY AIR FORCE BASE – BUILDING 340 | SAN ANTONIO | TX |
| KELLY AIR FORCE BASE – BUILDING 347 | SAN ANTONIO | TX |
| KELLY AIR FORCE BASE – BUILDING 360 | SAN ANTONIO | TX |
| KELLY AIR FORCE BASE – BUILDING 366 | SAN ANTONIO | TX |
| KELLY AIR FORCE BASE – BUILDING 368 | SAN ANTONIO | TX |
| KELLY AIR FORCE BASE – BUILDING 375 | SAN ANTONIO | TX |
| KELLY AIR FORCE BASE – BUILDING 3786 | SAN ANTONIO | TX |
| KELLY AIR FORCE BASE – BUILDING 4200 | SAN ANTONIO | TX |
| KELLY AIR FORCE BASE – BUILDING 43 | SAN ANTONIO | TX |
| KELLY AIR FORCE BASE – BUILDING 938 | SAN ANTONIO | TX |
| KELLY AIR FORCE BASE – BUILDING F-333 | SAN ANTONIO | TX |
| KELLY AIR FORCE BASE – BUILDINGS 1621 & 1625 | SAN ANTONIO | TX |
| KELLY AIR FORCE BASE – BUILDINGS 1680 TO 1740 | SAN ANTONIO | TX |
| KELLY AIR FORCE BASE – BUILDINGS 324 & 326 | SAN ANTONIO | TX |
| KELLY AIR FORCE BASE – CHAPEL ANNEX – BUILDING 2087 | SAN ANTONIO | TX |
| KELLY AIR FORCE BASE – CLEANING LINE | SAN ANTONIO | TX |
| KELLY AIR FORCE BASE – COMMISSARY – BUILDING 1503 | SAN ANTONIO | TX |
| KELLY AIR FORCE BASE – DATA PROCESSING CENTER – BUILDING 2000 | SAN ANTONIO | TX |
| KELLY AIR FORCE BASE – DEPOT AIRCRAFT ENGINEERING FACILITY – BUILDINGS 347 & 325 – PERRIN ROAD | SAN ANTONIO | TX |
| KELLY AIR FORCE BASE – DISPENSARY | SAN ANTONIO | TX |
| KELLY AIR FORCE BASE – DORMITORY | SAN ANTONIO | TX |
| KELLY AIR FORCE BASE – ENGINE TEST CELL | SAN ANTONIO | TX |
| KELLY AIR FORCE BASE – HEADQUARTERS MAJOR COMMAND – BUILDINGS 2006 & 2008 | SAN ANTONIO | TX |
| KELLY AIR FORCE BASE – LOGISTICAL MATERIALS STORAGE FACILITIES | SAN ANTONIO | TX |
| KELLY AIR FORCE BASE – OFFICERS QUARTERS | SAN ANTONIO | TX |
| KELLY AIR FORCE BASE – PRECISION GRINDING SHOP | SAN ANTONIO | TX |
| KELLY AIR FORCE BASE – PRECISION MEASUREMENT LABORATORY | SAN ANTONIO | TX |
| KELLY AIR FORCE BASE – QUALITY CONTROL LABORATORY | SAN ANTONIO | TX |
| KELLY AIR FORCE BASE – RADAR FLIGHT CONTROL CENTER | SAN ANTONIO | TX |
| KELLY AIR FORCE BASE – ROOM 368 | SAN ANTONIO | TX |
| KELLY SMITH CLEANERS | AUSTIN | TX |
| KELLY SPRINGFIELD PLANT | TYLER | TX |
| Kelly Springfield Tire Co. | Tyler | TX |
| KELLY SPRINGFIELD TIRE COMPANY | TYLER | TX |
| Kelly Springfield Tire Plant | Tyler | TX |
| Kelly-Springfield | Tyler | TX |
| KELLY-SPRINGFIELD TIRE COMPANY | TYLER | TX |
| KELSO SHIPYARD | GALVESTON | TX |
| Kennecot Chemical Co | Houston | TX |
| Kennecott Copper | Houston | TX |
| Kennecott Copper Corp. | Houston | TX |
| KENNETH M. WILLETT (USS) | ORANGE | TX |
| KENT MIDDLETON REFINING COMPANY | CORSICANA | TX |
| Kentube | Wichita Falls | TX |
| Kerr McGee Corp. | Houston | TX |
| Kerr McGee Corp. | Corpus Christi | TX |
| KERR MCGEE CORPORATION | TEXARKANA | TX |
| KERRIVILLE STATE HOSPITAL – BUILDINGS 603 & 604 | KERRVILLE | TX |
| KERRVILLE ELEMENTARY SCHOOL | KERRVILLE | TX |
| KERRVILLE HIGH SCHOOL | KERRVILLE | TX |
| KERRVILLE STATE HOSPITAL | SAN ANTONIO | TX |
| KEY (USS) | ORANGE | TX |
| KIER BUILDING | WACO | TX |
| Kiest School | Dallas | TX |
| KILGORE CERAMICS | KILGORE | TX |
| Kilgore Plumbing | Kilgore | TX |
| KILLEEN ELEMENTARY SCHOOL | KILLEEN | TX |
| KILLEEN JUNIOR HIGH SCHOOL | KILLEEN | TX |
| KIMBELL INDUSTRIES | FORT WORTH | TX |
| KINCHELOE IRRIGATING COMPANY | GLEN FLORA | TX |
| KINCHELOE IRRIGATION COMPANY | GLEN FLORA | TX |
| KINCHELOE IRRIGATION COMPANY, GLEN FLORA SUGAR COMPANY | GLEN FLORA | TX |
| King Ranch Gas Plant | Kingsville | TX |
| King Ranch Gas Plant – Humble / Exxon | Premont | TX |
| King Tool | Longview | TX |
| KING TOOL COMPANY | LONGVIEW | TX |
| KINNISON BROTHERS | DALLAS | TX |
| KINZBACH TOOL CO | HOUSTON | TX |
| Kirby Lumber | Honey Island | TX |
| Kirby Lumber | Silsbee | TX |
| Kirby Lumber Company | Silsbee | TX |
| KIRBY LUMBER CORP. | HOUSTON | TX |
| KIRBY LUMBER MILL | SILSBEE | TX |
| KIRBY WEST | ANDREWS | TX |
| K-MART | SEGUIN | TX |
| Knox Glass | Palestine | TX |
| KNOX GLASS BOTTLE COMPANY | PALESTINE | TX |
| Knox Lee Power Plant | Hallsville | TX |
| KNOX LEE POWER PLANT | LONGVIEW | TX |
| KNOX WAREHOUSE | HOUSTON | TX |
| Koch Refinery | Corpus Christi | TX |
| Koch Refinery / Suntide Refinery / Sun Oil / Sunoco | Corpus Christi | TX |
| Kodak | Longview | TX |
| KOLKER CHEMICAL COMPANY | HOUSTON | TX |
| KOPPERS CHEMICAL COMPANY | PORT ARTHUR | TX |
| KOPPERS CO., INC. | PORT ARTHUR | TX |
| KOPPERS CO., INC. | WILLIAMS | TX |
| KOPPERS COMPANY | PORT ARTHUR | TX |
| KOPPERS COMPANY INC | HOUSTON | TX |
| Kountze Court House | Kountze | TX |
| Kraft Foods | Garland | TX |
| KTRK TV 13 | Houston | TX |
| KTRK TV STUDIO | HOUSTON | TX |
| KYTEX ENGINEERING CO | BELLAIRE | TX |
| L H MCNELLY | HOUSTON | TX |
| L T V – POWER HOUSE | GRAND PRAIRE | TX |
| L.A. ELLIS PLANTATION | SARTARTIA | TX |
| L.G. PINKSTON HIGH SCHOOL | DALLAS | TX |
| L.T.V., POWER HOUSE | GRAND PRAIRE | TX |
| LA FERIA MUTUAL CANAL COMPANY | LA FERIA | TX |
| LA GLORIA CORP | LA GLORIA | TX |
| La Gloria Corporation | Houston | TX |
| La Gloria Corporation | La Gloria | TX |
| La Gloria Corporation | Tyler | TX |
| La Gloria Gas Plant | Falfurrias | TX |
| La Gloria Gas Plant | Premont | TX |
| LA GLORIA GAS PLANT | TYLER | TX |
| La Gloria Oil & Gas | Tyler | TX |
| La Gloria Oil & Gas Refinery | Tyler | TX |
| LA GLORIA OIL AND GAS | TYLER | TX |
| LA LOUISIANE RESTAURANTE – 2632 BROADWAY | SAN ANTONIO | TX |
| La Palma Power Station | San Benito | TX |
| LA PALMA POWER STATION, UNIT #6 | SAN BENITO | TX |
| La Pasada Motor Hotel | Laredo | TX |
| LA PRADE (USS) | HOUSTON | TX |
| LA QUINTA HOTEL | CLUTE | TX |
| LA VILLITA ASSEMBLY BUILDING – 401 VILLITA STREET | SAN ANTONIO | TX |
| LACKLAND AIR FORCE – DORMITORIES | SAN ANTONIO | TX |
| Lackland Air Force Base | San Antonio | TX |
| LACKLAND AIR FORCE BASE – 1000 SEAT THEATRE | SAN ANTONIO | TX |
| LACKLAND AIR FORCE BASE – 14CADET QRTRS & MILITARY PROF TRN FCLTY BS – TXMEDINA BASE, | SAN ANTONIO | TX |
| LACKLAND AIR FORCE BASE – ACADEMIC CLASSROOMS | SAN ANTONIO | TX |
| LACKLAND AIR FORCE BASE – AIRMEN`S DINING HALL | SAN ANTONIO | TX |
| LACKLAND AIR FORCE BASE – ARNOLD HALL | SAN ANTONIO | TX |
| LACKLAND AIR FORCE BASE – BASE COMMUNICATIONS | SAN ANTONIO | TX |
| LACKLAND AIR FORCE BASE – BASE NURSERY | SAN ANTONIO | TX |
| LACKLAND AIR FORCE BASE – BOWLING LANES CENTER | SAN ANTONIO | TX |
| LACKLAND AIR FORCE BASE – BUILDING 10634 | SAN ANTONIO | TX |
| LACKLAND AIR FORCE BASE – BUILDING 1141 | SAN ANTONIO | TX |
| LACKLAND AIR FORCE BASE – BUILDING 3554 | SAN ANTONIO | TX |
| LACKLAND AIR FORCE BASE – BUILDING 3629 | SAN ANTONIO | TX |
| LACKLAND AIR FORCE BASE – BUILDING 5211 | SAN ANTONIO | TX |
| LACKLAND AIR FORCE BASE – BUILDING 5570 | SAN ANTONIO | TX |
| LACKLAND AIR FORCE BASE – BUILDING 7351 | SAN ANTONIO | TX |
| LACKLAND AIR FORCE BASE – BUILDING 9016 | SAN ANTONIO | TX |
| LACKLAND AIR FORCE BASE – CADET OFFICERS QUARTERS & OPEN MESS HALL – MEDINA BASE | SAN ANTONIO | TX |
| LACKLAND AIR FORCE BASE – CHAPEL | SAN ANTONIO | TX |
| LACKLAND AIR FORCE BASE – COMMISSARY BUILDING | SAN ANTONIO | TX |
| LACKLAND AIR FORCE BASE – DINING HALL | SAN ANTONIO | TX |
| LACKLAND AIR FORCE BASE – DISPENSARY REHABILITATION | SAN ANTONIO | TX |
| LACKLAND AIR FORCE BASE – DORMITORIES | SAN ANTONIO | TX |
| LACKLAND AIR FORCE BASE – FOUR SEASONS STORE – BUILDING 1465 | SAN ANTONIO | TX |
| LACKLAND AIR FORCE BASE – HOSPITAL | SAN ANTONIO | TX |
| LACKLAND AIR FORCE BASE – HOSPITAL – XRAY BUILDING – 4450 WILFORD HALL | SAN ANTONIO | TX |
| LACKLAND AIR FORCE BASE – MEDINA – BUILDING 313 | SAN ANTONIO | TX |
| LACKLAND AIR FORCE BASE – NEDINA BASE – AURNEBS DUBUBG GAKK | SAN ANTONIO | TX |
| LACKLAND AIR FORCE BASE – OTS OPEN MESS HALL – BUILDING 118 ANNEX | SAN ANTONIO | TX |
| LACKLAND AIR FORCE BASE – RECRUIT TRAINING FACILITY – BUILDING F-24 | SAN ANTONIO | TX |
| LACKLAND AIR FORCE BASE – SCIENCE LABORATORY FACILITY | SAN ANTONIO | TX |
| LACKLAND AIR FORCE BASE – WILFORD HALL HOSPITAL – BODY SCANNER ROOM – BUILDING 25 | LACKLAND AIR FORCE BASE | TX |
| LACKLAND AIR FORCE BASE – YOUTH CENTER | SAN ANTONIO | TX |
| LACKLAND AIR FORCE BASE- BUILDING 7049 | SAN ANTONIO | TX |
| LACKLAND AIR FORCE BASE- DISPENSARY | SAN ANTONIO | TX |
| LACKLAND AIR FORCE BASE HOSPITAL | SAN ANTONIO | TX |
| LACKLAND AIR FORCE BASE- MILITARY & PROFESSIONAL BUILDING | SAN ANTONIO | TX |
| LADY OF THE LAKE COLLEGE | SAN ANTONIO | TX |
| LaGloria Corp | Premont | TX |
| LaGloria Oil | Tyler | TX |
| LaGloria Refinery | Falfurrias | TX |
| LaGloria Refinery | Tyler | TX |
| Lake Bauter Powerhouse | Jefferson | TX |
| Lake Creek Powerhouse | Waco | TX |
| Lake Lavon Power Plant | Copeville | TX |
| Lake Lavon Power Plant | Garland | TX |
| Lake Lavon Power Plant | Dallas | TX |
| LAKE RAY HUBBARD DAM | DALLAS | TX |
| LAKE RAY HUBBARD POWERHOUSE | DALLAS | TX |
| LAKE TRAVIS SERVICE CENTER | AUSTIN | TX |
| LAKESIDE IRRIGATION COMPANY | EAGLE LAKE | TX |
| LAKESIDE IRRIGATION COMPANY | RICELAND | TX |
| Lakeside Irrigation District | Eagle Lake | TX |
| LAKEWAY COUNTRY CLUB | AUSTIN | TX |
| Lakewood Country Club | Dallas | TX |
| LALLA ODOM ELEMENTARY SCHOOL | AUSTIN | TX |
| LAMBERT CADWALDER | HOUSTON | TX |
| Lamons Metal Gasket Co | Houston | TX |
| LANDMARK BUILDING | SAN ANTONIO | TX |
| LANDMARK STANTON | EL PASO | TX |
| LANDMARK STATION POWERHOUSE | EL PASO | TX |
| LANE CITY RICE MILLING COMPANY | LANE CITY | TX |
| Langford Company | Corpus Christi | TX |
| LANIER HIGH SCHOOL | SAN ANTONIO | TX |
| LARAMORE TOWERS | HOUSTON | TX |
| LAREDO AIR FORCE BASE – COLD STORAGE | LAREDO | TX |
| LAREDO POWER STATION UNIT NUMBER 3 | LAREDO | TX |
| LARKIN PACKER COMPANY, INCORPORATED | WAXAHACHIE | TX |
| Las Palmas Shopping Center | San Antonio | TX |
| LASCO OF BEAUMONT | BEAUMONT | TX |
| LASCO OF BEAUMONT, INC. | BEAUMONT | TX |
| Late Chevrolet | Richardson | TX |
| LATTER DAY SAINTS CHURCH | KILLEEN | TX |
| LATTER DAY SAINTS CHURCH – MEETING HOUSE – PICKEWLL & GALWAY DRIVES | HIGHLAND HILLS | TX |
| LATTER DAY SAINTS CHURCH – SAN ANTONIO STAKE | AUSTIN | TX |
| LAUGE SOAP COMPANY | SAN ANTONIO | TX |
| Laughlin Air Force Base | Eagle Pass | TX |
| LAUGHLIN AIR FORCE BASE – BASE ANNEX CHAPEL – BUILDING 43 | DEL RIO | TX |
| Laughlin Air ForceBase | Del Rio | TX |
| LAVON DRIVE BAPTIST CHURCH | GARLAND | TX |
| Lavon Powerhouse | Lavon | TX |
| LAW ENFORCEMENT ACADEMY | AUSTIN | TX |
| LAW FACULTY BUILDING | SAN ANTONIO | TX |
| LAWRENCE C. TAYLOR (USS) | HOUSTON | TX |
| Layne Texas Co. | Houston | TX |
| LE Bus Manufacturing | Longview | TX |
| LE TOURNEAU CO. | LONGVIEW | TX |
| LEAD PRODUCTS, INCORPORATED | HOUSTON | TX |
| LEARNING RESOURCE CENTER | AUSTIN | TX |
| LEAVESLEY IND. C/0 PETROTEX | HOUSTON | TX |
| Leavesley Industries | South Houston | TX |
| LEAVESLEY INDUSTRIES INC | JACKSONVILLE | TX |
| LEBUS MANUFACTURING COMPANY | LONGVIEW | TX |
| LEBUS MANUFACTURING COMPANY | LONGVEIW | TX |
| Lee Wilson Engineering | Houston | TX |
| LEHIGH TELEPHONE BUILDING | SAN ANTONIO | TX |
| Lehman Gasoline Plant | Lehman | TX |
| LELAND E. THOMAS (USS) | HOUSTON | TX |
| Leland Hammer | Houston | TX |
| LEO S. JOERIS | SAN ANTONIO | TX |
| Leon Creek Power Plant | San Antonio | TX |
| LEON CREEK POWER PLANT – UNIT 4 | SAN ANTONIO | TX |
| Leon Creek Power Station | San Antonio | TX |
| Leon Theater | Pleasanton | TX |
| Leona Lee Corp | Odessa | TX |
| LEONA LEE CORP. | ODESSA | TX |
| LEONARDO L. ROMERO | HOUSTON | TX |
| LERAY WILSON (USS) | HOUSTON | TX |
| Letourneau | Longview | TX |
| LeTOURNEAU PLANT | LONGVIEW | TX |
| LEVINGSTON SHIPBUILDING CO. | ORANGE | TX |
| LEVINGSTON SHIPBUILDING COMPANY | ORANGE | TX |
| LEVINGSTON SHIPBUILDING COMPANY [Alias] | ORANGE | TX |
| Levingston Shipyard | Orange | TX |
| Levingston Shipyard | | TX |
| LEWIS CREEK POWER PLANT | WILLIS | TX |
| LIANO GRANGE GASOLINE PLANT | LEHMAN | TX |
| LIBERTY MILLS TEAM TRACK | SAN ANTONIO | TX |
| LIGHTHOUSE FOR THE BLIND – ROOSEVELT AVENUE | SAN ANTONIO | TX |
| Lillie Hoffman Cooling Tower | Plainview | TX |
| Linde Air Products Co. (Union Carbide & Carbon Corp.) | Houston | TX |
| Linde Air Products Co. (Union Carbide & Carbon Corp.) | Odessa | TX |
| Linde Air Products Co. (Union Carbide & Carbon Corp.) | San Antonio | TX |
| LING TEMCO | GRAND PRAIRIE | TX |
| LING TEMCO VOUGHT INC | GRAND PRAIRIE | TX |
| LING-TEMCO-VOUGHT, INCORPORATED | DALLAS | TX |
| LING-TEMCO-VOUGHT, INCORPORATED | GARLAND | TX |
| LING-TEMCO-VOUGHT, INCORPORATED | GRAND PRAIRIE | TX |
| Link Belt | Houston | TX |
| LIQUID CARBONIC – 4227 BINZ ENGLEMAN ROAD | SAN ANTONIO | TX |
| LIQUID CARBONIC CORPORATION | HOUSTON | TX |
| LITTLEFIELD BUILDING | AUSTIN | TX |
| LIVINGSTON SHIPBUILDING | ORANGE | TX |
| LIVINGSTON SHIPYARD | ORANGE | TX |
| LLOYD E. ACREE (USS) | ORANGE | TX |
| Lockett Southwest Public Service | Denver City | TX |
| Lockheed | Fort Worth | TX |
| LOCKHEED MARTIN | FT. WORTH | TX |
| LON C. HILL POWER PLANT | CORPUS CHRISTI | TX |
| LON C. HILL POWER STATION, UNIT NUMBER 4 | CORPUS CHRISTI | TX |
| Lon Hill Power Station | Callallen | TX |
| Lone Hill Powerhouse | Corpus Christi | TX |
| Lone Star Ammunition | Texarcana | TX |
| LONE STAR AMMUNITION PLANT | HOOKS | TX |
| LONE STAR AMMUNITION PLANT | TEXARKANA | TX |
| LONE STAR AMMUNITION, ORDNANCE PLANT | TEXARKANA | TX |
| LONE STAR AND CRESCENT OIL COMPANY | SABINE PASS | TX |
| LONE STAR AND CRESCENT OIL COMPANY | BEAUMONT | TX |
| Lone Star Army Ammunition Ordnance Plant | Texarkana | TX |
| Lone Star Army Ammunition Plant | Texarkana | TX |
| Lone Star Army Ammunition Plant | Hooks | TX |
| LONE STAR ARMY DEPOT | TEXARKANA | TX |
| LONE STAR BREWING | SAN ANTONIO | TX |
| Lone Star Brewing Company | San Antonio | TX |
| LONE STAR CEMENT CORP | HOUSTON | TX |
| LONE STAR CEMENT CORP | MARY NEAL | TX |
| LONE STAR CEMENT CORPORATION | DALLAS | TX |
| LONE STAR CEMENT CORPORATION | HARRYS | TX |
| LONE STAR COTTON MILL | MCKINNEY | TX |
| LONE STAR ELEMENTARY SCHOOL | NEW BRAUNFELS | TX |
| LONE STAR GAS | ATHENS | TX |
| LONE STAR GAS BUILDING | DALLAS | TX |
| Lone Star Gas Company | Long Lake | TX |
| Lone Star Gas Company | Pyote | TX |
| LONE STAR GAS COMPANY | GORDON | TX |
| LONE STAR GAS COMPANY | MADISONVILLE | TX |
| LONE STAR GAS COMPANY | KNOX CITY | TX |
| LONE STAR GAS COMPANY | ATHENS | TX |
| LONE STAR GAS COMPANY – DISTRIBUTION PLANT | RHOME | TX |
| LONE STAR GAS COMPANY – GAS PLANT | SPRINGTOWN | TX |
| LONE STAR GAS COMPANY – GAS PLANT | FORT CHADBOURNE | TX |
| LONE STAR GAS COMPANY – GAS PLANT | JOSHUA | TX |
| LONE STAR GAS COMPANY – TRINIDAD GAS PROCESSING PLANT | TRINIDAD | TX |
| LONE STAR HEAT | HOUSTON | TX |
| LONE STAR HEAT TREAT | HOUSTON | TX |
| LONE STAR HEAT TREATING C | HOUSTON | TX |
| Lone Star Industries | Houston | TX |
| LONE STAR INDUSTRIES INC | HOUSTON | TX |
| Lone Star Industries Plant | Houston | TX |
| Lone Star Industries, Inc. | Houston | TX |
| LONE STAR LAUNDRY | REFUGIO | TX |
| LONE STAR ORDINANCE DIV | DEFENSE | TX |
| LONE STAR ORDINANCE PLANT | DEFENSE | TX |
| Lone Star Ordnance | Hooks | TX |
| Lone Star Ordnance Plant | Hooks | TX |
| LONE STAR PRODUCING CO | KARNES CITY | TX |
| LONE STAR PRODUCING CO | KERENS | TX |
| LONE STAR PRODUCING COMPANY | KERENS | TX |
| LONE STAR PRODUCING COMPANY | OPELIKA | TX |
| Lone Star Steel | Lone Star | TX |
| Lone Star Steel | Lonestar | TX |
| Lone Star Steel | Daingerfield | TX |
| Lone Star Steel Co. | Dangerfield | TX |
| Lone Star Steel Co. | Lone Star | TX |
| Lone Star Steel Company | Lone Star | TX |
| LONE STAR STEEL COMPANY | DAINGERFIELD | TX |
| LONE STAR STEEL COMPANY | DALLAS | TX |
| LONE STAR STEEL COMPANY | TUXACARA | TX |
| LONE STAR STEEL MILL | LONE STAR | TX |
| Lone Star Steel Plant | Lone Star | TX |
| LONE STAR TECHNOLOGIES, INCORPORATED | LONE STAR | TX |
| Lone Star Textiles | Cuero | TX |
| LONE STEEL COMPANY | LONE STAR | TX |
| Lonestar Heat Treatment Plant | Houston | TX |
| LONESTAR INDUSTRIES | HOUSTON | TX |
| Long Leaf Lumber Mill | Longview | TX |
| LONGHORN BALLROOM | DALLAS | TX |
| LONGHORN ORDNANCE WORKS – TNT PLANT | KARNACK | TX |
| LONGHORN PORTLAND CEMENT CO | SAN ANTONIO | TX |
| LONGVIEW CITY HALL | LONGVIEW | TX |
| Longview Machine Plant | Longview | TX |
| Longview Refining | Longview | TX |
| LONGVIEW SPRING | LONGVIEW | TX |
| LONGVIEW SPRING & FRAME | LONGVIEW | TX |
| LONGVIEW SPRING AND FRAME C | LONGVIEW | TX |
| LOS ANGELES MANSION HOTEL – 37 NORTHEAST LOOP 410 | SAN ANTONIO | TX |
| LOUIS SHANKS FURNITURE – 2930 WEST ANDERSON LANE | AUSTIN | TX |
| LOUISIANA RIO GRANDE CANAL COMPANY | MCALLEN | TX |
| LOUISIANA RIO GRANDE CANAL COMPANY | PHARR | TX |
| LOUISIANA RIO GRANDE CANAL COMPANY | HIDALGO | TX |
| LOUISIANA SUPPLY CO. | BEAUMONT | TX |
| Love Field, Dallas, Texas | DALLAS | TX |
| LOVE FIELD TERMINAL POWER PLANT | DALLAS | TX |
| LOVERS LANE METHODIST CHURCH | DALLAS | TX |
| LOW RENT HOUSING PROJECT | GEORGETOWN | TX |
| LOW RENT HOUSING PROJECT – HIDALGO | MCALLEN | TX |
| Lower Colorado River Authority | Marble Falls | TX |
| Lower Colorado River Authority | Austin | TX |
| Lower Colorado River Authority | Graphite | TX |
| LOWER COLORADO RIVER AUTHORITY | BASTROP | TX |
| LOWER COLORADO RIVER AUTHORITY – SAM GIDEON PLANT | BASTROP | TX |
| LOWER COLORADO RIVER AUTHORITY – SIM GIDEON POWER PLANT | BASTROP | TX |
| LOWER COLORADO RIVER AUTHORITY – SIM GIDEON POWER PLANT – UNIT 1 | BASTROP | TX |
| LOWER COLORADO RIVER AUTHORITY – SIM GIDEON POWER PLANT – UNIT 2 | BASTROP | TX |
| LOWER COLORADO RIVER AUTHORITY – T.C. FERGUSON | AUSTIN | TX |
| Lower Colorado River Authority / Power Plant | Bastrop | TX |
| Lower Neches Valley Authority | Beaumont | TX |
| LOWRY STEEL MILL | TEXAS CITY | TX |
| LTI FORGINGS COMPANY | GARLAND | TX |
| LTV a/k/a CHANCE VOUGHT AIRGRAFT MANUFACTORING PLANT | GRAND PRAIRIE | TX |
| LTV AERONAUTICS | GRAND PRAIRIE | TX |
| LTV AERONAUTICS DIVISION | GRAND PRAIRIE | TX |
| Ltv Aerospace | Grand Prairie | TX |
| LTV Aerospace | Prairieville | TX |
| LTV Corporation | Grand Prairie | TX |
| LTV ELECTRONICS DIVISION | GARLAND | TX |
| LTV MILITARY ELECTRONICS | GARLAND | TX |
| LTV Vought | Grand Prairie | TX |
| LTV VOUGHT AERONAUTICS | DALLAS | TX |
| LTV VOUGHT AERONAUTICS | GRAND PRAIRIE | TX |
| LUBBOCK HIGH SCHOOL | LUBBOCK | TX |
| LUBBOCK MANUFACTURING CO | LUBBOCK | TX |
| Lubbock Municipal Airport | Lubbock | TX |
| LUBBOCK MUNICIPAL POWER AND LIGHT DEPARTMENT, PLANT #2 | LUBBOCK | TX |
| LUBBOCK POWER & LIGHT SYSTEM | LUBBOCK | TX |
| LUBBOCK POWER AND LIGHT | LUBBOCK | TX |
| LUBBOCK POWER PLANT #2 | LUBBOCK | TX |
| Lubrizol Chemical Plant | Deer Park | TX |
| Lubrizol Chemical Plant | Pasadena | TX |
| LUBRIZOL CORP – PTRA | DEER PARK | TX |
| LUBRIZOL CORP – PTRA DELY | DEER PARK | TX |
| Lubrizol Corp. | Deer Park | TX |
| Lubrizol Corp. | Bayport Plant Pasadena | TX |
| Lubrizol Corporation | Deer Park | TX |
| LUBRIZOL CORPORATION | PASADENA | TX |
| Lubrizol Plant | Houston | TX |
| LUBYS CAFETERIA | AUSTIN | TX |
| LUBYS CAFETERIA | TEMPLE | TX |
| LUBYS CAFETERIA – MAIN PLAZA BUILDING | SAN ANTONIO | TX |
| LUBYS CAFETERIA – TOWN & COUNTRY SHOPPING CENTER | TEMPLE | TX |
| LUBYS CAFETERIA #11 | SAN ANTONIO | TX |
| Lucent Technologies | Mesquite | TX |
| LUCY REED ELEMENTARY SCHOOL – BURNETTE ROAD | AUSTIN | TX |
| Lufkin Foundry Machine Co. ? 407 Kiln Ave. | Lufkin | TX |
| LUFKIN FOUNDRY/INDUSTRY & MACHINE COMPANY | LUFKIN | TX |
| LUFKIN INDUSTRIES | LUFKIN | TX |
| Lufkin Industries (foundry) | Lufkin | TX |
| Lufkin Industries / Foundry | Lufkin | TX |
| Lufkin Industries Inc | Lufkin | TX |
| LUFKIN INDUSTRIES PLANT | LUFKIN | TX |
| Lufkin Paper | Lufkin | TX |
| Lufkin Paper Mill | Lufkin | TX |
| LUFKIN SUPPLY CO INC | LUFKIN | TX |
| LULING SCHOOL | LULING | TX |
| LULING TELEPHONE EXCHANGE | LULING | TX |
| LUMINANT | WACO | TX |
| LUMINANT | GRANBURY | TX |
| LUMINANT-LAKE HUBBARD SES | MESQUITE | TX |
| LUMINANT-MONTICELLO SES | MOUNT PLEASANT | TX |
| LUMINANT-STRYKER CREEK SES | JACKSONVILLE | TX |
| LUMINANT-VALLEY SES | SAVOY | TX |
| Lummus Company | Chelsea | TX |
| Lummus Company | Houston | TX |
| Lummus Company | Port Arthur | TX |
| LUMOMIS COMPANY | HOUSTON | TX |
| LUTHER BURBANK HI SCHOOL | SAN ANTONIO | TX |
| LUWTER INC. | LUBBOCK | TX |
| Lydick Courtney Specialties | Freeport | TX |
| Lydick Courtney Specialties | Velesco | TX |
| Lykes Bros Steamship Co | Galveston | TX |
| Lykes Bros Steamship Co | Houston | TX |
| LYNDON B. JOHNSON SPACE CENTER | CLEAR LAKE CITY | TX |
| LYNWOOD BRICK & TILE CO | SAN ANTONIO | TX |
| Lyondale | Pasadena | TX |
| LYONDELL | HOUSTON | TX |
| LYONDELL CHEMICAL COMPANY | CHANNELVIEW | TX |
| Lyondell Citgo Refining | Houston | TX |
| LYONDELL HOUSTON REFINING LP | HOUSTON | TX |
| LYONDELL PETROCHEMICAL | HOUSTON | TX |
| LYONDELL PETROCHEMICAL | CHANNELVIEW | TX |
| Lyondell Petrochemical Company | Channelview | TX |
| Lyondell Petrochemical Company | Houston | TX |
| Lyondell Petroleum Company | Houston | TX |
| Lyondell-Citgo Houston Oil Refinery | Houston | TX |
| LYONDELL-CITGO REFINING | HOUSTON | TX |
| LYONDELL-CITGO REFINING | PASADENA | TX |
| M & M Furnace | Houston | TX |
| M & M Furnace | Galena Park | TX |
| M & M Furnace Co | Galena Park | TX |
| M D ANDERSON CANCER RESEARCH | HOUSTON | TX |
| M W KELLOGG CO | HOUSTON | TX |
| M. W. KELLOGG CO. | HOUSTON | TX |
| M.D. Anderson Hospital | Houston | TX |
| M.E. BULLOCK MANUFACTURING COMPANY | SAN ANTONIO | TX |
| M.F.A. Oil Co. | Memphis | TX |
| MACK (USS) | ORANGE | TX |
| MADISON JUNIOR HIGH SCHOOL | HOUSTON | TX |
| MADISON SCHOOL | HOUSTON | TX |
| MAGIC TIME MACHINE RESTAURANT – PETROLIUM CENTER | SAN ANTONIO | TX |
| MAGIC VALLEY FROZEN FOODS | MONTE ALTO | TX |
| MAGNET COVE BARIUM | KOSSE | TX |
| MAGNET COVE BARIUM CORP | NOSSE | TX |
| MAGNETIC PETROLEUM COMPANY | VANDERBILT | TX |
| Magnolia / Mobil Oil | Beaumont | TX |
| Magnolia / Mobil Oil | Deer Park | TX |
| Magnolia / Mobil Oil | Houston | TX |
| Magnolia / Mobil Oil | Premont | TX |
| Magnolia / Mobil Oil | Snyder | TX |
| Magnolia / Mobil Oil | Vanderbilt | TX |
| Magnolia Building | Dallas | TX |
| MAGNOLIA OIL | BEAUMONT | TX |
| Magnolia Oil Refinery | Beaumont | TX |
| MAGNOLIA PETROLEUM CO | CHAISON | TX |
| MAGNOLIA PETROLEUM CO | HODGE | TX |
| MAGNOLIA PETROLEUM CO. | BEAUMONT | TX |
| MAGNOLIA PETROLEUM CO. | CHAISON | TX |
| MAGNOLIA PETROLEUM CO. – PLANT 6 | BEAUMONT | TX |
| MAGNOLIA PETROLEUM CO. (a/k/a Mobil Oil) | BEAUMONT | TX |
| Magnolia Petroleum company | Chaison | TX |
| Magnolia Petroleum Company | Beaumont | TX |
| Magnolia Petroleum Company | Chalson | TX |
| Magnolia Petroleum Company | Ft. Worth | TX |
| Magnolia Petroleum Company | Hodge | TX |
| MAGNOLIA PETROLEUM COMPANY | CHOISON | TX |
| MAGNOLIA PETROLEUM COMPANY | DALLAS | TX |
| MAGNOLIA PETROLEUM COMPANY | FREMONT | TX |
| MAGNOLIA PETROLEUM COMPANY | NORTH FT. WORTH | TX |
| Magnolia Petroleum Corp | Beaumont | TX |
| Magnolia Petroleum Corp | Chaison | TX |
| Magnolia Pipe Line Co. | Alexander | TX |
| Magnolia Pipe Line Co. | Carsicana | TX |
| Magnolia Pipe Line Co. | Clyde | TX |
| Magnolia Pipe Line Co. | Latan | TX |
| Magnolia Pipe Line Co. | Midland | TX |
| Magnolia Pipe Line Co. | Morita | TX |
| Magnolia Pipe Line Co. | Richards | TX |
| Magnolia Pipe Line Co. | Sweetwater | TX |
| Magnolia Pipe Line Co. | Whitney | TX |
| MAGNOLIA REFINERY | BEAUMONT | TX |
| MAGNOLIA-SOCONY-MOBILE- BRITISH (BP) OIL REFINERY & CHEMICAL PLANT | BEAUMONT | TX |
| MAIN FIRE STATION | KILLEEN | TX |
| MAIN SAVINGS – CENTRAL OFFICE | SAN ANTONIO | TX |
| MANCHACA ELEMENTARY SCHOOL | AUSTIN | TX |
| MANCHESTER TERMINAL AND COMPRESWS COMPANY | MANCHESTER | TX |
| Manchester Terminal Docks | Houston | TX |
| Manhattan Gasoline Co. | Sinton | TX |
| MANNED SPACECRAFT CENTER | HOUSTON | TX |
| MANNED SPACECRAFT CENTER – LUNAR RECEIVING LABORATORY | HOUSTON | TX |
| MANOR ELEMENTARY SCHOOL | AUSTIN | TX |
| MANOR HIGH SCHOOL | AUSTIN | TX |
| Marathon Le Tourneau | Longview | TX |
| MARATHON LE TOURNEAU STEEL MILL | LONGVIEW | TX |
| Marathon Letourneau | Longview | TX |
| Marathon Letourneau Oil Co. | Brownsville | TX |
| MARATHON MORCO PLANT | DICKINSON | TX |
| MARATHON MORCO PLANT | TEXAS CITY | TX |
| Marathon Oil | Texas City | TX |
| Marathon Oil | Brownsville | TX |
| Marathon Oil & Chemical | Markham | TX |
| MARATHON OIL COMPANY | FT. WORTH | TX |
| MARATHON OIL REFINERY | MARKHAM | TX |
| Marathon Refinery | Texas City | TX |
| MARBRIDGE DORMITORY | AUSTIN | TX |
| MARILYN EMBROIDERY | DALLAS | TX |
| Maritime Oil Co. | Houston | TX |
| MARK TWAIN JUNIOR HIGH SCHOOL | SAN ANTONIO | TX |
| MARS, INCORPORATED | HOUSTON | TX |
| MARSHALL BRICK CO INC | MARSHALL | TX |
| Martin Lake Mine | Tatum | TX |
| Martin Lake Power | Dirgin | TX |
| MARTIN LINEN SERVICE | SAN ANTONIO | TX |
| Martinpool Gasoline Co | Andrews | TX |
| Martinpool Gasoline Co. | Houston | TX |
| Mason Tyler Manufacturing Plant | Tyler | TX |
| MASTER TANK | DALLAS | TX |
| MASTER TANK & WELDING | DALLAS | TX |
| Mastic Tile Corp. of America | Houston | TX |
| Mastic Tile Corp. of America (div of Ruberoid) | Houston | TX |
| MATAGORDA COUNTY RICE AND IRRIGATION COMPANY | BAY CITY | TX |
| MATAGORDA GENERAL HOSPITAL | BAY CITY | TX |
| MATAGORDA HOSPITAL | BAY CITY | TX |
| MATHANAL SYNTHESIS – DOOR NBR 3 | HOUSTON | TX |
| Mathieson Chemical Corp. | Pasadena | TX |
| MATTHEW MAURY | HOUSTON | TX |
| MAURICE J. MANUEL (USS) | ORANGE | TX |
| Max Roofing & Remodeling | Port Arthur | TX |
| MAXIMUS COFFEE | HOUSTON | TX |
| Maxwell House | Houston | TX |
| Maxwell House Coffee Plant | Houston | TX |
| MAXWELL HOUSE, DIVISION GENERAL FOOD CORPORATION | HOUSTON | TX |
| May Aluminum | El Campo | TX |
| MAY ALUMINUM PLANT | EL CAMPO | TX |
| MAY INC | HOUSTON | TX |
| May, Inc. | El Campo | TX |
| Mayflower Building | Dallas | TX |
| Mc Collum Co | South Houston | TX |
| MC MURREY REFINING COMPANY | TYLER | TX |
| McAllen Public Utilites | McAllen | TX |
| McAx Corp. | Mcgregor | TX |
| MCCALLUM HIGH SCHOOL | AUSTIN | TX |
| McCarthy Gas Plant / Allied Chemical Plant | Winnie | TX |
| MCCOLLUM JOSEPH COMPANY O | SOUTH HOUSTON | TX |
| MCCRELESS SHOPPING CENTER | SAN ANTONIO | TX |
| McCrory residence | Dallas | TX |
| MCCUISTION HOSPITAL | PARIS | TX |
| McCullum High School | | TX |
| Mcdermott Marine | Houston | TX |
| Mcdermott Research Center | Dallas | TX |
| MCDONOUGH BROTHERS INC | SAN ANTONIO | TX |
| McDonough Iron Works | Galveston | TX |
| MCDOWELL AND BULLOCK | GLEN FLORA | TX |
| McEvoy Company | Houston | TX |
| MCFADDIN-WEISS KYLE RICE MILLING COMPANY | BEAUMONT | TX |
| MCGAHA ELEMENTARY SCHOOL | WICHITA FALLS | TX |
| McGee @ Nance | Houston | TX |
| MCGINTY (USS) | ORANGE | TX |
| MCIVER & SMITH FABRICATOR | HOUSTON | TX |
| MCKINNEY HOSPITAL | MCKINNEY | TX |
| McKnight Sanitarium | Carlsbad | TX |
| Mcloughlin Oil Refinery | Houston | TX |
| MCMURRAY REFINING COMPANY | TYLER | TX |
| McMurrey Refinery Co. / Procon | Tyler | TX |
| McMurrey Refining | Tyler | TX |
| MCMURRY REFINING CO | TYLER | TX |
| MCNAY ART INSTITUTE – 6000 NORTH NEW BRAUNFELS AVENUE | SAN ANTONIO | TX |
| McNutt Oil Refining | El Paso | TX |
| MEADWESTVACO CORPORATION | EVADALE | TX |
| Medical Arts Building | Dallas | TX |
| MEDICAL CENTER | ODESSA | TX |
| MEDICAL CENTER PLAZA – LOUIS PASTEUR DRIVE | SAN ANTONIO | TX |
| MEDICAL OFFICE BUILDING | SAN ANTONIO | TX |
| MEDI-CENTER – EIGHTH AVENUE | FORT WORTH | TX |
| Medina Electric | Mondo | TX |
| Medina Electric Co. | Pearsall | TX |
| MEEKS SERVICE STATION | FARWELL | TX |
| MEGA CONSTRUCTION CO. | FREESTONE | TX |
| Mega Construction Company | Houston | TX |
| Meissner | Wichita Falls | TX |
| Melrose Elementary School | Houston | TX |
| MELVIN R. NEWMAN (USS) | HOUSTON | TX |
| MEMORIAL BAPTIST HOSPITAL | HOUSTON | TX |
| Memorial Baptist Hospital – 1″ on walls | Houston | TX |
| Memorial Hospital | Houston | TX |
| MEMORIAL HOSPITAL | FLORESVILLE | TX |
| MEMORIAL UNITED METHODIST CHURCH | AUSTIN | TX |
| MENASCO MANUFACTURING CO | FORT WORTH | TX |
| MENASCO MANUFACTURING COMPANY | FORT WORTH | TX |
| Menger Hotel | San Antonio | TX |
| Mercantile Bank | Dallas | TX |
| Mercantile National Bank | Dallas | TX |
| MERCANTILE NATIONAL BANK BLDG | DALLAS | TX |
| MERCANTILE NATIONAL BANK BUILDING | DALLAS | TX |
| MERCH HOSPITAL | JOURDANTON | TX |
| MERCHANTS AND PLANTERS C AND W COMPANY | GALVESTON | TX |
| MERCHANTS AND PLANTERS COMPRESS COMPANY | GALVESTON | TX |
| MERCHANTS AND PLANTERS OIL COMPANY | HOUSTON | TX |
| Merichem Chemical | Houston | TX |
| Merichem Chemical Plant | Houston | TX |
| Metal Finishing & Plating Plant | Longview | TX |
| METALS INC | CORPUS CHRISTI | TX |
| METCALFE ROAD ELEMENTARY SCHOOL | AUSTIN | TX |
| METEOR | HOUSTON | TX |
| Methodist Hospital | Dallas | TX |
| METHODIST HOSPITAL | HOUSTON | TX |
| METHODIST HOSPITAL PLAZA | SAN ANTONIO | TX |
| Metro Waterworks, Inc. | Richmond | TX |
| MICHAEL J. OWENS | HOUSTON | TX |
| MICHAEL J. STONE | HOUSTON | TX |
| Michelin USA (South Plant) / Ameripol-Synpol / B.F. Goodrich | Port Neches | TX |
| MID CITIES HOSPITAL | GRAND PRAIRIE | TX |
| Midland Air Terminal | Midland | TX |
| Midland High School | Midland | TX |
| Midlands Steam Laundry | Midland | TX |
| MIDWEST PIPING CO | HOUSTON | TX |
| MILAM BUILDING | San Antonio | TX |
| MILK PRODUCTS ASSOCIATION – 6910 ZARZAMORA | SAN ANTONIO | TX |
| Milwhite Co.- Lyons Avenue Plant | Houston | TX |
| MINERAL WELLS ELECTRIC COMPANY- ICE PLANT | MINERAL WELLS | TX |
| MINERAL WELLS ELECTRIC LIGHT, POWER, AND HEAT COMPANY – POWER PLANT | MINERAL WELLS | TX |
| Minneapolis Honeywell Regulator Co | Houston | TX |
| MINNESOTA MINING & MFG CO | BROWNWOOD | TX |
| MINTON RENDERING CO | FT WORTH | TX |
| MIRABEAU B. LAMAR | HOUSTON | TX |
| MIRCHISON JUNIOR HIGH SCHOOL | AUSTIN | TX |
| MISSION CONCRETE PIPE COMPANY – 402 WEST WHITE | SAN ANTONIO | TX |
| Mission Manufacturing Co. | Houston | TX |
| MISSION PHARMACAL COMPANY – 1325 EAST DURANGO BOULEVARD | SAN ANTONIO | TX |
| MISSION RD. | SAN ANTONIO | TX |
| Mission Road Power Plant | San Antonio | TX |
| MISSION ROAD POWER PLANT – STATION B | SAN ANTONIO | TX |
| MISSION VALLEY MILLS | NEW BRAUNFELS | TX |
| MISSION VALLEY MILLS, INCORPORATED | NEW BRAUNFELS | TX |
| MISSOURI PACIFIC HOUSE TRACK | FREEPORT | TX |
| MISSOURI PACIFIC HOUSE TT | FREEPORT | TX |
| Missouri Pacific Railroad | Freeport | TX |
| MISSOURI, KANSAS, TEXAS, RAILROAD COMPANY | FT. WORTH | TX |
| MOBAY CHEMICAL COMPANY | RAYTOWN | TX |
| MOBAY CHEMICAL CORP. – CEDAR BAYOU PLANT | BAYTOWN | TX |
| Mobay Chemical Plant | Baytown | TX |
| Mobay Chemicals | Baytown | TX |
| Mobay Synthetics | Pasadena | TX |
| MOBIL | BEAUMONT | TX |
| Mobil / Magnolia | Beaumont | TX |
| Mobil / Magnolia | Deer Park | TX |
| Mobil / Magnolia | Houston | TX |
| Mobil / Magnolia | Premont | TX |
| Mobil / Magnolia | Snyder | TX |
| Mobil / Magnolia | Vanderbilt | TX |
| Mobil / Socony | Houston | TX |
| Mobil Chemical | Beaumont | TX |
| Mobil Chemical | Pasadena | TX |
| MOBIL CHEMICAL & REFINERY | BEAUMONT | TX |
| Mobil Chemical Co | Beaumont | TX |
| MOBIL CHEMICAL CO | CASON | TX |
| Mobil Chemical Co.- Waterbasin | Beaumont | TX |
| MOBIL CHEMICAL COMPANY | BEAUMONT | TX |
| Mobil Chemical Plant | Beaumont | TX |
| Mobil Eclipse | Beaumont | TX |
| Mobil Grease Plant Tank Farm | Beaumont | TX |
| Mobil Oil | Beaumont | TX |
| Mobil Oil | Hull | TX |
| Mobil Oil | Lake Creek Field | TX |
| MOBIL OIL CO | BEAUMONT | TX |
| MOBIL OIL CO | DOWLING | TX |
| Mobil Oil Company | Beaumont | TX |
| MOBIL OIL COMPANY | PEGASUS | TX |
| MOBIL OIL COMPANY | CHAISON | TX |
| Mobil Oil Company Dry Dock | Beaumont | TX |
| Mobil Oil Corporation | Beaumont | TX |
| Mobil Oil Corporation | Chaison | TX |
| Mobil Oil Refinery | West Columbia | TX |
| Mobil Oil Refinery | Beaumont | TX |
| Mobil Oil Ships | Hull | TX |
| Mobil Pipeline Co. | Beaumont | TX |
| MOBILE CHEMICAL | TEMPLE | TX |
| Mobile Oil | Freeport | TX |
| Mobile Oil | Pasadena | TX |
| Mobile Oil Refinery | Chaison | TX |
| Mobile Oil Refinery | Beaumont | TX |
| Mobile Oil Refinery | Houston | TX |
| Model Federal Housing Administration House | San Antonio | TX |
| MODEL LAUNDRY | GAVESTON | TX |
| MONARCH REFINING | SAN ANTONIO | TX |
| MONARCH REFINING CO | PHOENIX | TX |
| Monarch Tile | Marshall | TX |
| MONARCH TILE MFG CO INC | SAN ANGELO | TX |
| MONSANTA/SOLUTIA CHEMICAL PLANT | ALVIN | TX |
| Monsanto | Houston | TX |
| Monsanto | Texas City | TX |
| Monsanto | Snyder | TX |
| Monsanto | Chocolate Bayou | TX |
| MONSANTO – CHOCOLATE BAYOU | HOUSTON | TX |
| Monsanto – Chocolate Bayou, 3 Turbines | Alvin | TX |
| Monsanto / Pharmacia Corp. | Chocolate Bayou | TX |
| Monsanto Chemical | Alvin | TX |
| Monsanto Chemical | Chocolate Bayou | TX |
| Monsanto Chemical | Texas City | TX |
| MONSANTO CHEMICAL – CHOCOLATE BAYOU | ALVIN | TX |
| MONSANTO CHEMICAL – CHOCOLATE BAYOU | BRAZORIA COUNTY | TX |
| MONSANTO CHEMICAL – CHOCOLATE BAYOU | HOUSTON | TX |
| MONSANTO CHEMICAL CO | BRAZORIA COUNTY | TX |
| MONSANTO CHEMICAL CO | CHOCOLATE BAYOU | TX |
| MONSANTO CHEMICAL CO. | ALVIN | TX |
| MONSANTO CHEMICAL CO. | TEXAS CITY | TX |
| MONSANTO CHEMICAL CO. – ETHYLENE PROCESSING PLANT | TEXAS CITY | TX |
| Monsanto Chemical Co. – Storage Tanks | Texas City | TX |
| Monsanto Chemical Co. / Sterling / Pharmacia Corp. | Texas City | TX |
| MONSANTO CHEMICAL CO. ETHYLENE PROCESSING PLANT | TEXAS CITY | TX |
| Monsanto Chemical Company | Chocolate Bayou | TX |
| Monsanto Chemical Company | Texas City | TX |
| Monsanto Chemical Company | Choc Bayou | TX |
| MONSANTO CHEMICAL COMPANY | BRAZORIA COUNTY | TX |
| MONSANTO CHEMICAL COMPANY | ALVIN | TX |
| MONSANTO CHEMICAL COMPANY – LARGE OUTDOOR TANK | CHOCOLATE BAYOU | TX |
| MONSANTO CHEMICAL COMPANY, ETHYLENE PROCESSING PLANT | TEXAS CITY | TX |
| MONSANTO CHEMICAL COMPANY, LARGE OUTDOOR TANK | CHOCOLATE BAYOU | TX |
| Monsanto Chemical Plant | Alvin | TX |
| MONSANTO CHEMICAL PLANT | TEXAS CITY | TX |
| Monsanto Co | Alvin | TX |
| MONSANTO CO | HOUSTON | TX |
| MONSANTO CO | TEXAS CITY | TX |
| MONSANTO CO | CHOCOLATE BAYOU | TX |
| MONSANTO CO – CHOCOLATE BAYOU PLANT | BRAZORIA COUNTY | TX |
| MONSANTO CO – CHOCOLATE BAYOU PLANT – DOOR NBR 3 | HOUSTON | TX |
| MONSANTO CO. | TEXAS CITY | TX |
| MONSANTO COMPANY | ALVIN | TX |
| MONSANTO COMPANY | TEXAS CITY | TX |
| MONSANTO COMPANY | CHOCOLATE BAYOU | TX |
| MONSANTO CORP | ALVIN | TX |
| MONSANTO PLANT | CHOCOLATE BAYOU | TX |
| MONSANTO PLANT | TEXAS CITY | TX |
| Monsey Products | Garland | TX |
| Mont Belvieu Plant | Mont Belvieu | TX |
| MONTE ALTO FOODS | MONTE ALTO | TX |
| MONTEGO SUN | HOUSTON | TX |
| Moody Compress | Galveston | TX |
| MOORE BROTHERS | SOMERVILLE | TX |
| MOORE RESIDENCE – PHASE II | AUSTIN | TX |
| MOORE'S BLUFF RICE COMPANY | GALVESTON | TX |
| MOORE'S BLUFF RICE COMPANY | DAYTON | TX |
| MORGAN CREEK POWER PLANT | COLORADO CITY | TX |
| MORNING SIDE MANOR INCORPORATED – NURSING CARE CENTER – SAINT CLOUD & BABCOCK | SAN ANTONIO | TX |
| Morris A. Knight Co | Houston | TX |
| Morris Boulger Destructors | Lufkin | TX |
| MORRIS YOUNG OWENS CO | HOUSTON | TX |
| MORTEN SALT COMPANY | GRAND SALINE | TX |
| MORTON FOODS, INCORPORATED | DALLAS | TX |
| Morton Salt | Grand Saline | TX |
| MORTON SALT COMPANY | GRAND SALINE | TX |
| Mosher Steel Co. | Houston | TX |
| MOTIVA ENTERPRISES | PORT ARTHUR | TX |
| Motiva Enterprises / Texaco / The Texas Company | Port Arthur | TX |
| MOTIVA ENTERPRISES LLC | PORT ARTHUR | TX |
| Motiva Star Enterprises | Port Arthur | TX |
| Motor Truck Equipment Company | Houston | TX |
| MOTOROLA PLANT | AUSTIN | TX |
| Mountain Creek Power Plant | Grand Prairie | TX |
| Mountain Creek Station | Dallas | TX |
| Mountain View College | Dallas | TX |
| MR R L HARTS | CONROE | TX |
| MRS. TUCKER'S BAKERY | DALLAS | TX |
| Mt. Carmel High School | Houston | TX |
| Mundet Cork | Houston | TX |
| MUNDET CORK COMPANY, 6601 SUPPLY ROW | HOUSTON | TX |
| Mundet Cork Corp. | Houston | TX |
| MUNDET CORK CORPORATION | HOUSTON | TX |
| Municipal Airport | Houston | TX |
| MUNICIPAL AUDITORIUM | AUSTIN | TX |
| MUNICIPAL POWER PLANT | LUBBOCK | TX |
| MUNICIPAL POWER PLANT | DENTON | TX |
| MUNICIPAL PT & LT | BRADY | TX |
| Murphy Oil | Corpus Cristi | TX |
| MURRAY CO | DALLAS | TX |
| Murray Rubber Company | Houston | TX |
| MURRAY RUBBER COMPANY | DALLAS | TX |
| Mustang Well Supply Corp. | Bellaire | TX |
| MUTUAL SAVINGS #2 – 35TH & KERBY LANE | AUSTIN | TX |
| MUTUAL SAVINGS & LOAN | AUSTIN | TX |
| Mw Kellogg Co. | Houston | TX |
| Nabisco Bakery | Houston | TX |
| NABISCO, INCORPORATED | HOUSTON | TX |
| NAIFETA (USS) | ORANGE | TX |
| Nalco Chemical | Sugarland | TX |
| NALCO CHEMICAL COMPANY | FREEPORT | TX |
| Nalco Chemical Plant | Freeport | TX |
| NALCO CHEMICAL PLANT | SUGARLAND | TX |
| NASA | CLEAR LAKE | TX |
| NASA | CLEAR LAKE CITY | TX |
| NASA | Houston | TX |
| NASA – MISSION CONTROL CENTER | HOUSTON | TX |
| NASA – SPACE CENTER | HOUSTON | TX |
| NASA MANNED SPACECRAFT | CLEAR LAKE | TX |
| NASA MANUAL SPACECRAFT | CLEAR LAKE | TX |
| NASA SPACE CENTER | HOUSTON | TX |
| NATIONAL BANK OF COMMERCE | SAN ANTONIO | TX |
| NATIONAL BISCUIT COMPANY | HOUSTON | TX |
| National Building Centers | Waco | TX |
| NATIONAL CYLINDER | DALLAS | TX |
| NATIONAL CYLINDER GAS | DALLAS | TX |
| NATIONAL DIAL BUILDING | HOUSTON | TX |
| NATIONAL FARM LIFE INSURANCE HEADQUARTERS | FORT WORTH | TX |
| NATIONAL FISH HATCHERY – LABORATORY | SAN MARCOS | TX |
| NATIONAL FLAME TREATING | HOUSTON | TX |
| NATIONAL FORGE | HOUSTON | TX |
| National Gas Equipment Company | Terrell | TX |
| National Gasoline Corporation | Hawkins | TX |
| NATIONAL GUARD | AUSTIN | TX |
| National Guard Armory | Sulphur Springs | TX |
| NATIONAL GUARD BARRACKS | BROWNWOOD | TX |
| NATIONAL INCINERATOR SERV | CORSICONA | TX |
| NATIONAL LAUNDRY & DRY CL | TEMPLE | TX |
| National Lead | Houston | TX |
| NATIONAL LEAD COMPANY | DALLAS | TX |
| National Linen | San Antonio | TX |
| NATIONAL LINEN SERVICE | SAN ANTONIO | TX |
| NATIONAL LINEN SERVICE | DALLAS | TX |
| NATIONAL LINEN SERVICE | FT. WORTH | TX |
| NATIONAL LINEN SERVICE CORPORATION | HOUSTON | TX |
| NATIONAL LINEN SERVICE CORPORATION | LUBBOCK | TX |
| NATIONAL LUMBER COMPANY | TEXARKANA | TX |
| NATIONAL OIL AND PIPE LINE COMPANY | BEAUMONT | TX |
| NATIONAL OIL COMPANY | ORANGE | TX |
| NATIONAL OILWELL | BAYTOWN | TX |
| National Petrochemical Co. (USI) | Deerpark | TX |
| National Petrochemical Corporation | Deer Park | TX |
| NATIONAL SERVICE INDUSTRIES | DALLAS | TX |
| NATIONAL SERVICE INDUSTRIES | SAN ANTONIO | TX |
| National Sheet Metal | Houston | TX |
| NATIONAL STARCH & CHEMICAL CO | NORTH SEADRIFT | TX |
| NATIONAL STARCH AND CHEMICAL COMPANY | SEADRIFT | TX |
| NATIONAL SUPP. DIV. AMCO | GAINESVILLE | TX |
| NATIONAL SUPPLY | GAINESVILLE | TX |
| NATIONAL SUPPLY DIV | GAINESVILLE | TX |
| NATIONAL SUPPLY DIVISION | GAINESVILLE | TX |
| NATIONAL SUPPLY DIVISION | HOUSTON | TX |
| NATIONWIDE BOILER RENTALS, INCORPORATED | CHANNELVIEW | TX |
| NATKIN & CO | HOUSTON | TX |
| Natkin & Co. | Houston | TX |
| NATURAL GAS & PIPELINE | STINNETT | TX |
| Natural Gas Co. of America | Woodlawn | TX |
| Natural Gas Odorizing | Baytown | TX |
| NATURAL GAS PIPE LINE | FRITCH | TX |
| Natural Gas Pipe Line Co Of America | Wheeler | TX |
| Natural Gas Pipeline | Brisco | TX |
| NATURAL GAS PIPELINE | STINNETT | TX |
| NATURAL GAS PIPELINE | FRITCH | TX |
| NATURAL GAS PIPELINE CO. OF AMERICA | PERRYTON | TX |
| NATURAL GAS PIPELINE CO. OF AMERICA – COMPRESSOR STATION 301 | WHARTON | TX |
| NATURAL GAS PIPELINE CO. OF AMERICA – COMPRESSOR STATION 302 | NEW CANEY | TX |
| NATURAL GAS PIPELINE CO. OF AMERICA – PERRYTON-BARLOW STATION | PERRYTON | TX |
| NATURAL GAS PIPELINE CO. OF AMERICA – STATION 303 | LUFKIN | TX |
| NATURAL GAS PIPELINE CO. OF AMERICA – STATION 304 | MARSHALL | TX |
| Natural Gas Pipeline Company Of America | Lufkin | TX |
| NATURAL GAS PIPELINE COMPANY OF AMERICA – COMPRESSOR STATION 303 | Lufkin | TX |
| Natural Gasoline Corp. | Arkansas Pass | TX |
| NAUL PLASTICS COMPANY – 208 COLORADO STREET | AUSTIN | TX |
| NAUL PLASTICS COMPANY – 2ND & REAL RIVER | AUSTIN | TX |
| Naval Air Station | Hitchock | TX |
| NAVAL AIR STATION – BUILDING 8 – TRAIN SHOP | CORPUS CHRISTI | TX |
| NAVAL AIR STATION DALLAS – AIRCRAFT CONTROL TOWER | DALLAS | TX |
| NAVAL AUXILLIARY AIR STATION – EMERGENCY GENERATION | GOLIAD | TX |
| NAVARCHOS KOUNDOURIOTIS | HOUSTON | TX |
| NBC OFFICE BUILDING – PARKING GARAGE – PECAN & SOLIDAD | SAN ANTONIO | TX |
| NCNB | DALLAS | TX |
| Neches Butane | Port Neches | TX |
| NECHES BUTANE | PT. NECHES | TX |
| Neches Butane / Jefferson Chemical Co. / Texaco Chemical / Huntsman Corp. | Port Arthur | TX |
| NECHES BUTANE PROD CO | PT NECHES | TX |
| Neches Butane Products Company | Port Neches | TX |
| Neches Insulation | Beaumont | TX |
| Neches Insulation | Neches | TX |
| Neiman Marcus | Dallas | TX |
| Neiman-Marcus Company | Dallas | TX |
| NEISNER DEPARTMENT STORE – EAST HOUSTON STREET | SAN ANTONIO | TX |
| NEUHOFF BROTHERS, PACKERS, INC. | DALLAS | TX |
| NEW BRAUNFELS HIGH SCHOOL | NEW BRAUNFELS | TX |
| NEW BRAUNFELS MIDDLE SCHOOL | NEW BRAUNFELS | TX |
| NEW BRAUNFELS PRESBYTERIAN CHURCH | NEW BRAUNFELS | TX |
| NEW BRAUNFELS TEXTILE MILLS | NEW BRAUNFELS | TX |
| New Hope Plant | Winnsboro | TX |
| NEW NUECES COURTHOUSE – NORTH UPPER BROADWAY | CORPUS CHRISTI | TX |
| NEWMAN POWER PLANT | EL PASO | TX |
| NEWMAN POWER PLANT | GARLAND | TX |
| NEWMAN SITE | EL PASO | TX |
| NEWMAN SMITH HIGH SCHOOL | CARROLLTON | TX |
| NEWTON-SHANK MFG CO | JACKSONVILLE | TX |
| NIBCO FOUNDRY | NACAGDOCHES | TX |
| NICHOLAS D. LABADIE | HOUSTON | TX |
| NICHOLAS GILMAN | HOUSTON | TX |
| NICHOLS COPPER CO. (a/k/a Phelps Dodge Refining Corp.) El Paso Refinery | EL PASO | TX |
| Nichols Engineering & Research | Kosse | TX |
| Nichols Pistol Factory | Jacksonville | TX |
| NIPAK INC. | KARENS | TX |
| NKA STERLING CHEMICAL COMPANY | TEXAS CITY | TX |
| NO MALL OFFICE BUILDING, EXCHANGE PARK | DALLAS | TX |
| NOLAN COUNTY CITY OF SWEETWATER HOSPITAL | SWEETWATER | TX |
| NORCUBA | HOUSTON | TX |
| NORIT | Marshall | TX |
| Norit America (see also Darco) | Marshall | TX |
| NORIT AMERICAS INCORPORATED | MARSHALL | TX |
| North American Aviation | Dallas | TX |
| North American Turbine | Houston | TX |
| North Brothers Company | Memphis | TX |
| North District Telephone Co | Houston | TX |
| North Houston Steam | Casey | TX |
| NORTH LAKE POWERHOUSE | DALLAS | TX |
| NORTH LOOP AND LOCKWOOD TT | HOUSTON | TX |
| NORTH OAK SHOPPING CENTER – BARRINGTON DRIVE | AUSTIN | TX |
| NORTH SEAL PLANT – DOOR NBR 2 | HOUSTON | TX |
| NORTH TEXAS BANK BUILDING | DALLAS | TX |
| NORTH TEXAS CLINIC ASSOCIATION | DALLAS | TX |
| NORTH TEXAS GENERATING LAKE WEATHERFORD PLANT, 602 W. LAKE DR. | WEATHERFORD | TX |
| NORTH TEXAS INSANE ASYLUM | TERRELL | TX |
| North Texas Municipal Water District | Wylie | TX |
| NORTHCROSS MALL | AUSTIN | TX |
| NORTHEAST CAMPUS JUNIOR COLLEGE | FORT WORTH | TX |
| NORTHERN IRRIGATION COMPANY | BAY CITY | TX |
| Northern Natural Gas Co. | Skelleytown | TX |
| NORTHERN NATURAL GAS COMPANY | FORT STOCKTON | TX |
| NORTHERN NATURAL GAS PLANT | FORT STOCKTON | TX |
| NORTHERN TEXAS TRACTION COMPANY | HAUDLEY | TX |
| NORTHERN TEXAS TRACTION COMPANY | HAULEY | TX |
| NORTHERN TEXAS TRACTION COMPANY | HANDLEY | TX |
| NORTHERN TEXAS TRACTION COMPANY | FT. WORTH | TX |
| NORTHLAKE POWERHOUSE | COPPELL | TX |
| Northside Ready Mix | Houston | TX |
| NORTHSIDE SCHOOL | UNIVERSAL CITY | TX |
| NORTHSIDE SLUDGE DISPOSAL | HOUSTON | TX |
| NORTHSIDE STATE BANK – SANTA MONICA & SAN PEDRO AVENUES | SAN ANTONIO | TX |
| NORTHVIEW PARK TOWERS – SAN PEDRO STREET | SAN ANTONIO | TX |
| NORTHVIEW SCHOOL – BUILDING C | UNIVERSAL CITY | TX |
| Northway Christian Church | Dallas | TX |
| NORTHWEST HIGH SCHOOL | AUSTIN | TX |
| NORTHWEST HILL LIBRARY | AUSTIN | TX |
| NORTHWEST SAVINGS & LOAN | AUSTIN | TX |
| Norton's Abrasives | Stephenville | TX |
| NOTHERN IRRIGATION COMPANY | MARKHAM | TX |
| NOTRE DAME OF DALLAS | DALLAS | TX |
| NOTRE DAME OF DALLAS | IRVING | TX |
| NOVA CHEMICAL | PASADENA | TX |
| NRG TEXAS POWER LLC | BAYTOWN | TX |
| NRG TEXAS POWER LLC | THOMPSONS | TX |
| Nucor Steel Corporation | Jewett | TX |
| NUECES BAY POWER PLANT | CORPUS CHRISTI | TX |
| NUECES BAY POWER STATION – UNIT #7 | CORPUS CHRISTI | TX |
| NUECES HOTEL COMPANY | CORPUS CHRISTI | TX |
| NURSING HOME | AUSTIN | TX |
| NY Oltex Chemicals Inc.- Greens Bayou Plant | Hosuton | TX |
| Nye Animal Hospital | Ft. Worth | TX |
| Nyotex Chemical Div | Greens Bayou | TX |
| O I CONTAINER PLANT | ORANGE | TX |
| O.L. Olsen Co. / Atlantic Oil | Atlanta | TX |
| O.L. Olsen Co. / Atlantic Oil | Sheridan | TX |
| O.W. Sommers #1 | San Antonio | TX |
| O`HENRY JUNIOR HIGH SCHOOL | AUSTIN | TX |
| OAK CLIFF PAPER MILLS | DALLAS | TX |
| OAK CREEK POWER PLANT | BLACKWELL | TX |
| OAK HILL COUNTRY CLUB | SAN ANTONIO | TX |
| OAK HILLS ELEMENTARY SCHOOL | AUSTIN | TX |
| OAK LANE TEAM TRACK | DALLAS | TX |
| Oasis Pipeline Co. | Ward County | TX |
| OBERRENDER (USS) | ORANGE | TX |
| Occidental and Oxychem | Deer Park | TX |
| Occidental Chemical / Diamond Alkali / Diamond Shamrock | Greens Bayou / Channelview | TX |
| Occidental Chemical Corp | Galena Park | TX |
| Occidental Chemical Corporation | Houston | TX |
| Occidental Chemical plant | Deer Park | TX |
| Occidental Chemical plant | Houston | TX |
| Odessa Butadiene Co. | Odessa | TX |
| ODESSA BUTADIENE COMPANY | ODESSA | TX |
| ODESSA COLISEUM | ODESSA | TX |
| ODFJELL TERMINALS (HOUSTON) LP | SEABROOK | TX |
| Offenhauser Company | Houston | TX |
| OFFICE BUILDING 505 | AUSTIN | TX |
| O'FLAHERTY (USS) | ORANGE | TX |
| OHIO AND TEXAS SUGAR COMPANY | BROWNSVILLE | TX |
| Ohmstede Machine Works | La Porte | TX |
| Oil City Brass Works | Beaumont | TX |
| Oilfield Corrosion Supply | Houston | TX |
| OLD FIRST CITY BANK – 1800 MAIN – DOWNTOWN | HOUSTON | TX |
| Old Ocean Refinery | Sweeney | TX |
| OLD RIVER RICE AND IRRIGATION COMPANY | GALVESTON | TX |
| Olefins Division | Seadrift | TX |
| Olin Corp. | Beaumont | TX |
| Olin Corp. | Pasadena | TX |
| Olin Mathieson Chemical | Beaumont | TX |
| Olin Mathieson Chemical | Deer Park | TX |
| Olin Mathieson Chemical | Pasadena | TX |
| Olin Mathieson Chemical | Houston | TX |
| Olin Mathieson Chemical | Port Arthur | TX |
| OLIN MATHIESON CHEMICAL CORP | ORANGE | TX |
| Olin Mathieson Chemical Corporation | Pasadena | TX |
| OLIN MATHIESON CHEMICAL CORPORATION | BEAUMONT | TX |
| Olin Mathieson Sulfur Plant | Beaumont | TX |
| Olin Mathison Chemical Plant | Pasadena | TX |
| Olin-Mathieson Chemical Company | Pasadena | TX |
| OLIVER MITCHELL (USS) | HOUSTON | TX |
| OLIVER W HOLES HIGH SCHOOL – INGRAMS ROAD | SAN ANTONIO | TX |
| OLMOS BUILDING MATERIALS | SAN ANTONIO | TX |
| OLMOS BUILDING MATERIALS | ADAMS | TX |
| Olsen Engineering | Houston | TX |
| OMEGA | HOUSTON | TX |
| OMNIUM FREIGHTER | HOUSTON | TX |
| OMNIUM TRADER | HOUSTON | TX |
| ONE ALLEN CENTER BUILDING | HOUSTON | TX |
| One Energy Square | Dallas | TX |
| ONE MAIN PLACE | DALLAS | TX |
| O'Neil Ford residence | San Antonio | TX |
| ORAN M. ROBERTS | HOUSTON | TX |
| ORANGE ICE, LIGHT, AND WATER COMPANY – LIGHT AND WATER PLANT | ORANGE | TX |
| ORANGE MILL | ORANGE | TX |
| ORANGE, TEXAS INC. | ORANGE | TX |
| Ordance Depot | Houston | TX |
| ORIENTAL LAUNDRY COMPANY | DALLAS | TX |
| ORIENTAL TEXTILE MILLS | HOUSTON HEIGHTS | TX |
| Ortloff Corporation | Midland | TX |
| OSBL FACILITIES | TEXAS CITY | TX |
| OSCAR CHAPPELL | HOUSTON | TX |
| OSCAR MAYER AND COMPANY | SHERMAN | TX |
| OSCAR MAYER FOODS CORPORATION | SHERMAN | TX |
| OUR LADY OF GOOD COUNSEL CHURCH – 1204 CASTROVILLE ROAD | SAN ANTONIO | TX |
| OWEN-ILLINOIS INC | MULFORD | TX |
| OWENS CORNING | WAXAHACHIE | TX |
| Owens Corning Fiberglas | Longview | TX |
| OWENS CORNING FIBERGLAS CORPORATION | WAXAHACHIE | TX |
| OWENS CORNING FIBERGLAS CORPORATION | ORANGE | TX |
| OWENS CORNING FIBERGLASS | WAXAHATCHIE | TX |
| Owens Corning Fiberglass Corp. | Houston | TX |
| OWENS FIBERGLASS | WAXAHACHIE | TX |
| OWENS ILLINOIS | WACO | TX |
| OWENS ILLINOIS | LUFKIN | TX |
| OWENS ILLINOIS | LOFKIN | TX |
| Owens Illinois Container Plant | Orange | TX |
| OWENS ILLINOIS FIBERGLASS CORP. | WAXAHACHIE | TX |
| OWENS ILLINOIS FOREST PRODUCTS DIVISION, ORANGE MILL | ORANGE | TX |
| Owens Illinois Glass Company | Orange | TX |
| Owens Illinois Glass Company | Waco | TX |
| OWENS ILLINOIS GLASS COMPANY – FOREST PRODUCTS DIVISION | MULFORD | TX |
| OWENS ILLINOIS GLASS COMPANY – GLASS CONTAINER DIVISION | WACO | TX |
| Owens Illinois Paper Plant | Orange | TX |
| Owens Illinois Plant | Houston | TX |
| OWENS-CORN. FIB. | WAXAHADIE | TX |
| OWENS-CORNING FIBERGLAS CORP. | HOUSTON | TX |
| OWENS-CORNING FIBERGLAS CORP. | WEBSTER | TX |
| OWENS-CORNING FIBERGLAS CORP. | SAN ANTONIO | TX |
| OWENS-CORNING SUPPLY CORPORATION | HOUSTON | TX |
| Owens-Illinois | Orange | TX |
| OWENS-ILLINOIS PLYWOOD PLANT | LUFKIN | TX |
| OWENS-ILLINOIS, INC. | WACO | TX |
| OXENINE PLANT | BAYPORT | TX |
| Oxirane Chemical | Baytown | TX |
| Oxirane Chemical | Houston | TX |
| Oxirane Chemical Company | Bayport | TX |
| OXIRANE CHEMICAL COMPANY | HOUSTON | TX |
| OXIRANE CHEMICAL COMPANY | CHANNELVIEW | TX |
| Oxirane Chemical Plant | Pasadena | TX |
| OXIRANE CHEMICAL PLANT | BAYPORT | TX |
| OXIRANE CORP. | CHANNELVIEW | TX |
| OXIRANE CORPORATION | BAYPORT | TX |
| Oxy Chemical Plant | La Porte | TX |
| Oxychem | Dallas | TX |
| P – F Supply Co Inc | Dallas | TX |
| P & L DEVELOPMENT COMPANY | SEGUIN | TX |
| P & R INSULATION LTD | HOUSTON | TX |
| P AND M GROUP MFG DIV | DALLAS | TX |
| P R INSULATION LTD | HOUSTON | TX |
| P. R. INSULATION, LTD. | BORGER | TX |
| P. R. INSULATION, LTD. | HOUSTON | TX |
| P.P.G. INDUSTRIES, INCORPORATED, LAWRENCE DRIVE PLANT | CORPUS CHRISTI | TX |
| Pace Packing Company | Sweetwater | TX |
| PACIFIC STAR | HOUSTON | TX |
| PACIFIC WAVE | HOUSTON | TX |
| PAINT CREEK POWER STATION | HASKELL | TX |
| PAKS CORPORATION | JUNCTION | TX |
| Palace Theatre | Dallas | TX |
| PALESTINE ELECTRIC LIGHT COMPANY – POWER PLANT | PALESTINE | TX |
| Palms Shopping Center | Houston | TX |
| PAMACO INC. | DALLAS | TX |
| PAMROD PLANT | MCQUEENEY | TX |
| PAMROD PRODUCTS COMPANY | BLOOMBURG | TX |
| PAN AM FOREST INDUSTRIES | EAGLE PASS | TX |
| Pan Am Petroleum | Sweeny | TX |
| Pan Am Petroleum | Yantis | TX |
| PAN AM REFINERY COMPANY | HOUSTON | TX |
| Pan American Chemical Co | Texas City | TX |
| Pan American Gas Plant | Edgewood | TX |
| PAN AMERICAN OIL REFINERY | TEXAS CITY | TX |
| Pan American Petroleum | Edgewood | TX |
| PAN AMERICAN PETROLEUM | YANTIS | TX |
| PAN AMERICAN PETROLEUM | TEXAS CITY | TX |
| Pan American Refining | Sweeney | TX |
| Pan American Refining / AMOCO (American Oil Co.) / Standard Oil Co. | Texas City | TX |
| Pan American Refining Co. | Texas City | TX |
| PAN AMERICAN REFINING COMPANY | TEXAS CITY | TX |
| PAN AMERICAN REFINING COMPANY (a/k/a AMOCO – American Oil Co) | TEXAS CITY | TX |
| PAN AMERICAN REFINING CORP | TEXAS CITY | TX |
| PAN AMERICAN REFINING CORP. | TEXAS CITY | TX |
| PAN AMERICAN REFINING CORP. – #3 CRACKING UNIT | TEXAS CITY | TX |
| PAN AMERICAN REFINING CORP. – CHEMICAL PLANT | TEXAS CITY | TX |
| PAN AMERICAN REFINING CORPORATION – GALVESTON BAY REFINERY | TEXAS CITY | TX |
| Pan Handle Eastern Pipeline | Leedey | TX |
| Panhandle Power & Light Co. | Sunray | TX |
| PANHANDLE POWER & LIGHT CO. | MOBEETIE | TX |
| PANHANDLE POWER AND LIGHT (a/k/a SW Publice Service Co.) – RIVERVIEW STATION | BORGER | TX |
| PANHANDLE POWER AND LIGHT COMPANY | BORGER | TX |
| PANHANDLE POWER AND LIGHT COMPANY | ISOM | TX |
| PANHANDLE POWER AND LIGHT COMPANY | PANHANDLE | TX |
| PANHANDLE PUBLIC SERVICE COMPANY | BORGER | TX |
| PANHANDLE SANTA FE RR TT | BORGER | TX |
| Pantex Ordnance Plant | Amarillo | TX |
| PANTEX ORDNANCE PLANT | ST. FRANCIS | TX |
| PANTEX REFINERY | AMARILLO | TX |
| Paper Corp. (see also Champion Paper Co.) | Houston | TX |
| Paper Corp. (see also Champion Paper Co.) | Lufkin | TX |
| Paper Corp. (see also Champion Paper Co.) | Pasadena | TX |
| Paper Mill | Evadale | TX |
| PAPER MILL | HOUSTON | TX |
| PARK NORTH GENERAL HOSPITAL – VANCE JACKSON ROAD | SAN ANTONIO | TX |
| Park Place Baptist Church | Houston | TX |
| PARK TERRACE APARTMENTS – 201 HUMPRY STREET | SAN ANTONIO | TX |
| Park Towers | Houston | TX |
| Park Towers – Holcome | Houston | TX |
| PARK TOWERS APARTMENT | HOUSTON | TX |
| Park Towers Apts. | Houston | TX |
| Parkdale Powerhouse | Dallas | TX |
| PARKDALE S-E | DALLAS | TX |
| PARKER BROTHERS COMPANY | HOUSTON | TX |
| Parker Elementary | Houston | TX |
| PARKER FALLIS INSULATION CO., INC. | SAN ANTONIO | TX |
| PARKER FALLIS INSULATION CO., INC. | DALLAS | TX |
| PARKER-FALLIS INSULATION | DALLAS | TX |
| Parker-Fallis Insulation Co Inc | Dallas | TX |
| Parkersburg Rigging & Reel | Houston | TX |
| Parkland Hospital | Dallas | TX |
| PARKLAND MEMORIAL HOSPITAL | DALLAS | TX |
| PARKS CORPORATION – CEDAR OIL STORAGE | JUNCTION | TX |
| Parr Inc. | Fort Worth | TX |
| Parrish Station | Rosenberg | TX |
| Pasadena Chemical Co. | Pasadena | TX |
| PASADENA PAPER COMPANY | PASADENA | TX |
| PASADENA REFINERY | PASADENA | TX |
| PASOTEX PETROLEUM COMPANY | EL PASO | TX |
| PASSMORE SCHOOL | SAN ANTONIO | TX |
| Pat W Crow Forgings Inc. | Fort Worth | TX |
| PATHFINDER MANUFACTURING | BASTROP | TX |
| PATIO PARTY PRODUCTS | MARSHALL | TX |
| PATTERSON PARK | AUSTIN | TX |
| PAUL BUNYAN | HOUSTON | TX |
| PAYNE BRICK COMPANY | ELGIN | TX |
| PCP | Houston | TX |
| PEARCE ELEMENTARY SCHOOL – HIGHWAY 281 | SAN ANTONIO | TX |
| PEARL BREWERY | SAN ANTONIO | TX |
| PEARL BREWING COMPANY | SAN ANTONIO | TX |
| Pearson Plumbing | Dallas | TX |
| PEASE ELEMENTARY SCHOOL | AUSTIN | TX |
| PECOS VALLEY POWER & LIGHT COMPANY (a/k/a West Texas Utilities) – Rio Pecos Station | RIO PECOS/GIRVIN | TX |
| PEDEN IRON AND STEEL COMPANY | DALLAS | TX |
| PEERLESS BOILER AND ENGINEERING COMPANY | DEER PARK | TX |
| PEGOR | HOUSTON | TX |
| Pemex Storage Tanks | Port Brownsville | TX |
| PENNSALT CHEMICAL | HOUSTON | TX |
| Pennsalt Chemical Co. | Greens Bayou | TX |
| Pennsalt Chemical Co. | Houston | TX |
| PENNSALT CHEMICALS | HOUSTON | TX |
| PENNSYLVANIA SALT MFG. CO. | BRYAN | TX |
| PENNSYLVANIA SHIPYARD | BEAUMONT | TX |
| Pennsylvania Shipyards, Peachbottom Atomic Power Plant | Beaumont | TX |
| PENNWALT CORP | HOUSTON | TX |
| Pennwalt Corporation | Houston | TX |
| Pennzoil | Houston | TX |
| PENNZOIL PLACE | HOUSTON | TX |
| Penzoil / Duvall Sulpher | West Texas | TX |
| PEOPLES ICE AND MANUFACTURING COMPANY | BROWNSVILLE | TX |
| Percision Insulating Company | Houston | TX |
| PERFORMING ARTS BUILDING, BRAZOS AND TEXAS AVE. | HOUSTON | TX |
| PERMIAN PIPE FABRICATION INC | ODESSA | TX |
| Permian Power Plant | Monahans | TX |
| Perrin Air Force Base | Sherman | TX |
| PERRY EQUIPMENT | MINERAL WELLS | TX |
| PERZY HEAT TREAT INC | ARLINGTON | TX |
| PETER BLIX | HOUSTON | TX |
| PETER PAUL INC. | DALLAS | TX |
| PETERSON HOSPITAL | KERRVILLE | TX |
| PETERSON MEMORIAL HOSPITAL | KERRSVILLE | TX |
| Petro Chemical Corporation | Bayport | TX |
| Petro Tex | Texas City | TX |
| PETRO TEX CHEM. CORP. | HOUSTON | TX |
| Petro Tex Chemical Corp. | Houston | TX |
| Petro Tex Chemical Corporation | Houston | TX |
| PETROFINA REFINERY | PORT ARTHUR | TX |
| Petroleas Mexicanos | Laredo | TX |
| Petroleos Mexicanos | Laredo | TX |
| PETROLEUM AND MINING DIV G | HOUSTON | TX |
| PETROLEUM INDUSTRIES INC. | IRVING | TX |
| PETROLEUM TOWER BUILDING | BEAUMONT | TX |
| Petrolite Corporation | Kilgore | TX |
| PETROLITE CORPORATION BARECO DIVISION | KILGORE | TX |
| Petrotex | Pasadena | TX |
| Petrotex / Denka Refinery | Houston | TX |
| Petrotex / Denka Refinery | Pasadena | TX |
| Petrotex Chemical | Houston | TX |
| Petrotex Chemical | Pasadena | TX |
| PETRO-TEX CHEMICAL | HOUSTON | TX |
| PETRO-TEX CHEMICAL CORP | HOUSTON | TX |
| Petro-Tex Chemical Corp. | Houston | TX |
| PETRO-TEX CHEMICAL CORP. (a/k/a Sinclair Rubber) | HOUSTON | TX |
| PETRO-TEX CHEMICAL CORPORATION | HOUSTON | TX |
| Petro-Tex Chemical Corp-Plant | Houston | TX |
| PETRO-TEX CHEMICAL PLANT | HOUSTON | TX |
| PETRO-TEX CHEMICAL PLANT | PASADENA | TX |
| PEYTON PACKING | EL PASO | TX |
| PEYTON PACKING COMPANY | EL PASO | TX |
| PFEFFER RICE MILLING CO INC | HOUSTON | TX |
| PFLUGERVILLE HIGH SCHOOL | PFLUGERVILLE | TX |
| Ph Robinson Generating Station (#3) | San Leon | TX |
| Ph Robinson Generating Station (#3) | Bacliff | TX |
| Phalen Tank & Boiler Service | Groves | TX |
| Pharmacia / Monsanto | Chocolate Bayou | TX |
| Pharmacia / Monsanto Chemical Company / Sterling | Texas City | TX |
| PHARR ICE, LIGHT AND POWER COMPANY | PHARR, HIDALGO | TX |
| PHELPS DODGE | EL PASO | TX |
| Phelps Dodge Copper Products Co. | El Paso | TX |
| PHELPS DODGE COPPER REFINERY & ROD MILL | EL PASO | TX |
| PHELPS DODGE CORP | EL PASO | TX |
| Phelps Dodge Refining Company | El Paso | TX |
| PHELPS DODGE REFINING CORPORATION | EL PASO | TX |
| PHELPS-DODGE CORPORATION | EL PASO | TX |
| PHENOL PLANT | BAYTOWN | TX |
| PHIBRO ENERGY USA | HOUSTON | TX |
| PHIBRO REFINING | HOUSTON | TX |
| PHILIP CAREY MANUFACTURING COMPANY | HOUSTON | TX |
| PHILIP CAREY MANUFACTURING PLANT | HOUSTON | TX |
| PHILIP MORRIS MANAGEMENT | SHERMAN | TX |
| Philips 66 Oil Refinery | Old Ocean | TX |
| PHILIPS CHEMICALS | PASADENA | TX |
| PHILIPS PETROLEUM REFINERY | BEAUMONT | TX |
| PHILLIP MORRIS, INCORPORATED | HOUSTON | TX |
| Phillips | Borger | TX |
| Phillips | Orange | TX |
| Phillips | Pasadena | TX |
| Phillips | Sweeney | TX |
| Phillips | Houston | TX |
| PHILLIPS "66" OIL REFINERY | PASADENA | TX |
| Phillips 66 | Pasadena | TX |
| Phillips 66 | Borger | TX |
| Phillips 66 | Old Ocean | TX |
| Phillips 66 | Orange | TX |
| Phillips 66 Oil Refinery | Alvin | TX |
| Phillips 66 Oil Refinery | Bay City | TX |
| Phillips 66 Plant | Old Ocean | TX |
| Phillips 66 Plastics | Houston | TX |
| PHILLIPS 66 REFINERY | SWEENY | TX |
| PHILLIPS BORGER REFINERY | BORGER | TX |
| PHILLIPS BUTADIENE | BORGER | TX |
| PHILLIPS BUTADIENE PLANT | Borger | TX |
| PHILLIPS CARBON BLACK | BORGER | TX |
| Phillips Chemical | Pasadena | TX |
| Phillips Chemical- Cactus Ammonia Plant | Etter | TX |
| PHILLIPS CHEMICAL CO | DUMAS | TX |
| PHILLIPS CHEMICAL CO – PHILBLACK PLANT | ECHO | TX |
| Phillips Chemical Co. | Etter | TX |
| Phillips Chemical Co. | Pasadena | TX |
| PHILLIPS CHEMICAL CO. | HOUSTON | TX |
| PHILLIPS CHEMICAL CO. – CACTUS PLANT | ETTER | TX |
| PHILLIPS CHEMICAL CO. – CATUS PLANT | ETTER | TX |
| PHILLIPS CHEMICAL CO. – FERTILIZER PLANT | DUMAS | TX |
| Phillips Chemical Co. ? Hycar Chemical Plant | Borger | TX |
| PHILLIPS CHEMICAL PLANT | PASADENA | TX |
| PHILLIPS COMPANY POLYMER | BORGER | TX |
| PHILLIPS COPOLYMER RUBBER PLANT | Borger | TX |
| Phillips Oil Ref. | Old Ocean | TX |
| PHILLIPS OIL REFINERY | BORGER | TX |
| PHILLIPS PET. CO | PASADENA | TX |
| Phillips Petroleum | Pasadena | TX |
| Phillips Petroleum | Franklin City | TX |
| Phillips Petroleum | Etter | TX |
| Phillips Petroleum | Houston | TX |
| Phillips Petroleum | Old Ocean | TX |
| PHILLIPS PETROLEUM | BORGER | TX |
| Phillips Petroleum Co | Borger | TX |
| Phillips Petroleum Co | Pasadena | TX |
| PHILLIPS PETROLEUM CO | PHILLIPS | TX |
| PHILLIPS PETROLEUM CO | CRANE | TX |
| PHILLIPS PETROLEUM CO – DUMAS HELIUM PLANT | DUMAS | TX |
| Phillips Petroleum Co. | Borger | TX |
| Phillips Petroleum Co. | Sweeney | TX |
| PHILLIPS PETROLEUM CO. | ODESSA | TX |
| PHILLIPS PETROLEUM CO. | ETTER | TX |
| PHILLIPS PETROLEUM CO. | GOLDSMITH | TX |
| PHILLIPS PETROLEUM CO. | GRUVER | TX |
| PHILLIPS PETROLEUM CO. | OLD OCEAN | TX |
| PHILLIPS PETROLEUM CO. | ORANGE | TX |
| PHILLIPS PETROLEUM CO. | ALVIN | TX |
| PHILLIPS PETROLEUM COMPAN | PASADENA | TX |
| Phillips Petroleum Company | Old Ocean | TX |
| Phillips Petroleum Company | Pasadena | TX |
| PHILLIPS PETROLEUM COMPANY | HOUSTON | TX |
| PHILLIPS PETROLEUM COMPANY | DUMAS | TX |
| PHILLIPS PETROLEUM COMPANY | ECHO | TX |
| PHILLIPS PETROLEUM COMPANY | GOLDSMITH | TX |
| PHILLIPS PETROLEUM COMPANY | SWEENY | TX |
| PHILLIPS PETROLEUM COMPANY | RANKIN | TX |
| PHILLIPS PETROLEUM COMPANY | CRANE | TX |
| PHILLIPS PETROLEUM COMPANY | MCCAMEY | TX |
| PHILLIPS PETROLEUM COMPANY | MCGREGOR | TX |
| PHILLIPS PETROLEUM COMPANY | DEER PARK | TX |
| PHILLIPS PETROLEUM COMPANY | PHILLIPS | TX |
| PHILLIPS PETROLEUM COMPANY | BORGER | TX |
| PHILLIPS PETROLEUM COMPANY – ALVIN PLNT | MANVEL | TX |
| PHILLIPS PETROLEUM COMPANY – BAYOU PLANT | ALVIN | TX |
| PHILLIPS PETROLEUM COMPANY – GAS PLANT | CRANE | TX |
| PHILLIPS PETROLEUM COMPANY – GOLDSMITH GASOLINE PLANT | GOLDSMITH | TX |
| PHILLIPS PETROLEUM COMPANY – PEMBROOK GASOLINE PLANT | RANKIN | TX |
| PHILLIPS PETROLEUM COMPANY – SHERMAN HELIUM PLANT | GRUVER | TX |
| PHILLIPS PETROLEUM COMPANY – SWEENY REFINERY | OLD OCEAN | TX |
| PHILLIPS PETROLEUM COMPANY – SWEENY REFINERY | SWEENY | TX |
| PHILLIPS PETROLEUM COMPANY – SWEENY REFINERY UNIT 15 | OLD OCEAN | TX |
| PHILLIPS PETROLEUM COMPANY – SWEENY REFINERY UNIT 18 | SWEENY | TX |
| PHILLIPS PETROLEUM COMPANY – SWEENY REFINERY UNIT 20 | SWEENY | TX |
| PHILLIPS PETROLEUM COMPANY – UNION CARBIDE CHEMICAL CO. | HOUSTON | TX |
| PHILLIPS PETROLEUM COMPANY – UNIT #14 | OLD OCEAN | TX |
| Phillips Petroleum Company ? San Bernard Terminal | Sweeny | TX |
| PHILLIPS PETROLEUM CORPORATION | PASADENA | TX |
| Phillips Petroleum Refinery | Phillips | TX |
| Phillips Petroleum Refinery | Stamford | TX |
| Phillips Petroleum Refinery Plant | Pasadena | TX |
| Phillips Petroleum Refinery Plant | Old Ocean | TX |
| PHILLIPS PHILBLACK CARBON BLACK PLANT | Borger | TX |
| PHILLIPS PHILTEX EXPERIMENT STATION | BORGER | TX |
| Phillips Plant | Houston/Pasadena | TX |
| Phillips Refinery | Chocolate Bayou | TX |
| Phillips Refinery | Freeport | TX |
| PHILLIPS REFINERY | PASADENA | TX |
| Phillips Refining – Old Ocean | Sweeney | TX |
| PHILLIPS RESEARCH | BORGER | TX |
| PHILLIPS SPRABERRY COMPRESSOR | MIDLAND | TX |
| PHILLIPS SPRABERRY COMPRESSOR STATION | MIDLAND | TX |
| PHILLIPS-SPRABERRY COMPRESSOR STATION | MIDLAND | TX |
| PHOBOS | HOUSTON | TX |
| Phosphate Chemical Co | Pasadena | TX |
| Phosphate Chemical Co. | Houston | TX |
| PHOTO LAB | AUSTIN | TX |
| Pierce McCarson | Varnon | TX |
| PILGRIM LAUNDRY | HOUSTON | TX |
| Pillar & Parks | Odessa | TX |
| Pinnacle Construction Co. | Houston | TX |
| PIONEER FLOUR MILLS | SAN ANTONIO | TX |
| PIONEER INDUSTRIAL COMPANY | PASADENA | TX |
| Pioneer Natural Gas Co | Pecos | TX |
| PIONEER OIL AND REFINING COMPANY | SOMERSET | TX |
| PIPE LINE DEPARTMENT | SOUR LAKE | TX |
| PIPING ENGINEERING CO | WICHITA FALLS | TX |
| PIPING ENGINEERING CO | WITCHITA FALLS | TX |
| PITTMAN TEAM TRACK | DALLAS | TX |
| Pittsburgh Plate & Glass | La Porte | TX |
| PITTSBURGH PLATE GLASS | CORPUS CHRISTI | TX |
| PITTSBURGH PLATE GLASS CO – CHEMICAL DIVISION | CORPUS CHRISTI | TX |
| Pittsburgh Plate Glass Company | Houston | TX |
| PITTSBURGH PLATE GLASS COMPANY | BEAUMONT | TX |
| PITTSBURGH PLATE GLASS COMPANY | HASKELL | TX |
| PITTSBURGH PLATE GLASS COMPANY | CORPUS CHRISTI | TX |
| PLAINS CO-OPERATIVE OIL MILL | LUBBOCK | TX |
| PLAINS COTTON COOPERATIVE ASSOCIATION | NEW BRAUNFELS | TX |
| PLAINS COTTON COOPERATIVE ASSOCIATION | LITTLEFIELD | TX |
| PLAINVIEW COTTON OIL COMPANY | PLAINVIEW | TX |
| Plant X Power Plant, Southwestern Public Service | Earth | TX |
| PLANTERS AND MERCHANTS MILLS | BRAUMFELS | TX |
| PLEASANT HILL ELEMENTARY SCHOOL | AUSTIN | TX |
| PLOTNER STODDARD IRRIGATION COMPANY | BAY CITY | TX |
| POCO GRAPHITE | GARLAND | TX |
| POINT COMFORT OPERATIONS | POINT COMFORT | TX |
| POINT COMFORT, TEXAS | POINT COMFORT | TX |
| POLARIS TRADER | HOUSTON | TX |
| POLARUS CARRIER | HOUSTON | TX |
| POLARUS TRADER | HOUSTON | TX |
| POLICE TRAINING FACILITY – 5900 B HIGHLAND PASS | AUSTIN | TX |
| Pollard Methodist Church | Tyler | TX |
| POLLOCK PAPER CORPORATION | DALLAS | TX |
| POLLUTION FLIMINATION PRO | TYLER | TX |
| Pontiac Refinery | Corpus Christi | TX |
| PONTIAC REFINING | CORPUS CHRISTI | TX |
| Pontiac Refining Corp. | Corpus Christi | TX |
| PORT ARTHUR LIGHT AND POWER COMPANY | PORT ARTHUR | TX |
| PORT ARTHUR PLANT – CAUSTIC REGENERATOR TOWER | PORT ARTHUR | TX |
| PORT ARTHUR PLANT, CAUSTIC REGENERATOR TOWER | PORT ARTHUR | TX |
| Port Arthur Plumbing | Port Arthur | TX |
| PORT ARTHUR REFINERY | PORT ARTHUR | TX |
| PORT ARTHUR REFINERY | WEST PORT ARTHUR | TX |
| PORT ARTHUR RICE AND IRRIGATION COMPANY | NEDERLAND | TX |
| PORT ARTHUR RICE MILLING COMPANY | PORT ARTHUR | TX |
| PORT ARTHUR WATER COMPANY – POWER PLANT | PORT ARTHUR | TX |
| Port Fuel Co. | Brownsville | TX |
| PORT HOUSTON IRON WORKS SHIPYARD | HOUSTON | TX |
| Port Iron & Supply | Port Arthur | TX |
| PORT LAVACA ICE, LIGHT AND POWER COMPANY | PORT LAVACA | TX |
| Port Marine & Dry Dock | Brownsville | TX |
| Port Neches Refinery | Port Neches | TX |
| PORT OF GALVESTON | GALVESTON | TX |
| Port of Beaumont | Beaumont | TX |
| Port of Galveston | Galveston | TX |
| Port of Houston | Houston | TX |
| PORTER JUNIOR HIGH SCHOOL | AUSTIN | TX |
| PORTLAND GASOLINE COMPANY – GAS PLANT | PAMPA | TX |
| POST LAUNDRY | SAN ANTONIO | TX |
| POST OFFICE | SAN ANTONIO | TX |
| POST OFFICE | SAN JACINTO | TX |
| POST POWER COMPANY | POST (GARZA COUNTY) | TX |
| POSTEX COTTON MILLS | POST | TX |
| POSTEX COTTON MILLS, INCORPORATED | POST | TX |
| POWELL EQUIPMENT CO | HOUSTON | TX |
| Power Plant | Corpus Christi | TX |
| Power Plant | San Benito | TX |
| POWER PLANT | BRYAN | TX |
| Power Plant / Lower Colorado River Authority | Bastrop | TX |
| POWER PLANT EXPANSION JOB | GRAND PRAIRIE | TX |
| POWER STATION #2 | TEXAS CITY | TX |
| POWER SYSTEMS ENGINEERING, INCORPORATED | LA PORTE | TX |
| POWERHOUSE | KEMAH | TX |
| POWERHOUSE SIDING | BROWNSVILLE | TX |
| PPG | Corpus Christi | TX |
| PPG | La Porte | TX |
| PPG Industries | Beaumont | TX |
| PPG INDUSTRIES | CORPUS CHRISTI | TX |
| PPG Industries Corpus | Christi | TX |
| PPG Industries Inc. – Metropolitan Sales Office | Corpus Christi | TX |
| PPG INDUSTRIES INCORPORATED – LAWRENCE DRIVE PLANT | CORPUS CHRISTI | TX |
| PPG Industries/Pittsburgh Plate Glass | Corpus Christi | TX |
| PPG Refinery | Corpus Christi | TX |
| Prairie Pipeline Co. | Whited | TX |
| PRAIRIE VIEW UNIVERSITY | PRAIRIE VIEW | TX |
| PRATT (USS) | ORANGE | TX |
| Precision Insulating Co. | Houston | TX |
| Precision Insulation | Brownwood | TX |
| Precision Insulation | Corpus Christi | TX |
| Precision Insulation | Diboll | TX |
| Precision Insulation | Houston | TX |
| Precision Insulation Co Inc | Houston | TX |
| PRECISION INSULATION CO., INC. | HOUSTON | TX |
| Precision Insulation Company | Houston | TX |
| PRECISION METAL MOLDING | HOUSTON | TX |
| PREMCOR REFINING GROUP | PORT ARTHUR | TX |
| PREMIER OIL & REFINING CO. | FORT WORTH | TX |
| Premier Oil Refining Co. | Willow Springs | TX |
| PREMIER OIL REFINING COMPANY | FORT WORTH | TX |
| Presbyterian Hospital | Dallas | TX |
| PRESBYTERIAN HOSPITAL OF DALLAS | DALLAS | TX |
| PRESBYTERIAN PROF BUILDING | DALLAS | TX |
| PRESLEY (USS) | ORANGE | TX |
| PRESS CENTER | SAN ANTONIO | TX |
| PRIDE REFINING | ABILENE | TX |
| PRIDE REFINING COMPANY | ABILENE | TX |
| Pride Refining, Inc. | Abilene | TX |
| Pritchard Company/Bariod Division | Channelview | TX |
| Pro/Con Inc. | Houston | TX |
| Procon / McMurray Refinery Co. | Tyler | TX |
| Procter & Gamble Mfg. Company | Dallas | TX |
| PROCTER AND GAMBLE COMPANY | DALLAS | TX |
| PROCTER AND GAMBLE MANUFACTURING COMPANY | DALLAS | TX |
| Proctor & Gamble | Dallas | TX |
| Proctor & Gamble Corporation | Dallas | TX |
| PROCTOR & GAMBLE MFG CO | DALLAS | TX |
| Producers Grain Company | Amarillo | TX |
| Proler Steel | Houston | TX |
| PROLER STEEL PLANT | HOUSTON | TX |
| Providence Hospital | El Paso | TX |
| Prudential Building | Houston | TX |
| PRUDENTIAL BUILDING – HOLCOMBE BOULEVARD | HOUSTON | TX |
| Pruitt Co. | Houston | TX |
| Public Service Works | San Antonio | TX |
| Pulaski Iron & Metal | Houston | TX |
| Pure Oil | Nederland | TX |
| Pure Oil / Union Oil / Unocal | Mohave | TX |
| Pure Oil / Union Oil / Unocal Beaumont Terminal | Nederland | TX |
| Pure Oil Co | Nederland | TX |
| PURE OIL CO | SMITHS BLUFF | TX |
| PURE OIL CO SMITHS BLUFF REFR | NEDERLAND | TX |
| Pure Oil Company | Nederland | TX |
| Pure Oil Company | Smiths Bluff | TX |
| PURE OIL COMPANY | ANDREWS COUNTY | TX |
| PURE OIL COMPANY REFINERY | SMITHS BLUFF | TX |
| PURE OIL REFINERY | NEDERLAND | TX |
| Quadrangle job | Dallas | TX |
| QUAITY ELECTRIC STEEL CASTINGS – STEEL FOUNDRY | HOUSTON | TX |
| QUAKER OATS | DALLAS | TX |
| QUAKER OATS COMPANY | DALLAS | TX |
| QUALITY ELECTRIC STEEL CASTING PLANT | HOUSTON | TX |
| QUALITY INSULATION, INC. | TYLER | TX |
| QUANTUM CHEMICAL | PORT ARTHUR | TX |
| QUEENS INTERMEDIATE SCHOOL | PASADENA | TX |
| R C LE TOURNAL CO | LONGVIEW | TX |
| R C LE TOURNEAU CO | LONGVIEW | TX |
| R E LEE ELEMENTARY SCHOOL | AUSTIN | TX |
| R G LE TOURNEAU CO | LONGVEIW | TX |
| R G LE TOURNEAU CO | LONGVIEW | TX |
| R M WILLIAMSON | HOUSTON | TX |
| R. E. MILLER POWER PLANT | MINERAL WELLS | TX |
| R. W. MILLER POWER PLANT | MINERAL WELLS | TX |
| R.C. OWEN COMPANY | GALLATIN | TX |
| R.G. LeTourneau- Munitions Division | Longview | TX |
| R.W. SMITH PETROLEUM BUILDING | HOUSTON | TX |
| Radar Domes | Odessa | TX |
| Radian Corp. | Austin | TX |
| RAINBOW | HOUSTON | TX |
| Rainbow Baking Company | Waco | TX |
| RAINTREE APARTMENTS | DALLAS | TX |
| RALPH MOORELAND RESIDENCE | AUSTIN | TX |
| RAMADA INN | SAN ANTONIO | TX |
| RAMSEY STEEL COMPANY | EL PASO | TX |
| RANDLE W. MILLER POWER PLANT | PALO PINTO | TX |
| RANDOLPH AIR FORCE BASE | SAN ANTONIO | TX |
| RANDOLPH AIR FORCE BASE – AIR CONDITIONING FACILITY | SAN ANTONIO | TX |
| RANDOLPH AIR FORCE BASE – AIRMEN`S DORMITORY | SAN ANTONIO | TX |
| RANDOLPH AIR FORCE BASE – BUILDING 100 – WEST BASEMENT | SAN ANTONIO | TX |
| RANDOLPH AIR FORCE BASE – BUILDING 112 | SAN ANTONIO | TX |
| RANDOLPH AIR FORCE BASE – BUILDING 235 | SAN ANTONIO | TX |
| RANDOLPH AIR FORCE BASE – BUILDING 499 – COMPUTER ROOM | SAN ANTONIO | TX |
| RANDOLPH AIR FORCE BASE – BUILDING 499-A | SAN ANTONIO | TX |
| RANDOLPH AIR FORCE BASE – BUILDING 500 | SAN ANTONIO | TX |
| RANDOLPH AIR FORCE BASE – BUILDING 581 | SAN ANTONIO | TX |
| RANDOLPH AIR FORCE BASE – BUILDING 661K | SAN ANTONIO | TX |
| RANDOLPH AIR FORCE BASE – BUILDING 76 | SAN ANTONIO | TX |
| RANDOLPH AIR FORCE BASE – BUILDING 900 | SAN ANTONIO | TX |
| RANDOLPH AIR FORCE BASE – BUILDINGS 200 & 584 | SAN ANTONIO | TX |
| RANDOLPH AIR FORCE BASE – COMMUNICATIONS CENTER | SAN ANTONIO | TX |
| RANDOLPH AIR FORCE BASE – CRASH STATION | SAN ANTONIO | TX |
| RANDOLPH AIR FORCE BASE – DORMITORIES | SAN ANTONIO | TX |
| RANDOLPH AIR FORCE BASE – EXCHANGE SHOPPING CENTER | SAN ANTONIO | TX |
| RANDOLPH AIR FORCE BASE – FACILITY #6 | SAN ANTONIO | TX |
| RANDOLPH AIR FORCE BASE – HANGAR #40 | SAN ANTONIO | TX |
| RANDOLPH AIR FORCE BASE – HAZARDOUS MATERIAL STORAGE FACILITIES 228 & 229 | SAN ANTONIO | TX |
| RANDOLPH AIR FORCE BASE – INSPECTION FACILITY | SAN ANTONIO | TX |
| RANDOLPH AIR FORCE BASE – MAINTENANCE BUILDINGS | SAN ANTONIO | TX |
| RANDOLPH AIR FORCE BASE – MAJOR COMMAND | SAN ANTONIO | TX |
| RANDOLPH AIR FORCE BASE – MAJOR COMMAND – BUILDING 746 | SAN ANTONIO | TX |
| RANDOLPH AIR FORCE BASE – MAJOR COMMAND – BUILDING 959 | SAN ANTONIO | TX |
| RANDOLPH AIR FORCE BASE – MAJOR COMMAND – BUILDING 962 | SAN ANTONIO | TX |
| RANDOLPH AIR FORCE BASE – MICROFILM FACILITY – BUILDING 499 | SAN ANTONIO | TX |
| RANDOLPH AIR FORCE BASE – OFFICE QUARTERS | SAN ANTONIO | TX |
| RANDOLPH AIR FORCE BASE – YOUTH CENTER | SAN ANTONIO | TX |
| RANDOLPH AIR FORCE BASE, HANGAR 73 | RANDOLPH AIR FORCE BASE | TX |
| Ray Beaudet Baptist Church | Tyler | TX |
| RAY OLINGER PLANT | NEVADA | TX |
| RAY OLINGER PLANT – UNIT 2 | NEVADA | TX |
| RAY OLINGER PLANT – UNIT 3 | NEVADA | TX |
| RAY OLINGER POWER PLANT | LAVON | TX |
| RAY TAYLOR, INCORPORATED | DALLAS | TX |
| RAYBESTOS DIVISION | DALLAS | TX |
| Raylock | Stephenville | TX |
| RAYMOND (USS) | ORANGE | TX |
| RAYMOND INTERNATIONAL | MT. PLEASANT | TX |
| RC DANSBY POWER STEAM PLANT – UNIT 1 | BRYAN | TX |
| REBUILDERS INC | GARLAND | TX |
| REBUS MANUFACTURING | LINGVIEW | TX |
| RED BARN CHEMICAL | FREEPORT | TX |
| Red Raider Inn | Lubbock | TX |
| Red River Army Depot | Texarkana | TX |
| Red River Arsenal | Texarkana | TX |
| RED RIVER ORDNANCE DEPOT | HOOKS | TX |
| REED ROLLER BIT COMPANY | HOUSTON | TX |
| Reed Roller Co. | Houston | TX |
| Reed Roller Company | Houston | TX |
| REED ROLLER COMPANY – BIT PLANT | HOUSTON | TX |
| Reed Tool | Houston | TX |
| Reed Tool Company | Houston | TX |
| REED TOOL PLANT | HOUSTON | TX |
| Reed Tools | Houston | TX |
| Reed, Baker, Camco Roller Bit Oilfield Tools Plant | Houston | TX |
| REED-NAKER-CAMBO OILFIELD TOOLS PLANT (ROLLER BIT) | HOUSTON | TX |
| Reese Air Force Base | Lubbock | TX |
| Refinery | Big Spring | TX |
| Refinery Engineering Company | Arkansas City | TX |
| Refractories Supply Co | Dallas | TX |
| Refractory Construction, Inc. | Pasadena | TX |
| Refrigeration Service Co. | Galveston | TX |
| Reichhold Chemical Company | Greens Bayou | TX |
| Reichhold Chemical, Inc.- Greens Bayou Plant | Houston | TX |
| REICHHOLD CHEMICALS INCORPORATED – FARM ROAD 1325 | AUSTIN | TX |
| REILLY TAR & CHEMICAL CO | LONE STAR | TX |
| RELIANCE CLAY PRODUCTS | LINDALE | TX |
| RELIANT ENERGY | RICHMOND | TX |
| Reliant Energy (see also Houston Lighting & Power Company) | Houston | TX |
| RELIANT ENERGY H.L. AND P. | BACLIFF | TX |
| RELIANT ENERGY H.L. AND P. | MALAKOFF | TX |
| RELIANT ENERGY H.L. AND P. | WEBSTER | TX |
| RELIANT ENERGY, INCORPORATED | BACLIFF | TX |
| RELIANT ENERGY, INCORPORATED | BAYTOWN | TX |
| RELIANT ENERGY, INCORPORATED | PASADENA | TX |
| RELIANT ENERGY, INCORPORATED | THOMPSONS | TX |
| Replacement Parts Co. | Pearland | TX |
| REPUBLIC ALUMINUM | RICHARDSON | TX |
| Republic Bank Building | Dallas | TX |
| REPUBLIC BOX COMPANY | HOUSTON | TX |
| REPUBLIC NATIONAL BANK – TOWER II | DALLAS | TX |
| REPUBLIC NATIONAL BANK BUILDING | DALLAS | TX |
| REPUBLIC OIL REFINERY | TEXAS CITY | TX |
| Republic Tower Building | Dallas | TX |
| REPUBLIC TRANSCON INC | DALLAS | TX |
| REPUBLIC TRANSCON INDUSTRIES | DALLAS | TX |
| RESTLAND MEMORIAL | DALLAS | TX |
| RESTLAND MEMORIAL PARK | DALLAS | TX |
| REX STEAM LAUNDRY INC. | GALVESTON | TX |
| Rexall Chemical | Odessa | TX |
| REXALL CHEMICAL CO | ODESSA | TX |
| REXALL CHEMICAL COMPANY | ODESSA | TX |
| Rexall Drug Chemical / El Paso Natural Gas / El Paso Products / El Paso Polyolefins / Rexene / Dart Industries / Huntsman Polymers | Odessa | TX |
| Rexene / Dart Industries / Huntsman Polymers / Rexall Drug Chemical / El Paso Natural Gas / El Paso Products / El Paso Polyolefins | Odessa | TX |
| Reynolds | Ingleside | TX |
| Reynolds Aluminum | Gregory | TX |
| Reynolds Aluminum | Port Comfort | TX |
| Reynolds Aluminum | San Patricio | TX |
| Reynolds Aluminum | Ingleside | TX |
| Reynolds Aluminum | Houston | TX |
| Reynolds Metal | Gregory | TX |
| REYNOLDS METAL | INGLESIDE | TX |
| REYNOLDS METAL CO | GREGORY | TX |
| Reynolds Metal Co. | Gregory | TX |
| REYNOLDS METAL COMPANY, SHERWIN PLANT | INGLESIDE | TX |
| Reynolds Metals | Corpus Christi | TX |
| Reynolds Metals | Ingleside | TX |
| Reynolds Metals | Gregory | TX |
| Reynolds Metals – Vessels, equipment, ducts, | Gregory | TX |
| REYNOLDS METALS CO | CORPUS CHRISTI | TX |
| REYNOLDS METALS CO. (SHERWIN PLANT) | GREGORY | TX |
| Reynolds Metals Company | Gregory | TX |
| REYNOLDS METALS COMPANY | CORPUS CHRISTI | TX |
| REYNOLDS METALS COMPANY | GREGARY | TX |
| REYNOLDS METALS COMPANY – SAN PATRICIO PLANT | GREGORY | TX |
| REYNOLDS METALS COMPANY – SHERWIN PLANT | GREGORY | TX |
| REYNOLDS METALS COMPANY – SHERWIN PLANT | GREGORY/CORPUS CHRISTI BAY | TX |
| REYNOLDS METALS COMPANY – SHERWIN PLANT – ROUNDOUT #2 | GREGORY | TX |
| REYNOLDS METALS COMPANY – SHERWIN PLANT #33 | GREGORY | TX |
| REYNOLDS METALS COMPANY, SHERWIN PLANT | GREGORY | TX |
| REYNOLDS METALS COMPANY, SHERWIN PLANT #33 | GREGORY | TX |
| REYNOLDS METALS COMPANY, SHERWIN PLANT, ROUNDOUT #2 | GREGORY | TX |
| REYNOLDS METALS- SAN PATRICIO PLANT | GREGORY | TX |
| Reynolds Sherwin Plant | Corpus Christi | TX |
| RHEEM MANUFACTUIRING PLANT | HOUSTON | TX |
| RHODIA INCORPORATED | FREEPORT | TX |
| Rhom & Hass | Deer Park | TX |
| Rhom & Hass | Houston | TX |
| RHONE POULENC | FREEPORT | TX |
| RICE DRIER | BAY CITY | TX |
| RICE HOTEL | HOUSTON | TX |
| RICE HOTEL LAUNDRY | HOUSTON | TX |
| RICE INSTITUTE | HOUSTON | TX |
| RICHARD M. ROWELL (USS) | HOUSTON | TX |
| RICHARD S. BULL (USS) | HOUSTON | TX |
| RICHARD S. EWELL | HOUSTON | TX |
| RICHARD W. SUESENS (USS) | ORANGE | TX |
| RICHARDSON COMPANY | TYLER | TX |
| Richardson High School | Richardson | TX |
| Richmond Foundry | Richmond | TX |
| RIDER HIGH SCHOOL | WICHITA FALLS | TX |
| RIDGETOP SCHOOL – 5005 CASWELL | AUSTIN | TX |
| RIDGMAR MALL – NEIMAN MARCUS DEPARTMENT STORE | FORT WORTH | TX |
| RIDGMAR MALL – SEARS ROBUCK COMPANY | FORT WORTH | TX |
| RIO GR. VALLEY SUGAR | WESLACO | TX |
| RIO GRANDE POWER PLANT | EL PASO | TX |
| Rio Grande Valley Sugar Association | La Villa & Santa Rose | TX |
| Rio Pecos Power Plant | Girvin | TX |
| RIO VALLEY CANNING COMPANY, INCORPORATED | DONNA | TX |
| RIOVALLEY SUGAR | SANTA ROSA | TX |
| River Oaks Apartments | Houston | TX |
| RIVERCREST POWER PLANT | BOGATA | TX |
| Robert A. Braux | Houston | TX |
| Robert B. Green Hospital | San Antonio | TX |
| ROBERT BRAZIER (USS) | ORANGE | TX |
| ROBERT E. LEE HIGH SCHOOL | BAYTOWN | TX |
| ROBERT F. KELLER (USS) | HOUSTON | TX |
| ROBERT T HILL | HOUSTON | TX |
| ROBERT WATCHORN | HOUSTON | TX |
| Roberts Alloy Welding Corp. | Houston | TX |
| ROBIN'S NEST APARTMENTS – HOT WELLS BOULEVARD | SAN ANTONIO | TX |
| Robinson Generating Plant | Bacliff | TX |
| Robinson Generating Plant | Galveston County | TX |
| Robinson Generating Plant | San Leon | TX |
| ROBINSON INDUSTRIES | MARSHALL | TX |
| ROBINSON INSULATION COMPANY | AMARILLO | TX |
| ROCHE NEWTON AND CO. | SAN ANGELO | TX |
| ROCK ISLAND – SOUTHWOOD SIDING | FORT WORTH | TX |
| ROCK TENN COMPANY | DALLAS | TX |
| ROCKET FUELS DIVISION | MCGREGOR | TX |
| ROCKETDYNE | MCGREGOR | TX |
| ROCKETDYNE DIVISION | MCGREGOR | TX |
| ROCK-TENN | DIMMITT | TX |
| ROCK-TENN CORPORATION | DALLAS | TX |
| ROCKWELL MANUFACTURING COMPANY | SULPHUR SPRINGS | TX |
| ROEGELIN PROVISION | SAN ANTONIO | TX |
| ROHM HAAS | DEER PARK | TX |
| Rohm & Haas | Houston | TX |
| Rohm & Haas | La Porte | TX |
| Rohm & Haas | Pasadena | TX |
| Rohm & Haas | Deer Park | TX |
| Rohm & Haas | Deerpark | TX |
| Rohm & Haas | Harris County | TX |
| Rohm & Haas / String Drygood (Does not include R&H Bayport Plant in LaPorte, TX – 1982) | Deer Park | TX |
| Rohm & Haas Chemical Plant | La Porte | TX |
| Rohm & Haas Chemical Plant | Deer Park | TX |
| Rohm & Haas Co. | Deer Park | TX |
| ROHM & HAAS CO. – B-2 PROJECT | DEER PARK | TX |
| ROHM & HAAS CO. – HOUSTON PLANT | DEER PARK | TX |
| ROHM & HAAS CO. – N-3 PROCESS UNIT | DEER PARK | TX |
| ROHM & HAAS CO. – P PROCESS AREA | DEER PARK | TX |
| Rohm & Haas Company | Houston | TX |
| Rohm & Haas Company | LaPorte | TX |
| Rohm & Haas Company | Deer Park | TX |
| ROHM AND HAAS | DEER PARK | TX |
| ROHM AND HAAS | HOUSTON | TX |
| ROHM AND HAAS COMPANY | DEER PARK | TX |
| ROHM AND HAAS COMPANY | HOUSTON | TX |
| ROHM AND HAAS COMPANY | BAYPORT | TX |
| ROHM AND HAAS TEXAS INCORPORATED | DEER PARK | TX |
| ROHM AND HAAS TEXAS INCORPORATED | LA PORTE | TX |
| ROLAND C. DANSBY POWER PLANT | BRYAN | TX |
| ROLF (USS) | ORANGE | TX |
| ROLLING HILLS ESTATES | FT. WORTH | TX |
| ROMBACH (USS) | ORANGE | TX |
| Root Petroleum Co. | El Dorado | TX |
| ROSA VERDE MEDICAL FACILITY – 343 WEST HOUSTON | SAN ANTONIO | TX |
| ROSEDALE ELEMENTARY SCHOOL | SAN ANTONIO | TX |
| ROSEWOOD ZARAGOZA | AUSTIN | TX |
| ROUND ROCK HIGH SCHOOL | ROUND ROCK | TX |
| ROUND TREE APARTMENTS – VANCE JACKSON ROAD | SAN ANTONIO | TX |
| ROVER | HOUSTON | TX |
| ROYAL NATIONAL BANK BUILDING | DALLAS | TX |
| RPM Inc. | Stephenville | TX |
| RPM INCORPORATED | BELLAIRE | TX |
| RUBBER SYNTHETICS PLANT | PORT NECHES | TX |
| RUBBER SYNTHETICS PLANT, B.F. GOODRICH AND COMPANY | PORT NECHES | TX |
| RUBEROID COMPANY | DALLAS | TX |
| RUFUS CHOATE | HOUSTON | TX |
| RUNBURGE LANE SCHOOL | AUSTIN | TX |
| Rusk State Hospital | Rusk | TX |
| RUSK STATE HOSPITAL | NORTH RUSK | TX |
| RUSK STATE HOSPITAL – BUILDINGS 509 & 510 & 527 | RUSK | TX |
| RUSSELL R. JONES | HOUSTON | TX |
| Rusty Cunningham Plumbing | Wichita Falls | TX |
| Ryder Industries Inc. | Dallas | TX |
| S & W INSULATORS | ODESSA | TX |
| S P SHED NO 19 | CORPUS CHRISTI | TX |
| S W PORTLAND CEMENT CO | DOURO | TX |
| S W RESEARCH – BUILDING 90 | SAN ANTONIO | TX |
| S& R Oil | Houston | TX |
| S&R Tool & Supply Co | Houston | TX |
| S. RICHARDSON | ODESSA | TX |
| S.E. TEXAS METALS | BUNA | TX |
| S.O.P. INC. C/O ARCO CHEMICAL | CHANNELVIEW | TX |
| S.S. CYCLONE | HOUSTON | TX |
| S.S. GREEN HARBOUR | HOUSTON | TX |
| S.S. GREENDALE | HOUSTON | TX |
| S.S. HONG KONG | HOUSTON | TX |
| S.S. JOHN C. | HOUSTON | TX |
| S.S. JUGAR | HOUSTON | TX |
| S.S. LETO | HOUSTON | TX |
| S.S. OCEANIC WAVE | HOUSTON | TX |
| S.S. PERRYVILLE | HOUSTON | TX |
| S.S. RAMBAM | DEER PARK | TX |
| S.S. TELAMON | HOUSTON | TX |
| S.S. TRANSASIA | HOUSTON | TX |
| S.S. WASHINGTON CARRIER | PASADENA | TX |
| S.S. WEST WIND | HOUSTON | TX |
| Saber Refining | Corpus Christi | TX |
| SABINE | HOUSTON | TX |
| Sabine Industries | Orange | TX |
| Sabine Industries | Houston | TX |
| Sabine Industries | Texas City | TX |
| SABINE INDUSTRIES, INC. | WEST ORANGE | TX |
| SABINE INDUSTRIES, INC. | TEXAS CITY | TX |
| SABINE INDUSTRIES, INC. | ORANGE | TX |
| SABINE INDUSTRIES, INC. | HOUSTON | TX |
| Sabine Insulation | Port Arthur | TX |
| SABINE INSULATION | ORANGE | TX |
| Sabine Insulation Co | Orange | TX |
| Sabine Insulation Company | Orange | TX |
| Sabine Insulation Company Inc. | Orange | TX |
| SABINE INSULATION PLANT | ORANGE | TX |
| SABINE POWER PLANT | BRIDGE CITY | TX |
| SABINE RIVER WORKS | ORANGE | TX |
| Sabine Towing | Port Arthur | TX |
| SAFEWAY | AUSTIN | TX |
| Safeway Grocery Chain Store | Big Spring | TX |
| SAFEWAY STORES | DENISON | TX |
| SAFEWAY STORES, INCORPORATED | DENISON | TX |
| SAINT ANNS | KOSCIUSKO | TX |
| SAINT ANTHONY CENTER – ALMEDA ROAD | HOUSTON | TX |
| SAINT BENEDICTS CONVENT – FARD ROAD | SAN ANTONIO | TX |
| SAINT DAVID`S COMMUNITY HOSPITAL | AUSTIN | TX |
| SAINT DAVID`S HOSPITAL | AUSTIN | TX |
| SAINT JOHN`S METHODIST CHURCH | AUSTIN | TX |
| SAINT JOHNS SCHOOL – 910 EAST SAINT JOHNS AVENUE | AUSTIN | TX |
| SAINT JOSEPH PROFESSIONAL BUILDING | HOUSTON | TX |
| SAINT JOSEPH`S PROFESSIONAL BUILDING | HOUSTON | TX |
| SAINT MARY`S UNIVERSITY – LAW LIBRARY – 2700 CINCINNATI AVENUE | SAN ANTONIO | TX |
| SAINT PAUL MEDICAL CENTER – 5909 HARRY HINES BLVD | DALLAS | TX |
| SAINT TERESA`S PARISH | AUSTIN | TX |
| SAINT TERESAS PARISH | AUSTIN | TX |
| SALINE WATER CONVERSION PLANT | FREEPORT | TX |
| Sam Berton Power Plant | Deer Park | TX |
| Sam Bertron Plant | Strang | TX |
| SAM GIDEON RESIDENCE – 3401 PERRY LANE | AUSTIN | TX |
| SAM GIDEON STEAM POWER PLANT | BASTROP | TX |
| SAM HOUSTON | HOUSTON | TX |
| Sam Houston State University | Huntsville | TX |
| SAM P WALLACE & COMPANY – 400 TOWER PETROLEUM BUILDING | DALLAS | TX |
| SAM P. WALLACE & COMPANY, 400 TOWER PETROLEUM BUILDING | DALLAS | TX |
| SAMUEL B. ROBERTS (USS) | HOUSTON | TX |
| SAMUEL GRIFFIN | HOUSTON | TX |
| SAMUEL LIVERMORE | HOUSTON | TX |
| SAMUEL M. WALKER | HOUSTON | TX |
| SAN ANGELO WATER WORKS COMPANY – WATER WORKS | SAN ANGELO | TX |
| SAN ANGELO WATER, LIGHT AND POWER COMPANY – POWER PLANT | SAN ANGELO | TX |
| San Antonio Aviation Cadet Center | San Antonio | TX |
| SAN ANTONIO CCORPORATION – COMPUTER ROOM | SAN ANTONIO | TX |
| SAN ANTONIO CHEST HOSPITAL | SAN ANTONIO | TX |
| San Antonio City Water | San Antonio | TX |
| SAN ANTONIO COLLEGE – NURSING EDUCATION BUILDING – 1454 GARDINA | SAN ANTONIO | TX |
| SAN ANTONIO COMMUNITY HOSPITAL – FLOYD CURL DRIVE | SAN ANTONIO | TX |
| SAN ANTONIO CONVENTION CENTER | SAN ANTONIO | TX |
| SAN ANTONIO FAIR ASSOCIATION | SAN ANTONIO | TX |
| SAN ANTONIO GAS AND ELECTRIC COMPANY – POWER PLANT | SAN ANTONIO | TX |
| SAN ANTONIO HOSPITAL – WARD BUILDINGS | SAN ANTONIO | TX |
| SAN ANTONIO INDEPENDENT SCHOOL DISTRICT – LAVACA STREET | SAN ANTONIO | TX |
| SAN ANTONIO INDEPENDENT SCHOOL DISTRICT – MAIN OFFICE – BOILER ROOM | SAN ANTONIO | TX |
| SAN ANTONIO MACHINE AND SUPPLY COMPANY | SAN ANTONIO | TX |
| SAN ANTONIO MILITARY MEDICAL CENTER – CENTRAL PLANT | SAN ANTONIO | TX |
| SAN ANTONIO PORT CEMENT COMPANY | CEMENTVILLE | TX |
| San Antonio Public Service Board | San Antonio | TX |
| SAN ANTONIO PUBLIC SERVICE COMPANY | NEW BRAUNFELS | TX |
| SAN ANTONIO PUBLIC SERVICE COMPANY | SAN ANTONIO | TX |
| SAN ANTONIO PUBLIC SERVICE COMPANY – STATION B | SAN ANTONIO | TX |
| SAN ANTONIO SEWER PIPE WORKS | SASPAMCO | TX |
| SAN ANTONIO STATE CHEST HOSPITAL | SAN ANTONIO | TX |
| SAN ANTONIO STATE HOSPITAL | SAN ANTONIO | TX |
| SAN ANTONIO STREET RAILWAY COMPANY | SAN ANTONIO | TX |
| San Antonio Theater | | TX |
| SAN ANTONIO WATER SUPPLY COMPANY – WATER WORKS PLANT | SAN ANTONIO | TX |
| SAN BENITO LAND & WATER COMPANY – PUMPING PLANT | SAN BENITO | TX |
| SAN DOMINGO LAND AND IRRIGATION COMPANY | SAM FORDYCE | TX |
| SAN FRANCISCO STEAK HOUSE | SAN ANTONIO | TX |
| SAN GIDDEON POWER PLANT | AUSTIN | TX |
| SAN JACINTO BUILDING | HOUSTON | TX |
| SAN JACINTO BUILDING | BEAUMONT | TX |
| San Jacinto Chemical CO | Channelview | TX |
| San Jacinto Chemical Corp | Houston | TX |
| San Jacinto Gas | Port Arthur | TX |
| San Jacinto Gas | Carthage | TX |
| San Jacinto Gas Plant | Port Acres | TX |
| SAN JACINTO RICE COMPANY | GALVESTON | TX |
| San Jacinto Tower Building | Dallas | TX |
| SAN MIGUEL ELECTRIC COOP INC – POWER PLANT | CHRISTINE | TX |
| SANCHEZ ELEMENTARY SCHOOL | AUSTIN | TX |
| SANTA ANNA TILE CO | SANTA ANNA | TX |
| SANTA FE RAILROAD SITES | TEMPLE | TX |
| SANTA FE RAILROAD SITES | SHERMAN | TX |
| SANTA FE RAILROAD SITES | LUBBUCK | TX |
| SANTA FE RAILROAD SITES | HOUSTON | TX |
| SANTA FE RAILROAD SITES | FORT WORTH | TX |
| SANTA FE RAILROAD SITES | CLEBURNE | TX |
| SANTA FE RAILROAD SITES | BAUMONT | TX |
| SANTA FE RAILROAD SITES | AMARILLO | TX |
| SANTA FE TERMINAL BUILDING | DALLAS | TX |
| SANTA FE TIE AND LUMBER PRESERVING COMPANY | SOMERVILLE | TX |
| SANTA ROSA MEDICAL CENTER – DAY CARE CENTER – 200 NORTH SAN SABA | SAN ANTONIO | TX |
| SANTONE IMPROVEMENT COMPANY | SAN ANTONIO | TX |
| SARGENT GULF STATES INCIN | HOUSTON | TX |
| Sargent Sowell | Grand Prairie | TX |
| SAVILLE BAKER BRICK CO | LEESBURG | TX |
| SAXET CARBONIC CO. | HOUSTON | TX |
| SCHIELD INSUL CO | SAN ANGELO | TX |
| SCHIELD INSULATION CO. | SAN ANGELO | TX |
| Schlitz Brewery /Stroh | Longview | TX |
| SCHLITZ WAREHOUSE – JONES STREET | GONZALES | TX |
| Schlumberger Technology | Houston | TX |
| Schlusberger Well Surveying Co. | Houston | TX |
| Schnee Morehead Chemical. | Irving | TX |
| SCHULENBERG COMPRESS AND WAREHOUSE COMPANY | SCHULENBURG | TX |
| SCIENTIFIC DEVELOPMENT COMPANY INCORPORATED | BAYPORT | TX |
| Scott & White Hospital | Temple | TX |
| SCOTT AND WHITE HOSPITAL | TEMPLE | TX |
| SCOTT AND WHITE HOSPITAL – NURSES DORM | TEMPLE | TX |
| SCOTTISH RITE DORMITORY | AUSTIN | TX |
| Sea Garden Sales Shipyard | Brownsville | TX |
| SEABOARD TRANSPORTATION AND SHIPPING COMPANY | GALVESTON | TX |
| SEARS & ROEBUCK | HOUSTON | TX |
| SEARS & ROEBUCK – CENTRAL PARK STORE | SAN ANTONIO | TX |
| SEARS ROEBUCK & COMPANY | DALLAS | TX |
| SEARS ROEBUCK SHOPPING CENTER | WICHITA FALLS | TX |
| Sears Warehouse | Dallas | TX |
| Sears, Roebuck & Company | Ft. Worth | TX |
| SEARS, ROEBUCK AND COMPANY | DALLAS | TX |
| SEASTAR | HOUSTON | TX |
| SECURITY ENGINEERING | DALLAS | TX |
| SECURITY ENGINEERING DIV | DALLAS | TX |
| SECURITY ENGINEERS | DALLAS | TX |
| SECURITY OIL COMPANY | BEAUMONT | TX |
| SECURITY OIL COMPANY | CHAISON | TX |
| SEIBERLING RUBBER COMPANY | GARLAND | TX |
| Sejita Gas Plant / Trinity Gas | Sejita | TX |
| Selas Constructors | Houston | TX |
| SELAS CONSTRUCTORS INC | HOUSTON | TX |
| Sentry Steel & Wire Co. | Houston | TX |
| Sepco Metallic Gasket | Houston | TX |
| SEQUIN TELEPHONE EXCHANGE – 403 SOUTH RIVER STREET | SEGUIN | TX |
| SERVICE FABRICATORS | HOUSTON | TX |
| SGT GULF STATES INCIN | HOUSTON | TX |
| Shahan Painting | Dallas | TX |
| SHAMROCK COMPANY OIL COMPANY | DUMAS | TX |
| SHAMROCK HILTON | HOUSTON | TX |
| SHAMROCK HOTEL | HOUSTON | TX |
| Shamrock Oil & Gas | Sunray | TX |
| SHAMROCK OIL & GAS – MCKEE REFINERY | SUNRAY | TX |
| Shamrock Oil & Gas Company | Sheerin | TX |
| Shamrock Oil & Gas Company | Sunray | TX |
| SHAMROCK OIL & GAS CORP | AMARILLO | TX |
| SHAMROCK OIL & GAS CORP – GASOLINE/MCKEE PLANTS | SHEERIN/SUNRAY | TX |
| SHAMROCK OIL & GAS CORP – GASOLINE/MCKEE PLANTS (a/k/a Diamond Shamrock) | SHEERIN | TX |
| SHAMROCK OIL & GAS CORP. | SUNRAY | TX |
| SHAMROCK OIL & GAS CORP. | SHEERIN | TX |
| SHAMROCK OIL & GAS CORP. – MCKEE PLANT | SUNRAY | TX |
| Shamrock-Hilton Hotel | Houston | TX |
| SHANNON GENERAL HOSP | SAN ANGELO | TX |
| SHANNON GENERAL HOSPITAL | SAN ANGELO | TX |
| SHANNON WEST TEXAS MEMORIAL HOSPITAL | SAN ANGELO | TX |
| Sharpstown Mall | Houston | TX |
| SHAVER BOILER | FORT WORTH | TX |
| SHAVER BOILER & EQUIPMENT CO. | FORT WORTH | TX |
| SHEARER HILLS BAPTIST CHURCH | SAN ANTONIO | TX |
| SHEFFIELD STEEL CORP. OF TEXAS (Div. Of Armco Steel Corp.) | HOUSTON | TX |
| Sheffield Steel Mill | Houston | TX |
| Sheffield Steel Mill a/k/a Armco Steel | Green Baylou | TX |
| Sheffield Steel Mill a/k/a Armco Steel | Houston | TX |
| Sheffield Steel of Texas | Houston | TX |
| Shell | Houston | TX |
| Shell Cement | Houston | TX |
| Shell Chemical | Pasadena | TX |
| Shell Chemical | Deer Park | TX |
| Shell Chemical | Houston | TX |
| SHELL CHEMICAL – DEER PARK PLANT | DEER PARK | TX |
| SHELL CHEMICAL CO | DEER PARK | TX |
| Shell Chemical Co. | Deer Park | TX |
| Shell Chemical Co., | Deer Park | TX |
| SHELL CHEMICAL COMPANY | DEER PARK | TX |
| SHELL CHEMICAL COMPANY | HOUSTON | TX |
| SHELL CHEMICAL CORP. | HOUSTON | TX |
| Shell Chemical Corporation | Deer Park | TX |
| Shell Chemical Plant | Deer Park | TX |
| Shell Chemical Plant | Houston | TX |
| Shell Chemical Plant | Pasadena | TX |
| Shell Development Co | Bellaire | TX |
| Shell Development Co. | Houston | TX |
| Shell Oil | Deer Park | TX |
| Shell Oil | Bryans Mill | TX |
| Shell Oil | Houston | TX |
| SHELL OIL | PASADENA | TX |
| SHELL OIL | SHERDIAN | TX |
| SHELL OIL – BRYANS MILL PLANT | BRYANS MILL | TX |
| Shell Oil – Houston Refinery, Two Storage | Houston | TX |
| SHELL OIL & CHEMICAL REFINERY | DEER PARK | TX |
| Shell Oil / Shell Chemical | Atlanta | TX |
| Shell Oil / Shell Chemical | Brownsville | TX |
| Shell Oil / Shell Chemical | Deer Park | TX |
| Shell Oil / Shell Chemical | Houston | TX |
| Shell Oil / Shell Chemical | Rio Grande City | TX |
| Shell Oil / Sheridan Gas Plant | Sheridan | TX |
| SHELL OIL CO | ODESSA | TX |
| SHELL OIL CO | DEER PARK | TX |
| SHELL OIL CO – DEER PARK PLANT | DEER PARK | TX |
| SHELL OIL CO. | DEER PARK | TX |
| Shell Oil Company | Deer Park | TX |
| Shell Oil Company | Houston | TX |
| Shell Oil Company | Douglassville | TX |
| Shell Oil Company | Douglasville | TX |
| Shell Oil Company | Odessa | TX |
| Shell Oil Company | Sheridan | TX |
| Shell Oil Company | La Reforma | TX |
| SHELL OIL COMPANY | KARNES CITY | TX |
| SHELL OIL COMPANY – HARRIS COUNTY | DEER PARK | TX |
| SHELL OIL COMPANY – HOUSTON REFINERY | HOUSTON | TX |
| SHELL OIL COMPANY – HOUSTON REFINERY | DEER PARK | TX |
| SHELL OIL COMPANY – LARGE OUTDOOR TANK | HOUSTON | TX |
| SHELL OIL COMPANY – LUBE PLANT | DEER PARK | TX |
| SHELL OIL COMPANY – POWER PLANT NBR 2 | DEER PARK | TX |
| SHELL OIL COMPANY HOUSTON REFINERY – PARAXYLENE OFFSITE UNIT | DEER PARK | TX |
| Shell Oil Company- The Bellaire Technology Center | Houston | TX |
| SHELL OIL COMPANY, HARRIS COUNTY | DEER PARK | TX |
| SHELL OIL COMPANY, HOUSTON REFINERY | HOUSTON | TX |
| SHELL OIL COMPANY, INCORPORATED | DEER PARK | TX |
| SHELL OIL COMPANY, LARGE OUTDOOR TANK | HOUSTON | TX |
| Shell Oil- Person Gas Plant | Hobson | TX |
| Shell Oil- Person Plant | Karnes County | TX |
| Shell Oil Refinery | Sheridan | TX |
| Shell Oil Refinery | Deer Park | TX |
| SHELL OIL REFINERY & CHEMICAL PLANT | DEER PARK | TX |
| SHELL OIL, DEER PARK MANUFACTURING COMPLEX, HWY. 225 & CENTER ST., P.O. BOX 100 | DEER PARK | TX |
| SHELL OIL, HWY. 225 | DEER PARK | TX |
| SHELL PETROLEUM COMPANY | HOUSTON | TX |
| Shell Pipe Line Corp. – Oil Tanks | Houston | TX |
| SHELL PIPE LINE CORPORATION | DENVER CITY | TX |
| Shell Refinery | Deer Park | TX |
| Shell Refinery | Pasadena | TX |
| SHELTON (USS) | HOUSTON | TX |
| SHEPARD AIR FORCE BASE | SHEPPARD AFB | TX |
| SHEPPARD AIR FORCE BASE | Wichita Co. | TX |
| SHEPPARD GEIGER COMPANYNSTRUCTION COMPANY | CORPUS CHRISTI | TX |
| SHERATON-LINCOLN CORPORATION | HOUSTON | TX |
| SHERATON-LINCOLN HOTEL AND OFFICE BUILDING – POLK STREET | HOUSTON | TX |
| Sheridan Gas Plant / Shell Oil | Sheridan | TX |
| SHERMAN CHAMBER FOUNDATION, INCORPORATED | SHERMAN | TX |
| SHERMAN MANUFACTURING | SHERMAN | TX |
| SHERMAN MANUFACTURING COMPANY | SHERMAN | TX |
| Sherwin Alumina Plant | Gregory | TX |
| SHERWIN ALUMINA, LP | GREGORY | TX |
| Sherwin Aluminum | Gregory | TX |
| SHINER COMPRESS & WAREHOUSE | SHINER | TX |
| SHINTECH, INCORPORATED | FREEPORT | TX |
| SHOAL CREEK OFFICE BUILDING | AUSTIN | TX |
| SHOP | Beaumont | TX |
| SHU CHEM HOLDINGS, INCORPORATED | MANVEL | TX |
| Sid Richardson Carbon Black | Bud Springs | TX |
| SID RICHARDSON CARBON CO | FT WORTH | TX |
| SID RICHARDSON SPUR – NEXT TO FLOOD GATE | TEXAS CITY | TX |
| Sid-Richardson Gasoline Co. | Kermitt | TX |
| Signal Chemical Co. | Bayport | TX |
| SIGNAL OIL & GAS | HOUSTON | TX |
| SIGNAL OIL & GAS CO | HOUSTON | TX |
| SIGNAL OIL & GAS CO – DOOR NBR 3 | HOUSTON | TX |
| Signal Oil And Gas | Houston | TX |
| SIGNAL OIL AND GAS COMPANY | HOUSTON | TX |
| SIGNAL OIL COMPANY | HOUSTON | TX |
| Signal Oil Refinery | Houston | TX |
| Sim Gideon Power Plant | Bastrop | TX |
| SIMMS OIL COMPANY | HARRYS | TX |
| SIMMS OIL COMPANY | WEST DALLAS | TX |
| SIMON PAPER | PASADENA | TX |
| Simpson Paper | Pasadena | TX |
| SIMPSON PAPER COMPANY | PASADENA | TX |
| SIMPSON PASADENA PAPER | PASADENA | TX |
| SIMS BAYON SLUDGE TREATMENT | EAST CHICAGO | TX |
| SIMS ELEMENTARY SCHOOL | AUSTIN | TX |
| Sincair Petrochemicals | Channelview | TX |
| Sinclair (see also ARCO) | Corpus Christi | TX |
| Sinclair (see also ARCO) | Houston | TX |
| Sinclair (see also ARCO) | Pasadena | TX |
| Sinclair (see also ARCO) | Pledger | TX |
| SINCLAIR ATLANTIC-RICHFIELD (ARCO) OIL REFINERY | PASADENA | TX |
| Sinclair Koppers | Houston | TX |
| Sinclair Koppers | Pasadena | TX |
| Sinclair Koppers | Port Arthur | TX |
| SINCLAIR KOPPERS CHEMICAL | HOUSTON | TX |
| Sinclair Koppers Chemicals | Passadena | TX |
| SINCLAIR KOPPERS CO | WILLIAMS | TX |
| SINCLAIR KOPPERS CO. | PORT ARTHUR | TX |
| SINCLAIR KOPPERS COMPANY | PORT ARTHUR | TX |
| SINCLAIR LOPPER CO | WILLIAMS | TX |
| Sinclair Oil | Pasadena | TX |
| Sinclair Oil | White Oak | TX |
| SINCLAIR OIL & GAS CO. | HULLDALE | TX |
| SINCLAIR OIL AND GAS COMPANY | HENDERSON | TX |
| Sinclair Oil Co. | Channelview | TX |
| Sinclair Oil Co. | Pasadena | TX |
| SINCLAIR OIL CORPORATION | HULLDALE | TX |
| Sinclair Oil Refinery | Corpus Christi | TX |
| Sinclair Oil Refinery | Houston | TX |
| Sinclair Petrochemical Co | Pasadena | TX |
| Sinclair Petrochemical Co. | Channelview | TX |
| Sinclair Petrochemical, Inc. | Houston | TX |
| Sinclair Petrochemicals | Channelview | TX |
| SINCLAIR PETROCHEMICALS | CHANNEL VIEW | TX |
| Sinclair Petrochemicals Inc | Houston | TX |
| SINCLAIR PRAIRIE OIL COMPANY | TAFT | TX |
| Sinclair Refinery | Corpus Christi | TX |
| Sinclair Refinery | Deer Park | TX |
| SINCLAIR REFINERY | PASADENA | TX |
| SINCLAIR REFINERY – HOUSTON REFINERY | HOUSTON | TX |
| Sinclair Refining | Houston | TX |
| Sinclair Refining Co | Pasadena | TX |
| Sinclair Refining Co. | Corpus Christi | TX |
| Sinclair Refining Co. | Houston | TX |
| SINCLAIR REFINING CO. | PASADENA | TX |
| SINCLAIR REFINING COMPANY | HOUSTON | TX |
| SINCLAIR REFINING COMPANY | PASADENA | TX |
| SINCLAIR REFINING CORPORATION | CORPUS CHRISTI | TX |
| Sinclair Refractory | Houston | TX |
| SINCLAIR RUBBER COMPANY | HOUSTON | TX |
| SINCLAIR RUBBER INC. (a/k/a Petro-Tex Chemical Corp.) | HOUSTON | TX |
| Sinclair Rubber, Inc. | Houston | TX |
| SINCLAIR-COPPERS CHEMICAL PLANT | HOUSTON | TX |
| SINCLAIR-KOPPERS – CHEMICAL MANUFACTURING PLANT | PORT ARTHUR | TX |
| Sinclair-Koppers Chemical Plant | Beaumont | TX |
| Sinclair-Koppers Co. | Port Arthur | TX |
| SINCLAIR-KOPPERS COMPANY (a/k/a Arco/Polymers) – WILLIAMS PLANT | PORT ARTHUR | TX |
| Sinclair-Koppers Plant | Houston | TX |
| SKAGGS DRUGS | ARLINGTON | TX |
| SKAGGS DRUGS CENTERS INC | DALLAS | TX |
| Skelly Oil Company | Longview | TX |
| Skelly Oil Company | Pampa | TX |
| Skelly Oil Refinery | Kilgore | TX |
| Slaughter Gas Plant | Sundown | TX |
| SMITH AND WHITNEY | DALLAS | TX |
| SMITH ELEMENTARY SCHOOL | AUSTIN | TX |
| Smith Steel | Marshall | TX |
| SMITH STEEL CASTINGS CO | MARSHALL | TX |
| Smith-Douglas Co | Texas City | TX |
| Smithers Lake Power Plant Siding | Smithers Lake (fort Bend County) | TX |
| SMITHVILLE HIGH SCHOOL | SMITHVILLE | TX |
| SMU | Dallas | TX |
| Socony / Mobil | Houston | TX |
| SOCONY MOBIL OIL CO | BEAUMONT | TX |
| SOLO SERVE STORE | AUSTIN | TX |
| SOLTEX POLYMER | DEER PARK | TX |
| SOLTEX POLYMERS | DEER PARK | TX |
| SOMMERS DRUG COMPANY | SAN ANTONIO | TX |
| SONIC DRIVE-IN | SAN ANTONIO | TX |
| Sorority House, 25th & Seton | Austin | TX |
| SOUTH AUSTIN RECREATION CENTER | AUSTIN | TX |
| South Petroleum | Fort Worth | TX |
| SOUTH PLAINS PIPE LINE COMPANY | AMARILLO | TX |
| SOUTH PLAINS PIPE LINE COMPANY | SOUTH PLAINS SWITCH | TX |
| SOUTH TEX CORP | BANQUETE | TX |
| SOUTH TEXAS CANCER RADIATION TREATMENT CENTER | SAN ANTONIO | TX |
| SOUTH TEXAS NUCLEAR GENERATING STATION | BAY CITY | TX |
| SOUTH TEXAS NUCLEAR PROJECT ELECTRIC GENERATION STATION | BAY CITY | TX |
| SOUTH WEST TEXAS STATE UNIVERSITY – NATATORIUM | SAN MARCOS | TX |
| SOUTH WEST TEXAS STATE UNIVERSITY – SCIENCE CENTER & WOMENS GYMNASIUM | SAN MARCOS | TX |
| SOUTH WEST TEXAS STATE UNIVERSITY – WOMEN`S RESIDENCE | SAN MARCOS | TX |
| SOUTHEAST RESEARCH | SAN ANTONIO | TX |
| Southern Alkali | Corpus Christi | TX |
| Southern Alkali Corp. | Corpus Christi | TX |
| SOUTHERN ALKALI CORPORATION | CORPUS CHRISTI | TX |
| SOUTHERN ALUMINUM | TYLER | TX |
| SOUTHERN ALUMINUM FOUNDRY | TYLER | TX |
| SOUTHERN BAPTIST HOSPITAL | NEW ORLEANS | TX |
| SOUTHERN BAPTIST HOSPITAL | NEW ORLEANS | TX |
| Southern Canning | Highlands | TX |
| SOUTHERN CLAY PRODUCERS | GONZALES | TX |
| SOUTHERN CLAY PRODUCTS | GONZALES | TX |
| SOUTHERN FRALLING COMPANY | FT. WORTH | TX |
| SOUTHERN ICE AND UTILITIES COMPANY – ICE PLANT | PARIS | TX |
| SOUTHERN LEAD CO | DALLAS | TX |
| Southern Methodist University | Dallas | TX |
| Southern Methodist University Powerhouse | Dallas | TX |
| SOUTHERN METHODIST UNIVERSITY, STANLEY PATTERSON HALL | DALLAS | TX |
| Southern Minerals | Corpus Christi | TX |
| SOUTHERN PACIFIC COMPANY | EL PASO | TX |
| SOUTHERN PACIFIC COMPANY | SAN ANTONIO | TX |
| SOUTHERN PACIFIC LINES | HOUSTON | TX |
| SOUTHERN PACIFIC LINES | SAN ANTONIO | TX |
| SOUTHERN PACIFIC RAILROAD | EL PASO | TX |
| SOUTHERN PACIFIC RAILROAD COMPANY | HOUSTON | TX |
| SOUTHERN PACIFIC RAILROAD FACILITY | EL PASO | TX |
| SOUTHERN PACIFIC ROUNDHOUSE | HOUSTON | TX |
| SOUTHERN PACIFIC SHED NO 19 | CORPUS CHRISTI | TX |
| SOUTHERN PACIFIC TERMINAL COMPANY | GALVESTON | TX |
| Southern Paper Mill | Sheldon | TX |
| Southern Paper Mills | Sheldon | TX |
| SOUTHERN PAPER MILLS INC – HOUSTON PLANT | SHELDON | TX |
| Southern Paperboard Co. | El Paso | TX |
| Southern Petrochemical Plant | Channelview | TX |
| SOUTHERN PINE LUMBER (a/k/a TEMPLE LUMBER) | DIBOLL | TX |
| SOUTHERN PINE LUMBER CO | PINELAND | TX |
| SOUTHERN PRODUCING COMPANY | HOUSTON | TX |
| SOUTHERN PRODUCTION CO | PLEDGER | TX |
| SOUTHERN PRODUCTION COMPANY | DANCIGER | TX |
| SOUTHERN SALT COMPANY | GRAND SALINE | TX |
| SOUTHERN SHIPPERS WAREHOUSE | HOUSTON | TX |
| SOUTHERN SHIPPERS WHSE – DOOR 7 AND DOOR 8 | HOUSTON | TX |
| SOUTHERN STEEL | SAN ANTONIO | TX |
| Southern Stevedoring | Houston | TX |
| SOUTHERN TIE AND TIMBER TREATING COMPANY | TEXARKANA | TX |
| SOUTHLAND PAPER | LUFKIN | TX |
| Southland Paper Co. | Herty | TX |
| Southland Paper Co. | Houston | TX |
| Southland Paper Co. | Lufkin | TX |
| Southland Paper Co. | Sheldon | TX |
| Southland Paper Mill | Evadale | TX |
| Southland Paper Mill | Lufkin | TX |
| Southland Paper Mills | Herty | TX |
| Southland Paper Mills | Lufkin | TX |
| Southland Paper Mills | Prosser | TX |
| SOUTHLAND PAPER MILLS COMPANY | SHELDON | TX |
| SOUTHLAND PAPER MILLS INC | LUFKIN | TX |
| SOUTHLAND PAPER MILLS INC. | LUFKIN | TX |
| Southland Paper Mills, Inc. (see also Champion Paper Co.) | Houston | TX |
| Southland Paper Mills, Inc. (see also Champion Paper Co.) | Lufkin | TX |
| Southland Paper Mills, Inc. (see also Champion Paper Co.) | Pasadena | TX |
| SOUTHLAND PAPER MILLS, INCORPORATED | LUFKIN | TX |
| SOUTHLAND PAPER MILLS, INCORPORATED | SHELDON | TX |
| Southland Papermill | Houston | TX |
| Southland Papermill | Sheldon | TX |
| SOUTHLAND TIRE AND RUBBER COMPANY | FT. WORTH | TX |
| SOUTHLAND/INTERNATIONAL/CHAMPION PAPERMILL | LUFKIN | TX |
| Southline Metal Products Co | Houston | TX |
| SOUTHPORT PETROLEUM COMPANY | KILGORE | TX |
| SOUTHPORT PETROLEUM COMPANY – TEXAS CITY REFINERY | TEXAS CITY | TX |
| SOUTHWEST AIRMOTIVE | DALLAS | TX |
| SOUTHWEST CHEMICAL & PLASTICS PLANT | DEER PARK | TX |
| Southwest Chemical and Plastics Plant | Seabrook | TX |
| Southwest Chemical Plant | La Porte | TX |
| Southwest Chemicals | Seabrook | TX |
| Southwest Fab & Welding Shop | Houston | TX |
| Southwest Fabricating & Welding | Houston | TX |
| SOUTHWEST FABRICATING AND W | HOUSTON | TX |
| Southwest Laboratories | Dallas | TX |
| SOUTHWEST METHODIST HOSPITAL | SAN ANTONIO | TX |
| SOUTHWEST OILFIELD | HOUSTON | TX |
| SOUTHWEST PUBLIC SERVICE | POSEY | TX |
| SOUTHWEST PUBLIC SERVICE COMPANY – PLANT X – UNIT 4 | EARTH | TX |
| SOUTHWEST RESEARCH | SAN ANTONIO | TX |
| SOUTHWEST RESEARCH INSTI | SAN ANTONIO | TX |
| SOUTHWEST RESEARCH INSTIT | SAN ANTONIO | TX |
| SOUTHWEST RESEARCH INSTITUTE | SAN ANTONIO | TX |
| SOUTHWEST RESEARCH INSTITUTE – AUTOMOTIVE TEST BUILDING | SAN ANTONIO | TX |
| SOUTHWEST RESEARCH INSTITUTE – BUILDING 131 – COLEBRA BOULEVARD | SAN ANTONIO | TX |
| SOUTHWEST RESEARCH INSTITUTE – BUILDING 75 | SAN ANTONIO | TX |
| SOUTHWEST RESEARCH INSTITUTE – BUILDING 90 | SAN ANTONIO | TX |
| SOUTHWEST RESEARCH INSTITUTE – ENGINE & CHEMICAL LABORATORY BUILDINGS | SAN ANTONIO | TX |
| SOUTHWEST RESEARCH INSTITUTE – ENGINE TEST CELL | SAN ANTONIO | TX |
| SOUTHWEST RESEARCH INSTITUTE – STRUCTURAL RESEARCH BUILDING | SAN ANTONIO | TX |
| SOUTHWEST TEXAS MEDICAL SCHOOL | SAN MARCOS | TX |
| SOUTHWEST TEXAS METHODIST HOSPITAL | SAN ANTONIO | TX |
| SOUTHWEST TEXAS METHODIST HOSPITAL – LOUIS PASTEUR ROAD | SAN ANTONIO | TX |
| SOUTHWEST TEXAS TEACHERS COLLEGE – EDUCATION BUILDING – L B JOHNSON STREET | SAN MARCOS | TX |
| Southwestern Refining | Corpus Christi | TX |
| SOUTHWESTERN BELL BLDGS. | HOUSTON | TX |
| SOUTHWESTERN BELL TELEPHONE BUILDING – 1010 TELEPHONE BOULEVARD | SAN ANTONIO | TX |
| SOUTHWESTERN BELL TELEPHONE COMPANY – OFFICE BUILDING – MARTIN & NAVARRO STREETS | SAN ANTONIO | TX |
| SOUTHWESTERN BELL TELEPHONE COMPANY – SERVICE STATION – 4119 BROADWAY | SAN ANTONIO | TX |
| SOUTHWESTERN ELECTRIC POWER CO | CASON | TX |
| SOUTHWESTERN ELECTRIC POWER CO – KNOX LEE POWER PLANT | Longview | TX |
| SOUTHWESTERN ELECTRIC POWER CO (a/k/a Southwestern Gas & Electric) – KNOX LEE | EASTON | TX |
| SOUTHWESTERN ELECTRIC POWER CO (a/k/a Southwestern Gas & Electric) – WILKES | JEFFERSON | TX |
| Southwestern Electric Power Co. | Abernathy | TX |
| Southwestern Electric Power Co. | Cason | TX |
| SOUTHWESTERN ELECTRIC POWER COMPANY – FRANK M. WILKES POWER PLANT | AVINGER | TX |
| SOUTHWESTERN ELECTRIC POWER COMPANY – FRANK M. WILKES POWER PLANT – UNIT 2 | AVINGER | TX |
| SOUTHWESTERN ELECTRIC POWER COMPANY – FRANK M. WILKES POWER PLANT – UNIT 3 | AVINGER | TX |
| SOUTHWESTERN ELECTRIC POWER COMPANY – H.W. PIRKEY POWER PLANT | HALLSVILLE | TX |
| SOUTHWESTERN ELECTRIC POWER COMPANY – KNOX LEE POWER PLANT | LONGVIEW | TX |
| SOUTHWESTERN ELECTRIC POWER COMPANY – LONE STAR POWER PLANT | LONE STAR | TX |
| SOUTHWESTERN ELECTRIC POWER COMPANY – PIRKEY POWER PLANT | HALLSVILLE | TX |
| SOUTHWESTERN ELECTRIC POWER COMPANY – WELSH POWER PLANT | PITTSBURG | TX |
| SOUTHWESTERN ELECTRIC POWER COMPANY – WELSH POWER PLANT | CASON | TX |
| SOUTHWESTERN ELECTRIC POWER COMPANY – WELSH POWER PLANT – UNIT 1 | PITTSBURG | TX |
| SOUTHWESTERN ELECTRIC POWER COMPANY – WELSH POWER PLANT – UNIT 2 | PITTSBURG | TX |
| SOUTHWESTERN ELECTRIC POWER COMPANY – WELSH POWER PLANT – UNIT 3 | PITTSBURG | TX |
| SOUTHWESTERN ELECTRIC POWER COMPANY- KNOX LEE POWER PLANT | LONGVIEW | TX |
| SOUTHWESTERN ELECTRIC POWER COMPANY- KNOX LEE POWER PLANT – UNIT 1 | LONGVIEW | TX |
| SOUTHWESTERN ELECTRIC POWER COMPANY- KNOX LEE POWER PLANT – UNIT 2 | LONGVIEW | TX |
| SOUTHWESTERN ELECTRIC POWER COMPANY- KNOX LEE POWER PLANT – UNIT 3 | LONGVIEW | TX |
| SOUTHWESTERN ENGINEERING | LAREDO | TX |
| SOUTHWESTERN FUEL COMPANY | CALVERT | TX |
| SOUTHWESTERN GAS & ELEC. CO. – KNOX LEE POWER PLANT | EASTON | TX |
| Southwestern Gas & Electric Co | Cherokee | TX |
| Southwestern Gas & Electric Co | Easton | TX |
| SOUTHWESTERN GAS & ELECTRIC CO | LAKE CHEROKEE | TX |
| Southwestern Gas & Electric Co. | Easton | TX |
| SOUTHWESTERN GAS & ELECTRIC COMPANY – KNOX LEE POWER PLANT | LONGVIEW | TX |
| SOUTHWESTERN GRAPHITE CO. | BURNET | TX |
| SOUTHWESTERN INSANE ASYLUM | SAN ANTONIO | TX |
| SOUTHWESTERN MOTOR TRANSPORT INCORPORATED | SAN ANTONIO | TX |
| SOUTHWESTERN OIL & REFINERY CO | CORPUS CHRISTI | TX |
| Southwestern Oil & Refining | Corpus Christi | TX |
| Southwestern Oil Refinery | Corpus Christi | TX |
| Southwestern Petroleum Co. | Fort Worth | TX |
| Southwestern Portland | Amarillo | TX |
| SOUTHWESTERN PORTLAND | ODESSA | TX |
| Southwestern Portland Cement | Odessa | TX |
| SOUTHWESTERN PORTLAND CEMENT | BUSHLAND | TX |
| SOUTHWESTERN PORTLAND CEMENT | AMARILLO | TX |
| Southwestern Portland Cement Co | Amarillo/Bushland | TX |
| Southwestern Portland Cement Co. | Bushland | TX |
| Southwestern Portland Cement Company | El Paso | TX |
| SOUTHWESTERN PORTLAND CEMENT PLANT | EL PASO | TX |
| SOUTHWESTERN POWER COMPANY | AMARILLO | TX |
| Southwestern Public Service | Amarillo | TX |
| SOUTHWESTERN PUBLIC SERVICE | BARGER | TX |
| SOUTHWESTERN PUBLIC SERVICE | JACKSVONILLE | TX |
| Southwestern Public Service Co | Borger | TX |
| SOUTHWESTERN PUBLIC SERVICE CO | DENVER CITY | TX |
| SOUTHWESTERN PUBLIC SERVICE CO – C.B. JONES | POSEY/LUBBOCK | TX |
| SOUTHWESTERN PUBLIC SERVICE CO – MOORE COUNTY | SUNRAY/DUMAS | TX |
| SOUTHWESTERN PUBLIC SERVICE CO – NICHOLS | AMARILLO | TX |
| SOUTHWESTERN PUBLIC SERVICE CO – PLANT X | AMHERST/EARTH | TX |
| Southwestern Public Service Co. | Abernathy | TX |
| SOUTHWESTERN PUBLIC SERVICE CO; HARRINGTON STATION, UNIT 3 | AMARILLO | TX |
| Southwestern Public Service Company | Abernathy | TX |
| Southwestern Public Service Company | Amarillo | TX |
| SOUTHWESTERN PUBLIC SERVICE COMPANY | LUBBOCK | TX |
| SOUTHWESTERN PUBLIC SERVICE COMPANY | AVINGER | TX |
| SOUTHWESTERN PUBLIC SERVICE COMPANY | AMHERST | TX |
| SOUTHWESTERN PUBLIC SERVICE COMPANY – C.B. JONES GENERATING STATION | LUBBOCK | TX |
| SOUTHWESTERN PUBLIC SERVICE COMPANY – C.B. JONES GENERATING STATION – UNIT 2 | LUBBOCK | TX |
| SOUTHWESTERN PUBLIC SERVICE COMPANY – NICHOLS GENERATING STATION – UNIT 3 | AMARILLO | TX |
| Southwestern Public Service Company (Plant X #2) | Amherst | TX |
| Southwestern Public Service Company ? Tolk Station | Muleshoe | TX |
| Southwestern Refinery | Corpus Christi | TX |
| SOUTHWESTERN SUPERIOR PRODUCTS | HOUSTON | TX |
| SOUTHWESTERN SUPERIOR PRODUCTS | ROUND ROCK | TX |
| SOUTHWESTERN TALC CORPORATION | LLANO | TX |
| SOUTHWESTERN UNIVERSITY – FINE ARTS BUILDING | GEORGETOWN | TX |
| SOUTHWOOD SIDING | FORT WORTH | TX |
| Spalding A K & Co | Dallas | TX |
| Spanish West Apartments, 809 W. Abrams | Arlington | TX |
| SPECIALTY SAND & REFRACTORIES | FORT WORTH | TX |
| SPECIALTY SAND & REFRACTORIES, INC. | FORT WORTH | TX |
| Spencer Chemical | Orange | TX |
| SPENCER CHEMICAL COMPANY | ORANGE | TX |
| SPENCER CHEMICAL COMPANY, DIVISION OF GULF OIL CORPORATION | ORANGE | TX |
| SPENCER CHEMICAL COMPANY, FOR EMERGENCY EXPORT CORPORATION | ETTER | TX |
| SPOETZEL BREWING COMPANY | SHINER | TX |
| SPRING BRANCH NURSING HOME | HOUSTON | TX |
| SPRING GARDEN APARTMENTS | DALLAS | TX |
| SPRUCE SQUARE APARTMENTS | DALLAS | TX |
| ST JOSEPH HOSPITAL | HOUSTON | TX |
| St. Anthony Hotel | San Antonio | TX |
| ST. ANTHONYS HOTEL | SAN ANTONIO | TX |
| ST. DAVID'S HOSPITAL | AUSTIN | TX |
| St. Elizabeth Hospital | Houston | TX |
| ST. ELIZABETH HOSPITAL | BEAUMONT | TX |
| ST. ELIZABTH HOSPITAL | BEAUMONT | TX |
| St. Gobain Abrasives | Stephenville | TX |
| ST. JOSEPH HOSPITAL | PARIS | TX |
| ST. JOSEPH HOSPITAL | FORT WORTH | TX |
| ST. JOSEPH PROFESSIONAL BUILDING | HOUSTON | TX |
| ST. LUKE'S HOSPITAL | HOUSTON | TX |
| St. Matthews Methodist | Houston | TX |
| ST. PAULS HOSPITAL | DALLAS | TX |
| St. Regis Paper Co. (see also Champion Paper Co.) | Houston | TX |
| St. Regis Paper Co. (see also Champion Paper Co.) | Lufkin | TX |
| St. Regis Paper Co. (see also Champion Paper Co.) | Pasadena | TX |
| St. Regis Paper Mill | Lufkin | TX |
| STAFFORD (USS) | HOUSTON | TX |
| STANDARD AMERICAN DREDGING COMPANY | GALVESTON | TX |
| Standard Asbestos | Lufkin | TX |
| STANDARD ASBESTOS MANUFACTURING & INSULATING CO. | RANGER | TX |
| STANDARD ASBESTOS MANUFACTURING & INSULATING CO. | BORGER | TX |
| STANDARD ASBESTOS MANUFACTURING & INSULATING CO. | DALLAS | TX |
| STANDARD ASBESTOS MANUFACTURING & INSULATING CO. | HOUSTON | TX |
| STANDARD ASBESTOS MANUFACTURING & INSULATING CO. | WEATHERFORD | TX |
| Standard Asbestos MFG & Insul | Borger | TX |
| Standard Asbestos Mfg. Co. | Borger | TX |
| STANDARD BRANDS – GUILBEAU STATION – PO BOX 9146 | SAN ANTONIO | TX |
| STANDARD DREDGING CORPORATION | GALVESTON | TX |
| STANDARD IRON WORKS | KILGORE | TX |
| Standard Oil | El Paso | TX |
| Standard Oil | Sweeney | TX |
| STANDARD OIL | BROWNSVILLE | TX |
| STANDARD OIL | RICHMOND | TX |
| STANDARD OIL | LEVELLAND | TX |
| STANDARD OIL – EL PASO REFINERY | EL PASO | TX |
| STANDARD OIL – GALVESTON BAY REFINERY | TEXAS CITY | TX |
| STANDARD OIL AND GAS COMPANY | HASTINGS | TX |
| STANDARD OIL CO OF TEXAS | EL PASO | TX |
| STANDARD OIL CO OF TX | SHERMAN | TX |
| Standard Oil Co. / AMOCO (American Oil Co.) | Alvin | TX |
| Standard Oil Co. / AMOCO (American Oil Co.) | Angleton | TX |
| Standard Oil Co. / AMOCO (American Oil Co.) – Chocolate Bayou | Angleton | TX |
| Standard Oil Co. / AMOCO (American Oil Co.) / Pan American Refining | Texas City | TX |
| STANDARD OIL COMPANY OF INDIANA | TEXAS CITY | TX |
| STANDARD OIL COMPANY OF TEXAS | EL PASO | TX |
| STANDARD OIL COMPANY OF TEXAS – El Paso Refinery | EL PASO | TX |
| STANDARD OIL COMPANY OF TEXAS – REFINERY | EL PASO | TX |
| Standard Oil of Texas | El Paso | TX |
| Standard Oil of Texas – Precipitator inlet duct | El Paso | TX |
| Standard Oil Refinery | Houston | TX |
| STANDARD SULPHUR COMPANY | NEEDVILLE | TX |
| STANDARD SULPHUR COMPANY | ROSENBERG | TX |
| Standco Inc | Houston | TX |
| Standco Industries | Houston | TX |
| Standco Supply Company | Houston | TX |
| Standish Oil Co. ? Phillips Petroleum Refinery | Borger | TX |
| Standolind Oil & Gas Refinery | Brownsville | TX |
| Stanolind Oil & Gas | Brownsville | TX |
| STANOLIND OIL & GAS CO | ODESSA | TX |
| STANOLIND OIL & GAS CO | SLAUGHTER FIELD | TX |
| Stanolind Oil & Gas Co. | Wink | TX |
| STANOLIND OIL & GAS COMPANY (Pan American Petroleum) | PETTUS/BURNELL | TX |
| STANOLIND OIL AND GAS COMPANY | ANDREWS COUNTY | TX |
| STANOLIND OIL AND GAS COMPANY | BROWNSVILLE | TX |
| STANOLIND OIL AND GAS COMPANY | PEARLAND | TX |
| STAR ENTERPRISE | PORT ARTHUR | TX |
| Star Enterprise / Texaco Refining | Port Arthur | TX |
| Star Insulation | Weatherford | TX |
| STAR INSULATION CO., INC. | ODESSA | TX |
| STATE BOARD OF CONTROL – BLDG. ENG. & MANAGEMENT DIV. – CAPITAL STATION | AUSTIN | TX |
| STATE BUILDING COMMISSION – TEXAS AUTO – 12TH & LAVACA | AUSTIN | TX |
| STATE CAPITOL BUILDING – SENATE OFFICES | AUSTIN | TX |
| STATE CAPTIAL – PHASE 2 | AUSTIN | TX |
| STATE DEPARTMENT MENTAL HEALTH | AUSTIN | TX |
| STATE FARM INSURANCE COMPANY – ROGGIE LANE & HIGHWAY 183 | AUSTIN | TX |
| STATE FINANCE BUILDING – 1613 CONGRESS AVENUE | AUSTIN | TX |
| STATE HOME FOR DEPENDENT AND NEGLECTED CHILDREN | WACO | TX |
| STATE HOSPITAL – ADMINISTRATION BUILDING | SAN ANTONIO | TX |
| STATE HOSPITAL – BUILDING 529 | SAN ANTONIO | TX |
| STATE LUNATIC ASYLUM | AUSTIN | TX |
| STATE TUBERCULOSIS SANITARIUM | CARLSBAD | TX |
| Statler Hilton Hotel | Dallas | TX |
| Stauffer Chemical | Freeport | TX |
| Stauffer Chemical | Houston | TX |
| Stauffer Chemical | Baytown | TX |
| STAUFFER CHEMICAL CO | FT WORTH | TX |
| Stauffer Chemical Co. | Baytown | TX |
| Stauffer Chemical Co. | Ft. Worth | TX |
| Stauffer Chemical Co. | Pasadena | TX |
| Stauffer Chemical Co. | Houston | TX |
| Stauffer Chemical Company | Houston | TX |
| STAUFFER CHEMICAL COMPANY (a/k/a Consolidated Chemical Industries) | BAYTOWN | TX |
| Stauffer Chemical- Haden Road Plant | Houston | TX |
| Stauffer Chemical Plant | Houston | TX |
| STAUFFER/RHONE POULENC | HOUSTON | TX |
| STEAMSHIP JEFFERSON CITY | HOUSTON | TX |
| Stearns-Rogers Manufacturing Co. | Driscoll | TX |
| STECK WARLICK COMPANY | AUSTIN | TX |
| STEPHEN C. FOSTER | HOUSTON | TX |
| STEPHEN F. AUSTIN | HOUSTON | TX |
| STEPHEN F. AUSTIN HOTEL | AUSTIN | TX |
| Stephen F. Austin State Office Building – Texas Water Development Board – 1700 Congress | Austin | TX |
| Stephenson School | Houston | TX |
| Sterling / Monsanto Chemical Co. | Texas City | TX |
| Sterling Chemical | Texas City | TX |
| STERLING CHEMICALS INCORPORATED | TEXAS CITY | TX |
| Sterling Faucet | Tyler | TX |
| STERLING FAUCET FOUNDRY | TYLER | TX |
| STERLING JUNIOR HIGH SCHOOL | HOUSTON | TX |
| Sterling Packing & Gasket | Houston | TX |
| Sterling Packing and Gasket Company | Houston | TX |
| STEVE`S SASH & DOOR | SAN ANTONIO | TX |
| Stevedore Union | Houston | TX |
| STEWART BUILDING MAT | TEXARKANA | TX |
| STEWART ELEMENTARY SCHOOL – 1950 RIGSBY AVENUE | SAN ANTONIO | TX |
| STEWART TITLE BUILDING | HOUSTON | TX |
| STITT SPARK PLUG CO | CONROE | TX |
| STOCKMANS – PHASE 1 – 409-415 EAST COMMERCE STREET | SAN ANTONIO | TX |
| Stockman's Cafe | San Antonio | TX |
| STOKELY FOODS INCORPORATED | DALLAS | TX |
| STONABER, INC. | HOUSTON | TX |
| STONE & WEBSTER | PORT ARTHUR | TX |
| STONE & WEBSTER AGTS. | EL PASO | TX |
| STONE WEBSTER ENGINEERING CORPORATION | CLEAR CREEK | TX |
| Storbeck Gregory & Dillard | Dallas | TX |
| STRAUS (USS) | HOUSTON | TX |
| String Drygood / Rohm & Haas (Does not include R&H Bayport Plant in LaPorte, TX – 1982) | Houston | TX |
| Stroh / Schlitz Brewery | Longview | TX |
| Strohs Brewery | Longview | TX |
| STRYKER CREEK | HOUSTON | TX |
| STRYKER CREEK JOB | HOUSTON | TX |
| STRYKER CREEK POWER PLANT | RUSK | TX |
| STSC – ALS BUILDING | SAN MARCOS | TX |
| Styrothane Inc | Freeport | TX |
| Styrothane Inc. | Freeport | TX |
| SUGARLAND INDUSTRIES | SUGAR LAND | TX |
| SULPHUR RIVER GATHERING | LONGVIEW | TX |
| SULPHURIC ACID PLANT | EL PASO | TX |
| Sun Oil | Corpus Christi | TX |
| Sun Oil / Sunoco / Suntide Refinery | Corpus Christi | TX |
| Sun Oil Co. | Houston | TX |
| SUN OIL CO. | SILVER | TX |
| Sun Oil Company | Longview | TX |
| SUN OIL COMPANY | DALLAS | TX |
| SUN OIL COMPANY | NEDERLAND | TX |
| SUN OIL COMPANY | BEAUMONT | TX |
| SUN OIL COMPANY – JAMESON PLANT | SILVER | TX |
| Sun Oil Plant | Nederland | TX |
| SUN OIL REFINERY | NEDERLAND | TX |
| SUN PIPE LINE COMPANY | BAYTOWN | TX |
| SUN PIPE LINE COMPANY | SABINE PASS | TX |
| SUN TIDE | CORPUS CHRISTI | TX |
| Sunoco / Suntide Refinery / Sun Oil | Corpus Christi | TX |
| Sunoco Terminals, Inc. | Nederland | TX |
| SUNRAY OIL CO. | ARANSAS PASS | TX |
| SUNRAY OIL CORP. – SUNRAY DOCK | ARKANSAS PASS | TX |
| SUNSET HIGH SCHOOL ADDITION | DALLAS | TX |
| SUNSHINE BISCUITS INC. | DALLAS | TX |
| SUNSHINE INDUSTRIES, INCORPORATED | SAN ANTONIO | TX |
| SUNSHINE LAUNDRY COMPANY | SAN ANTONIO | TX |
| SUNTIDE | CORPUS CHRISTI | TX |
| Suntide Oil Refinery | Houston | TX |
| Suntide Oil Refinery | Corpus Christi | TX |
| Suntide OilRefinery | Corpus Christi | TX |
| Suntide Refinery | Corpus Christi | TX |
| Suntide Refinery / Koch Refinery / Sun Oil / Sunoco | Corpus Christi | TX |
| SUNTIDE REFINING | CORPORATIONUS CHRISTI | TX |
| SUNTIDE REFINING CO | CORPUS CHRISTI | TX |
| SUNTIDE REFINING CO | VIOLA | TX |
| SUNTIDE REFINING CO. | CORPUS CHRISTI | TX |
| SUNTIOC REFINING CO | VIOLA | TX |
| Super Chick Restaurant | Galena Park | TX |
| Superior Boiler & Welding Co | Houston | TX |
| SUPERIOR OIL | CONROE | TX |
| SUPERIOR OIL – RECYCLING PLANT | LAKE CREEK | TX |
| SUPERIOR OIL (MOSTYN STATION) | CONROE | TX |
| SUPERIOR OIL CO | TOMBALL/CONROE | TX |
| SUPERIOR STANDARD MANUFACTURING COMPANY | FORT WORTH | TX |
| SUPERIOR WOODWORK CO. | SAN ANTONIO | TX |
| SUPERROCK INC | STREETMAN | TX |
| SW PORTLAND CEMENT | DOURO | TX |
| Swanson Plumbing- Mykawa Rd. Plant | Houston | TX |
| SWEENY REFINERY | SWEENY | TX |
| SWEPCO | AVINGER | TX |
| SWIFT AND COMPANY | FT. WORTH | TX |
| SWIFT AND COMPANY | HOUSTON | TX |
| SWIFT AND COMPANY | SAN ANTONIO | TX |
| SWIFT COMPANY | FT. WORTH | TX |
| SWIFT EDIBLE OIL PRODUCTS COMPANY | FT. WORTH | TX |
| SWIFT MEAT PACKING PLANT | SAN ANTONIO | TX |
| SWIFT PACKING COMPANY | EL PASO | TX |
| SWIFT PACKING COMPANY | SAN ANTONIO | TX |
| SWIM & TRIM | AUSTIN | TX |
| SWIM CLUB – MEADOW OAKS | SAN ANTONIO | TX |
| SWINDELL DRESSLER | BUTLER | TX |
| Sydney Lanier Junior High School | Houston | TX |
| SYNPOL REFINERY | PORT NECHES | TX |
| SYNPOL REFINERY | PORT ARTHUR | TX |
| SYSTEK FLIGHT TRAINING – 77ND & TURKEY RUN ROAD | FORT HOOD | TX |
| T & P Railroad | Longview | TX |
| T E MERCER TRUCKING | CHANNEL VIEW | TX |
| T. & P. TEAM TRACK | GRAND PRAIRIE | TX |
| T. E. MITCHELL | HOUSTON | TX |
| T. G. & Y | Brownwood | TX |
| T. H. Gozales | Eagle Pass | TX |
| T.F. TIGERT COMPANY | LANCASTER | TX |
| T.H. Wharton Generating Station | Houston | TX |
| T.H. Wharton Power Plant | Houston | TX |
| T.P. & L. Co. | Lake Creek | TX |
| T.X.I. CEMENT | NEW BRAUNFELS | TX |
| TABBERER (USS) | HOUSTON | TX |
| Tacon Mechanical Contractor | Houston | TX |
| Talco Asphalt & Refining Co. | Mt. Pleasant | TX |
| TALCOTT & BENNET | HOUSTON | TX |
| TALISMAN APARTMENTS | FT. WORTH | TX |
| Targa Midstream Services | Mont Belvieu | TX |
| TARRANT CITY COURT HOUSE | FORT WORTH | TX |
| TARRANT COUNTY CONVENTION CENTER | FORT WORTH | TX |
| TAYLOR COMPRESS CO | TAYLOR | TX |
| Taylor Forge Inc. | Pearland | TX |
| Taylor Refinery | Corpus Christi | TX |
| Taylor Refinery | Port Isabell | TX |
| TAYLOR REFINING CO | TYLER | TX |
| Taylor Refining Co. | Corpus Christi | TX |
| Taylor Refining Co. | Taylor | TX |
| Taylor Refining Co. | Tyler | TX |
| TAYLOR REFINING COMPANY | CORPUS CHRISTI | TX |
| TECHNIT | PLAINVIEW | TX |
| TELSTAR APARTMENTS | DALLAS | TX |
| Temple – Eastex / Temple-Inland Industries, Inc. Papermill | Evadale | TX |
| Temple Eastex | Silsbee | TX |
| TEMPLE EASTEX | EVADALE | TX |
| TEMPLE EASTEX, INCORPORATED | PINELAND | TX |
| TEMPLE EASTEX, INCORPORATED | EVADALE | TX |
| TEMPLE INDUSTRIES | PINELAND | TX |
| TEMPLE INDUSTRIES | DIBOLL | TX |
| TEMPLE INDUSTRIES INC | PINELAND | TX |
| Temple Inland | Evadale | TX |
| Temple Inland | Evadale Or Silsbee | TX |
| TEMPLE INLAND | SILSBEE | TX |
| TEMPLE INLAND CONTAINER CORPORATION | ORANGE | TX |
| Temple Inland Forest Products | Silsbee | TX |
| TEMPLE INLAND FOREST PRODUCTS | EVADALE | TX |
| TEMPLE INLAND, INC. | EVADALE | TX |
| TEMPLE INLAND, INCORPORATED | DIBOLL | TX |
| TEMPLE INLAND, INCORPORATED | PINELAND | TX |
| TEMPLE ISLAND FIBERBOARD PLANT | DIBOLL | TX |
| TEMPLE ISLAND, INCORPORATED | SILSBEE | TX |
| TEMPLE LUMBER COMPANY | PINELAND | TX |
| Temple-Eastex | Houston | TX |
| Temple-Eastex Paper Mill | Evadale | TX |
| Temple-Inland Industries, Inc. Papermill / Temple – Eastex | Evadale | TX |
| TEMPLE-INLAND STORES COMPANY | EVADALE | TX |
| TENN TEX ALLOY & CHEMICAL PLANT | HOUSTON | TX |
| Tenn Tex Alloy and Chemical Plant | Houston | TX |
| Tenneco | Deerpark | TX |
| Tenneco | Pasadena | TX |
| Tenneco | Houston | TX |
| TENNECO BUILDING | HOUSTON | TX |
| Tenneco Chemical | Houston | TX |
| Tenneco Chemical | Pasadena | TX |
| TENNECO CHEMICAL CO | PASADENA | TX |
| TENNECO CHEMICAL CO | HOUSTON | TX |
| TENNECO CHEMICAL COMPANY | DEER PARK | TX |
| Tenneco Chemical Div | Houston | TX |
| TENNECO CHEMICAL MFG COMP | PASADENA | TX |
| Tenneco Chemical Plant | Pasadena | TX |
| TENNECO CHEMICALS | PASADENA | TX |
| TENNECO CHEMICALS INC | PASADENA | TX |
| TENNECO GAS & OIL | DEER PARK | TX |
| Tenneco Manufacturing | Pasadena | TX |
| TENNECO MANUFACTURING COMPANY | PASADENA | TX |
| Tenneco Manufacturing Plant | Pasadena | TX |
| TENNECO MFG | PASADENA | TX |
| TENNECO MFG. CO | PASADENA | TX |
| Tenneco Mfg. Co. | Deer Park | TX |
| Tenneco Mfg. Co. | Houston | TX |
| Tenneco Mfg. Co. | Pasadena | TX |
| Tenneco Office Building | Houston | TX |
| TENNECO OIL REFINERY | PASADENA | TX |
| Tenneco Plant | Palacios | TX |
| Tenneco Plant | Laporte | TX |
| TENNECO REFINERY | LAPORTE | TX |
| Tennessee Eastman Company | Longview | TX |
| TENNESSEE EASTMAN CORPORATION | LONGVIEW | TX |
| Tennessee Gas | Palacios | TX |
| Tennessee Gas Plant | McAllen | TX |
| Tennessee Gas Transmission Company | Aqua Dulce | TX |
| Tennessee Gas Transmission Company | E. Bernard | TX |
| Tennessee Gas Transmission Company | Egypt | TX |
| Tennessee Gas Transmission Company | Jasper | TX |
| Tennessee Gas Transmission Company | Rockland | TX |
| Tenn-Tex Refinery | Houston | TX |
| Tenn-Tex Steel Plant | Houston | TX |
| TEN-TEN TRAVIS CORPORATION | HOUSTON | TX |
| TERMINAL REFINING CORPORATION | CORPUS CHRISTI | TX |
| TERRA INDUSTRIES, INCORPORATED | BEAUMONT | TX |
| Terrell State Hospital | Terrell | TX |
| TERRELL STATE HOSPITAL – BUILDING 651 | TERRELL | TX |
| TESCO FOUNDRY | HOUSTON | TX |
| TEX MARK, INCORPORATED | GALENA PARK | TX |
| TEX MEX RAILROAD | CORPUS CHRISTI | TX |
| Tex Tin | Texas City | TX |
| Texaco | Houston | TX |
| Texaco | Port Arthur | TX |
| Texaco | Amarillo | TX |
| TEXACO | ALL TX LOCATIONS | TX |
| Texaco – 5′ dia. X 38′ high tower | Port Arthur | TX |
| Texaco – Core drum at Coke Still | Port Arthur | TX |
| Texaco – Flash Tower and Bubble Tower | Port Arthur | TX |
| Texaco – Frationator Tower | Port Arthur | TX |
| Texaco – Heater | Port Arthur | TX |
| Texaco – Stills and Towers | Port Arthur | TX |
| Texaco – Surge Drum | Port Arthur | TX |
| Texaco / The Texas Company | El Paso | TX |
| Texaco / The Texas Company | Encino | TX |
| Texaco / The Texas Company | Houston | TX |
| Texaco / The Texas Company / Motiva Enterprises | Port Arthur | TX |
| TEXACO ASPHALT | PORT NECHES | TX |
| Texaco Butadiene & Synpol Incorporated | Port Neches | TX |
| TEXACO BUTANE | PORT NECHES | TX |
| Texaco Chemical | Port Arthur | TX |
| TEXACO CHEMICAL | PORT NECHES | TX |
| TEXACO CHEMICAL – ALKALATION UNIT | PORT ARTHUR | TX |
| TEXACO CHEMICAL – RESEARCH BUILDING | PORT ARTHUR | TX |
| Texaco Chemical / Neches Butane / Jefferson Chemical / Huntsman Corp. | Port Neches | TX |
| Texaco Chemical Co. | Port Neches | TX |
| TEXACO CHEMICAL, OLEFIN PLANT | PORT ARTHUR | TX |
| TEXACO CHEMICALS | PORT NECHES | TX |
| TEXACO DOCKS | PORT ARTHUR | TX |
| Texaco Drydocks | Port Arthur | TX |
| Texaco Inc | Port Arthur | TX |
| TEXACO INC | EL PASO | TX |
| TEXACO INC | AMARILLO | TX |
| TEXACO INC | PT ARTHUR | TX |
| TEXACO INC DUNBAR GAS PLA | EMORY | TX |
| TEXACO INC. | HOUSTON | TX |
| TEXACO INC. (DUNBAR GAS PLANT) | EMORY | TX |
| Texaco Inc. Refinery | Bellaire | TX |
| Texaco Inc. Refinery | Houston | TX |
| Texaco Inc. Refinery | Port Neches | TX |
| TEXACO INCORPORATED – PORT ARTHUR PLANT | PORT ARTHUR | TX |
| TEXACO LABORATORY | HOUSTON | TX |
| TEXACO OIL | AMARILLO | TX |
| TEXACO OIL | COLORADO CITY | TX |
| TEXACO OIL | EL PASO | TX |
| Texaco Oil Fields | Hidalgo | TX |
| Texaco Oil Fields | Raymondville | TX |
| Texaco Oil Refinery | El Paso | TX |
| Texaco Oil Refinery | Odessa | TX |
| TEXACO OIL REFINERY | PORT ARTHUR | TX |
| TEXACO OIL REFINERY | TEXAS CITY | TX |
| Texaco Plant | Port Arthur | TX |
| Texaco Refinery | Port Arthur | TX |
| Texaco Refinery | Amarillo | TX |
| Texaco Refinery | Beaumont | TX |
| Texaco Refining / Star Enterprise | Port Arthur | TX |
| TEXACO VEALMOORE GAS PLANT | COAHOMA | TX |
| TEXACO, INC | EL PASO | TX |
| TEXACO, INC | AMARILLO | TX |
| Texaco, Inc. | Port Neches | TX |
| TEXACO, INC. | PORT ARTHUR | TX |
| Texaco, Incorporated | Port Arthur | TX |
| TEXACO, INCORPORATED | COAHOMA | TX |
| TEXACO, INCORPORATED, PORT ARTHUR PLANT | PORT ARTHUR | TX |
| TEXACO, NECHES BUTUNE | PORT NECHES | TX |
| TEXACO, STAR ENTERPRISE | PORT ARTHUR | TX |
| Texaco-Motiva-Star Enterprise Oil Refinery | Port Arthur | TX |
| TEXARKANA COTTON OIL CORP. | TEXARKANA | TX |
| TEXARKANA HIGH SCHOOL | TEXARKANA | TX |
| TEXARKANA ICE COMPANY | TEXARKANA | TX |
| Texarkana Ordnance Center | Texarkana | TX |
| TEXARKANAWOOD PRESERVING | TEXARKANA | TX |
| TEXAS | HOUSTON | TX |
| Texas – U.S. Chemical Plant | Port Neches | TX |
| TEXAS & NEW ORLEANS RAILROAD CO | HOUSTON | TX |
| TEXAS A & M UNIVERSITY | College Station | TX |
| TEXAS A&M UNIVERSITY – SERVICE BLDG | COLLEGE STATION | TX |
| TEXAS AEROMATICS | INGRAM | TX |
| Texas Alkyl Refinery | Deer Park | TX |
| TEXAS ALUMINUM CO INC | ROCKWALL | TX |
| Texas Aluminum Extrusion Plant | Greenville | TX |
| Texas Aluminum Plant | Point Comfort | TX |
| TEXAS ALUMINUM PLANT | POINT COMFORT NORTHERN | TX |
| TEXAS ALUMINUM PLANT | ROCKWALL | TX |
| TEXAS AND PACIFIC FREIGHT AND PASSENGER STATION | FT. WORTH | TX |
| TEXAS AND PACIFIC RAILWAY, PASSENGER AND FREIGHT STATIONS | FT. WORTH | TX |
| TEXAS ASPHALT AND REFINING COMPANY | PASADENA | TX |
| Texas Atlantic Refinery | Port Arthur | TX |
| TEXAS BITULITHIC COMPANY | DALLAS | TX |
| TEXAS BITULITHIC COMPANY | MADISONVILLE | TX |
| Texas Boat Co | Houston | TX |
| TEXAS BOLT CO | HOUSTON | TX |
| Texas Bolt Co. | Houston | TX |
| Texas Bridge & Forge | Houston | TX |
| Texas Butadiene | Channelview | TX |
| TEXAS BUTADIENE & CHEM. CORP | CHANNEL VIEW | TX |
| Texas Butadiene & Chemical | Lake Houston | TX |
| Texas Butadiene & Chemical | Houston | TX |
| TEXAS BUTADIENE & CHEMICAL CO | HOUSTON | TX |
| TEXAS BUTADIENE AND CHEMICAL CORPORATION | CHANNELVIEW | TX |
| TEXAS BUTADIENE AND CHEMICAL CORPORATION | HOUSTON | TX |
| TEXAS BUTADYENE | CHANNELVIEW | TX |
| Texas Butidine | Channelview | TX |
| Texas Cement | Buda | TX |
| TEXAS CENTRAL POWER COMPANY | SAN BENITO | TX |
| TEXAS CENTRIFUGAL CASTING | TEMPLE | TX |
| Texas Chem Co | Houston | TX |
| Texas Chemical | Houston | TX |
| TEXAS CHEMICAL COMPANY | HARRISBURG | TX |
| Texas Chemical Plant | Houston | TX |
| Texas Christian University, Science & Research Building | Ft. Worth | TX |
| Texas City Chemical | Texas City | TX |
| Texas City Chemical Plant | Texas City | TX |
| Texas City Oil Refinery | Texas City | TX |
| Texas City Refinery | Galveston | TX |
| Texas City Refinery | Texas City | TX |
| TEXAS CITY REFINERY INC | TEXAS CITY | TX |
| TEXAS CITY REFINING COMPANY | TEXAS CITY | TX |
| TEXAS CITY REFINING CORP. | TEXAS CITY | TX |
| TEXAS CITY REFINING INC. | TEXAS CITY | TX |
| Texas City Refining, Inc. | Texas City | TX |
| TEXAS CITY REFINING, INCORPORATED | TEXAS CITY | TX |
| TEXAS CITY TRANSPORTATION COMPANY | TEXAS CITY | TX |
| TEXAS CO INCORPORATED (TEXACO) | PORT ARTHUR | TX |
| Texas Company | Port Arthur | TX |
| Texas Company | Montague County | TX |
| TEXAS COMPANY | PORT NECHES | TX |
| TEXAS COMPANY | GATES | TX |
| TEXAS COMPANY | SAN ANTONIO | TX |
| TEXAS COMPANY | HOUSTON | TX |
| TEXAS COMPANY – P.A. WORKS – PA 577 | PORT ARTHUR | TX |
| TEXAS COMPANY – P.A.WORKS | PORT ARTHUR | TX |
| TEXAS COMPANY – PORT ARTHUR WORKS | PORT ARTHUR | TX |
| TEXAS COMPANY – T. A. MANGLESDORF | PORT ARTHUR | TX |
| TEXAS COMPANY PORT | PORT ARTHUR | TX |
| TEXAS CONCRETE | VICTORIA | TX |
| TEXAS CREOSOTING COMPANY | ORANGE | TX |
| TEXAS CRUDE OIL COMPANY | GLADYS CITY | TX |
| TEXAS DEPARTMENT OF CORRECTIONS | RIVERSIDE | TX |
| TEXAS DEPARTMENT OF CORRECTIONS – ELLIS UNIT | HUNSTSVILLE | TX |
| TEXAS DEPARTMENT OF MENTAL HEALTH – ADULT WARD BUILDINGS – 45 & GUADALUPE | AUSTIN | TX |
| TEXAS DEPT OF CORRECTIONS | HUNTSVILLE | TX |
| TEXAS DEPTARTMENT OF CORRECTION | RIVERSIDE | TX |
| Texas Eastman | Longview | TX |
| TEXAS EASTMAN – EASTMAN KODAK | LONGVIEW | TX |
| Texas Eastman Chemical Plant | Longview | TX |
| TEXAS EASTMAN CHEMICAL COMPANY | LONGVIEW | TX |
| TEXAS EASTMAN CO | LONGVIEW | TX |
| TEXAS EASTMAN CO DIV | LONGVIEW | TX |
| Texas Eastman Co. | Longview | TX |
| Texas Eastman Co./Eastman Kodak | Longview | TX |
| TEXAS EASTMAN COMPANY | LONGVIEW | TX |
| TEXAS EASTMAN COMPANY (Div. Of Eastman Kodak) | LONGVIEW | TX |
| Texas Eastman Plant | Longview | TX |
| Texas Electric Serv. Co., Morgan Creek Station | Colorado City | TX |
| Texas Electric Service | Ft. Worth | TX |
| TEXAS ELECTRIC SERVICE – GRAHAM PLANT | GRAHAM | TX |
| TEXAS ELECTRIC SERVICE CO | EASTLAND | TX |
| TEXAS ELECTRIC SERVICE CO – MORGAN CREEK STATION UNIT NO. 4 | COLORADO CITY | TX |
| TEXAS ELECTRIC SERVICE CO – MORGAN STEAM ELECTRIC STATION | COLORADO CITY | TX |
| TEXAS ELECTRIC SERVICE CO – MORGAN STEAM ELECTRIC STATION – UNIT 4 | COLORADO CITY | TX |
| TEXAS ELECTRIC SERVICE CO – NORTH MAIN STATION | FORT WORTH | TX |
| TEXAS ELECTRIC SERVICE CO – PERMIAN BASIN STEAM ELECTRIC STATION | Monahans | TX |
| TEXAS ELECTRIC SERVICE CO (a/k/a Texas Utilities Generating Station) – HANDLEY STATION | HANDLEY/FORT WORTH | TX |
| TEXAS ELECTRIC SERVICE CO (a/k/a Texas Utilities Generating Station) – MORGAN CREEK PLANT | COLORADO CITY | TX |
| Texas Electric Service Co Eagle Mount | Fort Worth | TX |
| Texas Electric Service Co. | Graham | TX |
| Texas Electric Service Co. | Monahans | TX |
| Texas Electric Service Co. | Eastland | TX |
| Texas Electric Service Co. | Handley | TX |
| Texas Electric Service Co. | Witchita Falls | TX |
| Texas Electric Service Co. | Odessa | TX |
| Texas Electric Service Co. | Colorado City | TX |
| Texas Electric Service Co. | Fort Worth | TX |
| Texas Electric Service Co.- N. Main Steam Electric Station | Fort Worth | TX |
| Texas Electric Service Company | Graham | TX |
| Texas Electric Service Company | Young County | TX |
| TEXAS ELECTRIC SERVICE COMPANY – EAGLE MOUNTAIN POWER PLANT | FT. WORTH | TX |
| TEXAS ELECTRIC SERVICE COMPANY – EAGLE MOUNTAIN POWER PLANT – UNIT 1 | FT. WORTH | TX |
| TEXAS ELECTRIC SERVICE COMPANY – FT. WORTH NORTH MAIN POWER PLANT | FT. WORTH | TX |
| TEXAS ELECTRIC SERVICE COMPANY – GRAHAM STEAM ELECTRIC STATION | GRAHAM | TX |
| TEXAS ELECTRIC SERVICE COMPANY – HANDLEY STEAM ELECTRIC STATION | FT. WORTH | TX |
| Texas Electric Service Morgan Creek Station | Colorado Creek | TX |
| Texas Electric Services Co. | Colorado City | TX |
| TEXAS ELECTRIC STEEL CAST | HOUSTON | TX |
| TEXAS ELECTRIC STEEL CASTING COMPANY – STEEL FOUNDRY | HOUSTON | TX |
| TEXAS ELECTRIC STEEL CASTING PLANT | HOUSTON | TX |
| Texas Foundries | Lufkin | TX |
| TEXAS FOUNDRIES INC | LUFKIN | TX |
| Texas Foundry | Lufkin | TX |
| TEXAS FOUNDY | LUFKIN | TX |
| Texas Glass | Decatur | TX |
| Texas Gulf Chemical | New Gulf | TX |
| Texas Gulf Company | New Gulf Junction | TX |
| Texas Gulf Sulfur | Beaumont | TX |
| TEXAS GULF SULFUR CO | MOSS BLUFF | TX |
| Texas Gulf Sulphur | Beaumont | TX |
| Texas Gulf Sulphur | New Gulf | TX |
| TEXAS GULF SULPHUR CO | FANNETT | TX |
| TEXAS GULF SULPHUR CO | LIBERTY | TX |
| Texas Gulf Sulphur Company | Newgulf | TX |
| TEXAS GULF SULPHUR COMPANY | FANNETT | TX |
| TEXAS GULF SULPHUR COMPANY | LIBERTY | TX |
| TEXAS GULF SULPHUR COMPANY | BOLING | TX |
| TEXAS GULF SULPHUR COMPANY | BEAUMONT | TX |
| TEXAS GULF SULPHUR COMPANY – SULPHUR PLANT | MOSS BLUFF | TX |
| Texas Gulf Sulphur Plant | Houston | TX |
| TEXAS GULF SULPHUR PLANT | NEW GULF | TX |
| TEXAS GULF SUPLHUR COMPANY | MATAGORDA COUNTY | TX |
| TEXAS GULF, INCORPORATED | NEWGULF | TX |
| TEXAS GYPSUM CO | IRVING | TX |
| TEXAS HARDWOOD | FORT WORTH | TX |
| Texas Highway Department | Beaumont | TX |
| TEXAS HIGHWAY DEPARTMENT | CORPUS CHRISTI | TX |
| TEXAS HOTEL | FORT WORTH | TX |
| TEXAS INC STATES | MIDLOTHIAN | TX |
| TEXAS INDUSTRIES | CLODINE | TX |
| TEXAS INDUSTRIES | MEDLOTHIAN | TX |
| TEXAS INDUSTRIES | MIDLOTHIAN | TX |
| TEXAS INSTRUMENT PLANT, 13510 N. CENTRAL EXPRESSWAY | DALLAS | TX |
| Texas Instruments | Richardson | TX |
| TEXAS INSTRUMENTS | DALLAS | TX |
| TEXAS INSTRUMENTS CO | DALLAS | TX |
| TEXAS INSTRUMENTS, INCORPORATED | RICHARDSON | TX |
| TEXAS INSTRUMENTS, INCORPORATED | DALLAS | TX |
| TEXAS LIGHTWEIGHT AGGREGATE CO | STAFFORD | TX |
| TEXAS LIME CO | CLEBURNE | TX |
| TEXAS LIME COMPANY | CELBURNE | TX |
| Texas Marine & Ind Supply Co | Houston | TX |
| TEXAS MECHANICAL CONTRACTORS | LUBBOCK | TX |
| Texas Medical Center | Houston | TX |
| TEXAS METAL CASTING INC | LUFKIN | TX |
| Texas Metal Fabricating Co. | Houston | TX |
| Texas Metal Works | Beaumont | TX |
| TEXAS MIDLAND RAILROAD COMPANY | TERRELL | TX |
| TEXAS MININGSMELTING CO | LAREDO | TX |
| Texas National Bank | Houston | TX |
| TEXAS NATIONAL BANK BUILDING | HOUSTON | TX |
| TEXAS NATURAL GASOLINE CORP. | BRONTE | TX |
| Texas Oil Company | Gladewater | TX |
| TEXAS OIL COMPANY | PORT ARTHUR | TX |
| TEXAS OIL REFINERY | PORT ARTHUR | TX |
| TEXAS PACIFIC COAL AND OIL COMPANY | FT. WORTH | TX |
| Texas Pacific Railroad | Marshall | TX |
| TEXAS PENITENTIARY | RUSK | TX |
| TEXAS PETROCHEMICAL CORPORATION | HOUSTON | TX |
| TEXAS PHARMACAL COMPANY – 307 EAST JOSEPHINE | SAN ANTONIO | TX |
| TEXAS PIPE & FOUNDRY | TYLER | TX |
| Texas Pipe Line Company | Sour Lake | TX |
| TEXAS PORTLAND CEMENT AND LIME COMPANY | DALLAS | TX |
| TEXAS POWER | CUSHING | TX |
| Texas Power & Light | Jacksonville | TX |
| Texas Power & Light | Savoy | TX |
| Texas Power & Light | Waco | TX |
| Texas Power & Light | Trinidad | TX |
| Texas Power & Light | Trinadad | TX |
| Texas Power & Light Co | Fort Worth | TX |
| TEXAS POWER & LIGHT CO – STRYKER CREEK POWER PLANT NO 2 | STRYKER CREEK | TX |
| Texas Power & Light Co Lake Creek Station | Lake Creek | TX |
| Texas Power & Light Co Sandow Station | Rockdale | TX |
| Texas Power & Light Co. | McKinney | TX |
| Texas Power & Light Co. | Trinidad | TX |
| Texas Power & Light Co. | Waco | TX |
| TEXAS POWER & LIGHT CO. | RIESEL | TX |
| TEXAS POWER & LIGHT CO. | TRADING HOUSE CREEK | TX |
| TEXAS POWER & LIGHT CO. – COLLIN STEAM ELECTRIC STA | FRISCO | TX |
| TEXAS POWER & LIGHT CO. – COLLIN STEAM ELECTRIC STATION | FRISCO | TX |
| TEXAS POWER & LIGHT CO. – EBASCO SERVICES INC | LAKE CREEK | TX |
| TEXAS POWER & LIGHT CO. – LAKE CREEK STATION | WACO | TX |
| TEXAS POWER & LIGHT CO. – LAKE CREEK STEAM ELECTRIC STATION | RIESEL | TX |
| TEXAS POWER & LIGHT CO. – POWER STATION – R. L. EATON | COLLIN | TX |
| TEXAS POWER & LIGHT CO. – R. D. BROOKS PLT. SUPT. | LAKE CREEK | TX |
| TEXAS POWER & LIGHT CO. – TRADING HOUSE CREEK NO 2 | WACO | TX |
| TEXAS POWER & LIGHT CO. – TRADING HOUSE CREEK PLANT | TRADING HOUSE CREEK | TX |
| TEXAS POWER & LIGHT CO. – VALLEY PLT | SAVOY | TX |
| TEXAS POWER & LIGHT COMPANY | CUSHING | TX |
| TEXAS POWER & LIGHT COMPANY | ROCKDALE | TX |
| TEXAS POWER & LIGHT COMPANY – TRINIDAD STATION | TRINIDAD | TX |
| TEXAS POWER & LIGHT COMPANY (a/k/a Texas Utilities) – COLLIN STATION | FRISCO | TX |
| Texas Power and Light | Waco | TX |
| TEXAS POWER AND LIGHT CO – VALLEY STEAM ELECTRIC STATION | SAVOY | TX |
| TEXAS POWER AND LIGHT COMPANY | CHEROKEE COUNTY | TX |
| TEXAS POWER AND LIGHT COMPANY | GRANBURY | TX |
| TEXAS POWER AND LIGHT COMPANY | SAVOY | TX |
| TEXAS POWER AND LIGHT COMPANY | TRINIDAD | TX |
| TEXAS POWER AND LIGHT COMPANY | ATHENS | TX |
| TEXAS POWER AND LIGHT COMPANY | RIVER CREST | TX |
| TEXAS POWER AND LIGHT COMPANY | EAST WACO | TX |
| TEXAS POWER AND LIGHT COMPANY | WACO | TX |
| TEXAS POWER AND LIGHT COMPANY | MCLENNAN COUNTY | TX |
| TEXAS POWER AND LIGHT COMPANY | PALESTINE | TX |
| TEXAS POWER AND LIGHT COMPANY | TRADINGHOUSE CREEK S.E.S. | TX |
| TEXAS POWER AND LIGHT COMPANY | DALLAS | TX |
| TEXAS POWER AND LIGHT COMPANY – TRADINGHOUSE POWER PLANT | WACO | TX |
| TEXAS POWER AND LIGHT COMPANY – TRADINGHOUSE POWER PLANT – UNIT 2 | WACO | TX |
| TEXAS POWER AND LIGHT COMPANY – TRINIDAD STEAM ELECTRIC STATION | TRINIDAD | TX |
| TEXAS POWER AND LIGHT COMPANY- VALLEY STEAM ELECTRIC STATION | SAVOY | TX |
| TEXAS POWER AND LIGHT COMPANY, RIVER CREST PLANT | BOGATA (NEAR) | TX |
| TEXAS POWER AND LIGHT COMPANY, STRYKER CREEK PLANT | CUSHING | TX |
| TEXAS POWER AND LIGHT, TRADINGHOUSE STATION | WACO | TX |
| TEXAS PUBLIC SERVICE CO. | ROSEDALE | TX |
| TEXAS PULP AND PAPER – EVADALE PAPER MILL | EVADALE | TX |
| Texas Refinery | Port Arthur | TX |
| Texas Refinery | Fort Worth | TX |
| TEXAS RICE AND IRRIGATION COMPANY | BAY CITY | TX |
| TEXAS RICE MILLING COMPANY | GALVESTON | TX |
| TEXAS ROLLING MILL COMPANY | FT. WORTH | TX |
| TEXAS ROLLING MILL COMPANY | DOLARD | TX |
| Texas Rubber Company | Houston | TX |
| TEXAS SASH & DOOR | FORT WORTH | TX |
| TEXAS SCHOOL FOR THE BLIND- DORMITORY TRAINING FACILITY | AUSTIN | TX |
| TEXAS SOUTHERN ELECTRIC COMPANY – POWER PLANT | KINGSVILLE | TX |
| TEXAS STATE DEPTARTMENT OF HEALTH | AUSTIN | TX |
| TEXAS STATE LIBRARY – RECORDS CENTER BUILDING | AUSTIN | TX |
| TEXAS STATE TEACHERS ASSOCIATION | AUSTIN | TX |
| TEXAS STATE TEACHERS ASSOCIATION – HEADQUARTERS BUILDING – 316 WEST 12TH STREET | AUSTIN | TX |
| TEXAS STEAM LAUNDRY COMPANY – LAUNDRY PLANT | SAN ANTONIO | TX |
| Texas Steel Co | Fort Worth | TX |
| TEXAS STEEL CO | FT WORTH | TX |
| TEXAS STEEL CO | FT. WORTH | TX |
| TEXAS STEEL COMPANY | FORT WORTH | TX |
| TEXAS TANK INC. | DALLAS | TX |
| TEXAS TECH – WOMENS DORMS | LUBBOCK | TX |
| TEXAS TECH COLLEGE – BUILDING MAINT DEPT | LUBBOCK | TX |
| TEXAS TECH COLLEGE – NEW HEATING & COOLING PLT | LUBBOCK | TX |
| Texas Tech Library | Lubbock | TX |
| TEXAS TECH UNIVERSITY | LUBOCK | TX |
| TEXAS TECH UNIVERSITY – BIOLOGY FACILITIES | LUBBOCK | TX |
| Texas Technical College Medical School and Health Sciences Center | Lubbock | TX |
| TEXAS TEXTILE MILLS | MCKINNEY | TX |
| Texas Texture Paint | Dallas | TX |
| TEXAS TOOL TRADERS | DALLAS | TX |
| TEXAS TRACTION COMPANY | MELISSA | TX |
| TEXAS UTILITIES COMPANY – DECORDOVA POWER PLANT | GRANBURY | TX |
| TEXAS UTILITIES COMPANY – LAKE HUBBARD POWER PLANT | SUNNYVALE | TX |
| TEXAS UTILITIES COMPANY – LAKE HUBBARD POWER PLANT – UNIT 1 | SUNNYVALE | TX |
| TEXAS UTILITIES COMPANY – LAKE HUBBARD POWER PLANT – UNIT 2 | SUNNYVALE | TX |
| TEXAS UTILITIES COMPANY – MOUNTAIN CREEK GENERATING STATION | DALLAS | TX |
| TEXAS UTILITIES COMPANY – MOUNTAIN CREEK GENERATING STATION – UNIT 8 | DALLAS | TX |
| TEXAS UTILITIES COMPANY – POWER PLANT | ABERNATHY | TX |
| TEXAS UTILITIES COMPANY – POWER PLANT | PLAINVIEW | TX |
| TEXAS UTILITIES COMPANY – RIVERCREST POWER PLANT | BOGATA | TX |
| TEXAS UTILITIES COMPANY – RIVERCREST POWER PLANT – UNIT 1 | BOGATA | TX |
| TEXAS UTILITIES COMPANY – TUCO PLANT | ABERNATHY | TX |
| Texas Utilities Company Martin Lake Station TXU | Tatum | TX |
| Texas Utilities Electric Company | Young County | TX |
| Texas Utilities Electric Company | Graham | TX |
| TEXAS UTILITIES ELECTRIC COMPANY – STRYKER CREEK POWER PLANT | JACKSONVILLE | TX |
| TEXAS UTILITIES ELECTRIC COMPANY – STRYKER CREEK POWER PLANT – UNIT 1 | JACKSONVILLE | TX |
| TEXAS UTILITIES ELECTRIC COMPANY- MONTICELLO STEAM PLANT | MT. PLEASANT | TX |
| TEXAS UTILITIES GENERATING CO | JACKSONVILLE / CHEROKEE | TX |
| TEXAS UTILITIES GENERATING CO | WACO | TX |
| TEXAS UTILITIES GENERATING CO | WICHITA FALLS | TX |
| TEXAS UTILITIES GENERATING CO | ALL TX LOCATIONS | TX |
| TEXAS UTILITIES GENERATING CO – BIG BROWN STATION (a/k/a Industrial Generating Co.) | FAIRFIELD / ROCKDALE / TEAGUE | TX |
| TEXAS UTILITIES GENERATING CO – MARTIN LAKE | RUSK CITY | TX |
| TEXAS UTILITIES GENERATING CO – Monticello Power Plant | MONTICELLO | TX |
| TEXAS UTILITIES GENERATING CO – Permian Basin Station | MONAHANS | TX |
| Texas Utilities Generating Co. – Big Brown | Fairfield | TX |
| Texas Utilities Generating Co.- Martin Lake Steam Electric Station | Tatum | TX |
| TEXAS UTILITIES SERVICES, INCORPORATED – FOREST GROVE STEAM ELECTRIC STATION | ATHENS | TX |
| TEXAS UTILITIES SERVICES, INCORPORATED – FOREST GROVE STEAM ELECTRIC STATION – UNIT 1 | ATHENS | TX |
| TEXAS VEGETABLE OIL CO | SAN ANTONIO | TX |
| Texas Wire & Cable Co | Houston | TX |
| Texas Works | Baytown | TX |
| TEXAS-EASTMAN CHEMICAL PLANT | LONGVIEW | TX |
| Texasgulfqv | Newgulf | TX |
| Texas-New Mexico Utilities | Seagraves | TX |
| TEXAS-NEW MEXICO UTILITIES COMPANY – POWER PLANT | PLAINVIEW | TX |
| Texgas Plant | Winnie | TX |
| Texglass Company | Decatur | TX |
| TEXOMA NATURAL GAS CO | STINNETT | TX |
| Texoma Natural Gas Company | Fritch | TX |
| Texoma Natural Gas Company | Stinnett | TX |
| TEXOMA NATURAL GAS COMPANY – COMPRESSOR STATION AND GAS PLANT | FRITCH | TX |
| TEXTAR CORPORATION | LONE STAR | TX |
| TEX-TUB INC. | HOUSTON | TX |
| Tex-Tube Inc. | Houston | TX |
| TEXTUBE INCORPORATED | HOUSTON | TX |
| THADDEUS PARKER (USS) | ORANGE | TX |
| THE ARGYLE CLUB – 934 PATTERSON AVENUE | SAN ANTONIO | TX |
| The Carthage Corp. | Carthage | TX |
| THE EDSON HOTEL | BEAUMONT | TX |
| THE FACS COMPANY | SAN ANTONIO | TX |
| THE FAIRMONT DALLAS HOTEL | DALLAS | TX |
| THE GALLERIA – WESTHEIMER ROAD | HOUSTON | TX |
| The Pure Oil Co. | Van | TX |
| THE RELIEF AND ANNUITY BOARD BUILDING | DALLAS | TX |
| THE TEXAS COMMODORE – 802 BRAZOS & 8TH STREETS | AUSTIN | TX |
| THE TEXAS COMPANY | PORT ARTHUR | TX |
| The Texas Company / Texaco | El Paso | TX |
| The Texas Company / Texaco | Encino | TX |
| The Texas Company / Texaco | Houston | TX |
| The Texas Company / Texaco | Port Arthur | TX |
| THEATERS #1 & #2 | AUSTIN | TX |
| THEO. HAMM BREWING CO | HOUSTON | TX |
| THEODORE HAMM BREWING COMPANY | HOUSTON | TX |
| THEODORE SEDGWICH | HOUSTON | TX |
| Thermal Equipment Fabr Co | Channelview | TX |
| Thermal Products | Hopuston | TX |
| Thermal Products | Houston | TX |
| Thermal Products | Brownwood | TX |
| THERMCO INSULATION, INC. | SAN MARCOS | TX |
| THERMO TECH | HOUSTON | TX |
| Thermo Tech Inc. | Houston | TX |
| THERMOTECH | HOUSTON | TX |
| THERMOTICS INC | HOUSTON | TX |
| Thiokol | Karnack | TX |
| Thiokol | Karmack | TX |
| Thiokol | Marshall | TX |
| Thiokol Chemical | Karnack | TX |
| Thiokol Chemical Co. | Karnack | TX |
| THIOKOL CHEMICAL CORP – LONGHORN DIVISION | KARNACK | TX |
| Thiokol Chemical Corp. | Karnack | TX |
| THIOKOL CHEMICAL CORPORATION | KARNACK | TX |
| THIOKOL CHEMICAL PLANT | KARNACK | TX |
| Thiokol Plant | Karnack | TX |
| THOMAS BULFINCH | HOUSTON | TX |
| THOMAS HARTLEM | HOUSTON | TX |
| THOMAS HARTLEY | HOUSTON | TX |
| THOMAS STEEL DRUMS, INC. | FORT WORTH | TX |
| THOMAS T. TUCKER | HOUSTON | TX |
| THOMAS W GREGORY | HOUSTON | TX |
| Thompson Inc | Amarillo | TX |
| Thorpe Corp | Houston | TX |
| Thorpe Insulation -Beaumont Branch | Beaumont | TX |
| Thorpe Insulation Co. | Corpus Christi | TX |
| Thorpe Insulation Co. | Houston | TX |
| Thorpe J T Co | Houston | TX |
| Thorpe Offices | Houston | TX |
| THORPE PRODUCTS | BEAUMONT | TX |
| THORPE PRODUCTS | HOUSTON | TX |
| Thorpe Products Company | Houston | TX |
| Thorpe Shop | Houston | TX |
| Thorpe Warehouse | Houston | TX |
| THRIF-T-BUILT, INCORPORATED | AMARILLO | TX |
| Throe Insulation Co. | Corpus Christi | TX |
| Tichenor Company | Dallas | TX |
| Tidewater Associated Oil Company | Odessa | TX |
| Tidewater Esso Oil Co. | Kamay | TX |
| Tidewater Gasoline Plant | Eagle Lake | TX |
| Tidewater Oil Co. | Franklin Co. | TX |
| Tidewater Oil Co. / Fish Engineering Corp. | Eagle Lake | TX |
| Tidewater Oil Co. / Fish Engineering Corp. | Nordheim | TX |
| Tidewater Oil Co. / Fish Engineering Corp. | Normanna | TX |
| Tidewater Oil Co. / Fish Engineering Corp. | Palestine | TX |
| Tidewater Oil Co. / Fish Engineering Corp. | Winnsboro | TX |
| Tidewater Oil- New Hope Plant | Winnsboro | TX |
| Tidewater Pipe Line Company | Conroe | TX |
| Tilden Plant | Tilden | TX |
| TIMBERLINE APARTMENTS | DALLAS | TX |
| TIN PROCESSING CORP. | TEXAS CITY | TX |
| TIN PROCESSING CORPORATION | TEXAS CITY | TX |
| TIN PROCESSING MILL | TEXAS CITY | TX |
| TIN SMELTER | TEXAS CITY | TX |
| Tishce-Goettinger | Dallas | TX |
| TIVOLI GIN. | TIVOLI | TX |
| TNR SCHOOL | AUSTIN | TX |
| Tobin & Rooney | Dallas | TX |
| Tobin & Rooney | Houston | TX |
| TOBIN & ROONEY, INCORPORATED | HOUSTON | TX |
| TODD "HOUSTON" SHIPYARD | HOUSTON | TX |
| TODD FORD INCORPORATED – 4001 NORTH NEW BRAUNFELS | SAN ANTONIO | TX |
| TODD GALVESTON DRY DOCK, INC. | GALVESTON | TX |
| Todd Shipyard | Houston | TX |
| Todd Shipyard | Galveston | TX |
| Todd Shipyards | Houston | TX |
| TODD SHIPYARDS | GALVESTON | TX |
| TODD SHIPYARDS CORP | GALVESTON | TX |
| TODD SHIPYARDS CORP | HOUSTON | TX |
| Todd Shipyards Corp. | Houston | TX |
| TOM BENSON CHEVROLET SERVICE CENTER – SAN PEDRO NORTH LOOP 410 | SAN ANTONIO | TX |
| TOM FERRY COMPANY | AUSTIN | TX |
| TOTAL PETROCHEMICALS USA INC | LA PORTE | TX |
| TOURIST INFORMATION CENTER – SOUTH ALAMO STREET | SAN ANTONIO | TX |
| TOWER APARTMENTS | DALLAS | TX |
| TOWER HOTEL | FORT WORTH | TX |
| TOWER MOTEL | FORT WORTH | TX |
| TOWER OF AMERICA | SAN ANTONIO | TX |
| TOWN & COUNTRY STORE – 5303 BROADWAY | SAN ANTONIO | TX |
| TOWN HOUSE – 4001 NORTH NEW BRAUNFELS | SAN ANTONIO | TX |
| TOWNE OAKS APARTMENTS – GLENVIEW COURT | NORTH RICHLAND HILLS | TX |
| TOX TECHNICAL HIGH SCHOOL | SAN ANTONIO | TX |
| TRADERS COMPRESS CO. | FORT WORTH | TX |
| Trailmobile | Longview | TX |
| TRAMMEL CROW CENTER | DALLAS | TX |
| Transco Gas Pipeline | Houston | TX |
| TRANSCO TILDEN WASTE GAS | TILDEN | TX |
| TRANSCO TILLDEN WASTE GAS | THREE RIVERS | TX |
| Travis Avenue Baptist Church | Keller | TX |
| TRAVIS COUNTY JUVENILE COURT | AUSTIN | TX |
| TRAVIS HEIGHTS ELEMENTARY SCHOOL | AUSTIN | TX |
| TRAVIS HIGH SCHOOL | AUSTIN | TX |
| TRAVIS HIGH SCHOOL – OLTORF DRIVE | AUSTIN | TX |
| TRAW (USS) | ORANGE | TX |
| Trentham Copr.- Person Gas Plant | Karnes County | TX |
| TRESPALACIOS RICE AND IRRIGATION COMPANY | DALLAS | TX |
| TRESPALACIOS RICE AND IRRIGATION COMPANY | BUCKEYE | TX |
| TRIANGLE INSULATION CO. | NEDERLAND | TX |
| TRIDENT GROUP | LONGVIEW | TX |
| TRIDENT NGL, INCORPORATED | LONGVIEW | TX |
| TRIGEANT, LIMITED | CORPUS CHRISTI | TX |
| TRINITY COTTON OIL COMPANY | DALLAS | TX |
| Trinity Division | Houston | TX |
| TRINITY FORGE INC | HURST | TX |
| Trinity Gas | Benavides | TX |
| Trinity Gas / Sejita Gas Plant | Sejita | TX |
| Trinity Gas Corp. | Falfurrias | TX |
| Trinity Gas Corp. | Heberonville | TX |
| TRINITY INDUSTRIES INC | NAVASOTA | TX |
| TRINITY LUTHERAN HOME | ROUND ROCK | TX |
| Trinity Portland Cement | Dallas | TX |
| Trinity Portland Cement | Fort Worth | TX |
| TRINITY PORTLAND CEMENT | HOUSTON | TX |
| TRINITY PORTLAND CEMENT DIVISION | EAGLE FORD, DALLAS | TX |
| TRINITY REFINING COMPANY | GLADEWATER | TX |
| TRINITY STEEL | DALLAS | TX |
| TRINITY UNIVERSITY – AUDITORIUM | SAN ANTONIO | TX |
| TRINITY UNIVERSITY – DOMESTIC WATER SYSTEM | SAN ANTONIO | TX |
| TRINITY UNIVERSITY – GIRLS DORMITORY | SAN ANTONIO | TX |
| TRINITY UNIVERSITY – LAURIE AUDITORIUM | SAN ANTONIO | TX |
| TRINITY UNIVERSITY – SCIENCE BUILDING | SAN ANTONIO | TX |
| TRINITY VALLEY BUILDING CENTER – SECOND AVENUE | DALLAS | TX |
| TRINITY VALLEY IRON & STEEL | FORT WORTH | TX |
| TRIO ENGINEERING & MFG CO | HOUSTON | TX |
| TRIO ENGINEERING & MFG. CO | HOUSTON | TX |
| Triple "B" Corporation | Houston | TX |
| Triple B Corp | Houston | TX |
| Triple B Corp | Pasadena | TX |
| Triple B Corporation | Houston | TX |
| Triple B Corporation | Bayton | TX |
| Triple B Corporation | Brownwood | TX |
| TRIPLE B. CORP. | HOUSTON | TX |
| Tri-state Brick & Tile Company | Waskom | TX |
| TROTTI & THOMPSON, INC. | BEAUMONT | TX |
| TROTTI & THOMPSON, INC. | GALVESTON | TX |
| TRU WELD CO | NEVASOTA | TX |
| TRUE TASTE CORPORATION | MONTE ALTO | TX |
| TRUE TASTE CORPORATION | EDCOUCH | TX |
| TRUMAN ARNOLD COMPANIES – CORPORATE HEADQUARTERS | TEXARKANA | TX |
| TRUNKLINE GAS CO. – PREMONT COMPRESSOR STATION | PREMONT | TX |
| TRUNKLINE GAS COMPANY | KOUNTZE | TX |
| TRUNKLINE GAS COMPANY | FREMONT | TX |
| TRUNKLINE GAS COMPANY – KOUNTZE COMPRESSOR STATION | KOUNTZE | TX |
| TRU-WELD | NAVASTA | TX |
| TRU-WELD COMPANY | NAVASOTA | TX |
| TU HANDLEY POWER HOUSE | FT. WORTH | TX |
| Tube-Kote Inc. | Houston | TX |
| Tube-Kote Plant Inc. | Midland | TX |
| TURF GRILL – MARKET PLACE | GALVESTON | TX |
| Tuxedo Dial Building | Orange | TX |
| TX Electric Service | Graham | TX |
| TXU | Tatum | TX |
| TXU | Fairfield | TX |
| TXU | Mt Pleasant | TX |
| TXU | Glenrose | TX |
| TXU CORP. | RIESEL | TX |
| TXU CORP. | COLORADO CITY | TX |
| TXU CORP. | DALLAS | TX |
| TXU CORP. | FRISCO | TX |
| TXU CORP. | JACKSONVILLE | TX |
| TXU CORP. | MONAHANS | TX |
| TXU CORP. | SAVOY | TX |
| TXU CORP. | WACO | TX |
| TXU CORP. | LAKE CREEK | TX |
| Tyler Junior College | Tyler | TX |
| Tyler Pipe | Tyler | TX |
| TYLER PIPE & FOUNDRY | SWAN | TX |
| TYLER PIPE & FOUNDRY | TYLER | TX |
| TYLER PIPE & OIL REFINERY | TYLER | TX |
| TYLER PIPE CO. | TYLER | TX |
| Tyler Pipe Ind. Inc. | Tyler | TX |
| TYLER PIPE INDUSTRIE INC | TYLER | TX |
| TYLER PIPE INDUSTRIES INC | TYLER | TX |
| Tyler Pipe Industries Of Texas Inc. | Tyler | TX |
| TYLER REFRIGERATION COMPANY | WAXAHACHIE | TX |
| Tyler Texas Oil & Refining | Tyler | TX |
| U S GYPSUM CO | GALENA PARK | TX |
| U S INDUSTRIAL CHEMICAL | HOUSTON | TX |
| U S INDUSTRIAL CHEMICAL CO | DEER PARK | TX |
| U. S. INDUSTRIAL CHEMICAL CO – HOUSTON PLANT | DEER PARK | TX |
| U. S. INDUSTRIAL CHEMICAL CO. | DEER PARK | TX |
| U. S. POST OFFICE | HOUSTON | TX |
| U.S. Air Force | Ellington Field | TX |
| U.S. Gypsum Plant | Galena Park | TX |
| U.S. Helium Plant | Exell | TX |
| U.S. Industrial Chemical Corp. | Brownsville | TX |
| U.S. Naval Air Station | CORPUS CHRISTI | TX |
| U.S. NAVAL HOSPITAL | HOUSTON | TX |
| U.S. Plywood (see also Champion Co.) | Houston | TX |
| U.S. Plywood (see also Champion Co.) | Pasadena | TX |
| U.S. PUBLIC HEALTH | FORT WORTH | TX |
| U.S. Steel | Houston | TX |
| U.S. STEEL | BAYTOWN | TX |
| U.S. STEEL – TEXAS WORKS | BAYTOWN | TX |
| U.S. Steel Corporation | Houston | TX |
| U.S. Steel Mill | Baytown | TX |
| U.S. Steel Mill | Orange | TX |
| U.S. VETERANS BUILDING | DALLAS | TX |
| U.S.I. CHEMICAL PLANT | LAPORTE | TX |
| UDDO TAORMINA CORPORATION | DONNA | TX |
| Udylite Corporation | Houston | TX |
| Ultramar Diamond Shamrock | DEER PARK | TX |
| ULTRAMAR DIAMOND SHAMROCK | SUNRAY | TX |
| ULTRAMAR DIAMOND SHAMROCK | THREE RIVERS | TX |
| Uncle Ben's | Houston | TX |
| UNCLE BEN'S FOOD, INCORPORATED | HOUSTON | TX |
| Uncle Ben's Inc. | Houston | TX |
| UNI OIL INCORPORATED | INGLESIDE | TX |
| Union 76 | Port Neches | TX |
| Union 76 | Port Arthur | TX |
| Union 76 (Pure Oil) | Nederlands | TX |
| Union 76 Refinery | Nederland | TX |
| Union Carbide | Texas City | TX |
| Union Carbide | Seadrift | TX |
| Union Carbide | Brownsville | TX |
| Union Carbide | Houston | TX |
| Union Carbide | North Seadrift | TX |
| Union Carbide | Port Lavaca | TX |
| UNION CARBIDE – SEADRIFT OPERATIONS | SEADRIFT | TX |
| Union Carbide – Seadrift | SEADRIFT | TX |
| Union Carbide & Carbon Chemical Corp. | Brownsville | TX |
| Union Carbide & Carbon Chemical Corp. | Deer Park | TX |
| Union Carbide & Carbon Chemical Corp. | Houston | TX |
| Union Carbide & Carbon Chemical Corp. | Long Mott | TX |
| Union Carbide & Carbon Chemical Corp. | Texas City | TX |
| UNION CARBIDE & CARBON CO. | NORTH SEADRIFT | TX |
| UNION CARBIDE AND CARBON CORPORATION | SEADRIFT | TX |
| UNION CARBIDE CHEM CO | NORTH SEADRIFT | TX |
| UNION CARBIDE CHEM DIV | TEXAS CITY | TX |
| Union Carbide Chemical | Brownsville | TX |
| Union Carbide Chemical | Texas City | TX |
| UNION CARBIDE CHEMICAL CO. | TEXAS CITY | TX |
| UNION CARBIDE CHEMICAL CO. | HOUSTON | TX |
| UNION CARBIDE CHEMICAL CO. | NORTH SEADRIFT | TX |
| UNION CARBIDE CHEMICAL CO. – DOOR NBR 3 | HOUSTON | TX |
| UNION CARBIDE CHEMICAL CO. – PHILLIPS PETROLEUM CO. | HOUSTON | TX |
| UNION CARBIDE CHEMICAL DIV | NORTH SEADRIFT | TX |
| Union Carbide Chemical Plant | Brownsville | TX |
| Union Carbide Chemical Plant | Freeport | TX |
| Union Carbide Chemical Plant | Houston | TX |
| Union Carbide Chemical Plant | Port Lavaca | TX |
| Union Carbide Chemical Plant | Texas City | TX |
| UNION CARBIDE CHEMICAL PLANT | SEADRIFT | TX |
| UNION CARBIDE CHEMICALS | TEXAS CITY | TX |
| Union Carbide Chemicals Co. | Texas City | TX |
| UNION CARBIDE CHEMICALS COMPANY | TEXAS CITY | TX |
| Union Carbide Chemicals Division | Texas City | TX |
| UNION CARBIDE CO | HOUSTON | TX |
| UNION CARBIDE CO. | BROWNSVILLE | TX |
| UNION CARBIDE CO. | NORTH SEADRIFT | TX |
| UNION CARBIDE CO. | HOUSTON | TX |
| Union Carbide Corp | N. Seadrift | TX |
| UNION CARBIDE CORP | TEXAS CITY | TX |
| Union Carbide Corp. | Dallas | TX |
| Union Carbide Corp. | Texas City | TX |
| UNION CARBIDE CORPORATION | PASADENA | TX |
| UNION CARBIDE CORPORATION | SEADRIFT | TX |
| UNION CARBIDE CORPORATION | TEXAS CITY | TX |
| UNION CARBIDE CORPORATION | VICTORIA | TX |
| UNION CARBIDE CORPORATION | BROWNSVILLE | TX |
| UNION CARBIDE CORPORATION | PORT LAVACA | TX |
| UNION CARBIDE CORPORATION | NORTH SEADRIFT | TX |
| UNION CARBIDE OLEFINS COMPANY | TEXAS CITY | TX |
| UNION CARBIDE OLEFINS COMPANY, DIVISION OF UNION CARBIDE CORPORATION | BROWNSVILLE | TX |
| UNION CARBIDE OLEFINS COMPANY, DIVISION OF UNION CARBIDE CORPORATION | SEADRIFT | TX |
| UNION CARBIDE PLANT | NORTH SEADRIFT | TX |
| UNION CARBIDE PLANT (DOW SEADRIFT) | PORT LAVACA | TX |
| UNION CARBIDE, OLEFINS DIVISION | NORTH SEADRIFT | TX |
| UNION CARBIDE/DOW SEADRIFT OLEFINS PLANT | NORTH SEADRIFT | TX |
| Union Engineering & Const. | Houston | TX |
| Union Oil (see also Pure Oil) | Mohave | TX |
| Union Oil (see also Pure Oil) | Nederland | TX |
| Union Oil Co. | Nederland | TX |
| UNION OIL COMPANY (a/k/a Pure Oil) – Smiths Bluff Refinery | NEDERLAND/SMITHS BLUFF | TX |
| Union Oil Refinery | Beaumont | TX |
| UNION PACIFIC | HOUSTON | TX |
| Union Pacific Railroad | Palestine | TX |
| UNION PACIFIC RAILROAD | SAN ANTONIO | TX |
| UNION TERMINAL COMPANY | DALLAS | TX |
| Union Texas Petroleum | Winnie | TX |
| UNION TEXAS PETROLEUM | SILVER | TX |
| UNION TEXAS PETROLEUM CORP. | HOUSTON | TX |
| Uniroyal | Port Neches | TX |
| UNIROYAL TIRE COMPANY | PORT NECHES | TX |
| UNIT #5 NUECES BAY, POWER STATION | CORPUS CHRISTI | TX |
| UNITED ARTISTS KILLEEN THEATRE | KILLEEN | TX |
| United Carbon | Aransas Pass | TX |
| United Carbon | Houston | TX |
| UNITED CARBON | BAYTOWN | TX |
| United Carbon Company | South Houston | TX |
| United Carbon Company | Aransas Pass | TX |
| United Gas Co | Runge | TX |
| United Gas Co. | Houston | TX |
| United Gas Pipe Line | Carthage | TX |
| UNITED GAS PIPE LINE – CARTHAGE GASOLINE PLANT | CARTHAGE | TX |
| United Gas Pipeline / CONOCO (Continental Oil) | Carthage | TX |
| UNITED HEAT TREATING | DALLAS | TX |
| UNITED HEAT TREATING | FORT WORTH | TX |
| UNITED HEAT TREATING CO | FT WORTH | TX |
| UNITED RUBBER & CHEMICAL COMPANY | BAYTOWN | TX |
| UNITED STATES PLYWOOD-CHAMPION PAPERS, INCORPORATED | PASADENA | TX |
| UNITED STATES STEEL | ORANGE | TX |
| United States Steel Corporation | Baytown | TX |
| United Sulphur Plant | Rosenburg | TX |
| UNITED TILE COMPANY, DALLAS | DALLAS | TX |
| UNIVERSAL ATLAS | AVACO | TX |
| UNIVERSAL ATLAS CEMENT | AVACO | TX |
| UNIVERSAL ATLAS CEMENT | WACO | TX |
| UNIVERSAL ATLAS CEMENT | ATCO | TX |
| UNIVERSAL BURNER CO | DALLAS | TX |
| UNIVERSAL GYPSUM COMPANY | ROTAN | TX |
| Universal Match | Karnack | TX |
| UNIVERSAL OIL PROD FAB | ST WASKOM | TX |
| UNIVERSITY AVENUE & WEST 25TH STREET | AUSTIN | TX |
| UNIVERSITY CENTER PROJECT – GUADALUPE & WEST 21ST STREET | AUSTIN | TX |
| UNIVERSITY CHRISTIAN CHURCH | FORT WORTH | TX |
| University of Houston | Houston | TX |
| University of Houston | Clear Lake | TX |
| UNIVERSITY OF MEXICO – HEMISFAIR PLAZA | SAN ANTONIO | TX |
| UNIVERSITY OF SAN ANTONIO – MEDICAL SCHOOL | SAN ANTONIO | TX |
| University of Texas | AUSTIN | TX |
| UNIVERSITY OF TEXAS | ARLINGTON | TX |
| University of Texas | Dallas | TX |
| UNIVERSITY OF TEXAS – 26TH STREET UTILITIES | AUSTIN | TX |
| University of Texas – Arlington Facility | Arlington | TX |
| UNIVERSITY OF TEXAS – CLASSROOM OFFICE BUILDING | AUSTIN | TX |
| UNIVERSITY OF TEXAS – DEFENSE RESEARCH – 9700 FARM ROAD 1325 | AUSTIN | TX |
| UNIVERSITY OF TEXAS – DEFENSE RESEARCH LABORATORY | AUSTIN | TX |
| UNIVERSITY OF TEXAS – DENTAL & NURSING SCHOOL | SAN ANTONIO | TX |
| UNIVERSITY OF TEXAS – DOBIE CENTER DORMITORIES | AUSTIN | TX |
| UNIVERSITY OF TEXAS – EXPERIMENTAL SCIENCE BUILDING | AUSTIN | TX |
| UNIVERSITY OF TEXAS – HEALTH SCIENCE CENTER – 7703 FLOYD CURL DRIVE | SAN ANTONIO | TX |
| UNIVERSITY OF TEXAS – MAIN HEATING & POWER PLANT – D1-2 UTILITIES | AUSTIN | TX |
| UNIVERSITY OF TEXAS – MEDICAL SCHOOL – PHYSICAL PLANT – 7703 FLOYD CURL DRIVE | SAN ANTONIO | TX |
| UNIVERSITY OF TEXAS – MEZES & BENEDICT HALLS | AUSTIN | TX |
| UNIVERSITY OF TEXAS – NEW ENGINEERING SCIENCE BLDG | AUSTIN | TX |
| UNIVERSITY OF TEXAS – NURSING SCHOOL | AUSTIN | TX |
| UNIVERSITY OF TEXAS – ROBERT WELCH HALL | AUSTIN | TX |
| UNIVERSITY OF TEXAS – SCIENCE BUILDING | AUSTIN | TX |
| UNIVERSITY OF TEXAS – SCIENCE BUILDING | SAN ANTONIO | TX |
| UNIVERSITY OF TEXAS – SERVICE BLDG. STEAM DIST. | AUSTIN | TX |
| UNIVERSITY OF TEXAS – STEAM SHOP PRESS BLDG | AUSTIN | TX |
| UNIVERSITY OF TEXAS – STUDENT HEALTH CENTER | AUSTIN | TX |
| UNIVERSITY OF TEXAS – ZETA BETA TAU FRATERNITY | AUSTIN | TX |
| University of Texas Main Power Station | Austin | TX |
| University of Texas Medical BR | Galveston | TX |
| UNIVERSITY OF TEXAS TEACHER'S COLLEGE | CANYON | TX |
| UNIVERSITY OF THE INCARNATE WORD – BONILLA SCIENCE HALL | SAN ANTONIO | TX |
| UNIVERSITY TOWERS | EL PASO | TX |
| UNOCAL | NEDERLAND | TX |
| Unocal (see also Pure Oil) | Mohave | TX |
| Unocal Beaumont Terminal (see also Pure Oil) | Nederland | TX |
| UNOCAL Oil Plant | Nederland | TX |
| Unocal Refinery | Nederland | TX |
| Unocal Refinery/Union Oil/Pure | Nederland | TX |
| UP JOHN CO | LA PORT | TX |
| Upjohn Chemical | La Porte | TX |
| UpJohn Chemical Co. | Houston | TX |
| UpJohn Chemical Co. | La Porte | TX |
| UpJohn Chemical Co. | Pasadena | TX |
| Upjohn Chemical Plant | Deer Park | TX |
| Upjohn Chemical Plant | Houston | TX |
| Upjohn Chemical Plant | Pasadena | TX |
| UPJOHN CHEMICAL PLANT | LAPORTE | TX |
| UP-JOHN CHEMICAL PLANT | DEER PARK | TX |
| UPJOHN COMPANY | LA PORTE | TX |
| US ARMY RESERVE – 6118 FAIRWAY DRIVE | AUSTIN | TX |
| US GOVERNMENT HELIUM PLANT | EXELL | TX |
| US Gypsum | Coriscana | TX |
| US Gypsum | Houston | TX |
| US GYPSUM | NEW BRAUNFELS | TX |
| US GYPSUM CO | SWEETWATER | TX |
| US GYPSUM CO. | SWEETWATER | TX |
| US Gypsum Plant | Sweetwater | TX |
| US INDUSTRIAL CHEM CO | STRANG | TX |
| US Industrial Chemical | Deer Park | TX |
| US INDUSTRIAL CHEMICAL CO. | LA PORTE | TX |
| US OPERATION ORANGE WORKS | ORANGE | TX |
| US POST OFFICE | AUSTIN | TX |
| US POST OFFICE | HOUSTON | TX |
| US Steel | Houston | TX |
| US Steel | Baytown | TX |
| US Steel | Orange | TX |
| US Steel | Port Arthur | TX |
| US Steel | Bay Town | TX |
| US STEEL CO AMERICAN BRI | ORANGE | TX |
| US STEEL CORP | RAYTOWN | TX |
| US Steel Mill | Houston | TX |
| US STEEL/GLINDALE STEEL MILL | BAYTOWN | TX |
| USA Chemical | Deer Park | TX |
| USAF HOSPITAL – WILFORD HALL | LACKLAND AIR FORCE BASE | TX |
| USAF HOSPITAL, WILFORD HALL | LACKLAND AIR FORCE BASE | TX |
| USI | DEER PARK | TX |
| USI | Deerpark | TX |
| USI Chemical Plant | Bayport | TX |
| USI Chemical Plant | Houston | TX |
| USI Chemical Plant | Laporte | TX |
| USI Chemical Plant | Pasadena | TX |
| USI-Chemical | Deer Park | TX |
| V. H. BRAUNIG POWER PLANT | SAN ANTONIO | TX |
| VA Hospital | Dallas | TX |
| VACUUM HEAT TREATING | DALLAS | TX |
| VAHLSING, INCORPORATED | ELSA | TX |
| VALERO CORPUS CHRISTI REFINERY | CORPUS CHRISTI | TX |
| VALERO ENERGY-THREE RIVERS REF | THREE RIVERS | TX |
| VALERO MCKEE REFINERY | SUNRAY | TX |
| VALERO PORT ARTHUR REFINERY | PORT ARTHUR | TX |
| Valero Ref. | Corpus Christi | TX |
| VALERO REFINING | CORPUS CHRISTI | TX |
| VALERO REFINING COMPANY | CORPUS CHRISTI | TX |
| VALERO REFINING TEXAS LP | HOUSTON | TX |