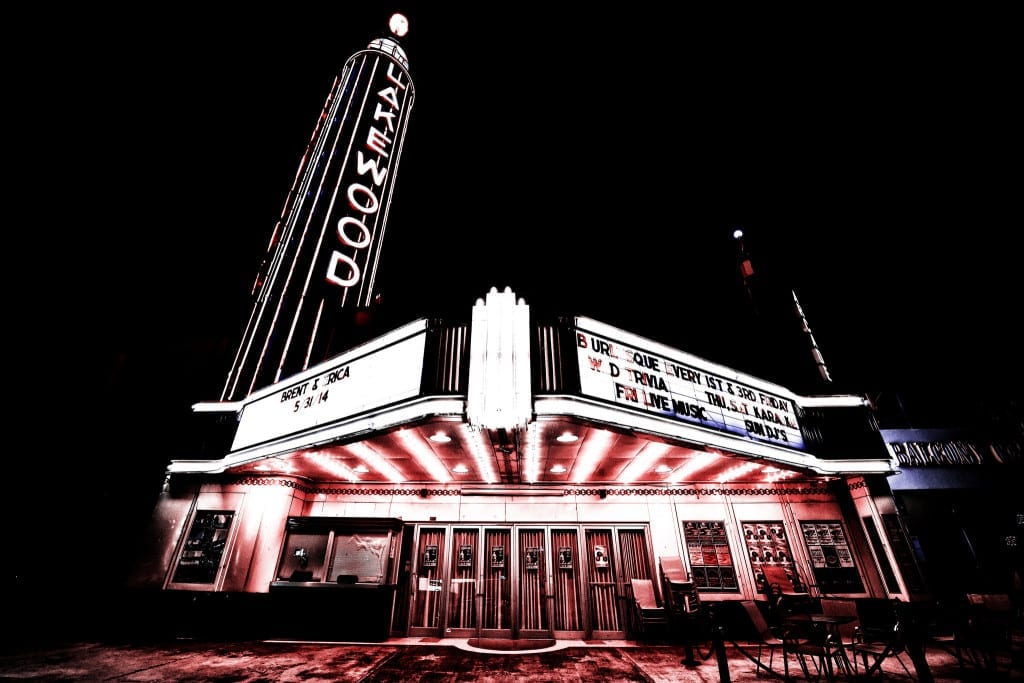 Dallas, Texas – Abatement crews are preparing to remove asbestos from the historic Lakewood Theater. The art deco gem opened in 1939 with "Love Finds Andy Hardy". For the next 76 years, the Lakewood continued to operate as a movie theater until closing in early 2015. The theater now faces an uncertain future. Craig Kinney, the theater's co-owner, has indicated that he hopes to lease the theater to another tenant that will continue to operate it as a movie theater. Alamo Draft House and the owner of the Texas Theater have both been in talks with Lakewood's current owner.
The Dallas Morning News reports that crews are setting up this week to begin asbestos abatement of the auditorium ceiling. The owner indicated, however, the work will not impact the lobby's art deco murals.   The Texas Department of State Health Services Asbestos Notification Form lists the asbestos containing materials slated for abatement include: plaster texture, duct insulation, fire doors and flooring materials.
Asbestos was a ubiquitous ingredient in construction materials beginning in the 1920s and continuing for decades. Cutting, sanding, mixing or otherwise manipulating asbestos containing materials can release asbestos fibers into the air where they can be inhaled. Once inside the body, asbestos begins to attack the body's cells. Decades after exposure, asbestos can cause malignant mesothelioma, lung cancer and asbestosis. Even low levels of asbestos exposure have been linked to malignant mesothelioma, a fatal cancer of the lining of the lung which is caused only by asbestos exposure.
Asbestos materials that are installed in a building don't generally pose a health threat after installation is complete unless they are disturbed and become friable. Proper abatement methods, such as the Lakewood Theater owners appear to be following, can safely remove asbestos materials that have become degraded or frayed and more susceptible to fiber release. Proper abatement procedures can then allow buildings to be safely used.