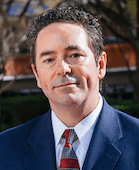 Greg W. Lisemby has been named to The National Trial Lawyers: Top 100 Civil Plaintiff Trial Lawyers list for 2017. The list is comprised of a premier group of attorneys who practice civil plaintiff law in the state of Texas. Only lawyers who have undergone a strict process of peer reviews are eligible to be named to the list. In order to qualify, an attorney must show leadership, and exhibit superior qualifications as well as leadership in their field. Objective, uniformly applied criteria are used to determine the attorneys who will be included.
A native of Houston, Greg earned his bachelor's degree from Henderson State University, a master's degree from the University of Rochester and a Juris Doctor degree from Southern Methodist University in Dallas, Texas.
Greg's practice includes representing clients with wage and overtime claims as well as representing individuals suffering from serious injuries, including mesothelioma and other asbestos-related cancers. He actively litigates cases throughout the country, and has represented individuals residing in over twenty states.
Greg's representation of an oilfield consultant stricken with mesothelioma was recognized to have resulted in the second largest toxic tort verdict of the year in Texas according to Top Texas Verdicts of 2009, a publication compiled by the verdict reporting service Verdict Search and distributed by the Texas Lawyer newspaper. The case resulted in a jury finding against Union Carbide Corporation as a result of the plaintiff's exposure to asbestos-containing drilling mud additives.
Greg is an active member of the State Bar of Texas, the State Bar of New Mexico, the Texas Trial Lawyers Association, the Dallas Bar Association, the Texas State Bar Association, the New Mexico Trial Lawyers Association and the American Association for Justice. Prior to joining the DuBose Law Firm, Greg was an associate professor at Southern Arkansas University and a partner at Waters & Kraus, LLP.
principal office address:
4310 N. Central Expressway
Dallas, Texas 75206
Phone: 214.389.8199
Fax: 214.389.8399

Sponsored by Attorney Greg Lisemby, licensed in TX, NM