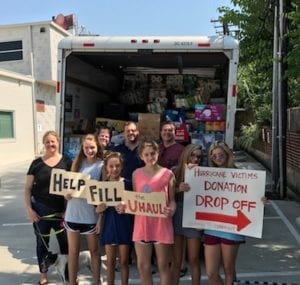 On Saturday, September 2nd, DuBose Law Firm held a Hurricane Harvey supply drive at our offices. Beaumont trial attorney, Scott Frederick, was stuck in Dallas on business earlier in the week. Frederick decided to ride out the storm in Dallas and rent a moving truck to take back to Beaumont with supplies.
The moving truck was at DuBose Law Firm by 8:00 a.m. on Saturday and we began receiving supplies immediately. Beaumont officials sent Scott Frederick pictures via text and social media of the supplies most needed at the local shelters including water, cleaning supplies, paper towels, diapers, powdered milk, personal hygiene products, and other necessities. By 11:00 a.m. the truck was full!
Mr. Frederick's journey back to Beaumont did not end until approximately 11:00 p.m. on Saturday. The moving truck was loaded down with nearly 5,000 bottles of water and other supplies and required frequent stops for gas. Supplies provided relief to residents of both Beaumont and Port Arthur, Texas.
The supply drive came together within just 48 hours. Kathleen Kearney, a local attorney, contacted both Scott Frederick and Ben DuBose to organize the event. Social media and email were used to get the word out.
"It was just great to be able to help in a direct way," said Dallas attorney and firm founder, Ben DuBose. "Many of our clients live in the Beaumont and Port Arthur areas, so we immediately stepped up to help when Kathleen called. Trial lawyers, both in Dallas and Beaumont, were eager to help."
Generous donations were made by members of the Dallas Trial Lawyers Association, students and parents of Woodrow Wilson High School and J.L. Long Middle School, as well as the Dallas A&M Club, Holy Trinity, and other local churches. Thank you to everyone who volunteered and/or donated for this worthy cause.