It's true that all drivers are more susceptible to fatal driving accidents in the night hours, but for inexperienced teen drivers, it is especially risky.
Recently we blogged about studies showing the high risk of teens driving with passengers. Night driving is another area of concern for parents with new, young drivers. While it's true that 49 states and the District of Columbia have night driving restrictions in their Graduated Driver Licensing (GDL) systems, in 23 states those hours are between midnight and 5 a.m. The report just released by the Centers for Disease Control and Prevention (CDC) shows this does not cover some of the most dangerous hours. Here are a few of the findings of this latest study:
• Most teen night driving is before midnight, meaning the night restrictions have little affect on the night accident rate.
• 31% of U.S. fatal accidents of drivers aged 16-17 during 2009-2014, crashed between 9:00 p.m. – 5:59 a.m.
• Of those accidents, 57% occurred before 12 a.m.!
In Texas, there is a GDL program in place. The requirements for a driver in Phase 2 of the program and between the ages of 16 and 18 include:
• No more than one passenger in the vehicle under the age of 21 who is not a family member
• No driving between midnight and 4:00 a.m. unless the operation of the vehicle is necessary for the fdriver to work, to attend or participate in a school-related activity, or due to a medical emergency.
After six months with no infractions, however, these two restrictions are no longer in force. One rule that remains until 18 prohibits any wireless communication device, including hands-free, except for emergencies.
With motor vehicle crashes as the leading cause of death for teenagers in the United States, anything that can help curtail accidents is worth pursuing. In Texas, AAA provides a Parent-Teen Driving Agreement that holds both teen and parent to certain standards. Initialed and signed by both parties, it conveys the privilege and responsibility of all parties when they get behind the wheel. Even if you live elsewhere, you can use this agreement as a model for your family.
Bottom line, teen driving is a serious matter – not only for teens, but for the two-thirds of people who are killed by teen drivers when the driver survives. As adults, it is up to us to lead the way in modeling safe, acceptable, and legal driving habits to those teens watching us.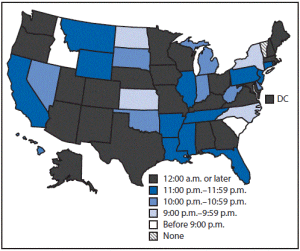 Source: Insurance Institute for Highway Safety
– Night driving restriction starting hours varied by day of the week for the District of Columbia, Illinois, and Mississippi; weekend starting hours are presented.
– Long Island does not allow teens with a New York provisional license (junior license) to drive unaccompanied, so there is no need for a night driving restriction.