Asbestos in World Trade Center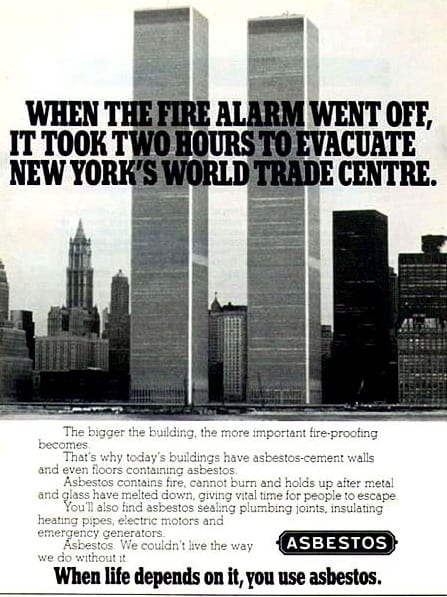 Thousands of Americans tragically perished in the terrorist attacks of September 11, 2001. But the toxic dust clouds, including asbestos dust, created by the collapse of the Twin Towers also pose a significant health risk to civilians and first responders for decades to come.
The World Trade Center Health Registry, supported by the National Institute for Occupational Safety and Health (NIOSH), was established to identify and track long-term physical and mental health effects of 9/11. Among those exposed on 9/11 and its aftermath, numerous people have suffered various lung conditions including asthma, asbestosis, lung cancer and potentially one individual to date diagnosed with mesothelioma believed to have been exposed on 9/11.
Many cancers, including lung cancer and mesothelioma, take decades to develop after exposure to a toxin. In the case of asbestos exposure, a latency period of 30 to 40 years after exposure before the development of cancer is common. Accordingly, the consequences of 9/11 may extend far into the twenty-first century.
Background on Construction of Twin Towers
Upon completion in 1973, the Twin Towers were briefly the tallest buildings in the world, and at the time of the terrorist attacks they were still in the top five. One World Trade Center (WTC 1) the "North Tower" was, at 1,368 feet (417 m), six feet taller than Two World Trade Center (WTC 2) the "South Tower", which stood 1,362 ft (415 m) tall. At the time of the attacks only the then recently completed Petronas Towers in Kuala Lumpur, Malaysia and the Willis Tower (known then as the Sears Tower) in Chicago were taller. Built with a novel design that maximized interior space, the towers had a high strength to weight ratio as they utilized a new "framed tube" design that required 40 percent less steel than more traditional steel framed skyscrapers. In addition, atop WTC 1 stood a 362 ft (110 m) telecommunications antenna that was erected in 1978 bringing the total height of that tower to 1,730 ft (530 m), though as a nonstructural addition, the antenna was not officially counted.
Aircraft Impacts & Resultant Fires
During the September 11 attacks, four teams of al-Qaeda terrorists hijacked four different jetliners. Two of these jetliners, American Airlines Flight 11 and United Airlines Flight 175, both Boeing 767s, were hijacked after takeoff from Boston's Logan International Airport. In its final moments, American Airlines Flight 11 flew south over Manhattan and crashed at roughly 440 miles per hour (710 km/h) into the north facade of the North Tower (WTC 1) at 8:46 am, impacting between the 93rd and 99th floors. Seventeen minutes later, United Airlines Flight 175 approached from the southwest, over New York Harbor, and crashed into the south facade of the South Tower (WTC 2) at 9:02 am between the 77th and 85th floors at 540 miles per hour (870 km/h).
In addition to severing numerous load-bearing columns on the perimeter and inflicting other structural damage, the impacts ignited thousands of gallons of jet fuel, which in turn ignited office combustibles. About one third of the fuel was consumed in the initial impact and resulting fireball. Some fuel from the impact traveled down at least one elevator shaft and exploded on the 78th floor of the North Tower, as well as in the main lobby. The light construction and hollow nature of the structures allowed the jet fuel to penetrate far inside the towers, igniting many large fires simultaneously over a wide area of the impacted floors. The fuel from the planes burned at most for a few minutes, but the contents of the buildings burned over the next hour or hour and a half.
In September 2005, the National Institute of Standards and Technology (NIST) published the results of its investigation into the collapse. The investigators did not find anything substandard in the design of the twin towers, noting that the severity of the attacks was beyond anything experienced in buildings in the past. They determined the fires to be the main cause of the collapses, finding that sagging floors pulled inward on the perimeter columns, causing them to bow and then to buckle. Once the upper section of the building began to move downwards, a total progressive collapse was unavoidable.
Fireproofing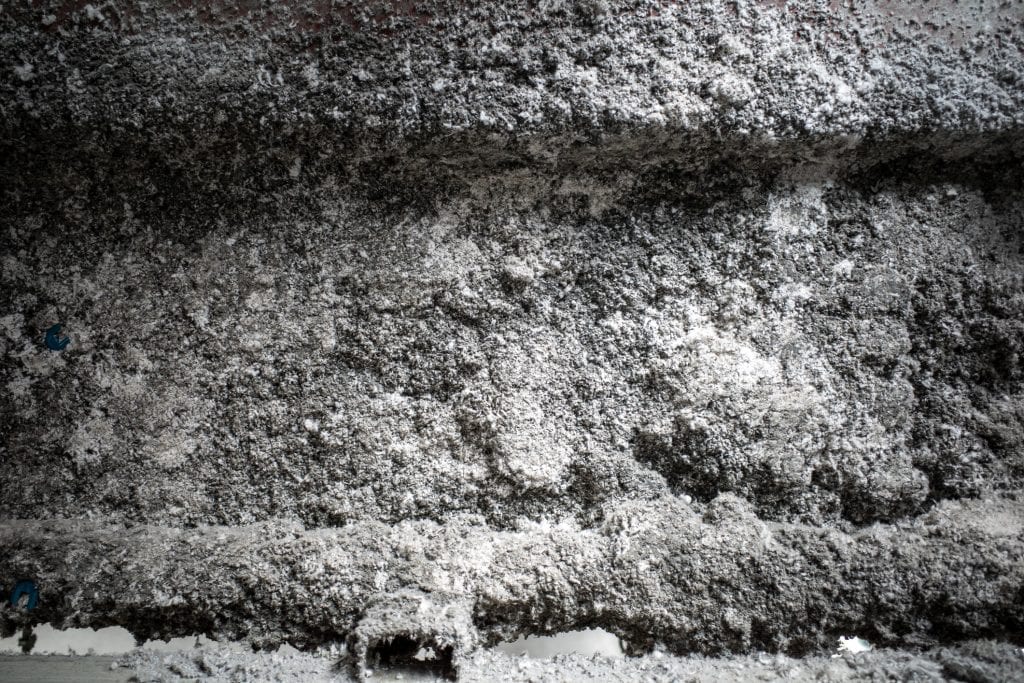 Up until the mid 1970s, the use of asbestos for fireproofing was widespread in the construction industry. One World Trade Center (WTC 1) contained asbestos fireproofing throughout many floors of the building and Two World Trade Center (WTC 2) may have also contained asbestos fireproofing to some extent. However, in April 1970, the New York City Department of Air Resources ordered contractors building the World Trade Center to stop the spraying of asbestos as an insulating material.After the 1993 bombing, inspections found fireproofing to be deficient. Prior to the collapses, the owners of the towers, the Port Authority of New York and New Jersey, were in the process of adding fireproofing, but had only been completed on 18 floors in 1 WTC, including all the floors affected by the aircraft impact and fires, and on 13 floors in 2 WTC, although none were directly affected by the aircraft impact.
The National Institute of Standards and Technology (NIST) concluded that the aircraft impact removed a significant portion of the fireproofing, contributing to the buildings' collapse. In WTC 1 the impact stripped the insulation off 43 of 47 core columns on more than one floor as well as floor trusses over a space of 60,000 square feet (5,600 m2). In WTC 2 the impact removed insulation from 39 of the 47 columns on multiple floors and from floor trusses spanning an area of 80,000 sq ft (7,400 m2).
After the collapses, Leslie Robertson, one of the chief engineers working on the design of the World Trade Center, stated, "To the best of our knowledge, little was known about the effects of a fire from such an aircraft, and no designs were prepared for that circumstance. Indeed, at that time, no fireproofing systems were available to control the effects of such fires."
Asbestos Air Monitoring & Health effects
The collapse of the World Trade Center produced enormous clouds of dust that covered Manhattan for days. On September 18, 2001, the United States Environmental Protection Agency (EPA) assured the public that the air in Manhattan was "safe to breathe".
In 2003 the EPA's inspector general found that the agency did not at that time have sufficient data to make such a statement. Dust from the collapse seriously reduced air quality and is likely the cause of many respiratory illnesses in lower Manhattan. Asbestosis is such an illness, and asbestos would have been present in the dust. Significant long term medical and psychological effects have been found among first responders including elevated levels of asthma, sinusitis, gastroesophageal reflux disease and posttraumatic stress disorder.
Health effects also extended to residents, students, and office workers of Lower Manhattan and nearby Chinatown. Several deaths have been linked to the toxic dust, and the victims' names will be included in the World Trade Center memorial. More than 18,000 people have suffered from illnesses from the dust.
Mount Sinai Medical Center is conducting an ongoing monitoring program, World Trade Center Worker and Volunteer Medical Screening Program. A leader of Mt. Sinai monitoring efforts is Stephen M. Levin, Medical Director of the Mount Sinai – Irving J. Selikoff Center for Occupational and Environmental Medicine. First responders met in a conference, November 11, 2006, in an effort to monitor responders' health. The event was organized by the World Trade Center Monitoring Program. "9/11 responders seek options for care – Newsday.com". November 14, 2006. Archived from the original on November 14, 2006. Retrieved November 16, 2016.
An ongoing study conducted at the Pennsylvania State University/Monmouth University reported that respiratory illnesses grew by more than two hundred percent in the year and a half after the September 11 attacks. (This was the first study that monitored police officers at the Ground Zero site. It was published in the "Journal of Occupational and Environmental Medicine.") A 2006 medical study of fire fighters reported that those personnel who inhaled Ground Zero air essentially lost 12 years of lung function.xix Additionally, a Mount Sinai report found that 70 percent of recovery and rescue workers reported an increase in debilitated respiratory function between 2002 and 2004. xix,,
September 11th Victim Compensation Fund
The September 11th Victim Compensation Fund (VCF) provides financial compensation for individuals (or personal representatives of deceased individuals) who suffered physical harm or illness, or were killed as a result of the terrorist-related aircraft crashes of September 11, 2001, or the debris removal efforts that took place in the immediate aftermath of those crashes.
The VCF is administered by the Department of Justice and is a separate Federal program under the James Zadroga 9/11 Health and Compensation Act. The VCF has developed two factsheets — VCF General Information and Just the Facts — to give an overview of the VCF registration and claim process, as well as to clarify some common misconceptions about the VCF, how it operates, who is eligible, how registration deadlines apply, how claims move through the system, and how compensation is determined.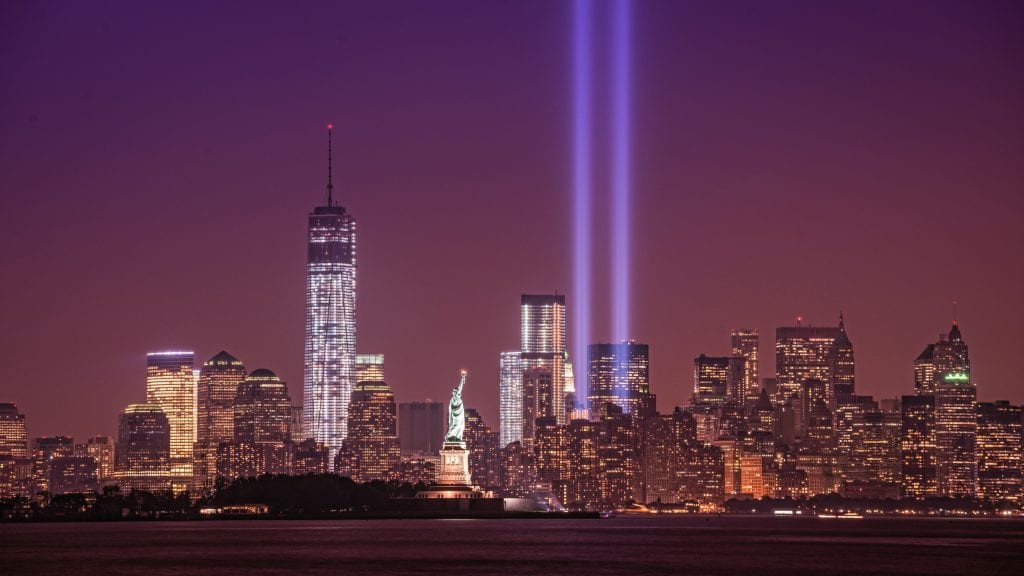 1 West, M.G. (2019, June 20). New Study Links Toxic Sept. 11 Dust to Prostate Cancer. Retrieved from: https://www.wsj.com/articles/new-study-links-toxic-sept-11-dust-to-prostate-cancer-11561003261.
2 Levy-Carrick, N. et al. (2019, April 6). Airway, Digestive, and Mental Health Comorbidities in WTC Responders and Survivors. Retrieved from: https://www.cdc.gov/wtc/training_comorbidities_2.html
3 Lioy, P.L. et al. (2002). Characterization of the dust/smoke aerosol that settled east of the World Trade Center (WTC) in lower Manhattan after the collapse of the WTC 11 September 2001.
Retrieved from: https://www.ncbi.nlm.nih.gov/pmc/articles/PMC1240917/
4 Jenkins, C. (2001, November 15). EPA National Standards vs. New York City Guidelines, Cleanup of Dusts from World Trade Center.
Retrieved from: https://www.scribd.com/document/44927712/Jenkins-111501-WTC-EPA-Violates-Standard
5 Glanz, J. and Revkin, A.C. (2001, September 18). A NATION CHALLENGED; Haunting Question: Did the Ban on Asbestos Lead to Loss of Life?
Retrieved from: http://www.nytimes.com/2001/09/18/science/nation-challenged-haunting-question-did-ban-asbestos-lead-loss-life.html
6 New York Times Archive. (2006, September 5). What Was Found in the Dust. Retrieved from: https://archive.nytimes.com/www.nytimes.com/imagepages/2006/09/05/nyregion/20060905_HEALTH_GRAPHIC.html
7 Associated Press. (2006, September 5). Most 9/11 recovery workers suffered lung ills.
Retrieved from: http://www.nbcnews.com/id/14681710/ns/health-health_care/t/most-recovery-workers-suffered-lung-ills/
8 Brackbill, R.M. et al. (2006). Surveillance for World Trade Center Disaster Health Effects Among Survivors of Collapsed and Damaged Buildings.
Retrieved from: http://www.cdc.gov/mmwr/preview/mmwrhtml/ss5502a1.htm
9 World Trade Center Health Panel. (2007). Addressing the Health Impacts of 9-11. Retrieved from: http://www.nyc.gov/html/om/pdf/911_health_impacts_report.pdf
10 WTCHP. (2017, August). Member Handbook.
Retrieved from: https://www.cdc.gov/wtc/pdfs/handbook/WTC_Member_Handbook_2017_Web-H.pdf
11 "EPA Response to September 11". Archived from the original on March 6, 2008. Retrieved August 27, 2007.
12 United States Environmental Protection Agency Office of Inspector General. "EPA's Response to the World Trade Center Collapse." Report No. 2003-P-00012. August 21, 2003. EPA.gov Archived September 15, 2005, at the Wayback Machine
13 "First Long-term Study of WTC Workers Shows Widespread Health Problems 10 Years After Sept. 11". ScienceDaily. Archived from the original on March 30, 2018. Retrieved March 9, 2018.
14 "Updated Ground Zero Report Examines Failure of Government to Protect Citizens". Sierra Club. 2006. Archived from the original on June 11, 2010. Retrieved September 4, 2011.
15 Smith, Stephen (April 28, 2008). "9/11 "Wall of Heroes" To Include Sick Cops". CBS News. Archived from the original on December 25, 2018. Retrieved September 4, 2011.
16 Shukman, David (September 1, 2011). "Toxic dust legacy of 9/11 plagues thousands of people". BBC News. Archived from the original on September 11, 2011. Retrieved September 11, 2011.
17 "World Trade Center Health Program – The Mount Sinai Hospital". The Mount Sinai Hospital. Retrieved June 15, 2015.
18 "Testimony of Stephen Levin, Feb. 11, 2002". Retrieved June 15, 2015.
19 Carl Campanile, "9/11 is Still Taking Cops' Breath Away", New York Daily News, April 16, 2007, p. 2.
20 ABC News. "9/11 First Responders Gravely Ill". ABC News. Retrieved June 15, 2015.